Monday, March 12
Grant Me...Wisdom? Strength? Anything?!
Saturday, September 16
Decade in Review - A Glimmer of the Future
In June of 1995, I was living in Dallas, Texas, working for Liberty Sports. Liberty was a small- to medium-sized media company (a subsidiary of TCI) that owned the Prime Sports Networks. When I joined them, they had 1 US-based, Spanish-language channel (my experiences was in international) plus they were in the midst of launching a Latin-American spanish language channel.
I spent three years at Turner before leaving to join Liberty. I found that at Turner, unless you had STARTED in a specific department, people in my field really had no way to advance. Now, I'm not a ladder-climber. That sort of thing just doesn't interest me. But after three years in the same department, I was bored. My boss, Randy, was also bored and had started sending me on interviews for jobs for which he was overqualified. Most of them, I was grossly underqualified for.
I had lunch with a friend of mine over at Turner Sports. Mike told me that he knew of someone that was looking. I presumed he meant at TS, but in fact, he was talking about Liberty Sports. I was interested until I found out it was in Dallas. Gah! I had spent almost four years making Atlanta my home! Why would I move now?! After a week or two of Mike calling me daily to see if I had sent my resume, I finally did - just to get him to be quiet! I was rather shocked when they called me within a day, asking to interview me.
I had lived in Dallas before. I still had friends there, some of whom I talked to on occasion. One of my friends, my closest in Dallas - Leasza, was dying of cancer. She was actually in the hospital in ICU (again). I decided to take the interview. At the very least, it would give me a chance to go visit her. I did visit her - it turned out for the last time. Less than a week after my trip, she passed away. Years later, after I had moved to California, I received a letter from a woman who had been her nurse. She told me how Leasza used to talk of me and how deeply she appreciated our friendship.
The job itself, though I was determined not to take it, sucked me right in. I would be going from a company with over 60 lawyers on its payroll, most of whom were pigeon-holed into narrow fields, to a company with three. Liberty's work was just as broad as the work at Turner - but far less in quantity. As much as I hated to admit it, this was the job I had been looking for.
I was in Dallas only 1 night. By the time I got home, Randy (my boss at Turner) informed me he had already received a call asking for a reference. He told me he lied through his teeth and so I now owed him my first-born child. Randy was always a jokester, and is certainly one of my favorite bosses during my career. Within 3 days, I had a new job. I gave as much notice as I could at Turner, 4 or 5 weeks, if I remember correctly. I had accepted a job at a 45% pay increase, plus they were moving me from Atlanta to Dallas (yay! I HATE moving). I felt wanted. Additionally, only a few days after I returned from my interview, I came to work to find my desk full of a beautiful, exotic flower arrangement. A happy birthday from my new job!
So, in 1994 I moved to Dallas. I had spent three summers there during college, but this would be the first time I lived there year-round. I found a nice little apartment in the corner of Park Cities, directly upstairs from my new boss's best friend, Kevin. It was a 16 mile commute, but always going opposite of traffic (except during Dallas Cowboy football home games). The work was interesting and fun. The people were nice (well, most of them were) and it was a fairly close-knit working environment. One of the other lawyers quit shortly after I arrived, but it worked out fine. David, Mark and I worked together and kept up with things.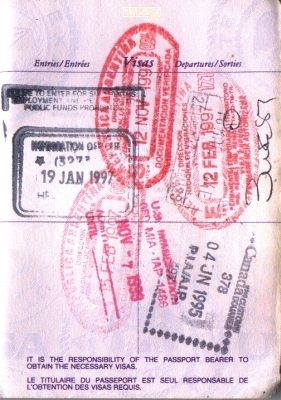 In June of 1995, we were looking seriously at some business with a Canadian company and Mark and I had to go to Toronto to perform due diligence before we committed to the deal. I frequently traveled to Denver (where our parent company officed) but this would be my first international trip for work.
We flew from Dallas into Toronto (I think via New York, but I no longer remember that detail). When we arrived in Toronto, it was quite late. Mark and I took a cab from the airport to our hotel. We had eaten on the plane. The next morning would start early, so I went straight to sleep.
In the morning, we ate breakfast in the hotel and checked out, taking our luggage with us to the meeting. We would be flying home that afternoon. We went straight from the hotel to a highrise just down the street, where we were quickly escorted upstairs to a conference room. This particular conference room was an interior room. There were no windows, no view of the city. It wasn't dreary, but there was certainly nothing to get excited about.
Of course, the substantial table in the conference room was stacked with piles and piles of file boxes full of paper. I was rather appalled - there was no way to get through all that paper in a single day. However, we did our best. It was easy to quickly look through a file, determine if it contained anything of relevance, and then put it back. Lunch was brought in for us. We left the room only to use the toilet.
By the end of the day, we had pages worth of notes, and a few copies of relevant documents. Mark and I took a cab back to the airport, boarded our plane and flew home.
I have heard many times that Toronto is a beautiful, fun city, full of friendly people. I am quite sure it is. However, despite having BEEN there, I cannot attest to a single thing about the city, other than the fact, that the conference rooms should have windows.
Labels: Reflections, Travel, Work
A Decade Is Born
Thursday, November 11
Veteran's Day Thoughts
Thursday, June 10
What's in a Name?
Wednesday, June 9
Just Because (a/k/a It's All Different)
Monday, June 7
Work and Friends