| | |
| --- | --- |
| | Costa Rica |
In 1996, I took an adventure vacation in Costa Rica. It was only a week long, but packed full of fun things to do throughout. One day, we kayaked on an inland, salt-water estuary, where we got great views of Caimans, monkeys and a lot of water fowl. On another day, we went scuba diving and snorkeling just off the west coast. We took a sunset sailing trip. We went mountain biking and ended up on a beach that was inaccessible by motorized vehicle (except perhaps by boat).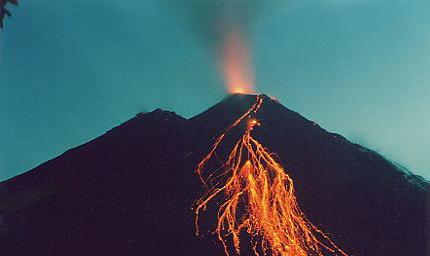 We went to a volcanic area where we hiked through cloud forests and rain forests. We hiked up a hill one night to see Mount Arenal erupting. The next day, we went to a hot springs near the base of Mount Arenal, where we had a much better view of the volcano and its activity.
Our guides took us on a little side trip to find "volcanic mud". The spas all give you a mud bath with volcanic mud for some outrageous price. The guides said they knew where we could find some in someone's field. After driving around for a good bit and a nice little hike, we did, indeed, find our volcanic mud, which we proceeded to put on our faces. Unfortunately, there was no place to wash it off (we weren't at a spa after all!). We ended up driving to our guide's home town, where we washed off in the bathroom in his father's general store. We received some comical looks from people as we were on the way there, though!
On another day, we spent the day white water rafting. It wasn't particularly strenous, but it was fun. Then, we spent a night at the Dundee Ranch (as in Crocodile Dundee - they had their own crocodiles all over the place. While there, we spent a day horseback riding. It was magnificent! We were allowed to run the animals if we wanted and had plenty of space in which to do it.
Alas, a week was almost gone and we spent our last day driving back to San Jose and doing a little shopping on the way back. Costa Rica is a magnificent and beautiful country. At that time, it was mostly unspoiled, although the government was making a big push to build resorts along the Guanacasta Coast (which was beautiful in its natural state when we were there).