| | |
| --- | --- |
| | Ireland |
In 1999, Kati (one of my roommates from college) and I headed over to Ireland for a week. She is irish and I've got a bit of irish/welsh in my background. We flew through London, where we hung out with a good college buddy of ours (Barb) for a day or so on the way in (and back out).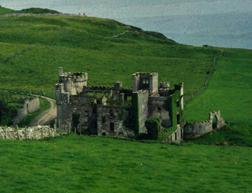 Clifden Castle
We essentially drove south to Waterford (famous, of course, for its crystal factory) and then along the coast all the way up to Cliffden. It was the first time either of us had had to drive on the left (wrong) side of the road. AND the car was a stickshift. The funny thing was that whenever we needed something from the glove box, we kept looking to the wrong side of the car. AND getting in the wrong doors.
Of course, we spent some time over by the Cliffs of Mohr. We also spent an amazing day out riding bikes in the Aran Islands. A week simply wasn't enough time to get to see that much, but we made the most of the time that we had.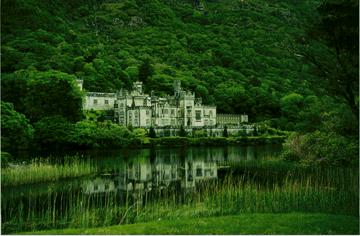 Kylemore Abbey
At that time, Ireland still hadn't switched over to the Euro, so we were able to get some fairly cheap B&B-type accommodation (for less than $20/night). I particularly loved the upper west coast (at least as far north as we managed to go. We didn't really have time to go to Northern Ireland, which is where my family is from - hopefully on the next trip. I really enjoyed getting to spend some time with Kati - I don't get to see her that much anymore.