| | |
| --- | --- |
| | Tramping, Camping, Hiking, Backpacking |
First of all, let me say that tramping, camping, hiking and backpacking are all related, if not the same thing. For those of you who don't know what "tramping" is, it basically is backpacking and camping thrown in together.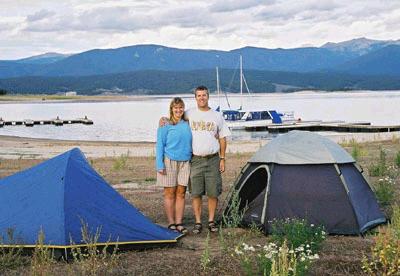 I LOVE to camp, but haven't gotten to do it often enough in recent years. However, Kirk and I went camping twice (to Colorado and up by the Palm Springs Tramway in the Mount San Jacinto Wilderness Area) in months before we left on our RTW.
During Labor Day Weekend of 2001, we went to Colorado and camped on a lake north of Winter Park. An acquaintance of mine was kind enough to let us camp on their property, so we didn't have to fight the crowds for camp site permits. It was a wonderful trip and not one we will forget. It was also the only time we camped out before we got married (which is the reason you see TWO tents in the picture instead of just one).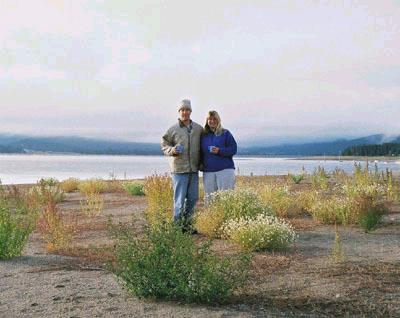 Some friends of Kirk's (and now, friends of mine), Steve and Sharon, came out the next morning and camped with us that night. We spent two days hiking, exploring, cooking out and boating on the lake. Steve and Sharon knew of a good hiking trail nearby and we spent late morning and part of the afternoon hiking around it.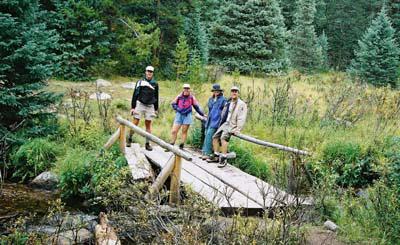 Afterwards, we went to a nearby town, walked around, had some ice cream and just basically acted a bit like tourists.
Later in the afternoon, we went back to the campsite to discover that we had to move our tents to comply with the local Forest Service/Coast Guard requirements. So, we moved them and then got ready to make some dinner.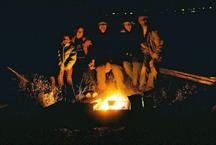 We ate the obligatory s'mores, and made lots of hot tea and hot chocolate. We even took some time out to watch the moon rise over the lake.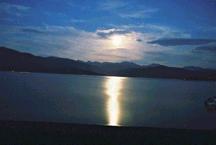 The next day, we were fortunate enough to be invited out for a motor around the lake on our friend's houseboat. It was a beautiful day, and we even saw some hawks and eagles flying around.
In May of 2002, Kirk and I (again last minute) decided to go camping over Memorial Day Weekend. Of course, it's tough to find anything available at that last minute, but we were determined. We finally got a campsite for a night in one of the areas of the Mount San Jacinto Wilderness Area, at the top of the Palm Springs Tramway. It was a hike in, hike out camp site, so we figured it would be a good precursor to our RTW.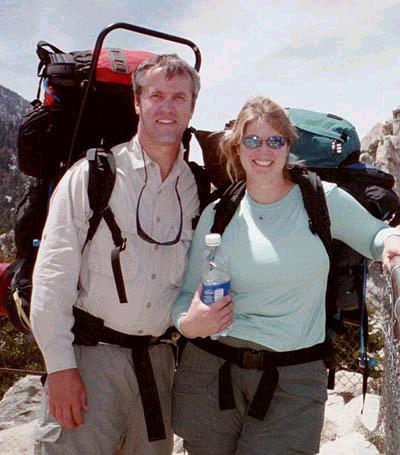 It has been extremely hot and dry this last year (generally the Mount San Jacinto Wilderness Area gets approximately 26 inches of rain per year; they got less than 2 last year), so we had to pack in all of our water with us -- we took a 100 oz. and a 70 oz. camelback, plus a couple of quart-sized containers full of water (and we were only staying one night...we couldn't get a longer reservation due to our last-minute planning).
So, we took the tram up the mountain to approximately 8,000 feet elevation.

From there, we hiked up to our ultimate campsite (about 10,000 feet elevation. We had a wonderful time and were completely happy that we didn't see a single person within a mile of our campsite. We had a coyote wander in after dinner, but once he realized we were sitting there watching him, he steered clear of us. Kirk was our master chef that weekend, and boy was I glad!! We ate a wonderful pork dish in the evening. Then I was treated to pancakes, bacon and orange juice for breakfast.
The hike down was MUCH easier than up (go figure). And we were actually happy to be leaving as we passed Scout Troop after Scout Troop (boys and girls) coming up the mountain for the weekend. We did discover that we estimated our water needs perfectly... I ran out as we walked into the ranger station at the very bottom.
Of course, as part of our RTW, we camped for four months through New Zealand and Australia.