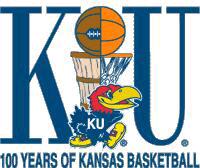 Ask any fan...KU has the best basketball program ever. I arrived at Kansas just in time for Ted Owen's last year of coaching. I saw the likes of Greg Dreiling (the year he transfer to KU...his sister was in my dorm), Ron Kellogg, Jeff Dishman, Carl Henry, Mark Turgeon, etc. I lived through the Brown years (although everyone was thrilled to have won the National Championship in 1988, many of us would have rather had a coach who saw the players as STUDENT-athletes and was less controversial), the Roy Williams years and am now watching Bill Self with interest. I didn't get to see many games from Self's first year coaching, and the first year of transition is always the hardest. I'm looking forward to next year to see how things start to gel together.
It was tough to see Roy go, but we had some good years under him. When Williams arrived, many weren't quite sure what to expect, since he had never been a head coach previously, but he made his mark quickly. Through my history at KU, the fans were notoriously involved in the games -- teams all seemed to know how hard it was to win in Allen Fieldhouse. AND the fans had a number of specific things they did during games...pretending to read newspapers whenever the other team was introduced, holding their arms in the air and yelling "Whoosh!" if one of our players made a free throw, and... a few others that weren't quite so "nice"... Yelling "A - - hole!" if an opposing player made a free throw and "Bullsh-t!" if a referee made a bad call. Well, the more "colorful" language stopped almost immediately. It happened in one of the first games that Williams coached; at the next home game, all the students arrived at the fieldhouse to get their seats. Every single student seat (and possibly others, I don't remember) had a letter from Williams sitting on it. He talked about how wonderful it was to be at KU, a school so rich in basketball history, and how he would prefer if the fans maintained a certain level of class (i.e., didn't cuss at the other team or the refs). I do not remember a single other game where the crowd started using foul language en masse! Now, that was just a SMALL part of the many things Roy did when he started at KU (and I understand he still does at times)... Traditionally, to get good seating, many students will camp out in front of Allen Fieldhouse one or more nights before a big game. Sometimes, Roy would come by with pizza for the people camping out...or Joe's Doughnuts (another institution in Lawrence). Always, he took the time to speak to the kids out there and thank them for their dedication to KU's basketball program.
Every year since I left Kansas, I have tried (and generally managed) to attend at least one KU regular season game, and as many as possible post-season games! Since leaving Lawrence, I have seen KU play in NYC, Louisville (KY), Los Angeles (CA), Columbia (MO), Norman (OK), Houston (TX), Charlotte (NC), Dallas (TX), Lincoln (NE), Kansas City (MO), Denver (CO), Manhattan (KS), Oklahoma City (OK), Anaheim (CA), New Orleans (LA) and Atlanta (GA).
I have managed to attend four of the five Final Fours KU has participated in since I began my career at KU... 1986 in Dallas, 1988 in Kansas City, 1993 in New Orleans and 2002 in Atlanta. I was on my way to the Final Four in 1991 (Indianapolis) when my car blew a timing belt (Easter Weekend), and I was unable to complete the trip.
So far, I have taken my husband to three KU basketball games... two in Los Angeles, and one at the Final Four. I figured I had to indoctrinate him early to the ways of KU Fan-addicts! Unfortunately, KU lost every game that he has seen in person...so, I am debating whether to let him ever attend a KU game again!