| | |
| --- | --- |
| | Off-roading |
So, when someone says "off-roading" or "4-wheeling", what do YOU think of? I always thought it meant guys with really big egos in vehicles with HUGE tires and lots of lift, driving around in mud and on big rocks, as fast as they could, bouncing the whole way (think Monster-truck type stuff). I am happy to say, I no longer hold that view!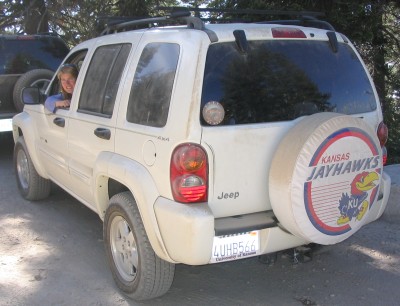 When Kirk and I bought a Jeep Liberty as our second car (assuming, of course, the Spitfire counts as a first car), he was excited about the four-wheeling possibilites. I was not. However, he very much wanted to go on a run with the L.O.S.T. KJ West Club (a member of L.O.S.T.) - they were doing a weekend run in Big Bear, California. So, we headed up there for a day. As we all gathered in Fawnskin, waiting for everyone to show up, we chatted with lots of people, most who had done similar runs before. We ended up joining KJ West, which gave us a free membership for the year in California Association of 4 Wheel Drive Clubs.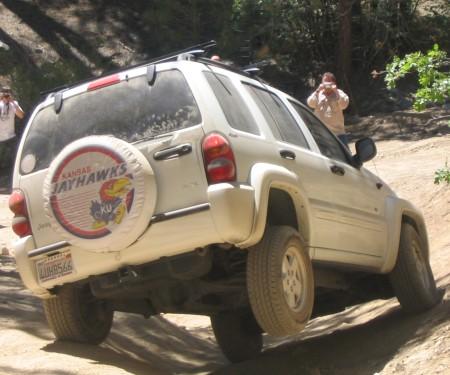 Not only did we have a fantastic day, but we met a lot of great people! AND we got to test out our jeep on some trails. Our jeep was the only one of the 37 there that is completely stock (no modifications). We did some crazy trail at the beginning in order to get to a place where we would be splitting up into different groups (to go to trails of varying difficulty). Kirk drove, of course, and seemed to have nary a problem. Later, though, at the barbeque, a few seasoned veterans said they were shocked to see us going over some stuff that they would never try in a stock jeep. It turned out that we were the only stock jeep there that day.
We split off and headed to the "easy" trails, with Don as our leader and Garland & Pam playing tail-gunner. There were six KJs (Jeep Libertys) in our group and we had a grand time! At one point, most of the "co-pilots" (read: passengers) took the wheel and blazed some trail. The use of CB Radios during the ride made it much more fun and enjoyable - we were able to get to know one another better, despite the fact that we were all in different vehicles. We ran Jacoby Canyon, and then took a couple of numbered trails, eventually heading to the Holcomb Creek Crossing.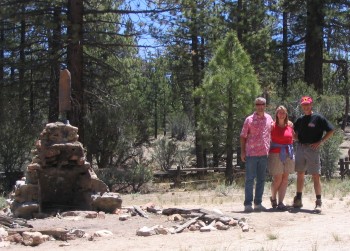 We made a couple of stops along the way to check out local "sites". Afterwards, we headed to Bishop Peak, home to a fire watchtower that was built in 1936. The wooden cab, which is built directly on the rock at the top of the mountain, sits at 8535 feet, and on a clear day, has a view from the ocean to Arizona! Unfortunately, the day wasn't particularly clear when we were up there, but we had a great time, nonetheless!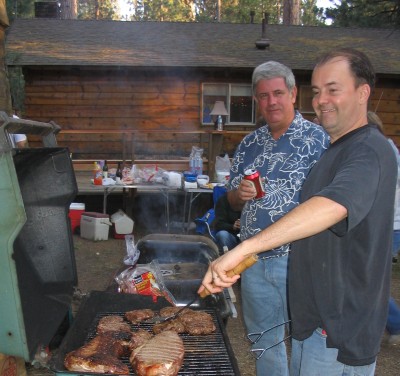 After we got back down the hill, we headed over to Mike's cabin, where he had invited all 70-plus people who were on the trails with us that day to come have a barbeque! There was enough food there to feed us all for about a week straight! But it was delicious! They also had a raffle, where they gave away a lot of jeep-related prizes. We bought two tickets. We won a special clamp that will keep a high-lift jack from rattling (we had no lift and therefore no need for a high-lift jack) and a Jeep maintenance manual on CD.
After the raffle was over, Kirk was told that the club had intended to raffle off a lift kit with installation, but since we were the only folks there that didn't already HAVE lift, then they were just giving it to us! Wow! We were stunned! We had talked throughout the day about whether that was something we were interested in, and had decided that eventually we would probably put a small lift on it once we had the money to do so (after, of course, adding skid plates and boulder bars). Praise God! This is such an incredible blessing!
In August, we attended Camp Jeep, an event put on by Jeep for its owners. We had a wonderful time and came home with loads of swag.
This year, we are now looking forward to potentially volunteering for, and attending, the second annual Camp Jeep California, although we have yet to hear where/when it will occur.
Also, Kirk is sure that our friend Anthony will be asking us to join him on the trail soon with his club, the Sons of Thunder.