Kirk's Spitfire Page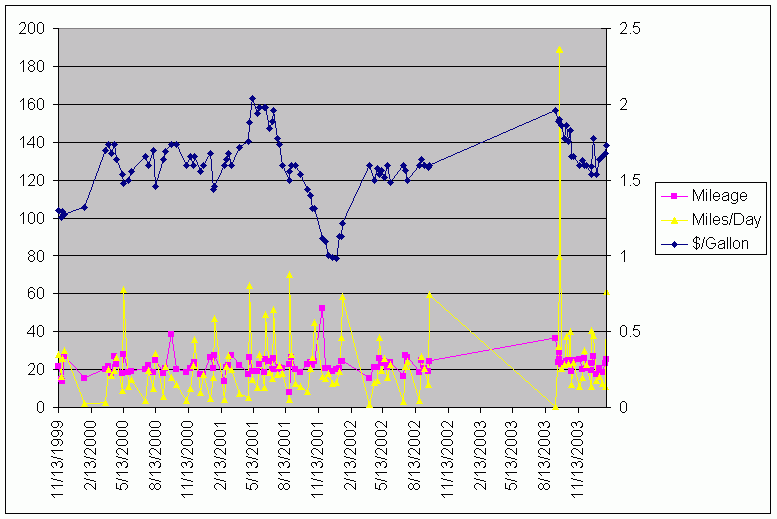 The mileage spikes are due to lost data, NOT incredible mileage!
Here are some fairly current pictures of my 1968 Spitfire 4 Mk III. I have owned this car for years. I bought it from a junk yard for $500. I have fixed it up twice now. It still needs a little work as you can see by the missing grill and letters. Since these two pictures were taken, I have installed the grill, and I traded the two amber parking light lenses for white ones with another Spitfire owner. I like the back of the early Spitfires like this better than the newer ones. Here you can see that it has the insignia, bumpers and hood for a Mk II, but other parts of the car are Mk III. During the original restoration I was using a Mk II as a donor car. Thus this one is sort of a Mk 2/3! I do like the Mk II bumpers better than the Mk III ones, so I'm happy!
Recently I had my radiator recored. (it over heated) This is the original core. Pretty plugged up huh? Click the picture for an image of the entire length of the radiator. I don't think any of this stuff would have come out in a "boil" off.
Here are some pictures taken shortly after my first restoration. I think these were taken probably in 1983. I actually like this color better than the current color.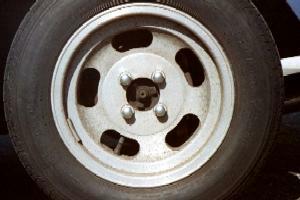 Do you have suggestions on the easiest / best way to clean this wheel? (Click it for a larger pic) If so, email them to me.
Repairs/Modifications:
Electric Fuel Pump. (I am on my second one) The car didn't have a fuel pump when we brought it home.
Repaired body
New Corbeau GT Seats. I still have the original ones, but they need to be reupholstered. At this point, the driver side new one also needs reupholstering.
Carpet (twice)
Paint (Twice)
Tires (I am on the second set now)
Replaced Rubber gaskets (including windshield gasket. Boy was that a bear!)
Painted interior
Replaced front hood. This is the major item that led to the second restoration. I rearended someone. No damage to the other car, but my hood was destroyed.
Replaced rotted out passenger floor area.
Transmission repair
Transmission replacement with 1974 unit with J type Overdrive! Much better on the freeway! Had to modify transmission mount for this one.
Driveline shortened (for the longer transmission/OD unit)
Installed flashing hazard light circuit. Not sure if this still works.
Horn Replacement (air horn)
Generator brush replacement (twice)
Battery replacement (twice)
Clutch Hydraulic System replaced.
Rear Wheel Cylinders replaced/kitted multiple times.
Twin SU carbs replaced with Down Draft Weber. Can you say Automatic Choke and Starting Reliability and Much less Tuning! Hoo Ray!
Heater Valve replaced
Replaced light in speedometer 5/98
Replaced brake shoes and pads (found one scored drum) 5/98
Installed Speedbleeders found that they don't fit on the front, so I have to two for ones with longer necks. 5/98
Installed new Headers and Exhaust. It is now 2" all the way back. 5/98
Replaced Freeze Plugs 9/98
Repaired Transmission & Clutch - Synchros, throughout Bearing, Clutch, Pressure Plate 10/99
Re-Cored Radiator 10/99
Upcoming Repairs/Modifications:
Install new Exhaust Manifold Gasket
Install new coolant
Install two Speedbleeders on the front calipers.
Replace left rear drum. It got badly scored. Do you have one available?
Fix Transmission. (it grinds when shifting into second and sometimes third)
Install new Turn Signal Indicator
Install Seat Covers or have Driver Seat reupholstered
Horn repair. My horn circuit has an intermittent short in it somewhere.
Install Tonneau cover. I have a new one, I just have to install it.
Negative Ground Conversion. I have no radio anymore. Before I install a new one I would like to convert to negative ground.
Buy & Install Radio and CB. Possibly a CB too.
Convertible Top. This car never came with a convertible top. I have the removeable fiberglass top. I'm not even sure if this was a stock item. Anyway, I have a convertible top frame and the little tubes that the frame slips into, All I have to do is mount the tubes, and buy a convertible top.
Spitfire Links:



Send comments, suggestions to: Kirk Crawford