| | |
| --- | --- |
| | Skiing |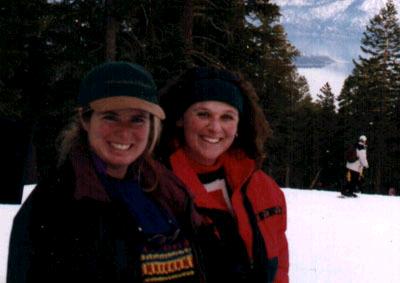 Donna & Marie, skiing in
Lake Tahoe
in 1997(?)... Although they didn't have any availability on this trip, a great place to stay in the Tahoe area is the
Granlibakken Resort
.
Not only is skiing a wonderful sport, it's a great thing to do with friends and family. I first learned to ski on a class ski trip to Garmisch, Germany. I was TERRIFIED. I looked up those really steep hills and those chairlifts (all very primitive compared to what's available today - lots of t-bars and stuff) that went up what seemed like sheer cliffs to my little, inexperienced mind. Zowie! I took my beginner lessons, but didn't actually make it back to the slope after that week until I was a Junior in High School.

I skied a couple of times in High School and then a few times off and on while I was in college. But skiing is a sport for people with money and time, and I had little of either. However, Colorado was a mere 8 hour drive west and the occasional trip wasn't too hard. I was still skiing so sporadically that it was hard to make any progress, though. By the time I reached law school, I had become a real buff, but still didn't have the opportunities to ski as often as I would have liked.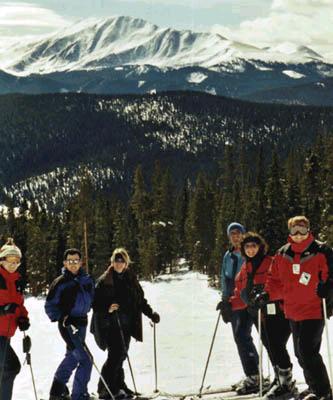 Skiing in Colorado with friends from Dallas, LA and elsewhere.
One of my roommates when I was in law school (Kati) is from Denver. It became an annual trek out to her house. We'd spend a night in Denver with her parents and then head up into the mountains.

Since we had our spring breaks taken up with training camp for crew, we would generally head to Colorado sometime during Christmas break. Kati is the best - she'd dress me in her old ski clothes (I would freeze to death otherwise and didn't have good clothes of my own to wear), then she'd proceed to give me lessons for the rest of the day. For 6 years after I left school, I would traipse back to Colorado as often as I could and there was snow. Copper Mountain is one of my favorite mountains in the front range.
Now that I'm in the Los Angeles area, I tend to ski Mammoth Mountain quite a bit. Mammoth is a very large mountain, unlike many of the other resorts in the Sierras. Plus, since it was acquired by Inter-West, they have offered early-season passes to locals at very affordable prices. One of my other roommates during law school (Julie) owns a condo at Mammoth. In fact, Kirk and I rented it out for our honeymoon. Kirk and I haven't purchased Mammoth Mountain passes since our round-the-world trip but hope to in the near future.