Jayhawk Mania!! How can you say "no"?!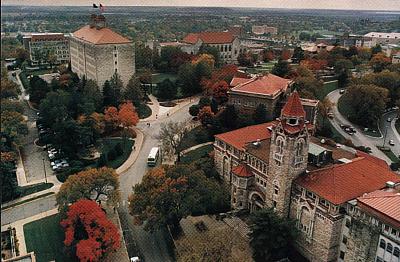 From Fall of 1982 until December 1990, I had the opportunity to live in Lawrence, Kansas and attend the University of Kansas, eventually receiving three different degrees.
Some of the best times were at KU, where I also participated on the Rowing team. Everytime I go back to Lawrence, I relive a little of my time there. And yet, so much has changed...the people, the campus. Alas, when you grow older, it does seem to work that way, I suppose. Very few of my friends remain in the area, and many of the faculty or staff have moved around as well.
Of course, very few people manage to escape Lawrence without a complete addiction to KU Hoops, me included. During the years while I was at KU, I camped out overnight for seats (student seating was general admission -- first come, first serve), camped for over a week for Final Four Tickets, attended 4 of the 5 Final Fours KU has been in since I began attending KU (I was on my way to the fifth, in Indianapolis in 1991, when my car blew a timing belt and I was stranded), and followed them to games wherever and whenever possible. While there are many other traditions at KU, games at (Phog) Allen Fieldhouse will not soon be forgotten.
KU's campus is spread out over several miles, and no matter how well you plan, few students avoid going up and down steep hills at least 3 or three times a day. But the campus, which is over 100 years old, is beautiful. Students and alumni who attend(ed) commuter or large-city-based schools truly have a difficult time comprehending how fondly KU students and alums regard the KU Campus. From Potter Lake and Campanille Hill to the graveyard on West Campus, there is much to see and do.
If you ever have a chance to visit KU, do it!! Walk around the campus, look in the museums, and if you can, be sure to go look at the photo archives that are stored in the building behind (stadium side) Strong Hall. Also, visit some of the local favorite haunts, like Yellow Sub.