| | |
| --- | --- |
| | Rowing |

My rowing career began in Fall of 1984. At that time, Kansas Crew was a club team. The university had not made it varsity (and did not until long after I had left). The novice teams at that time were huge - often well over 200 people.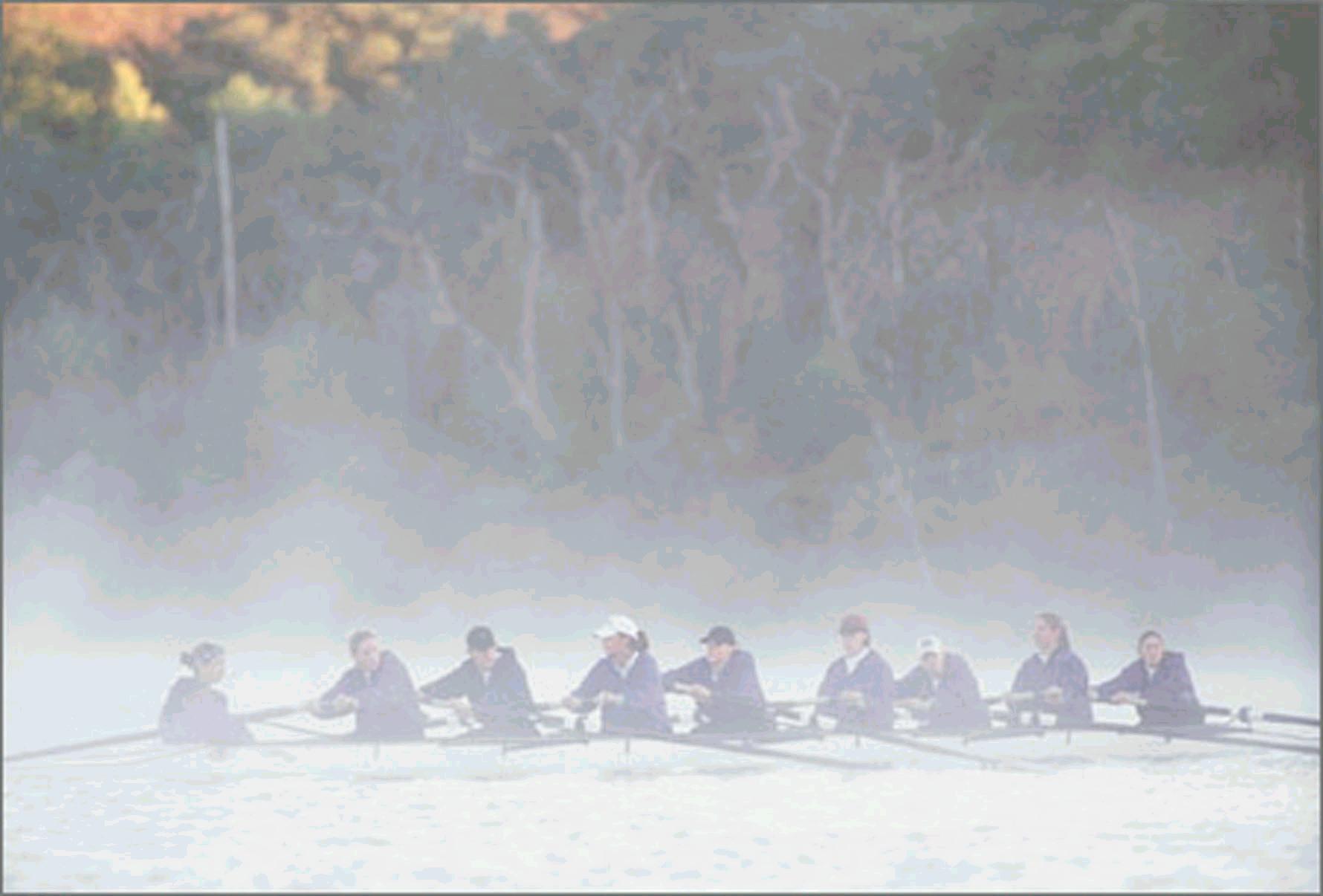 The varsity teams were much smaller. As a novice, it could be so rewarding and completely frustrating, as you learn to balance the boat, complete a proper stroke AND have to do it in perfect timing with everyone else. One little bobble and the whole boat of 9 people (8 rowers and one coxswain) was unbalanced and tipping. After a couple of months, I ended up stroking the boat for the rest of my novice year. Normally a stroke is one of the (if not the absolute) tallest people in the boat. However, the stroke also has to have a good sense of rhythm and timing. Apparently, my years running cross country and swimming (long distance was my forte) made me a good pace-keeper.
As a novice team, we did quite well. After spending our spring break in Austin, Texas, pulling 2-a-days, we proceeded to win the women's novice race at the Heart of Texas Regatta. We continued, undefeated, until Midwest Regionals in Madison, Wisconsin. Two false starts and a bad start in the end (with winds that were brutal) put us in third in a photo finish.
Over the summer, I had my second knee surgery. When I returned in the fall, but since I was graduating, I was not raced seriously - the coaches needed to focus on people who would be returning in the spring.
When I started law school, I couldn't quite manage to forget my time rowing. I had truly enjoyed that year. During my first year at school, I focused on adjusting to the pace of things and the work load. In my second year of law school, I happily signed on for another year of competition rowing. It was one of the best things I could have done! Not only did I get into tip-top shape, but I also managed to find an outlet that few people find for the frustration and stress of law school. That year, I made some amazing friends and we won races from coast to coast. The lightweight women's 8 that I was rowing in even had the opportunity to participate in the Head of the Charles, one of the top races of the year, held in Boston. We did well at the Head of the Chattahoochee, where I did double duty - racing and interviewing for jobs at law firms in the Atlanta area. That year, our boats qualified to go to US Nationals. Unfortunately, one of our rowers didn't want to make the trip, so the whole lot of us missed out.
After graduating from law school, I moved to Atlanta. For a while, I rowed with the Atlanta Rowing Club, but there were a good distance from where I lived and traffic to get there was horrid. Addtionally, I was used to a good strong collegiate program and it was hard to find other women who had the same competitive outlook and weren't already involved in a set boat.
Four years later, I moved to Dallas. The Dallas Rowing Club practiced on Bachman Lake, which was about 1/2 way between my house and my office. It was perfect! However, most of their rowers sculled, rather than sweep rowing. Sweep is certainly my favorite (and is what we did at KU). Nonetheless, I learned to scull and even found a partner to practice a mixed double with. I enjoyed that until moving to California, where my job and the location of the clubs made it impossible to pursue.