| | |
| --- | --- |
| | |
Many people are surprised but this is literally a totally different game than indoor or grass. Beach volleyball requires a level of fitness and coordination that goes far beyond what you need in other forms of volleyball. If you're in California, you have certainly run into someone associated with the CVBA, whether he/she is employed by or a member of the CVBA, or simply someone who played in a CVBA tournament.
Of course, the popularity of Beach Volleyball gained national and international ground with the organization and commitment of both the AVP and WPVA (which no longer exists). The women of the WPVA now compete as part of the Women's AVP.
Many of the AVP players conduct lessons in the area where they live. One such person is Danalee Bragado. You can email her for information on classes. She has also, with the assistance of one of her former students, started the AlohaBall List...a email-listserver which sends emails to hundreds of players in the SouthBay area of Los Angeles. Through that list, you can set up games, arrange classes, or even communicate where the local players are going out to dinner!
There are many other people and organizations in and outside of the area who run tournaments or just plain follow the volleyball scene. Examples are: Volleyball Ventures, Volleyball.org, Geocities Links and the Estero Beach Volleyball and Mother Lode Tournaments.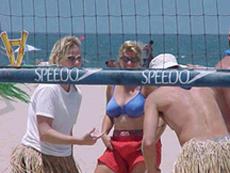 But there is also a prevalence of self-run tourneys, both hard-core and just plain fun. The best way to get involved is just to get out, meet some people and play. Or, if you have a hard time doing that, take a class and then play with the people you met there.