| | |
| --- | --- |
| | Hawaii |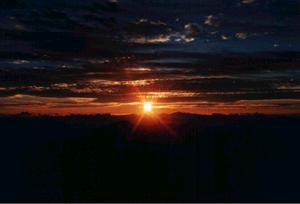 Sunrise from the top of Haleakala
In 1997, I went to Maui with four of my girlfriends. It was my second time to Maui. They had planned the whole trip, start to finish. I just tagged along at the last minute. We had a great time doing touristy things - driving the road to Hana, visiting different towns, seeing sunrise from the top of Haleakala. It was a wonderful, relaxing week. We even all took a surf lesson together (even though Cobi and I were already surfers).
In 2002, Kirk and I went to Maui for a few days. He had to go for work. I insisted that since we had just been married, he couldn't POSSIBLY think of going to Maui without his new wife! I had wonderful time while we were there. I went snorkeling one day and scuba diving another. I drove the road to Hana and then took the other direction and drove to the north, "impassable" side of the island. Of course, they only tell you it's impassable because the road is single lange for about a third of the trip.
Unfortunately for Kirk, he had to work almost the entire time. Although we had planned to have some time together for some sightseeing, he didn't get to do a single touristy thing until the morning we were leaving - we went on a whale watching trip. We were incredibly blessed to see, not just a couple of whales swimming around, but actually whales breaching and being quite active!
There is a chance Kirk will have to go back to Maui any time now...of COURSE, I'll find a reason/way to go too!