Thailand March to April 2003 Travelogue
Entries:

3/21-26/03 Sawat-dii Khlap Thailand! (Again)
Sawat-dii Khlap is "Hello" in Thai by a male speaker. A female speaker would say Kaa instead of Khlap.

We arrived in Thailand, for the second time, on March 21, to a summer thunderstorm. We took the airport bus to the Khao Sahn area and then took a tuk-tuk to Tavee Guesthouse. We had decided this time to try to find accommodation a bit further away from Khao Sahn itself. We hoped it would be quieter and maybe a bit cheaper. Tavee was a bit too expensive (250 baht) so we walked around to the other ones around there and settled on River Guesthouse. They charged us 150 baht ($3.50) per night for a room with two twin beds that can push together and a fan. Toilet/shower facilities are shared. This was fine with us.

That evening we walked over to Khao Sahn, had dinner and did some internet. It was nice to be back in Thailand! No more high pressure sales tactics! Hooray! They had also changed Khao Sahn road a bit in our absence. There were far fewer food vendors on the road itself, no litter, and many more police. The lack of litter is great! They are enforcing a 2000 baht fine for any littering.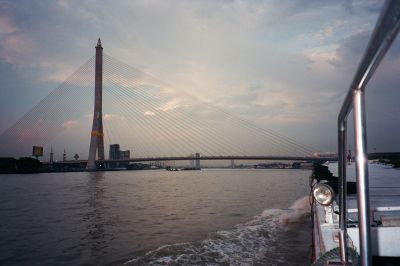 Rama 8 Bridge an asymetrical bridge near where we stayed in Bangkok

The next morning, March 22, we got up and made our way to the weekend market. At first, we wanted to rent a motorbike, but it seems they don't rent them here in Bangkok in very many places. So we decided to go by public transport. We took a riverboat down the river for 8 baht each. This got us to the end of the BTS Sky Train. This is an elevated light rail system that is fairly new in Bangkok. They have two lines. Almost as much as Los Angeles! The train cost us 40 baht each one way to the Mo Chit station, where the weekend market is.

The weekend market in Bangkok is huge! It is like an indoor swapmeet back home, but they sell almost entirely new goods; there were a few used clothing stores, however. This market has over 3,000 different vendors. They have tons of clothing, home decor, gardening, plants, pets, food, etc. It is the mother of all Thailand markets. We were on a mission to buy as many of our upcoming birthday and Christmas gifts as we could. We did well and our feet were very tired at the end of the day.

Upon our return to our guest house, we found that one of the new guests was an Iraqi refugee. He had only been in Thailand for 4 days and already spoke English fairly well. He had a sad story. Apparently, the government of Iraq said he either had to fight in the war or they would hold his child 3-month old baby hostage. Somehow, too, his wife was killed. We didn't ask how, but it seemed as if it may have been recent. He is a Christian widower and is a very nice man. Please keep him (Yaad) and his child (Maren) in your prayers.

The next day, Sunday March 23, we headed off to go to church at Bangkok Evangelical Church. This is the church of Joe and Chris Harms. We had met them at a church in Chiang Mai when we were last there and they had recommended we come visit their church when we were next in Bangkok. The service and worship was good. A bit more traditional singing than we are accustomed to, but the church is filled with the Holy Spirit.

After the service, we were able to find the Harms and say thanks and hello. Then, it was off to the Weekend Market for round two of our birthday/Christmas present search. The weekend market is so big you couldn't possibly visit each vendor in the two days that it is open each weekend.

On Monday, March 24, we began a new mission. We had to get our Laos and Cambodian visas. A motorbike would have been good to rent today, but we were stuck with public transport. We had some passport photos made and were on our way. We made it to the Cambodian embassy shortly after 11:00 AM, the closing time that we had been told. We were happy to see that their actual hours were till 12:00 noon. We applied for the visa and they were able to have it done by 2:00 pm so we could try to get our Laos visa the same day.

While our visa was being made, we walked up the street to a VERY NICE mall, had some food & drink and worked on our journal and pictures in their wonderful air-conditioned comfort.

At 2:00 we went back and picked up our visas. Next stop was to be the Laos embassy. We walked up the street about 1km to another canal and took a riverboat along to what we thought was the closest pier to the Laos embassy. This is quite a ride. This boat is much skinnier and faster than the ones on the main river. The seats are benches all the way across the boat and the ticket sellers stand on the gunwales of the boat, wearing helmets and hanging on to a rope, while they take your money and sell tickets. They, along with the boat driver, make a very smooth team to get people to their destinations.

After we arrived at our pier, we started walking to where we thought the embassy was. Along the way we tried to confirm our directions with a Thai girl and she said we were on the correct road, but that it would be best to take a motorbike taxi. It was too far to walk. Well, we continued walking. And walking. And walking. We finally got to the embassy after about 3km of walking and it was only 15 minutes before their closing time. They were able to get our Laos visas done in 15 minutes! Hooray! We got them both.

After that, we decided to take motorbike taxis back to the dock. This was a much better way to travel. Cheap (30 baht each) and fast. After we rode the boat back to the pier we had started at, we decided to go to a movie in the mall across the street. We saw "Gangs of New York". Pretty good, but quite violent.

After the movie, we took the Sky Train back to the pier on the main river where we had taken it, but unfortunately, the boats stop running on the river at 7:00 pm. It was after 10:00 pm. Oops. We looked at our trusty map and found that a bus would take us very close to Khao Sahn road if we walked up the road little ways to catch it. After QUITE a bit of walking, we found the right place and rode the bus to the end of its run, near the palace.

It was dark, and we walked around the parade grounds where it looked like many people were setting up to spend the night. A bit scary, but we stuck together and walked on to Khao Sahn. We still had some more tasks for the night. We had to get tickets for a night bus to Chiang Mai. Most of Khao Sahn businesses were closed, but we found a travel agent/internet cafe that was still open and were able to get a bus ticket for the next day at 250 baht each including a free night's stay in a guest house in Chiang Mai.

The final task was to purchase a cheap, strong, big bag for our recent gift purchases. They were NOT going to fit in our luggage.

The next day, March 25, we slept in a bit, packed all our bags, checked out and took a tuk tuk over to Khao Sahn road. We were able to leave our luggage with our travel agent during the day.

After breakfast and some personal grooming (I got my hair cut and Donna had her legs waxed), we went over to the post office to check on some packages that had been sent to us. Unfortunately, they weren't there yet. Must be stuck in customs somewhere.

The rest of the afternoon, we did some internet, Donna worked on her journal, and waited for the bus. And waited and waited and waited! The rain started in the late afternoon, and apparently this caused our bus to be delayed over 90 minutes. Instead of picking us up in front of the travel agent, like they had said, we had to walk about 0.5 k in the rain to get to the bus. This was a "VIP" double level type of bus. Passenger seating is up top, and the crew and restrooms and storage is down below. We were able to get two seats up front. Lets just say this was not the most pleasant of our bus trips in Thailand. To start with the crew, from a bus company called "Hello Chiang Mai" (and NO, we do NOT recommend them) was hollering at each other the entire loading process. Then as we are leaving town we notice the smell of cigarette smoke. There are large no smoking signs posted all about the bus. We finally traced it to the driver and crew. They were smoking on a non-smoking bus! Later as we were leaving from a 20 minute rest stop, one of the passengers mentioned that his friend was not on the bus yet. But they didn't stop the bus. It had to get to the point where several of the passengers yelled at the crew to STOP THE BUS before they actually did and the passenger was able to board, but only as the driver was yelling at the guy about being there on time and driving away as he was trying to load. As we were leaving that stop, the crew started smoking again, and when a passenger politely informed them that this was a non-smoking bus, she was met with yelling that they could smoke if they want and the passenger could just get off the bus! For about five minutes, he yelled at her belligerently, and tried to make her get off the bus, threatening her and even telling her to change seats. Frequently the bus would stop by the side of the road for no known reason, and later we found that one of the other passengers thought the driver was going out to take a leak. The rest of the ride was bumpy, but otherwise uneventful.

In the morning of March 26, we arrived in Chiang Mai. They had some sawngthaews (pickup trucks) there at the bus stop to meet us. We were brought to our "free" guest house and were able to avoid the sales pitch and checked in to our room. Next we walked over to Jason's Star Cafe to have breakfast and do some internet. On the way there, we ran into the two girls who had been sitting next to us on our bus. When they noticed their bags had been tampered with and complained to the director at the drop-off point, he told them to check their bags and not to worry. As they were checking their bags to make sure nothing was missing, all the trucks drove off and left them stranded. Later today we will try to find a place to ship our gifts home.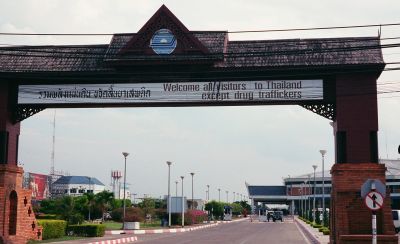 An interesting sign at the Chiang Mai Airport

3/27-30/03 Relaxation and here we come Laos...
We have spent the last week relaxing, traveling and just seeing bits of Laos. The 27th, 28th and 29th of March, we spent in Chiang Mai. We had shipments to send home and we had to sort out the best, most efficient and cheapest way to do it. We ended up sending three packages - one air and two by sea. We are praying that they actually make it there without pilferage, breakage or disappearance (all of which there are rumours when shipping from Thailand). The rest of our time in Chiang Mai was spent relaxing or running little errands. We hung out with our buddy Jason, of Star Cafe fame (yes, he's the guy with the really fast internet in Chiang Mai). He shows movies there, now, too -- he's got a nice entertainment center there. So, while we weren't doing internet, we could watch movies (which helped me catch up on my VERY behind journal!). We also saw a couple of movies while we had a chance (Chiang Mai has a nice theatre, remember)... Extreme Ops (on March 28) and Cradle 2 the Grave (on March 29). We also changed our itinerary (which you probably noticed from an earlier email and sorted out some other details back home (which involved figuring out the telephone system...making calls from over here isn't easy and the time difference makes things challenging -- 8AM is midnight here).

We had some bad news as well, as we prepared to leave Chiang Mai and head into Laos. My uncle (my mom's brother) had an emergency removal of his thyroid (they had thought they were only removing a nodule from the side of it, which was supposed to be benign). We are praying that the cancer has not spread and that he make a quick and painless recovery. He lives with his wife and two boys in Virginia, where my grandparents were visiting when he went into surgery.

We tried a restaurant on the 29th, right before leaving Thailand that we had seen advertised multiple times. It was fun, in that from the minute we walked in the door, they spoke to us in Thai...FAST...as if we knew exactly what they were saying. We had NO CLUE!!! But we had a fantastic dinner and a lot of fun. You ordered trays (we ordered four, and later realized that most couples order at least 10 or more) of food and then cook them in a pot of soup, and then ladle them out! Yum! We DID notice as we looked around that the other pots looked a lot more colorful and full than ours, but we didn't realize until we were leaving and saw one couple with a table FULL of trays why, that we had probably not ordered the normal number! (We used that as an excuse to have Kirk's favorite...dessert...more specifically...ice cream!)

On March 30, we got up and packed ourselves and headed out to run a few errands before we caught our bus to the Thai-Laos border. When you get to Laos, there really are no ATMs, so we had to have enough cash to be there for the entire time we planned to stay. We went to the bank to be sure we had the cash we needed, got munchies and newspapers to keep us busy for the five hour ride, and bought batteries and toothpaste.

The bus arrived and we loaded up. For once the bus picked us up first instead of last, and we were able to get our pick of seats. We took the two front ones. Once it was completely full (and I DO mean completely -- the Thai way!), we went and got petrol. In fact, the whole ride to Chiang Khong was wrought with strange stops along the way. We seemed to stop about once every hour or hour and 15 minutes for a stop at this toilet, that petrol station, lunch stop, beer stop. There was an interesting collection of people aboard, however. Kirk and I hung out with a Kiwi girl (Anna) and a French guy (Sebastian). There was another French man on the bus who must have downed 4 litres of beer on the trip. And a couple of Canadian skateboarders, a Japanese girl, two guys in the back who never talked to anyone else.

We finally arrived in Chiang Khong at around 4:30. The bus dropped us off at a guesthouse, but we didn't want to spend the night there. We wanted to cross into Laos first. It was a short walk to the dock, so we headed off. Immigration on the Thai side was a snap. They stamped us through and we headed down to the boats, where we paid our 20 baht for the ride across the Mekong River and boarded the boat. The ride across took less than 5 minutes.

(to be continued... in Laos)
If you are reading chronologically, go here.


4/26,27/03 Speeding through Thailand
On April 26, we crossed the border from Laos back into Thailand. They have a bus that takes you across the Mekong via the "Friendship Bridge." It dropped us off at a local bus station in Nong Khai. Yas, Donna and I took a Tuk-Tuk (local taxi) to the long distance bus station for 20b/person. When we pulled up to the station they asked us where we were going, we said Khorat, and they stopped a bus that was just pulling out and we got on. Whew! The ride to Khorat was 5-6 hours. They had dubbed movies on board which were hard to follow, but we had seen them before, Matrix and Terminator 2. When we got to Khorat, we said our goodbyes to Yas. He was going to stay here because his Muay Thai instructor lived here.

We decided to take a bus from Khorat to Aranya Prathet that evening. Aranya Prathet is the border town next to Poipet, Cambodia. The bus company that had that run wasn't open until 7PM, so we waited and got some cool drinks. After they opened I got the tickets and they let us put our bags on the bus which would leave at 8:40. We did and then went into the nice air-conditioned cafeteria and had some dinner. The bus ride was to take until midnight or so. They were stopping at many small towns along the way, and near midnight, they stopped and came back and said it was our stop.

We got off, and they gave us our bags and pointed us to a building across the way that had lights on. We went over and it turned out to be a bar. We tried to ask where a guesthouse was, but the people there seemed terribly drunk and couldn't give us a straight answer. So we headed down the street to what looked like the main road through town and found a cafe that looked open. We inquired with the staff there, and it turns out that we weren't even in Aranya Prathet! They had dropped us off 50km early in Sa Kaew! We looked up guesthouses in our Lonely Planet and found no listings for any at all in Sa Kaew. Fortunately, the people at the restaurant knew of one and called them to get directions and check on rooms. Then, they directed us to the place. It was only 100 meters up the road and 200 meters down a side road. We headed out and promised ourselves that we would come back to this restaurant for breakfast.

When we got to the guesthouse, they seemed to be waiting outside for us. They showed us a nice room, and it was only 250 baht ($5.50). They even gave us a bottle of cold water! It was a nice room with a big bed and attached bath. It was nice to settle down and relax. I had a tough time putting my book down. I was reading "Ender's Game" by Orson Scott Card. (Great Book!)

The next day April 27, we headed back to the restaurant that helped us the night before, unfortunately we couldn't have breakfast there as they were closed. After breakfast at another restaurant, we went back to the bus station and got our tickets to Aranya Prathet. That was no problem and the bus ride was pretty short, since we were only 50km away! When we got to Aranya Prathet, we had to take a tuk-tuk to the border itself, and we got one for 50b. The tuk-tuk driver tried to take us to a mini-bus service that takes you to guest a guesthouse in Siem Riep that pays commissions, but we just wanted to go to the border; finally, he did just that. At the border, we were surrounded by many begging children and adults. We had to keep our hands on our pockets as the kids would attempt to take whatever you had in your pockets! I caught one who had almost gotten my money pocket open. There was one adult guy that "befriended" us and gave us advice as how to cross the border and what customs to go to and such. I knew there would be a request for money at the end, but I didn't mind. You have to walk across the border to Cambodia. As you go across it looks like they have some casino type places going up between the Thai border crossing and the Cambodian border crossing. Probably an exclusive gambling zone. We walked on to the Cambodian side and went through their passport control.

To be continued.... in Cambodia!




If you are reading this chronologically, Click here for the next installment from Cambodia.
4/30-5/14/03 One Last Time in Thailand!
On April 30th, crossing out of Cambodia and back into Thailand, although I had nothing of value in my pockets, I was very cautious. We waited on the Thai side of the border for our bus. Our "bus" turned out to be a minibus -- not at all what we expected! We had assumed, based on the photos on the wall at our guesthouse in Cambodia, that we would be put on a full-sized bus to Bangkok. Alas, it was not to be. But, at least we would be there today, in only a few hours. Kirk and I spent most of the ride reading and chatting with those around us from time to time. There was one rest stop along the way -- we got refreshments and tried to cool off a little. It was brutally hot today (again).

When we arrived at Khao Sahn Road (at least the mini bus went straight there instead of to a bus station elsewhere), we headed for our favorite little spot, the River Guest House. It was kind of late, but we were hoping they'd have room for us. We arrived and rang the bell. A few minutes later, the gate opened, and the lady poked her head out! She smiled and beckoned us in! She recognized us from our last stay there! She did have a room. Although it wasn't a double, we were able to push two beds together and it worked well enough. We took it. The kittens have gotten much bigger! They are still adorable though. We had dinner around the corner at a one of the vendors and then checked internet. Tomorrow would be a busy day.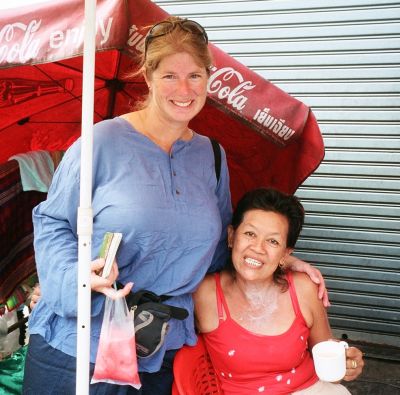 Donna and her favorite shake lady in Bangkok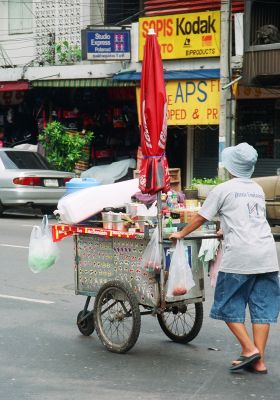 A vendor heads to work

On May 1st, we got up fairly early. We had two things high on the list today -- a trip to the post office and a trip to the doctor's office. We also figured we'd try and take care of some other errands along the way. We headed toward Khao Sahn and the post office. When we got to the post office, it was before their opening hours, so we went to the film developer to drop off our film (yes, pictures will be posted soon,if they haven't been already). Then, we headed back to the post office, which now should be open. Ack!! Today is a public holiday! Labor Day!! We have to wait yet ANOTHER day to see if Kirk's missing visor has shown up!

We make our way to Siriraj Hospital (the Hospital of the King) to try and get an appointment. We figure if it's good enough for the king... The hospital complex is enormous! It took us a while to find someone who spoke English and would point us to the right building/area, where we could check in. We were directed to the Outpatient Department ("OPD"). There, we paid 20 baht (50 cents) and they made a chart for me, asked a few questions and then told us to sit down and wait for them to call my name.

We waited. And waited. The place was packed. And quite hot. There is no air conditioning in this hospital -- at least not in this area. Finally, I went to the front desk and asked if they had called my name (everyone else who had been waiting when I arrived seemed to have been called and a few that had arrived after me). The woman said something to someone across the office from her and almost immediately my name was called. I almost laughed out loud. We were sent to a department upstairs. They gave me card to show, which was to be, I assume, the equivalent of a health card.

I went upstairs and was asked to wait. If they hadn't called me in half an hour, then I was to come in again. I assumed they wouldn't call me...they didn't even bother to find out my name! Half an hour later, I went in and was ushered into yet another room. Now, remember, we are in a Thai hospital. Many of these people don't speak English. I speak VERY LITTLE Thai. Often, they are merely sending me to whomever they think can deal with me, I think. The nurse they sent me to was very nice and had us take a seat after asking a few pertinent questions (like why were we there).

Finally, we got to someone who really could help us. She asked the really pertinent questions and then ushered me in to see the doctor. I finally managed to have my very routine pap smear (all this for a simple test) and then get a prescription for a refill on my back medication. The total cost of my visit (without the prescription refill)... 80 baht (that includes the 20 baht we paid to have chart made) -- $2. I can't have the same thing done in the states for that. The doctor's visit alone costs me $10, without the lab fees! We were pretty happy it hadn't broken the bank.

Then we had the prescription refilled. Oops. Apparently, Topomax is not one of the drugs that is cheaper outside the US. It's about $1 a pill. So, without insurance, and we are NOT covered by insurance for prescriptions, so it cost us $240...yikes! Oh, well. We spent the rest of the day back on Khao Sahn Road running other errands and trying NOT to spend any more money.

On May 2nd, we had another day full of errands. Again, the post office was high on the list. We had lost track of how many times we had gone there looking for Kirk's visor, but this time we just weren't going to be deterred. When we arrived, we went through the books of post restante receipts (they seem to have 4 different books). As Kirk went through one, I went through another and found a pink slip with his name on it!! Finally! Progress! I pulled it out and handed it to one of the girls behind the counter. She went and retrieved a package. I read the return address (upside down) as she was trying to sort out the paperwork to release the package to us. It turns out that although there was a pink slip (receipt of sorts) for the package, it had never been logged anywhere. While they tried to sort it out, I tried to gain some attention to the idea that this was only one of two packages we were expecting. This was a package that was sent by Kirk's mom -- a full month AFTER the visor had been shipped to us (the visor was sent express -this was sent regular mail).

Finally, they asked us for 7 baht (about 16 cents), which we paid, and they released the package to us. Kirk went to open it (it contained some film from home) and I stayed at the desk to try and track down our other STILL-missing, express mail package (according to the US Postal service, it was delivered on March 1). I stood at the desk until one of the girls who spoke English looked at me...she told me I was "finished" (a popular phrase here). I explained that, in fact, I wasn't. I was looking for another package. I proceeded to begin my explanation (again). Finally, she looked at her boss who waved me over and then proceeded to ignore me. So, I stood in front of her counter (not budging) with a pleasant smile on my face, waiting to be acknowledged. She continued to ignore me for several more minutes, but every time she turned around, there I was, smiling pleasantly, waiting to be waited on and not going away. Finally, she turned to someone at a counter next to her and started speaking rapidly (and exasperatedly) in Thai, gesturing at me. Then, she looked at me and pointed for me to go to the next counter, and the woman asked if she could help me. I patiently explained my problem again. As soon as I said "express mail", she frowned and repeated what I had said. I nodded. She stood up and said "follow me." She led me behind the desk through a short hallway into an entirely different mailroom!! There was a SEPARATE MAILROOM FOR EXPRESS MAIL POST RESTANTE!! The entire time we had be coming to the post office, no one had managed to relay that information to us. I spoke to the new mail clerk, giving him Kirk's name and the date we had expected the package. He looked into a pile and pulled it out almost immediately! Praise God!! I couldn't believe it! Of course, I had to go and get Kirk, since he needed to see Kirk's passport in order to actually CLAIM the package! Then we paid the 5 baht fee (12 cents) and went off and opened the package. Whooo hoooo... Kirk's new visor (it works!) and a HUGE tube of CREST TOOTHPASTE (thanks, Sue! You're the best!). We are now the two happiest people in Bangkok!

Next stop on our list was changing our airline tickets. We had originally schedules ourselves to fly from Vienna to Barcelona and then go overland to London. We've changed our itinerary a bit and now wanted to fly from Vienna to Paris and Paris to London. We needed the airline to issue the changed tickets and our agent had set it up so we could pick them up right here in Bangkok. It took a bit longer than expected, but it wasn't too cumbersome. Along the way, we got to walk by the American Embassy (another fortress) and the US Ambassador's Residence, which was an AMAZING place!

Since we were on that end of town, we treated ourselves to a couple of hours of paid airconditioning (a movie, of course) and saw X-Men 2, which was high on Kirk's list of "wanna-see" movies. Then, we headed back to Khao Sahn Road and plotted out our last few days in Thailand before we head off to India and booked a few trips, starting with a trip to Kanchanaburi (the next day)!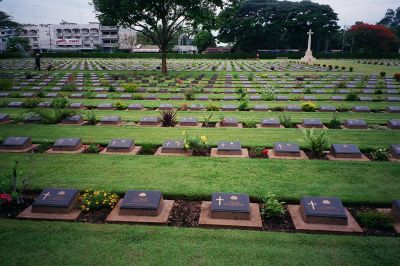 The allied cemetary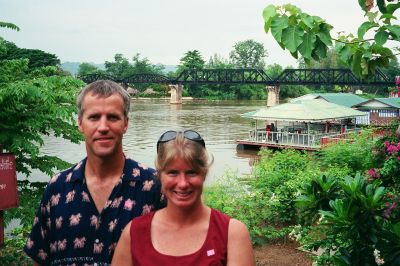 Bridge over the river Kwai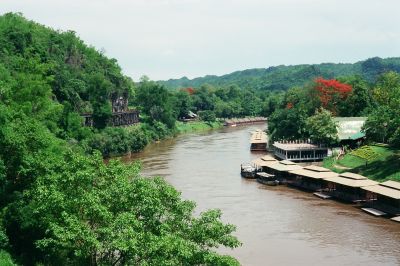 River Kwai as seen from the train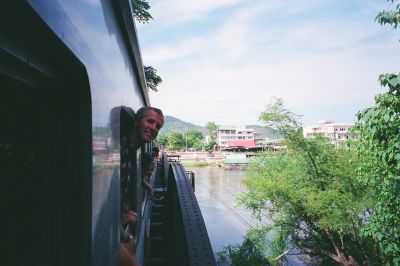 Crossing over the bridge on the train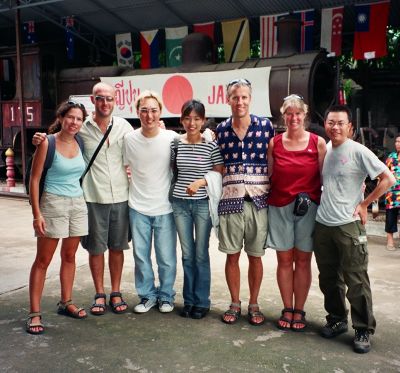 Megan, Andrew, Jinhwa, Joy, Kirk, Donna, and Fay

On May 3, we got up VERY early (too early it turned out) and headed down to Khao Sahn Road to catch our bus. We got there 30 minutes too soon! Oh, well...extra time to find a little food for breakfast! Finally, though, it was time to go and we were quickly ushered into a van. We hoped it was the right one (they were a bit disorganized and no one seemed sure what was going on). The drive to Kanchanaburi took a couple of hours, so we had some time to get to know the people in our van. There were two "mixed" couples on board (in both cases, he was a Kiwi and she was an Aussie), Dave and Kath, and Andrew and Megan. Also, a man from China named Fay. He had just been to Angkor Wat, as well. We also met a couple from South Korea (although the girl was now living in Thailand), Joy and Jinhwa. We had a good time chatting and getting to know one another.

For those who don't know much about Kanchanaburi, you may have heard of the "River Kwai" (thanks to the movie "Bridge over the River Kwai", which by the way, doesn't really tell the story accurately). During World War II, the Japanese decided that they needed a reliable supply line between Thailand and Myanmar (Burma), so they started building a railway. The Japanese engineers estimated that, due to the treacherous, mountainous terrain, it would take 5 years to complete the railway. However, construction began on September 16, 1942 in both Thanbyuzayat (Myanmar) and Nong Pladuk (Thailand) and the Japanese Army forced POWs to link the two ends (a 415 kilometer, 1-meter gauge railway) in only sixteen months. The entire railway is known as the Death Railway because of the huge number of deaths that occurred during its construction, not only of POWs (it is estimated that over 16,000 POWs died during construction) but also coolies (local workers forced into labor by the Japanese). It is thought that upwards of 100,000 coolies from Thailand, Myanmar, Malasia and Indonesia died during construction of the Death Railway during the 16 months of construction.

The bridge itself, Saphan Mae Nam Khwae, was first completed in February 1943 as a wooden bridge. In April 1943, a second, steel version was completed. The bridge was in use for 20 months before it was bombed by Allied forced in 1945. In an attempt to ward off the Allied bombing, the Japanese forced all the POWs to stand on the bridge as the Allied planes approached. Only one POW is known to have escaped - a Briton who took refuge among pro-British Karen guerillas. The bridge was bombed several times and was only rebuilt after the war (the curved portions are the original portions).

Our first stop in Kanchanaburi was the Allied War Cemetery. There are actually two, but we only stopped at one. The cemetery grounds were beautiful and well-kept. There are literally thousands of POWs buried there -- of many nationalities, but no Americans. The 834 Americans were all taken home and buried on American soil.

From there we headed to the World War II and Jeath War Museum. We walked around this very odd place, completely confused; it had no sense of organization whatsoever, and many of the exhibits had no bearing on or connection to World War II, the River Kwai, Kanchanaburi or anything relevant that we could see!

Finally, we left and walked over to the bridge itself (Saphan Mae Nam Khwae). There were a ton of people on the bridge, taking photos of the river, looking down the bridge or just walking on the rails. We weren't even half way across when we heard a train whistle. We turned to look and saw a train trying to make its way across the bridge -- it was, of course, very slow going with all the tourists in the way. We continued across the bridge, knowing it would be a while before the train caught up to us. When it finally did, we watched it go by, fairly certain that it was the same train we would be on later in the day.

Soon after, we climbed back on board our van, said goodbye to some in our group who had other itineraries for the day and headed off to see a waterfall, Nam Tok Erawan. Many people rave about this waterfall, but after seeing Kuang Xi (in Laos), we weren't particularly impressed. Plus, without swimsuits, there wasn't much to do but sit and look at it. We looked, said, "okay, it's a waterfall" and were pretty much done with it.

Lunch was next. After that, we boarded the train which took us along a portion of the historic track. We rode the train for an hour and a half, back to the Bridge, where we had started. En route, we had snatches of good views of the river and entertaining conversation with some of those around us.

The van ride back to Khao Sahn was uneventful. The rest of the evening was as well.

May 4th was an excellent day for us! Finally, after a VERY LONG absence, we got to go to church again! We went back to the Evangelical Church of Bangkok, where Joe and Chris had invited us, and we attended last time. It was so wonderful to be back at a church again! We hadn't be able to attend one since we were last here on March 23! AND we were treated to a very special service...one of the members/elders of the church had written a special liturgy for Easter communion. He was leaving for a year and they had asked him to sing it again this service. It was beautiful! I saved a copy.

After church, we found our way to the train station and bought our tickets to Surat Thani. We were leaving the next night for the south of Thailand. It was time to relax on the beach for a few days before heading to India. The train station turned out to seem a bit more difficult and complicated than it needed to. All we REALLY needed to know was "go to window 2"! That's where all foreigners have to go to buy their train tickets. All other contact is unnecessary and pretty much confusing. Unfortunately, the AC compartment was sold out. We got two upper Fan sleepers. We later found out they were about the worst you could get in the sleeper seats, but hey, at least we could lay down! And the seats were only 408 baht each, rather than the 600+ baht the folks on Khao Sahn Road had been trying to charge. We spent the rest of the afternoon taking care of business -- internet, uploading photos, haircuts, etc. The next day, we would go to Ayutthaya and then take an overnight train to Surat Thani.

On May 5, we got up early again (these silly organized tours always seem to start at 7 AM, so we have to leave our guesthouse at 6:30 to get there on time) and made our way over to Khao Sahn. This time we made sure we didn't get up too early, but we had to check out of our guesthouse and take our bags with us, so we did have to get up a BIT earlier than usual.

We piled our packs into the back of the van and then we were off to Ayutthaya, which is about ninety minutes north of Bangkok. Ayutthaya served as the capital city of Siam (Thailand) from 1350 to 1767 (remember that Sukhothai was the capital from the mid-thirteenth century to the mid-fourteenth) and is full of ruins , as was Sukhothai.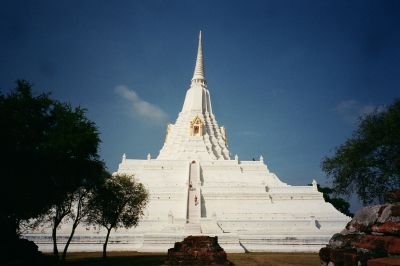 Golden Mount Chedi

Upon arrival in Ayutthaya, our first stop was Phu Khao Thong Temple (or the Golden Mount Chedi) . It was built in 1387 and was partially restored in recent years. However, despite restoration efforts, it had a definite tilt -- not to the degree of the leaning tower, but certainly noticable. Next door, a more recently built vihara contained huge buddha images in a rather small structure. Interestingly, we saw a tiger statue that turned out to be masking an entrance to stairs leading down to a ceremonial washing structure for buddhas.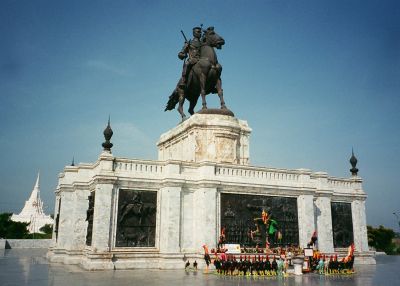 King Naresuan Monument. Check out the chickens!

We still had some time left, so we dashed out to see the monument to King Naresuan, the Great. It was a beautiful piece of artwork, but we barely had time to snap a couple of shots and dash back to the van.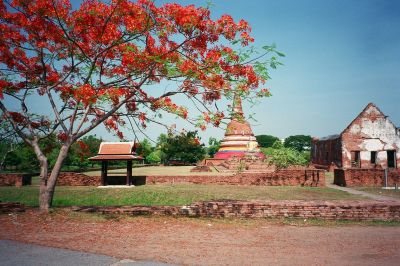 Wat Chetharam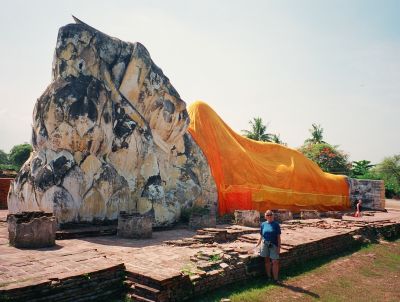 Wat Lokaya Sutha, the reclining buddha

We headed to another grouping of wats. Unfortunately, our guide wasn't very good at telling us names, so the only one I know for sure is the last one we saw in the group - Wat Lokaya Sutha, which had a HUGE reclining buddha. I think we also saw Wat Chetharam. The other wats in the area were built around 1665 and included a ceylonese style stupa, a Khmer (Cambodian) style pagoda and a Hmong (Burmese) style temple.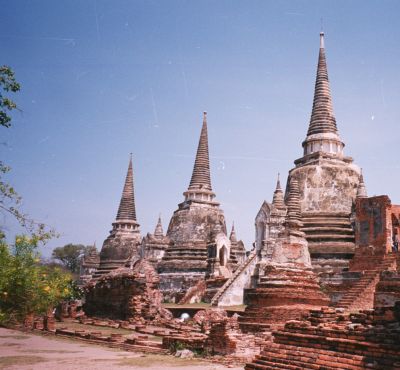 3 Chedi of Wat Phra Si Sanphet

After leaving that area, we headed to Wat Phra Si Sanphet, built by King Outong in 1440 and which contains the remains of the first three kings of Ayutthaya. It once contained a 16 meter high Buddha covered with gold, but the Burmese conquerors melted it down. It is now mainly known for the line of three large chedi erected in quintessential Ayutthaya style, each of which contains the remains of the one of the three kings. It was horrendously hot out, so as we walked around the grounds, we tried to stay in the shade the entire time.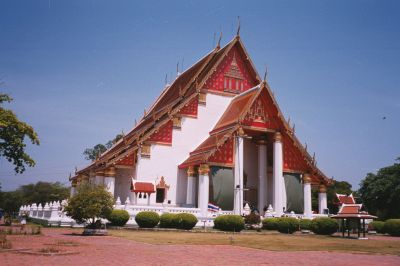 Sim of Vihara Phran Monghorn Bophit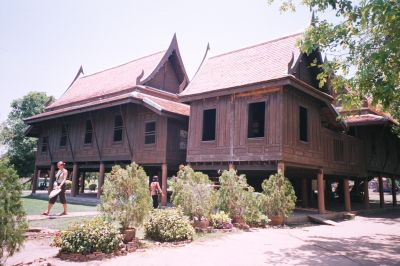 Thai Teak House

Next door to Wat Phra Si Sanphet is Wihan Phra Mongkhon Bophit, which has been extensively renovated. The Vihara is huge, as is the buddha image that it contains. We walked around a bit, trying to cool off and then gave it up and went next door to the market and bought cold drinks. Then we walked over to an amazing Thai teak house that was restored and open to the public to explore, representing a traditional home of a Thai family.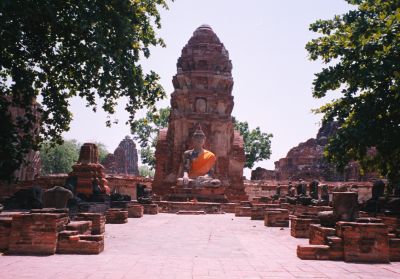 Wat Phra Mahathat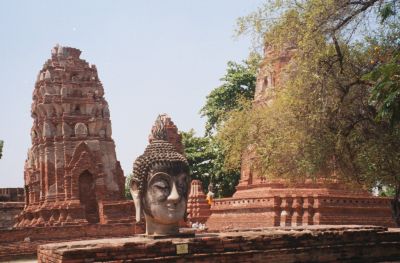 Buddha head at Wat Phra Mahathat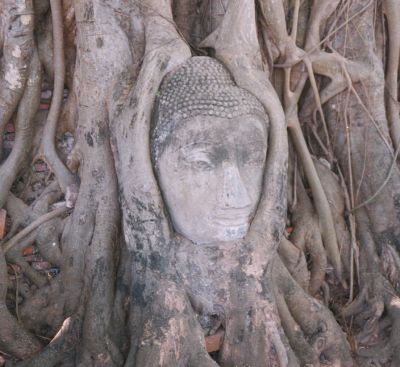 Buddha head in tree at Wat Phra Mahathat

Next, we loaded into our van and all headed off to Wat Phra Mahathat, which dates back to the 14th century, although it was sacked by the Burmese in 1767. Despite the extensive damage, the prang, which was built during the reign of King Ramesuan is still impressive. It was one of the first prang built in the capital. This was an interesting little place...every where you looked, there were buddhas. Many of the buddhas on the grounds were now headless, as they had been damaged by raiders or souviener hunters at one point or another, but it still gave an interesting picture of what the place might have looked like during the time it was actually in use. In addition, there is a buddha head that is quite famous -- it has been consumed by a tree.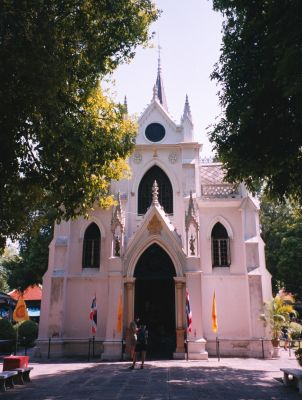 Exterior of Wat Niwet Thamaprawat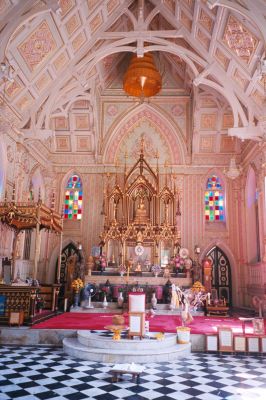 Interior of Wat Niwet Thamaprawat

Our last stop was actually about 20 kilometers South of Ayutthaya, Wat Niwet Thamaprawat. This place was unlike any wat I had ever seen! It was built by Rama V and you reach it by taking a trolley across the river. However, its most unusual feature is that it looks, for the most part, like an English gothic church, complete with stained glass windows and chandeliers! When I first walked in, I didn't realize I was in a Buddhist temple! That is, until I saw the buddha images and joss sticks laying around!

The ride back to Bangkok was pretty uneventful. We arrived back at Khao Sahn Road around 4:30 and didn't need to be at the train station until around 6:45. We set ourselves up at cafe on Khao Sahn Road that had movies and internet and then took turn running errands and guarding the bags. As I returned from buying a pair of $2 travel pants (it's nice to have something really comfy to wear on trains and planes), Courtney (remember, we met her in Pai) came up behind me! We have been following the escapades of both Courtney and Todd on Todd's website (www.toddcourtnage.com) for the last couple of months and have come close MANY times to running back into them. Finally, we did! We sat and chatted with her as long as we could and then finally, had to leave and catch our train! It was great to see her and swap stories for a while! Soon, she'll be heading off to Australia (where we've been). So, all you Aussies had better be nice to them when they get there! They'll be in currency shock!

We ended up having to take a tuk tuk to the train station -- our bus never showed. But we got there in plenty of time and hopped aboard our train after arming ourselves with plenty'o'snacks! The train ride was to be a long one...about 11 hours or so. And it was hot! It turned out that if you're in the fan car, you want to be in the bottom bunk. The top bunk doesn't have the benefit of the window -- only a little oscillating fan on the ceiling, which if you close your curtain, to block out the flourescent lights that they don't turn off at night, you also block out the circulating air of the fan. At least on the bottom bunk, you can leave the window open and get some fresh air. Live and learn. We didn't get much sleep, but it was still better than a bus.

We pulled into the train station at Surat Thani at around 7:30 AM or so on May 6th. We grabbed our stuff and unloaded. It wasn't much of a train station, really (certainly not like Bangkok). There were a few large buses there, advertising that they would take us to specific destinations for varying prices, ranging from 150 to 250 baht. We wanted to go to Krabi and knew it should cost only 60 baht. But that meant going to a real bus station, rather than just hopping on this bus. Kirk was very tired and decided we should just hop on here, so we did.

The bus was slow getting started and at one of the stops we made along the way, we waited for about 45 minutes to an hour for others to show up and get on. Eventually, though, we did arrive in Krabi. The bus dropped us off at an area completely surrounded by tour offices. The one we got dropped at was filled with the pushiest people I've seen since we were in Vietnam. Kirk and I stood there for a bit and listened, but the guy was so rude and so full of hype that we couldn't get a straight answer out of him about anything, so we left. We walked about two doors down to a nice quiet little office and booked the ferry to the island of Ko Lanta. Five minutes later, she had someone pick us up and drive us to the pier. Everyone we talked to, practically, asked us where we were staying on Ko Lanta. We had been warned this would happen. We simply responded, "we have a place, thanks." EVERYONE would say (first thing out of their mouth) "where you staying?" It got really old! At the pier, we went WAY down the road and found ourselves a cafe, where even the owner tried to sell us tickets to one thing or another.

Finally, it was time to catch our ferry. We climbed aboard. So did about 10 or 15 people representing guesthouses on Ko Lanta. Every single one of them must have approached us at least once.

When we arrived on Ko Lanta, there were about 20 pickups and tuk tuks there, touting specific guesthouses. As we walked off the boat, Kirk saw a falang standing in the entrance to a nearby restaurant and asked him where to rent motorbikes. The guy told us how to get to the main part of town (about a 3 minute walk) and we headed off through the crowd. We quickly scouted out the motorbikes...we had been told they would cost about 250 baht per day, so we were prepared to rent for only a day or so at a time, as needed. But, we found one for 170 baht. Cool.

The woman nearly laughed her head off as she watched us sorting out the best way to put us AND the two backpacks on the bike. We've done it before, but not for such long distances. We ended up the day trying three different configurations. Ultimately, I think the first one was really the most stable: Kirk's pack tied on the back, mine on my back, but resting on top of Kirk's pack, me sitting as far back as possible and Kirk in front driving. Of course, we had to untie it all and then redo it after we got gas, but that's life.

We drove all up and down the island looking for just the right place. Several places looked interesting, but didn't have a place on the beach. Or if they were on the beach, they wanted too much. Or they were too fancy, or too crowded. Or they were closing in three days and we didn't want to have to move half way through our stay. At one point, we hit a terribly muddy spot and with the horrendously heavy and shifting load on the bike, Kirk wasn't able to do much. He had two choices -- run the bike into a thicket of brambles (we were both wearing shorts -- it wouldn't have been pretty) or lay it over in the mud. He chose the latter. I was in dire need of a shower after. We renewed our search with a vengeance.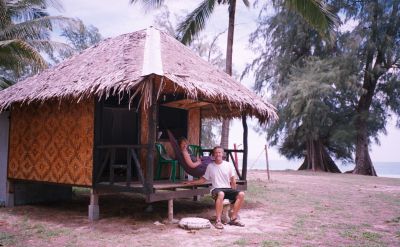 Our hut on Ko Lanta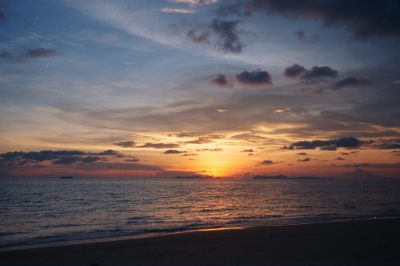 Sunset outside our hut on 5/6/2003

Finally, around 5:30 or so, we found it! On Long Beach, we drove down a long, very muddy road to Lanta Sandy Beach Bungalows, where we weren't even sure that they were open. But someone finally came out to help us. They took us down a long row of bungalows to the very first one...on the beach. It had a double bed with a mosquito net, a nice big porch (veranda) with a hammock, and an attached bathroom. And it was 150 baht (less than $4). We took it. Then, we sat down and watched the amazing sunset. Well, we did after I went in the ocean (warm as bathwater, by the way) and tried to wash some of the mud off.

After a refreshing cold shower, all the showers in south Thailand are cold water, went to dinner. By the way, I just have to talk about this for a second... when I first heard that we would be coming to SE Asia and wouldn't be getting hot water, I was mortified. How would I EVER manage?! But let me tell you...when you are here and the temperature never seems to get below 30 or 35 degrees, you WELCOME a cold shower! In fact, I often take a cold shower before bed so that I am cool enough that I can go to sleep! Go figure! Never thought I'd welcome it!

Anyway, we discovered that there was a little restaurant next door and we went to have some dinner. Well, even though the accommodation isn't that expensive here, we discovered food isn't. When we walked up, there was a guy there that said, quite loudly, "People!" I laughed and said, "I guess you haven't seen any people in a while...?" (Our beach is pretty deserted, which is one reason I like it). He agreed. So, we sat and talked with him for a while. His name is Sam and it turns out, he's from Riverside, California, and is staying in a bungalow on the other side of our little resort. We hung out chatting for a while and then went and got some much needed sleep!

On May 7th, we woke up to the wonderful sound of waves crashing on the beach right outside our door. I LOVE that noise! We decided to head into town and get some breakfast. We ended up at a little joint called Santos, where they make a yuumy iced latte. While we were there, we met a nice chap from England, Dan, who has been living on the South end of the island with a Thai family. He invited us to his place, the Blue Moon Bar, that evening for a party they were throwing, celebrating the end of the season on the island. It's interesting how, in Thailand, someone's home can be a guesthouse, a residence and a bar, all at the same time. And it WAS. When we stopped by there later on, to see where it was, there was a huge bar, dominating the lounge area, which would probably be a living room otherwise. And it was filled with children's toys as his kids played around the house. It was quite a contradiction. Keng (the owner) was a really nice man, though, and greeted us warmly.

After breakfast, decided to do a little exploring of the island by motorbike and headed South. We ended up driving all the way to the Southern tip of the island, along the Western shore, to the marine park. We didn't go into the marine park, however, as they wanted a 200 baht entry fee per person (and it didn't seem as if there was a whole lot to see). Instead, we just turned around and headed back. We stopped on the way back at Paradise Internet (they have a satellite hookup), but the power was out, so we had a soda at the resort there instead and played some cards. While we were there, the power came back on and we checked our emails. Internet on Ko Lanta is very expensive --2 baht per minute (that's about $2.85 per hour). Normally, it's less than $1 per hour in Thailand, sometimes less than $0.50. So, if you're gonna pay that much, you want it to be FAST.

After we left the internet, we were heading back up the island and just as we were passing Keng's house, we realized the bike had a flat tire! Luckily, we were able to pull it into Keng's and he told us there was a place just about a quarter of a mile away that could repair it for us. So, Kirk took the bike on ahead to have it fixed and I walked on up to catch up to him.

The further South you go in Thailand, the more you get into Muslim populations. There is a large Muslim population on Ko Lanta. We had noticed that many of the women on Ko Lanta cover their hair. There were a few buildings that looked like Mosques. We had seen other clues. It made me more aware of what I was wearing at all times on the island and want to be careful of their customs. I had recently reread a James Clavell book called "Whirlwind" (purely fiction), that delves quite deeply into Muslim customs and beliefs. It was interesting. As I was walking to meet Kirk, I walked right through a Muslim village, wearing shorts. And a t-shirt. Ugh.

We got the tire fixed for 130 baht. But not before I had to go and try and get change for a 1000 baht bill. From the Muslim lady at the mini mart around the corner. She wouldn't serve me. Luckily, there was a truck full of dejected falang guys outside (they were trying to buy beer, of all things, which you can't do in a Muslim village) who was able to come up with enough change to help me out. With our new tire, we headed back to town, had a very late lunch (early supper?) at the Lanta Cafe (excellent pad thai...very spicy), bought a couple of cheap mask and snorkles (the water here is so salty we could pickle ourselves in an hour or so), and went to a travel office. We decided we should book our trip back to Bangkok and get that taken care of. We used ANut Tours and Travel, next to Santos. I can tell you right now: DON'T USE THEM. They were trouble from start to finish. We booked the ferry back to Krabi with a pickup to take us to the bus. Then, the bus to the train station and then an AC sleeper upper/lower from Surat Thani to Bangkok. But more on that later. Then, we headed back to our bungalow.

After an inaugural dip with our new masks, we showered, relaxed on the veranda and watched another beautiful sunset. Finally, we showered, changed and headed over to the Keng's house to see what was going on. We met some really nice people there, including Frederick, who will be starting a website soon (I don't think it's active yet): www.seafood.se He and his girlfriend are from Sweden and we chatted for a good long while about his new business that he is starting. It sounds really interesting! We also got lots of tips from various people about traveling in India. We had a long drive home and it looked like it was going to start raining soon, so we headed out fairly early.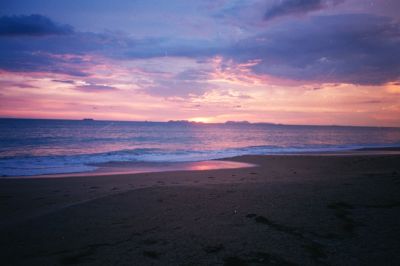 Sunset on 5/7/2003

It's nice to spend some time in the evening on the veranda, reading and watching the geckos. I know that sounds crazy, but have you ever WATCHED a gecko. Or even MORE interesting, two? We have TWO geckos on our veranda and they are VERY interesting. One's a bit bigger than the other and I've wondered a few times whether it's training the smaller one how to hunt. Today, I saw it eating, then it chewed a little on the smaller one's tail. Then, it crawled into a hiding place while the smaller one stayed out in the open, hunting. It seemed perfectly content to the let the little one get all the food. Weird. And, we got to see it make a noise. Not the cool "gecko" noise, but the smaller clicking noise that they seem to make as they warm UP to the "gecko" noise. I'm DETERMINED to watch one make a "geck" noise before we leave SE Asia. Who knows if I'll ever have a chance to see it again!

The next day (May 8th), we had breakfast at Santos and then spent almost the entire rest of the day at our bungalow, relaxing or reading on the veranda in chairs or the hammock or playing in the surf. At one point later in the evening, we did leave and check our internet accounts briefly. Just as we were about to leave the cafe and head home, a fantastically heavy rain started, stranding us! It was pouring so hard, the rain was bouncing inside the open doors of the cafes and they had to close the garage like doors to keep the place dry. Eventually, it calmed down enough for us to race home and watch the rest from our veranda.

May 9th was a repeat of the day before. We came down to Ko Lanta to relax. That is exactly what we did. I was reading about a book a day. Whirlwind (James Clavell), Speaker for the Dead (Orson Scott Card), Ender's Shadow (Orson Scott Card), Past Watch (Orson Scott Card), Fool's Run (John Sandford), Bourne Identity (Robert Ludlum). Kirk was reading as fast as I've ever seen him read (working his way through the Ender's Game and Bourne Identity series)! We are both just enjoying the rest, the weather, the quiet, the peace, the surroundings.

On May 10th, we dropped our laundry off at a little place on the main road that advertised 20 baht per kilo (most of the places on the island charged 40 baht per kilo or so) and had breakfast at the Lanta Cafe. Then, we decided to explore the other side of the island and hopefully find some postage stamps. The main "local" town, Lanta Town, was on the East side of the island. We headed South to the turn off to Keng's place and then we continued straight, where we had never been before. The road turned inland there and started slowly climbing uphill. We passed a couple more Muslim villages.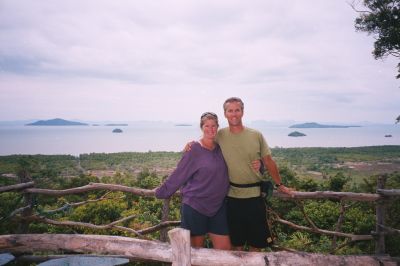 Us at Yuk's Hilltop Viewpoint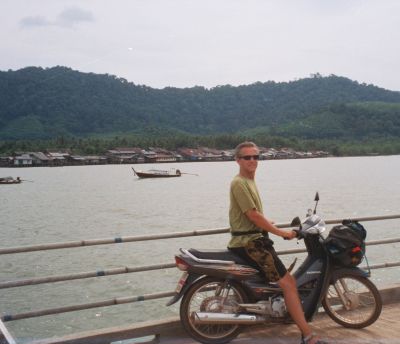 Kirk on the Lanta Town Pier with our motorbike

We turned in at a sign that said Yuk's Hilltop Viewpoint and climbed a steep dirt track to a beautiful bamboo platform and restaurant. We ordered cold drinks and sat out on the platform on mats overlooking the fantastic view of the East side of Ko Lanta. There are many islands to the East of Ko Lanta, unlike the West side. It was a much different view than what we had become accustomed to. After a little while there, we decided to head on down to see the East side close up.

We saw some more overlook restaurants on the way down, including one that had been recommended and decided we might stop on the way back. We arrived shortly in Lanta Town, and to our disappointment, the Post Office was closed. It was Saturday. We hadn't even realized it! Oh well. We drove out onto the very long pier and gazed back at the island. Beautiful!

We drove through Lanta Town and chatted with a man who was DETERMINED that we needed to spend some money and go on a long boat ride. It wasn't that we didn't want to...the price was just a bit more than we have the money for! We said our goodbyes and headed back up the hill, where we stopped in at the Khao Yai Restaurant and had a soda and another look at the fantastic views offered.

Finally, we returned to our bungalow and relaxed for a while. A few people that were staying either in our bungalows or in other neighboring resorts had gathered at the "E-Bar" which was a stone's throw from our bungalow. In reality, it was a big hut with a few chairs and a girl selling sodas, drinks or whatever you'd buy. It was such an unusual sight to see people around, we figured we'd go out and say hi. We saw Sam there and a friend of his that had shown up on the island a couple of days before, Brian. Also, a Canadian girl, Diane, who had checked into the bungalows a day before. There was an Irishman from next door, Connor, a German guy and a Greek girl (Marianna) along with the gal tending bar. The German had brought fireworks, too.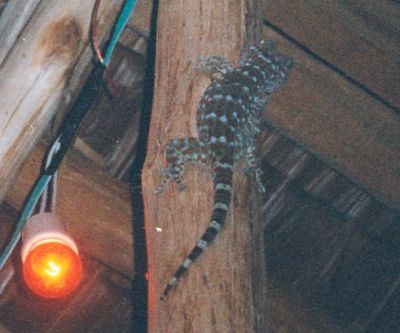 The Big Gecko!

We all hung out chatting for a while. I was thinking of taking a shower when Kirk pointed out to me the biggest gecko either of us had ever seen! It must have been about 18 inches long! It was HUGE!! Apparently, it talks a lot too! The girl tending bar told us that it says "gecko" all the time! SO! I was determined not to leave until I SAW it say "gecko"! Now, if you don't know what I'm talking about, let me tell you...geckos don't have the name "gecko" for nothing! They actually sound like they say their name. Not all the time. And they don't seem to do it all at once. But once in a while, generally at night, you'll hear ONE gecko at a time, clear his voice with a sort of clicking, warm-up noise, and then clearly say, 4 or 5 or 6 times, "GECKO! GECKO! GECKO! GECKO!" It's very eerie! And cool! Well, I wanted to see what one looks like when he does it.

This big guy was not cooperative, let me tell you. SEVERAL times that night, he DID say gecko. But, he always managed to be somewhere where we couldn't see him. The guys all went down to the beach and shot off the fireworks. Diane and I stayed up in the hut, watching the gecko and listening to Marley. She's a university Dean on leave from Malaysia, in a bit of a personal crisis. She transfered there from the Caribbean, which fit her lifestyle well. Malaysia is heavily Muslim and she feels quite oppressed there and is worried about finishing out a 2 year contract. I'm sure she can do it, as it means walking away with quite a bit of prestige, a doctorate degree, international experience and essentially being able to write her own ticket. And she's really only got 14 months left. She just needs the time to chill away from the pressure for a bit.

Finally! The gecko came down the beam a bit and was facing us. He clicked his warm up chirp and let it out! "GECKO! GECKO! GECKO! GECKO! GECKO!" I was satisfied! I went to bed, content that I could leave SE Asia without feeling like I'd missed something!

Ack! I can't believe May 11th was our last day on Ko Lanta! It came way too fast and went way too fast! It was mainly an overcast day and the waves were positively HUGE! The tide was the highest I had seen the whole time we'd been there. We spent more time in the hut, but went into town in the afternoon to return to the motorbike and have some lunch. We caught a motorbike taxi back from town and relaxed for a while on the veranda before heading over to the neighboring resort to see about some sodas and dinner. Diane and Connor were there playing cards, so we sat with them. They taught us how to play 101 and then we taught them how to play gin. We stayed there well past 10 and then went back to our bungalow. We had an early taxi coming tomorrow. We had a long travel day coming up.

May 12 was a very long travel day, full of frustrations. First of all, our taxi, which ANUT Tours and Travel told us would pick us up at 7:30, arrived at 7:05. Full of people. We weren't packed yet. So, they sat there, waiting for us. I felt bad, but there was nothing I could do, but continue packing as fast as I could. Kirk had more trouble, because his packing is more complicated than mine. Then, we discovered that ANUT lied to us. We booked the ferry (which is more expensive). They actually booked us on the bus. Then, when we complained, they claimed the ferry was canceled due to bad weather (we later talked to dozens of people who were on the ferry). When we finally got near Krabi, the driver had one of the women on the van turn around and ask us in English (he spoke none) where we were going. On top of everything else, ANUT hadn't bothered to tell the driver where to take us. We were supposed to arrive in Krabi at some office of ANUT's and pick up our train tickets and catch a bus to Surat Thani. WE had no idea where. ANUT was supposed to have taken care of all of those details! The driver apparently stopped and called ANUT, because right after the stop, he drove us to the right place and they seemed to know what we were talking about when we got off the van.

However, they DIDN'T have our train tickets. This didn't make me happy. This NEW travel agent gave us yet another voucher and told us we would have to turn it in when we arrived in Surat Thani to claim our tickets. We had heard many stories of people arriving at train stations, having booked A/C sleepers, being handed train tickets at the last minute for hard seats in the fan section. We didn't want to be those people, so we were being a bit disagreeable until the man assured us that not only would we have the tickets well before the train left, but that they were indeed A/C sleeper and he gave us a piece of paper that gave us some assurances. He was actually very nice. We grabbed some food and drink and sat around reading while we waited the hour or so for a bus. They weren't sure yet whether we'd be going on a full-sized bus or a mini-bus. Eventually, he said a full-sized and put us on a taxi-truck that took us to the bus. We all hopped on and the bus took off. It was about a two or two and a half hour ride. It stopped at a rest stop of sorts and we were all told to get out, even though we weren't where we expected to be. The man at the rest stop told us a truck would take us to the train station in about half an hour. We waited for a while and he finally called us to get on the truck with a few other people. After about 5 to 10 minutes of driving, the taxi driver pulls over, tells us to get out and get on a bus. What?! That wasn't what we had been told! After being assured that this was, indeed, what was supposed to happen, and that the bus was free, we finally got on the bus to the train station, which was another 20 minutes away. What a pain.

At the train station, we found the place to pick up our train tickets. Finally, something went right! At least we hope so! They didn't SAY A/C on them! But they didn't say FAN either. We had some dinner and then went and got on the train. The A/C car! Yay! It was SO much more confortable than the fan cars! The trip was, again, a long one, but it wasn't a problem. We got back to Bangkok this morning (May 13) at around 5:30AM.

First, we checked into our favorite guesthouse, the River Guesthouse. We had a follow up appointment at the hospital to pick up the results of my PAP Smear (normal) and then dropped off film for processing and spent the rest of the day catching up the website. Tomorrow will be last minute stuff we have to do before we head off to India tomorrow night. Our next post will be from a new country...India!!

If you are reading this chronologically, Click here for the next installment.