India 2003 Travelogue
Entries:
May & June, 2003

5/14-16/03 Namaskar India!
"Namaskar" means "hello" in Hindi. Hindi is one of about 80 languages spoken in India.

On May 14, we flew from Bangkok to Delhi, India. The flight was fine and we landed in Delhi around 10:30 PM. As we went through Passport Control and Customs, they had us fill out a SARS questionnaire and asked us if we were sick. We aren't. Then it was time to get the luggage and convert our cash to rupees. The rate is 46 Rupees per US Dollar, which is very similar to the Thai Baht. Our next step was to get into town to find a guest house. We had read about the touts and scams pulled on tourists just arriving, so we tried to call the hotel we had picked before we got into a taxi. Unfortunately, we couldn't get the telephones to work. We aren't sure if what were told was true or not, but it seems the numbers in our book are wrong and India has recently gone to 7 digit numbers instead of the 6 digit ones that are in our book. Oh well.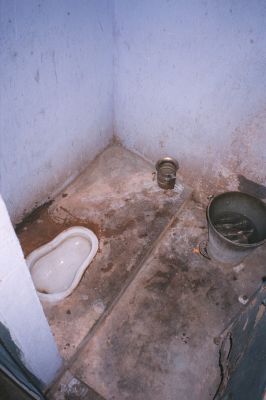 Scary Toilet!

We went out to get a taxi, and the book recommends getting a pre-paid taxi voucher just outside the terminal on the right, and then take that taxi straight to your hotel. We got the voucher and got in the cab, it was actually a very small car (smaller than a ford Fiesta). Another guy got in the front with the driver (it looked to us like this guy was the english interpreter/tout). They brought us into town just fine, but they "couldn't find" the hotel we had picked. They even got me to go into a tourist office "in order to call the hotel to get directions", but in retrospect, this was another scam to get us into a higher cost, commission paying hotel. While in there, they dialed all the hotels for me, said a word in Hindi to the people on the line and then handed the phone to me. Of course, all the places I had him call were "Full Up". The tour operator, of course, had rooms available in other hotels for 500 rupees. We wanted to spend much less (about 150 rupees). Well after a bit of this, we went out and I had him drive to the train station area which was on the map I had, and then we navigated backwards from there to where our hotel was.

We got out and found our hotel up a tiny alley (3 feet wide) and of course they were NOT full up they had plenty of rooms. We got a room with attached bath, and double bed and fan for 100 rupees/night. Although the bath is probably the scariest one we have seen yet and the bed is quite hard, its where we want to be and cheaper than we have paid in a long time in SE Asia! We are at Hotel Navrang in Paharganj near the New Delhi Train Station (thanks for the recommendation, Chander -- it's PERFECT!)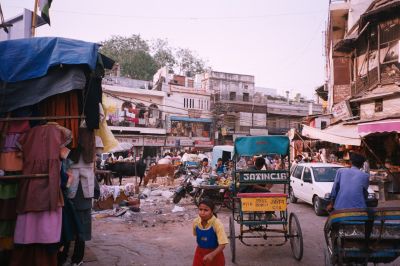 Delhi Street Scenes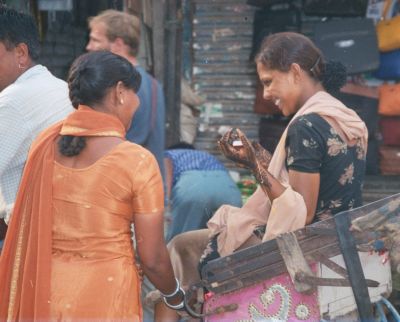 Some girls in Delhi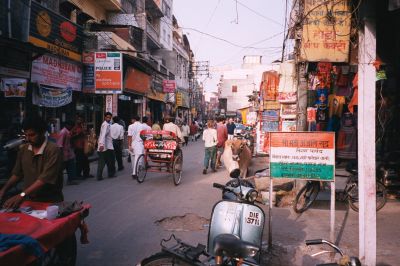 Delhi Street Scenes

On May 15, we slept in late as we had been up very late and had traveled the day before. When we did get up we went down and out into the streets of Delhi. Boy are they busy! Lots of people going this way and that, cycle rickshaws (three wheeled bycycles with room for two passengers in back), autorickshaws (green and yellow 3 wheeled vehicles very much like tuk-tuks in Thailand), cows (they are holy here, so they run amuk as if they own the place!), motorcycles (normal-style, like in the states), scooters (look like vespas though they are Indian-made), cars (almost all very small cars), and a few trucks. Then, there are the odd horse- and ox-drawn cart...

One interesting thing about Delhi is that in order to combat their pollution, they have converted nearly all the commercial vehicles to run on CNG (Compressed Natural Gas). This includes all the little three-wheeled autorickshaws. Nearly all of them are CNG-powered. CNG has much less pollution than petrol or diesel.

We had breakfast across the street from our hotel at Sonu Chat House. This is a GREAT place to eat. The prices are cheap and they have excellent Indian food. The owner/proprieter is very nice, too. He helps us learn to pronounce our few Hindi words properly. So far my favorite dish is Chicken Masala Dosa. To drink so far I like the Chai (tea) and Limca soda (lemon-lime soda). Donna also enjoyed the breakfast she had, which was a Southern Indian dish, called Vada Samber. If the tables are full, you might be asked to join someone else you don't know. We sat with Yuki, a girl from Japan who is traveling in India for 6 months. She's only got a month to go before her visa expires.

For the rest of the morning, we just walked around the neighborhood taking in the sites and sounds. We had nearly every taxi driver come up and ask us to go with them, lots of offers to buy all sorts of things, drums, flutes, books, anything. Lots of people befriend us and then immediately want us to go to their tourist office and book stuff. We just say "no thank you" and keep on walking.

Later in the day, as it got hotter, we retreated to our hotel and did a bit more reading on India and in our other books, and Donna worked on her journal. Later that afternoon, we went walking some more and ran into Yuki again. We were all in search for a place for lunch and decided to eat together. After one false start (the place looked okay from the outside, but the menu turned out to be about 4 times the price any of us wanted to pay), we ended up at a little place that looked promising. The funny thing was, whenever any of us tried to order Indian food off the menu (they had a broad selection of Indian, SE Asian, Asian and European), the man would say it wasn't available until after 7PM. It was only about 3 or 4. It was quite frustrating...to be in India and unable to order Indian food!! But we ate anyway and the food was good. It was fun to have lunch with Yuki...she's a nice girl. After lunch, we parted ways, hoping to meet up again soon. She was expecting a friend to arrive in a few hours and then might be heading to Agra (to see the Taj Mahal) the next day. We walked around quite a bit more, people watching and taking a few photos now and again. Then, we went back to the Sonu Chat house and tried to order Chapati (roti) and Naan, but they don't make them until after 7 PM, so we went back to the hotel to rest for a while.

At about 8:30 we went back out and had our Chapati and Naan. It was very good. We like the Naan with cheese best. Later, we went back to the hotel and read some more. We tried to go to sleep at 10:30, but it was difficult as it is very hot. It was 96.8F/36C with 20% humidity at 10:20 PM!

On May 16, we woke up around 8:30 (93.2F/34C) and went down for breakfast again at our now favorite restaurant in India, Sonu Chat House! Today, we had the Chicken Masala Dosa which is a speciality of the house and is from Southern India. It is basically a big crispy crepe with the sauce and chicken inside. Then, they give you two dipping sauces with it, too. One white one that isn't very spicy and a red spicy one. Donna, of course, liked the spicy one.

After breakfast we walked South to the National Museum. This was quite a long walk -- about 2.5km -- but it was fun. All along the way, we had taxis following us wanting to take us places. We said no to all of them. The museum was pretty good. It cost 150r/person. It was also good to get out of the main heat of the day into a somewhat air-conditioned museum! High today was 107.6F/42C! The museum had lots of well-preserved pieces from the various temples around the country. Many were much better preserved than we had seen in SE Asia. At noon we joined the free guided tour. It turned out that Donna and I were the only ones there for it, so we got a personal tour of the ground floor! I particularly liked all the stone- and wood-carvings.

After we were finished at the museum, we headed back toward the bazaar area. This time we walked against the flow of traffic to avoid harrassment from the taxis. Along the way, we stopped for a cool drink and some sort of cheese pastry since we were famished.

Of course, we had dinner at the Sonu Chat House! We had a "special set" this time...it consisted of chapiti, curry chicken, curd, salad, rice, vegetable curry and a couple of other dishes I can't remember now. It was excellent!


5/17-24/03 Delhi to Varanasi
Can you say HOT?! That's what it is in India!! HOT HOT HOT! We woke up on May 17 and it must have been about 96 degrees F (36 celcius). We got up and ate at the Sonu Chat House. I really love that place. We putzed around for a bit -- ended up doing internet for a bit and then went and got our train tickets. It was slightly complicated, but not as bad as we had been led to expect. We ended up booking the "Taj Express", which actually doesn't leave from the New Delhi Station, it leaves from a station about five kilometers away, but the tickets were only 532 rupees for both, which was significantly cheaper than the other options.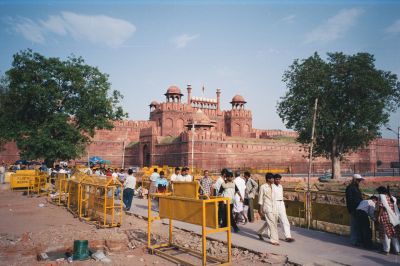 Delhi's Red Fort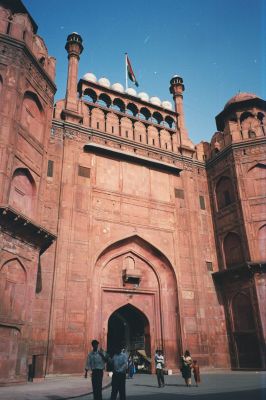 Entry way to the Red Fort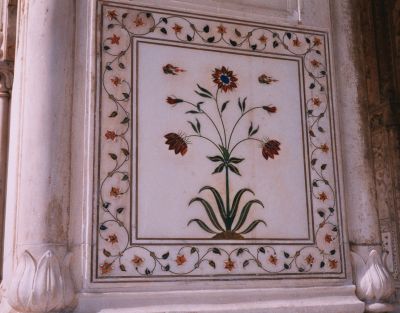 One of the many inlays at the Red Fort

After we booked our tickets, we set off on foot for the Red Fort. Unfortunately, it was terribly hot and we thought we were lost, so we turned off the correct path, thinking we had gone wrong. Eventually, we hired a rickshaw to take us. He got us there in no time, although, he was dripping wet when he pulled up to drop us off, due to the inclines he had to drive up (the rickshaws have no gears whatsoever). We paid our 250 rupees each to get in (Indian citizens pay 10 rupees admission), dodging touts, peddlers, beggars and would-be guides, and headed to the enormous walls demarking the fort's boundaries.

It was truly an enormous place with some well-preserved buildings, although, to our disappointment, almost every single building was closed to tourists and visitors other than the buildings housing museums. First, we went into one building that contained a small museum, Svatantrata Sangrama Sangrahalaya (Museum of the Independence Movement), providing some of the history of India and the struggles during the life of Gandhi. Then, we visited some of the various buildings in the fort, including the Diwan-i-am (Hall of Public Audiences), Diwan-i-khas (Hall of Private Audiences), Royal Baths, Shai Burj (3-storied octagonal tower), Moti Masjid (Pearl Mosque), Khas Mahal (emperor's private palace), Rang Mahal (Palace of Colour, the residence of the emperor's chief wife), Mumtaz Mahal (which housed the small Museum of Archeology) and Cherbaghs, which are gardens in four sections, complete with fountains, pools and small pavillions. It was all beautiful, but we were disappointed that we couldn't go into any of the buildings other than the museums. You could look from the outside, but not go up onto any of the pavillions or into any building. Soooo disappointing!

While we were there, though, we did have a most unusual thing happen...twice! We often ask others to take a photo of us, so we have one of the two of us together. Or, we will offer to take one for someone else. It's sort of like "tourist etiquette". Well, this time, on two different occasions, we had people come up to us and ask to have their photos TAKEN WITH US! As if we were celebrities or something! We talked about it later... there ARE over a billion people in India. And while there are a lot of foreigners touring around India (not during THIS season, but in general), you have to imagine that in the scheme of things, the ratio just isn't there. A billion to ...? And probably many of these people who turn up at the tourist sites on THEIR vacation may not live in touristy areas... So, we just smile, agree, and say thank you afterwards.

When we finished at the Red Fort, we headed out to catch a rickshaw back. It was hot and we were tired. We had decided not to go and see anything else that day. We negotiated what we thought was a fair rate. The guy said he wanted 30 rupees (the other guy had charged us 40 rupees, but had had to go uphill to get us to the fort), so we agreed. On the way home, though, we were following our progress on our map, and he was going in decidedly the WRONG direction. I pointed it out to Kirk and we started complaining to the driver. He said he wanted to show us a shop. We said no. He said if we went in, he would get 10 rupees...we didn't have to buy anything, we just needed to go in. We said no. It went on and on and he kept going further and further out of the way. Finally, and I'm not sure how he managed it, Kirk convinced him that there was no way we were going into a shop, even if he took us there, and got him to turn the right direction. We headed toward our hotel. He ended up taking us to the train station and dropped us on the wrong side. We paid him 40 rupees (we had negotiated 30)...it was a miserably hot day out and it was a terribly long distance. Kirk told him that we would have happily agreed to the 40 rupees if he had asked it in the first place and that in the future, he should stick to being honest rather than trying to trick tourists -- he will probably make a lot more money that way. And we were on our way, passing through the train station to get back to our hotel. We relaxed a bit and had dinner (a WONDERFUL uttapam -- the Sonu's special) at the Sonu Chat House. Then we packed, since we had an early train to catch.

On May 18th, we woke up LATE! We planned to get up at 5:40, but woke up at 6! It's a good thing we had mostly packed the night before! We were out the door in 15 minutes and walked down the street to the train station where we were able to get an auto rickshaw to the H. Nizzamudin trainstation, which was about 5 kilometers and about 20 minutes away. As we were getting our gear out of the auto rickshaw, a young boy (about 10 years old) came up to me and asked me where we were from. "America", I answered (if you say "United States" here, they look at you in confusion). "Thank you," he said. He ran back to the rest of his family, about 5 or 6 people standing on the curb a few feet away, "America!" he exclaimed. It was really cute.

We donned our backpacks and went in to find our train, which was on the track being boarded when we arrived. We found our car (A/C! yay!) and our seats, stowed our bags and had a seat. The ride was only a couple of hours and was fairly comfortable.

Just before we arrived in Agra, a man on the train, who purported to be one of the workers on the train, started chatting with us. Then as we were getting off, he started trying to herd us toward a particular taxi area and telling us he could get us a taxi into town for only 50 rupees. We tried to get rid of him but he just wouldn't go away. Finally, frustrated with the irritating tout, and unable to shake him, I separated from Kirk and started walking away. I knew we couldn't shake him together. I walked toward the auto rickshaws and started asking around to find out the price. One guy gave an exhorbitant price, so I went up the line to the next one. He gave a perfectly reasonable price -- 20 rupees. I stood up to look around for Kirk. Suddenly, the irritating guy from the train was there, in my face, trying to insist I come back to Kirk and come to his taxi area. I looked at him and said, "Don't talk to me." Then, I turned around and signaled Kirk to come over. We climbed into the auto rickshaw. Unfortunately, so did another guy, a "navigator", and off we went. We wanted to go to the Tourist's Rest House, but we told the guy (now that we had an extra navigator [read: tout]) that we wanted to go to the Agra Ashok Hotel, which was just down the street. We figured we'd get out there and just walk.

The Agra Ashok turned out to be quite a fancy place, with a doorman and a bellhop... it was quite embarassing when they all rushed out to take our bags! It took us a while, but we finally just paid the auto rickshaw and started walking. Nonetheless, he started following us down the street. Once he realized where we were going, when we were about 60 feet away, he drove ahead and waited for us. We bypassed him on the way in and easily got a room. The first room they showed us was 250 rupees, but we were able to get a cheaper one for 150.

After a quick rest and a little lunch down the street at a forgettable restaurant called Hot Stuff, we decided to check out the Agra Fort. It looked from the map as if it were in walking distance, so we set off in search of it. It should have been a straight shot, pretty much, from our hotel, but we thought we had gone wrong and turned OFF the right road, thereby getting ourselves lost. Eventually, we flagged down a rickshaw and he drove us the rest of the way. By the time he got there, he was dripping from the effort of pulling us up the very slight incline. It was terribly hot out and the rickshaws have no gears whatsoever.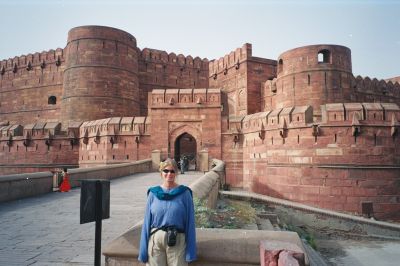 Donna at the Agra Fort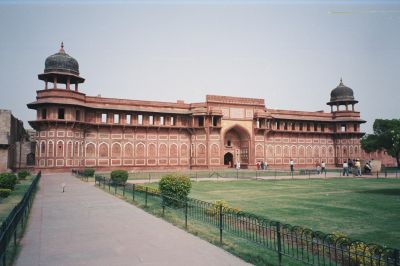 Interior section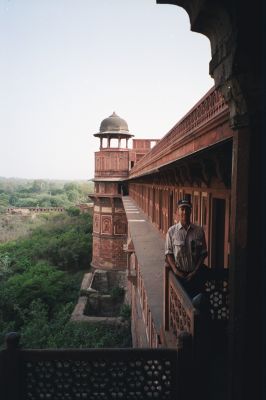 Kirk on the side of the fort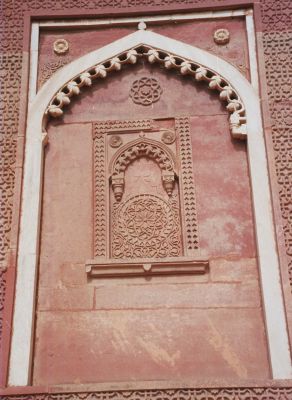 One of the carved details of the fort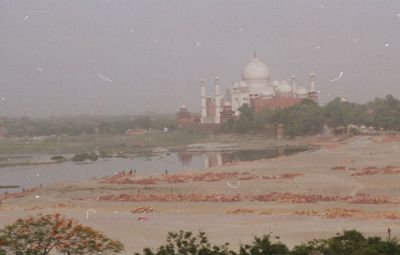 Taj Mahal as viewed from Agra Fort

When we arrived, we were assaulted by about 50 people trying to sell us all sorts of different things, everything from water to badmitton racquets to post cards to hats to water pipes. We bought water.

The fort looked incredible! Like the Red Fort in Delhi, it was built of red sandstone and was huge! We walked up to the main ticket window and paid our entry fee and went inside. We bumped into two western couples who were coming out...they were quite aggravated. They apparently had bought tickets at the Taj Mahal that morning for 760 rupees each and had been told they would also get them entry into the Agra Fort, but when they got to the fort, they were denied entry on those tickets. We felt bad for them, but told them we had heard only that they had separate entry fees. They showed us the tickets, and they were, indeed, misleading. They were so angry, they left without even seeing any of the fort, which was too bad. The fort was wonderful! It was MUCH better than the Red Fort, in our opinion. For one thing, you could go INTO the buildings, and the interiors of those buildings were lovely.

We entered and exited the fort through the Amar Singh Gate, which is named for a maharaja of Jodhpar who slew the imperial treasurer in 1644, and in a bid to escape, reputedly jumped his horse over the fort wall near where the gate now stands. Although Amar Singh survived that fall, Shah Jahan (the emperor) was so angry, he had Amar hurled from the wall a second time, killing him. The fort was initially built by Emperor Akbar in 1565 as a military garrison, although it was continually added upon throughout the reign of Shah Jahan (Akbar's grandson). Shah Jahan converted the fort into a palace. Ultimately, it became Shah Jahan's prison when his son, Aurangzeb seized power from Shah Jahan in 1658 and imprisoned him in the fort. The fort's double walls rise over 20 meters high and are 2.5 kilometers in circumference, containing a maze of buildings -- a city within a city. There are many beautiful buildings still standing that have survived, wholly or partially, the destruction caused by Nadir Shah, the Marathas, the Jats and the British (during the Uprising of 1857): the white marble Moti Masjid (Pearl Mosque), Diwan-i-Am, Diwan-i-Khas, Najina Masjid (Gem Mosque), Jengahir's Palace and the Musamman Burj (the octagonal tower that looks toward the Taj Mahal, where Shah Jahan was imprisoned and spent his last days gazing over the Yamuna river toward the mausoleum of his wife). In front of Jengahir's Palace is a gigantic bowl, the "Hauz-i-Jehangri", which is beautifully carved out of a single block of stone. According to one traditional story, Jehangir's wife made perfumed oil in the bowl, which is as tall as I am! We wandered around these and many other buildings at the fort. We had our first glimpse of the Taj Mahal, across the Yamuna River. Even from this distance, it was stunning.

And just like at the Red Fort, people wanted their photos taken with us...but this time, it was more than just twice. It happened about 8 to 10 times! We kept buying water all day too! It was incredibly hot and hard to stay hydrated. So far, the temperatures are ranging between 98 to 112, depending on where we are. And it looks like they will just keep climbing until we get to Darjeeling or until we head to South Africa. (We're looking forward to both!) Finally, we decided we had had enough for the day. We headed out, bought two more cold waters and started walking. We had learned our lesson yesterday about getting a rickshaw right by the attraction; we figured we'd flag one down on the road somewhere. One of the rickshaw drivers followed us. We walked up a long incline. He kept following. He was nice, not annoying, but persistent. Waiting until we were ready. We were nice. We waited until we were on flat ground again and asked him how much to our hotel, no stops, no gem shops, no detours. We haggled a price and agreed. He took us straight there. Along the way, he ended up selling himself and we hired him to take us to Taj Mahal the next day...for the whole day. We liked him. He'd be back at 5:40AM to get us. (YIKES!)

We relaxed a little. Kirk did some internet and I journaled. Then, we went to dinner at a place recommended by Lonely Planet, Dasaprakash. It turned out to be a little higher-priced than we were expecting and vegetarian (which we were NOT expecting), but it was good. AND it had pseudo-A/C. (We splurged and had ice cream for dessert! YUM!)

On May 19, we were up VERY early and out to meet our rickshaw driver, whose name is Ratan. I did NOT feel like being awake that early, but it was a beautiful morning, and we had agreed to meet him, so it was too late to back out! We got out to the street and he was there in his white top and trousers and green checked scarf, waiting for us. We climbed in the rickshaw and we were off. The sun was already high in the sky and I was a bit surprised. But he had told us yesterday that the Taj office didn't open until 6, so we couldn't have gotten in any earlier, even if the sun rose at 4 AM. It was a 20 minute ride to the Taj complex. On arrival, he pulled over, showed us where to go and where he would wait and warned us not to eat any food from the vendors or from restaurants in the area or that might be offered to us, free or otherwise. We had heard about this already, but took his warning to heart anyway. In the late 1990s, Agra was hit by a food poisoning scam of ridiculous proportions (it was even reported by the Lonely Planet). Over several years, in fact, hundreds of travelers were given adulterated food and then taken to privated clinics for "severe food poisoning" and given phoney treatments, for which their foreign insurance companies were billed exhorbitant amounts. Eventually, the insurance companies caught on and sent their own investigators; arrests were made at both restaurants and clinics, but many of the establishments are still in business. Although no one in Agra ever was seriously hurt, two Irish backpackers in Varanasi died in a related scam in 1998. Although Lonely Planet is careful not to recommend any of those that were involved in the food scam (in case it ever resurfaces), apparently our rickshaw driver won't go anywhere near any of the restaurants in Taj Ganj where the scam was based.

We went to the ticket window, after agreeing to meet him again around 10AM (our plan was to spend a few hours in the morning, go rest during the heat of the day and come back for sunset), paid our 760 rupees each and went on in. A momentary comment on the price: after decades of charging only a few rupees entry fee to get into the Taj, the Archaeology Survey of India upped the entry fee ONLY FOR FOREIGNERS to 960 rupees each in an effort to stem the number of tourists visiting the Taj. They felt the number of tourists were contributing to the damage of the monument and they needed the money for much needed conservation. However, the vast majority of visitors to the Taj are Indians, and they pay only 20 rupees each; many feel the price hike is an arbitrary tax on foreign visitors. In a further effort to protect the Taj from its adoring fans, the long-standing tradition of free Fridays has been abolished, causing an outrage among the thousands of Indian tourists who used to mob the site on that day. Agra businessmen have taken the situation to the Supreme Court. Obviously, they've brought the price down a little, but not much.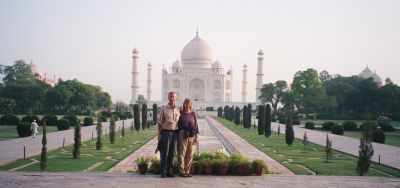 What can you say, it's the Taj Mahal!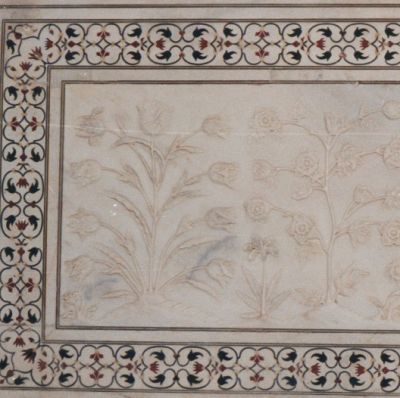 Some of the exterior carvings (No cameras inside)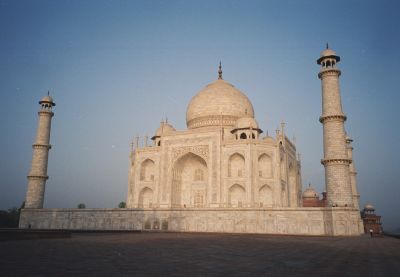 The East side of the Taj in the morning light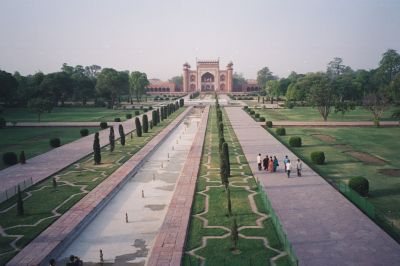 The view from the Taj to the South Gate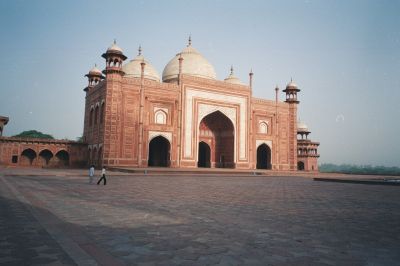 The mosque on the West side of the Taj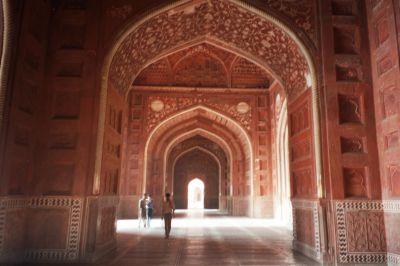 Interior of the mosque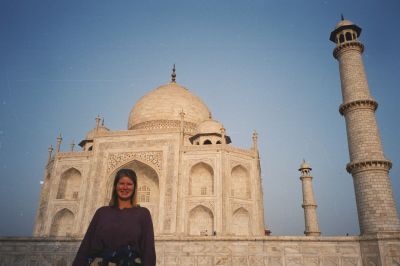 My lovely bride at the Taj!

When you first enter Taj Mahal, you are actually in an outer courtyard. It has three gates, facing west, south and east. You enter the inner courtyard through a red sandstone gateway, inscribed with verses from the Quran, in Arabic. Our first view of the Taj is a classic one, and many people are lined up to snap a photo with the sunlit Taj in the background. The Taj itself sits on a raised marble platform is lit up from the east as we walk through the gate and down the pathway. It's one of the great wonders of the world and has been described as the "most extravagant monument ever built for love." It was built by the Emperor Shah Jahan (remember the guy from the Agra Fort?) for his second wife, Mumtaz Mahal, who died giving birth to their 14th child, in 1631. It is said that overnight, in his grief over his wife's death, Shah Jahan's hair turned grey. Construction on the mausoleum began later that year and wasn't completed until 1653 (remember that Shah Jahan was imprisoned in Agra Fort a short 5 years later). In total 20,000 people in India and Central Asia worked on the Taj and some later had hands and thumbs amputated to ensure that the perfection of the Taj could never be replicated. Although the main architect is believed to have been Isa Khan (from Shiraz, Iran), specialists from Europe were used for some of the inlay and marble work.

In recent years, there has been growing concern about the damage that atmospheric pollution is causing to the Taj. Acid rain is discoloring the marble and eroding the fine carving and inlays. There have been attempts since 1994 to reduce the pollution, however, while we were there, the numbers were still well out of the acceptable range.

Kirk and I wandered around for a while and then went into the mausoleum before the crowds got too thick. Inside the mausoleum, under the main dome, is the Cenotaph of Mumtaz Mahal and beside it (offsetting the perfect symmetry of Taj) is the Cenotaph of Shah Jahan, who was interred here (with little ceremony) by his son in 1666. The two false tombs are surrounded by an exquisite perforated screen inlaid with 43 kinds of semi-precious stone. The real, physical tombs of Mumtaz and Shah are underground, directly below the main chamber, in a locked room. We went back outside. As we sat on the front steps of the mausoleum, a family came in and out and one girl in particular seemed to show us a lot of interest. I was pretty sure she was going to ask for a photo. I was right. This time, though, I was prepared. We asked for one with her, too (I liked her dress). Afterwards, I said "Danyavad", which means, "thank you" in Hindi. I thought she was going to jump out of her skin! Her eyes got HUGE and she asked us "you speak Marathi?!" What? "YOU SPEAK MARATHI?!" Ummm.... no? We only speak a couple of words of Hindi. We looked at one another in confusion. How do we tell her we've never HEARD of Marathi? I knew I was disappointing her. She definitely looked let down. Oh, well. They must have some common words between the two languages.

There is a red sandstone mosque to the west of the Taj which acts as an important gathering place for Muslims in Agra. To the east is a mirror of the same building, but it is serves no purpose other than to provide symmetry. Because its entrance faces to the west, it cannot be a mosque (all mosques have their doorways facing Mecca, to the east). We headed over to take a look at the mosque. It was interesting to see how well it complemented the Taj. It was in red sandstone mixed with white marble, but the design work was identical. Beautiful! We went to the faux mosque and climbed one of the towers, where we sat for a while, observing all that was going on. It was a nice, peaceful perspective.

We still had a lot of time to kill. We tried the museum, but it didn't open until 10. Darn, that's when we're due to leave. We ended up walking to the outer courtyard to see if there was anything else out there to see. We were also pretty hungry by this point. We hadn't had anything for breakfast. Not much here either. Kirk was up for going out to see if by any chance Ratan was there waiting. That sounded fine to me. On the way out, we met another family that chatted with us for a while. They had some really cute kids. They are often the ones that make the first contact with you. When we got to the gate to leave, we got some very bad news. Our tickets is only good for one entry. They would let us leave for a half hour or so to eat, but they wouldn't let us leave for most of the day and come back in the evening...after we had paid almost $20 each to get in! Now, THAT'S ridiculous! I can certainly understand making someone who has paid 50 cents pay again to get back in, but if you've paid almost 20 dollars...come on! Kirk complained, but got nowhere.

Well, it was too hot to stay all day. There was no way we could do it, so we just left. Ratan WAS waiting for us, it turned out (Yay!), so we hopped in the rickshaw and cycled away. He took us to a yummy little restaurant he knew of for breakfast. It's not in Lonely Planet (but it should be). Here's the details: Green Park Restaurant, Owner: Rajendera Singh, Near Ganpti Textile Emporium, Fatehabad Road, Agra - 282 001, Phone: 233-0320. It's kind of behind some other places, so I'm not sure how easy it would be to find without a rickshaw to guide the way. The food, however, is quite good. We had the Matan Rogan Josh and the Missi Roti, both of which were excellent.

Afterwards, since we couldn't go back to the Taj, we had Ratan take us to do some errands. We went back to the hotel to get some film that needed to be developed and our train schedule and forms, then we went to the post office, the film place and then to the train station, where we booked our train to Jhansi. Ratan had talked us into going to Jhansi in the morning (instead of the afternoon) because the bus trip from there to Khajuraho can be really long) and into going to Fatehpur Sikri right then (we had thought we'd rest and go in the morning). He found a taxi for us and negotiated with the guys. At first we thought it was a no-go; he told us to get back in the rickshaw and it looked like we were going to drive away, but then at the last minute, he said, okay, go ahead and get in the taxi. The deal was, we paid them 500 rupees (200 up front for petrol) and they drove us to the attractions at Fatehpur Sikri. We'd have 2 to 3 hours while we were there to look around and then come back.

So, we paid our 200 rupees and off we went. We barely got to say pay and say goodbye to Ratan before the van was pulling away. The drive was about 36 kilometers and at times the road was quite bumpy. At first, the van had to go through some really narrow streets in some very populated areas. Finally, we got into a more rural area and we were about 1/2 there, I'd guess, when the van began sputtering a bit and losing power. At first, I thought we were out of gas, but the van kept going, only with less power, so I wasn't sure. The driver nursed it along and passed by two petrol stations without a second glance, so I figured it wasn't a petrol problem. Once he got out and looked at the engine. Finally, as I thought we couldn't really go much slower (perhaps walking would be a better option), he pulled into a petrol station on the right and got petrol! I was a bit surprised. Also, we had given him money for petrol up front and he hadn't gotten any until now. Afterwards, the van was fine -- plenty of power -- so I guess that WAS the problem after all. He sure didn't seem to have put in much petrol, though. About 20 minutes later, we were assaulted by would-be guides on the road to Fatehpur Sikri. No, we said. And kept telling the driver to go on. He, however, didn't speak English. Or chose not to. We finally got him moving. Eventually, we pulled up to a small parking area at a gate, apparently the entrance. As we climbed out of the van, we looked at our watches and said we'd be back in about 2 to 3 hours. The driver said, one hour. Shocked, we said, no, two to three hours. He shook his head. Another would-be guide came over, suddenly a mediator/translator. In essence, we said, we'd be back in about two to three hours, which is what we agreed upon, and the would-be guide/mediator/translator said, take your time, while the driver fumed.

The would-be guide now tried to solicit business as a guide. No, thanks, we said. We're not interested in a guide, and headed in the gate. We would be saying this ALL DAY LONG. Fatehpur Sikri is a beautiful place. But for some reason, it has an overabundance of people who seem to be qualified (or at least, THINK they are qualified) to be guides. And they all think YOU need one. Whether YOU think you do, or not. And just because you've turned down 15 OTHER guides, or for that matter, one guide 15 times, doesn't mean that will keep someone from trying again. And when they aren't trying to be a guide, they insist they aren't a guide, they're an English student just practicing their English.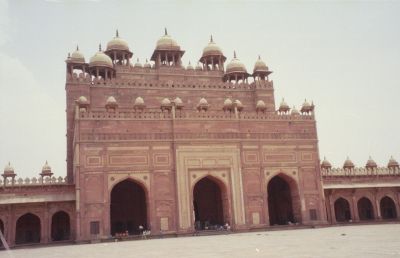 Dargah Mosque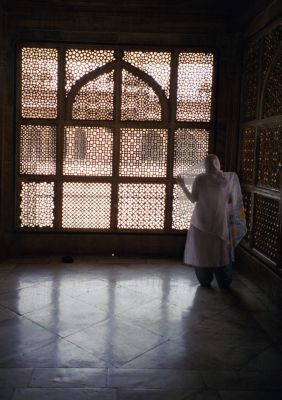 Woman praying next to window screen

Fatehpur Sikri was the capital of the Mughal empire from 1571 to 1585, during the reign of Emperor Akbar. It is architecturally brilliant, but was plagued by water shortages. As a result, after Akbar's death, it was abandoned. We had been dropped off, it turns out, at the Shahi Darwaza, one of the gates of the Jama Masjid (or Dargah Mosque), which is a copy of the Mosque at Mecca. We came through the gate trying to orient ourselves. We had to shed our shoes outside and it was blisteringly hot. I had taken advantage of the little booties that they give out (for whatever fee you FEEL like paying, of course), because I was barefoot without my Tevas. Kirk had on socks, at least. Dargah Mosque is of Persian and Hindu design and the main entrance is through the impressive 54-meter high Buland Darwaza (Victory Gate). The Mosque contains the tombs of Shaikh Salim Chisthi, built in 1570 and his grandson, Islam Khan.

When we had finished looking around, we realized that the rest of the sites of Fatehpur Sikri were in a different area; that must be why our driver had said one hour! We were done in a little over 1/2 an hour! We headed out to the van. The driver was all smiles and we were all apologies. We climbed in the van and he headed off down the road...the wrong way. We were following on a map of the area and he was heading AWAY from the Jodh Bai Palace, which is where everything else was. He was heading back to Agra!! Quickly, we pull out our Hindi phrasebook and look up words for use in Taxis. "Stop here!" Kirk says authoritatively. The driver looks up. "Stop here", Kirk repeats in Hindi. The driver looks confused. Kirk repeats it several times. Finally, we get him to stop and turn around. He is NOT happy. He drives as far as the annoying guides who won't quit. This time, he turns the car off and won't go anywhere. The would-be guide sticks his head in the window, telling us why we need a guide. We tell him why we don't need a guide. We've BEEN up the hill. We need our driver to take us to Jodh Bai Palace and he is trying to take us back to Agra. The guide talks to the driver. The driver talks to the guide. The guide tells us the driver wants more money. We say that's not the deal. He's supposed to take us there -- that was part of the deal. The guide tells us its his first time to Fatehpur Sikri; he didn't know. Fine, but it's not our job to train him. Let's go. It takes a while, but we get him moving up the hill. We're giving him the directions out of our Lonely Planet map. We finally get to a small ticket booth in a tiny parking lot. Good enough. We get out of the van and head for the ticket booth.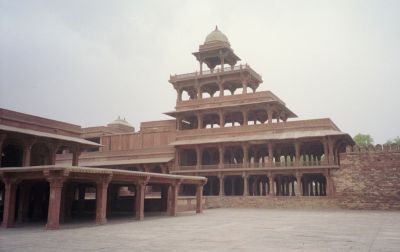 Panch Mahal

The weather, in the meantime, had turned very, very ugly. The wind had kicked up rather viciously and sand was blowing straight across the top of the hill. We paid our fee, nonetheless, and went in. Even here, in this bad weather, guides and non-guides, alike, followed us. We entered the Jodh Bai complex near the Diwan-i-Am. Then, we headed into the main courtyard, where we saw the Diwas-i-Khas and took shelter there as the wind began to turn to rain droplets. One of the most beautiful structures, I thought, was the Panch Mahal, a five-storey palace once used by ladies of the court. It originally had stone screens on the sides, which have now been removed making the open colonnades inside visible. The lower floor has 84 columns, no two of which are exactly alike. The Palace of the Christian Wife was quite interesting. You could see where much of the interior guilding had been removed. Birbal Bhavan is an elegant building thought to have been built by or for Akbar's favorite courtier, Raja Birbal. The Jodh Bai Palace was much more beautiful from without than from within. We walked around a bit, but then decided it was time to go. Altogether, between the Dargah Mosque and the Jodh Bai Palace, we had walked around for a total of about 90 minutes, half of what we could have done, under our agreement. We went out to the van, got in and told the driver he could drive back to Agra now.

On the way to Agra, he almost ran out of petrol again. He pulled over at three petrol stations, and was unable to get what he needed. I realized, he needed regular, and all they had was unleaded or diesel. When he did get petrol, he put the bare minimum in. He was obviously trying to keep as much of the petrol money for himself as possible -- it wasn't his van.

In Agra, he wouldn't listen to our directions, even though I knew where we were on the map and could have told him exactly how to get to our hotel. He kept pulling over and asking for directions in Hindi. Eventually, we got there. I got out of the car and went to the room. Kirk had to deal with him. Poor Kirk. The man was insistent that he was owed more money. Kirk was insistent that he was not. Kirk tried to pay him the remaining 300 rupees that we owed him, but he wouldn't take the money out of Kirk's hands. Eventually, Kirk just put the money on the car seat and walked away. He didn't want to argue. They didn't even speak the same language.

We were exhausted! And we still had to have dinner and get our film! We had originally planned to do internet and put up and post...that didn't happen. But Kirk went and got the film and we ate dinner at our guesthouse. The food was vegetarian and good.

It is incredibly hot here. So hot, in fact, that it is very hard to sleep at night. The last few nights, I've taken to sleeping with my towel, soaked wet in the sink first, draped over my body. With the overhead fan on, it acts to keep me much cooler as long as the towel stays wet. Once it dries, I wake up (because it's too hot again) and I go and get it wet again. Kirk, of course, thought this was all quite ridiculous. Until I draped my nice, wet, cool towel over his desperately hot body. At first, he just noticed it was wet, but then he was just noticing how cool it was. Then, I couldn't get my towel back. I had to make due with a sarong, which dries much faster; I had to make twice as many trips to the bathroom that night. He doesn't laugh at me anymore, though.

On May 20th, we got up pretty early. We'd done most of our packing last night, but we finished the last bit, checked out and went out to catch a rickshaw to the train station. It was raining. It should only have cost us 20 rupees, but we couldn't seem to find one for less than 25. We took it, finally. The others were exhorbitantly higher. We were there well before the train, so I bought some food from one of the vendors set up beside the tracks. He had fresh chapati and some sauce. It was yummy. Kirk and I stood by his stand eating 6 mini-chapati and the sauce for 10 rupees. Our train to Jhansi was a short trip. In Jhansi, we took an autorickshaw to the bus station for 25 rupees. On the way, though, he asked us twice where we were going. The second time, he asked if we realized there was a government bus going to Khajuraho (our destination) leaving from the train station (where we just left) at 11 AM (in 20 minutes). We hadn't. He drove us back there. He took Kirk to the ticket office, where they found out the bus was running ridiculously late, so we went on to the bus station after all. The rickshaw driver was a nice, helpful, honest guy, although it was hard to tell at the time whether he was feeding us a line.

At the bus station, we were told the bus was leaving at 11:30. We had our bags put in one of the lower baggage compartments and then got our seats assigned on the bus. Kirk had us assigned the two seat side of the bus at first, but then when we realized that it was really only big enough to fit one and a half people and neither of our knees would fit, we paid for an extra seat and sat on the three seat side, figuring that would give us some extra space. It was around 11AM. There were very few people on the bus. I was sure hoping that they were really planning to leave at 11:30 and not when the bus was full, like in SE Asia.

Meanwhile, we started to meet some of the people around us. We met a really nice man, Dharmendra, from Chatarpur, who was sitting in front of us. We chatted with him for quite a while. He even gave us his card and mobile number and said if we needed ANYTHING to give him a call!

The bus didn't leave at 11:30. It didn't leave at 12. It didn't leave at 12:30. At 1, they told us it would leave at 1:30. Apparently, the government bus that was so late that we didn't want to wait for it at the train terminal? Now, we were waiting for it here. It had broken down. It sounded like we were taking their passengers. That didn't sound good.

Meanwhile, another westerner, Jayne, had come aboard and was sitting across from us. It turned out she was from Yorkshire, England and was wrapping up her last couple of weeks travel in India. Unfortunately, in drawing her into conversation, I managed to open her up to every man on board recognizing she was a female traveling alone. We tried our best to redeem ourselves after that - talking about her boyfriend, who we quickly upgraded to a fiance. And how he was meeting her in a couple of days. Anything to try and fend off the vultures! Actually, many of them are quite harmless; they are just being friendly. The problem is, it's often hard to tell which is which.

At about 1:30, the bus was beyond crowded. The seats were all full. There were people all up and down the aisles arguing with people in the seats about who should have the seats. There was a lot of jockeying going on. From time to time, someone would get up and storm off and someone would take their place in the vacated seat.

Finally, around 2, full to the brim, the aisle is chock full of people (I didn't think we even had any more standing room available, but I would soon be proved wrong), we pulled away. Along the way, several young able bodied men asked to sit down with us in our "3 person" row. Kirk insisted that we had in fact paid for all three seats and there was no room for anyone else. This went on for a while, but after Kirk noticed a very old man who was standing in the aisle, he asked the man to sit with us. We scooted over a bit and he was able to sit on the end of the seat.

A while later, we came to a stop and a number of people got off the bus. Both Kirk and Jayne got off, but I stayed on and watched the bags. I'm glad I did. Kirk came back a couple of times and passed drinks and food through the window. He bought this really awesome potato thingie that was served in banana leaves, but neither of us know the name of it. It was fabulous, though! A little while later, he wasn't back yet and the bus started up. I was starting to get a bit nervous, but then I noticed a line of people out the front door and that the front door was shut. I stood up and could see Kirk's hat. He was in that line. Whew. All the sudden the front door opened and there was a frenzied mass of people stampeding down the aisle. It was unreal. Seat assignments suddenly were worthless in many of these people's opinions and they were grabbing whatever open seat they saw. One woman started angling for ours. No, I said and held her away. She tried to sit anyway. NO! I moved to the end of the seat. Finally, she moved on. It was a few minutes before Kirk was able to make it back to our seat. The old man must have been one of the last people on the bus, because the bus was moving long before he made his way back to the seat. We had quite a time holding people away from his seat. There were more people on the bus now than there were when we left from Jhansi, if that's possible. It was insane!!

Our next major stop was Chatapur. We thought the old man was getting back on the bus, but he never did, which was unfortunate. He left his medication in our seat. If we'd known he wasn't coming back, one of us would have gone looking for him. Dharmendra also got off in Chatapur. There was a 12-year old girl who had been on the bus for a while who spoke little English (a few words, but no sentences really), but decided to try and chat with us at that stop. She was a total doll. Later during the stop when some older ladies opened the window behind me further to give some vendors better access to pester me, she leaned over them, slammed the window shut and leaned outside and yelled at the vendors to leave me alone. I turned around in awe and gratitude and said simply, "Danyavad!"

Finally, on the last leg of our trip, Kirk invited another old man to sit with us since our other one was gone. As the ticket taker came by, he stopped and looked at the man and had an exchange. It seemed a little heated. Finally, the ticket taker looked at Kirk and said, "Why is he sitting here?" and Kirk said, "I invited him to sit here." The ticket taker walked away. There were smiles all around then (on everyone except the ticket taker's) faces. We think the guy got a ride totally free for riding in our seat. Good!

When we finally pulled into Khajuraho, it was after 7:30PM and we were all TIRED. There were tons of touts waiting for us -- rickshaw drivers, auto rickshaws, hotel touts. And of course, they MOBBED the three westerners who came off the bus. We climbed off and did our best to nicely rebuff all of their attempts to get our attention. There was someone touting Lakeside Hotel, where we were planning to go, but after an initial show of interest, Kirk, Jayne and I ignored him. We loaded our packs and started walking. One of the rickshaw drivers was hilarious (they ALL have a sense of humour -- calling their rickshaws their "helicopters"): he said we were "breaking his heart" with such emotion it was hard not to laugh.

The tout from Lakeside walked with us (along with a couple of bicycle peddlers -- we had quite an entourage) all the way to the hotel. It turned out he actually was an employee of the hotel. Jayne, Kirk and I all found rooms at the hotel. Lakeside was a good choice because they have rooms with swamp coolers, which is preferable to regular fans and cheaper than A/C. Plus, we managed to fanagle a room with a bathtub. I don't think we've SEEN a bathtub since with stayed with friends in Australia!! 4 months ago!! LUXURY!! We filled it with cold water and oooooo it was NICE!!!! The room, by the way, was 300 rupees.

Kirk and I went to dinner at a place down the street where you can see the Light and Sound show (for free) called Blue Sky Restaurant; Jayne was too tired to join us. Incidentally, the restaurant is also owned by the owner of Lakeside Hotel. The food is excellent. We had cashewnut curry and chicken curry. While we were there, the owner, whose first name is Avinash, came by the restaurant. He ended up sitting down and chatting with us for almost and hour and a half or so. He's a really interesting and nice guy. If I hadn't been so tired, we might have talked a lot longer, but I just couldn't stop yawning.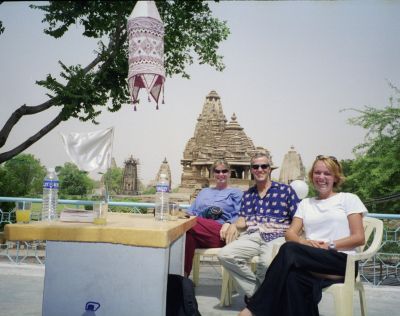 Donna, Kirk, and Jayne at breakfast

On May 21, we slept in as much as we could. It was still hot, even with the swamp cooler. But eventually, we had slept as long as possible, so we got up and got ready to go to breakfast and do some sightseeing with Jayne. When we knocked on her door, there was no answer, but we found out from the front desk she was waiting for us at Blue Sky. She hadn't even ordered yet when we got there. We all had a nice leisurely breakfast and then rented bikes. The Western Group temples are right across the street from Blue Sky, but the Eastern and Southern Groups are a bit further away and a bicycle is the easiest and cheapest way to reach them (20 rupees for the day). We stopped by the bus station to try and make our reservations for Varanasi, but the power was out, hence no computers. We'd have to try back later.

Our first temple was Shantinath, a rather modern temple, containing a 4.5 meter high sculpture of Adinath, said to have been carved around 1028 AD. There was an art exhibit in Shantinath while we were there. We walked around a bit, but the ground was horrendously hot and we had to be in bare feet due to temple rules.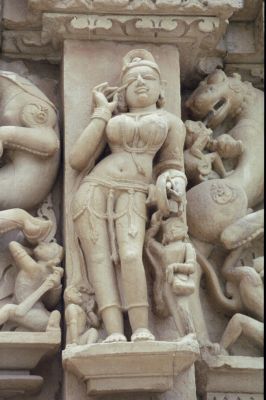 Woman applying eye make-up

Next, we went to the magnificent Parsvanath Temple, one of the largest Jain temples in the Eastern Group and one of the finest as well. The sculptures are amazingly beautiful and the construction shows exceptional skill and precision. Some of the best known figures at Khajuraho can be seen here, including a woman removing a thorn from her foot and another woman apply eye make up. Although it was originally dedicated to Adinath, an image of Parsvanath was substituted about a century ago.

Next, we looked at the smaller Adinath temple with is adjacent to Parsvanath. It has beautiful carvings on all three bands of sculptures and is very similar to Hindu temples of Khajuraho. Only the striking black image in the inner sanctum marks it as Jain rather than Hindu.

From there, we walked back to our bicycles. As we were unlocking them and getting ready to peddle out of the parking lock, we heard, "breaking my heart". What? We turned around. "Breaking my heart! Remember me?" The guy laughed. It was the same guy from last night. We all laughed! We headed out toward more temples from the Eastern Group. Along the way, we managed to pick up a "non-guide" on a bike. We couldn't seem to shake him.

We rode by the very small granite and sandstone temple ruins of Brahma, one of the oldest at Khajuraho. It was actually dedicated to Vishnu (which means it was misnamed). We continued on with our annoying non-guide in tow to Javari. The gate appeared to be locked with a padlock, but, in fact, wasn't. We went in and looked around. Meanwhile, in addition to our non-guide, we have now attracted a young boy from the nearby village. Jayne was about to take a picture of him as he ran down the hill, but then he stopped to squat and she had to put the camera down. Oops!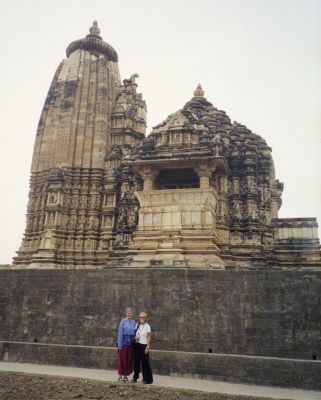 Donna and Jayne at the Vamana Temple

We started to head out of the temple and on to the next. The boy asked us to come and visit his village, but we said we were just going to go on to the next temple. Then, the boy wanted me or Jayne to carry him on our bikes, but neither of us was confident of ourselves, much less carrying another person. Plus, we didn't really WANT a crowd. We just wanted to see our temples. It was terribly hot out. I wasn't really feeling well to begin with; the heat was giving me a horrible headache. The non-guide carried the boy on his bike instead. We went on to Vamana Temple, which is only about 200 meters from Javari, in a field by itself. It is dedicated to Vamana, a dwarf incarnation of Vishnu. It is noted for the relatively simple design of its spire and the bands of sculpture, which are very fine with numerous celestial maidens adopting interesting poses. The boy followed us into Vamana, all the while telling Jayne how he thought it was great she had shoes, since the pavement was so hot. He can't afford shoes and his feet get burned. His village has a school now because some Swiss tourists gave them money to start one. His entire commentary was about how foreigners give money to his village and why she should give money to him. It was sad and it was depressing and it was tiresome. As we left Vamana, both the non-guide and the little boy kept pushing us to come and visit his village. That was all they could focus on. But we refused. Over and over. We left and went back to the other side of town.

On the way, we stopped by the bus station. Jayne was able to buy her bus ticket, but the train ticket office wasn't open for another 20 minutes. We had to wait. While we waited, we watched a beggar girl at work. While Jayne was buying her tickets, the beggar girl was at Jayne's feet with her hand out. Jayne was ignoring her, but the man in the window knew she was there. I was appalled when he stood up in his seat and threw a rock (a good sized one, and rather hard) approximately where he thought she might be! I'm not a fan of begging, but I would never DREAM of throwing rocks at people! The other thing we noticed was that the little girl pretty much only asks for money or sweets (chocolate, soda, ice cream, etc.). The train ticket office opened. The power was back on, but the computers weren't working. We'd have to check back later.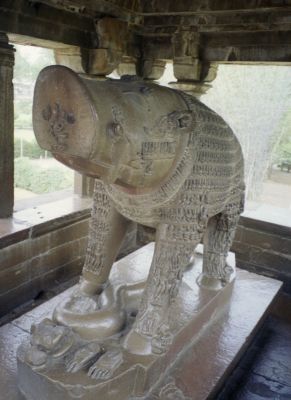 Boar incarnation of Vishnu

We went to the Western Group Temples. Here, we have to pay a fee of 250 rupees. First, we head to the two small shrines that face Lakshmana Temple, Lakshmi and Varaha. Inside Varaha is a statue, intricately carved from a single piece of stone (with dancing figures all over its body), representing the boar incarnation of Vishnu. The statue dates back to around 900 AD.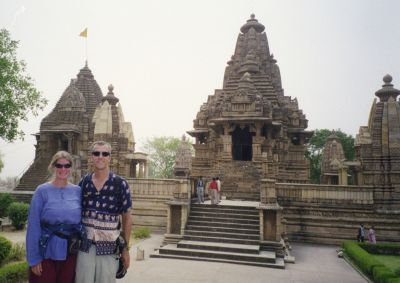 Donna and Kirk in front of Lakshmana and Matangesvara Temples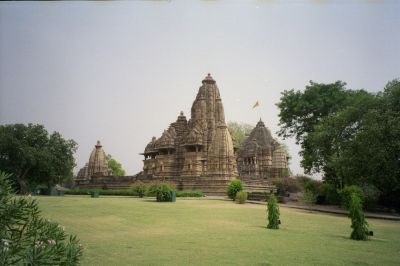 Lakshmana Temple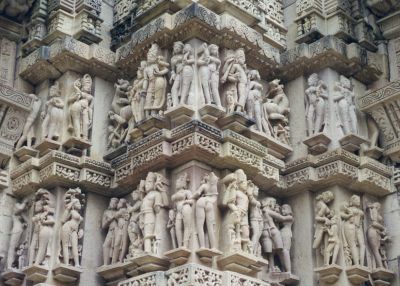 Detail on Lakshmana Temple

We went on to Lakshmana Temple, which is dedicated to Vishnu and was built around 940 AD. It's one of the best preserved temples in Khajuraho. It has a full five-part floor plan and four subsidiary shrines. Around the temple are two bands of sculptures instead of the usual three. On the subsidiary shrine on the southwest corner is an architect working with his students -- perhaps the temple's designer. Around the temple's base is a continuous frieze with scenes of battle, hunting and procession and a few surpises thrown in.

On the way to the next temple, I had to make a pit stop, so I told Kirk and Jayne I'd meet them at the next temple and I headed for the nearby toilet. It had two stalls. The first was quite disgusting. It was a squat toilet that didn't look like it had been flushed in a year. So, I looked into the second. It was a western toilet... but there was a dog, not a very friendly looking one, lying in the very small stall and he wasn't about to move for me. I went back to the disgusting squat toilet. Ugh!

I met Jayne and Kirk and the amazing Kandariya Mahadev Temple, which was built by the Ruler Vidhydhar around 1050 AD. It was the first of three temples on the common platform, is the largest and is both artistically and architecturally perfect. It represents Chandela art at its finest. I walked around the temple in awe at the magnificence of the carvings. The main spire is 31 meters high and it is lavishly carved. There are 226 carvings inside and another 646 outside, most of them are nearly 1 meter high. The statues are carved around the temple in three bands and include gods, godesses, beautiful women, musicians and mithuna.

Next on the platform is Mahadeva, a small, mostly ruined temple that contains an exquisitely carved sculpture of a sardula caressing a lion. And next to that is the larger Devi Jagadamba, which is older than the Kandariya Mahadev. It has a simpler 3-part design (rather than 5-part). It was probably originally dedicated to Vishnu, but later was dedicated to Parvati and then to Kali. Again the sculptures around the temple are in three bands. The top band contain mithuna.

At this point, I wasn't feeling so good. I was getting severely dehydrated and very very hot. But I really wanted to see the last...3 or 4 temples. We went on. The last temple in the back of the enclosure, but no longer on the common platform, was Chitragupta Temple. It is unique at Khajuraho in that it is dedicated to Surya, the sun god. Inside a guard was quite helpful in pointing out details to us in the inner sanctum (like the seven horses on the chariot that Surya was driving); it was very dark and we would have missed seeing it without his help. He also gave us directions to find the eleven-headed statue of Vishnu outside, that we missed the first time around.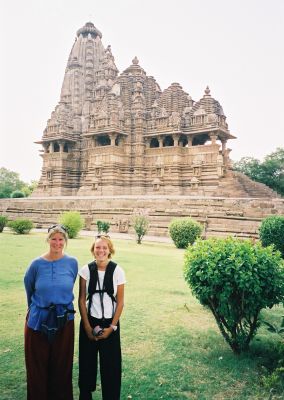 Donna & Jayne in front of the Vishvinath Temple

We headed back toward the front. Parvati Temple was under reconstruction work and chemical cleaning. There wasn't much to see there. The last two temples, Vishvinath and Nandi were on a single platform, which was reached by steps that were guarded by lions on the north and elephants on the south. It is believed that these temples were built in 1002 AD. The Vishvinath Temple has the complete 5-part design, but only 2 of its 4 subsidiary shrines still stand. Nandi is one of those shrines. The sculptures around Vishvinath include many of the usual Khajuraho scenes, but the sculptures of women include some unusual ones: they write letters, fondle babies and play music, among others. In the shrine, Nandi Temple, is the bull Nandi, the large image of Shiva's vehicle.

We had finished the temples. I was done. Kirk and Jayne headed back to the bus station, but I went to the hotel to try to cool off. I returned my bike and bought two things of water - one cold and one frozen. When Kirk got back, he had gotten us on a train to Varanasi, not tomorrow, but the next day. One seat confirmed and one waitlisted. But we were first on the waitlist. We would spend the next day as a rest/internet day (internet if the power managed to come on).

We went to dinner with Jayne a little later -- to Blue Sky, again, of course. The food was excellent (bhagari bagan in coconut and a vegetable kofta) and we had a wonderful time. She's a great gal. She just spent a year teaching English and Japan and is looking forward to getting home, but not to having to look for a job. We called it an early night, as we were all pretty tired.

On May 22, we had a very restful day. Although the power company didn't cooperate with us, I caught up on my journal a little and did some reading. Kirk did a lot of reading. When the swamp cooler wasn't working, we sat in the cool water in the bath tub to cool off. We had breakfast at a little place called "South Indian Food". The food was average -- no where NEAR as good as Sonu Chat House in Delhi. The waiter guy was VERY rude. But we wanted dosas. We ordered a dosa and an uttapam. We tried internet, but it was so slow it was completely useless. Most of the day, the satellite was down and we couldn't get a connection at all. When I finally could get a connection, the computer I was on kept crashing and I might as well NOT have had a connection. For dinner, we went back to Blue Sky. We met a really nice couple while we were there, Jesse and Ariane, from Santa Barbara. They ended up joining us for dinner and we thoroughly enjoyed their company.

On May 23, we got up and were a bit lazy in the morning, again. We packed, had our last meal at Blue Sky (I had the cashewnut curry again...I couldn't help myself..it was too good not to have it one last time), and then went back to the room to try and cool off a bit before we went to catch our bus to Satna. We had a four hour bus ride and then an overnight train ride. We checked out, and went down to catch our bus. We got there a little early. The little beggar girl was there again...the one who is addicted to sweets. Kirk and I talked about it. He wondered whether she is diabetic. We saw her eating an ice cream when we walked up. Then something else a few minutes later. Then she came up and asked us for chocolate or a soda.

We booked a government bus this time (instead of the local bus we caught last time). This time, we left on time! What a shocker! The bus was a wreck on wheels. It didn't even have a starter. A bunch of guys had to get outside and push it so the guy could pop the clutch to start it if it stalled, but it ran and it got us there...on time. The ride was 4 hours and very bumpy. Not one I'd want to do again, but hey. We were thrilled to be on time. Especially since we had a train to catch. In Satna, there was no one to get our bags off the roof, so Kirk climbed up and got ours, the 2 Dutch girls' and 2 Japanese kids' bags off the roof. Then, we all caught rickshaws to the train station, a mere 10 rupees per couple.

We were thrilled when we got to the train station and discovered that I had gotten a confirmed seat too! AND they had seated us together! We were in A1 25&26! Hooray! I helped the Japanese couple. They had been using a translator in Khajuraho, since their English wasn't very good. They, too, were waitlisted. I went with them to the ticketing office to see if they had been confirmed. They had not. They were going to have a harder time. The Dutch girls would have the worst. They didn't have tickets at all. They were just going to get on the train and try and buy seats then! We had an hour and a half wait for the train. It went fairly quickly.

The train pulled into the station pretty much on time, at 7:50PM. We were due in Varanasi at around 4:45 AM. Kirk and I found our seats and got settled. We were in a berth with two teenage (I think) Indian girls. They were tittering and giggling all night. It was hard to sleep until I got my earplugs adjusted properly. But then, I didn't care anymore.

On May 24, (today), our train pulled in around 5:30 this morning. We got off to a bright, sunny day. Already, before we had even crossed the bridge over the tracks, we had a "guide", taking us to the right auto rickshaw. Kirk and I had already talked though. Varanasi is famous for its touts and scams. We had agreed to tell the auto rickshaw to take us to a ghat (a dock by the water), rather than to a hotel, to be dropped off. We would then walk from there. The guy didn't like that at all and tried everything to get us to tell him where we were staying. It wasn't until we were about to get out of the auto rickshaw that he finally relented and let us go on our way, unhindered. Then, we realized, we had to pay the driver 50 rupees and all we had was a 500 rupee bill. They NEVER have change, even for 100, so we KNEW he couldn't change that. We asked to go back to the station (we weren't even out of the station yet). The guy was confused, but took us back. The tout came back and harassed me while Kirk was inside. He finally went away. Kirk came out. No change. No fear, the driver knew what to do. On the way to the ghat, he stopped by a little market and Kirk was able to buy some water and get change that way.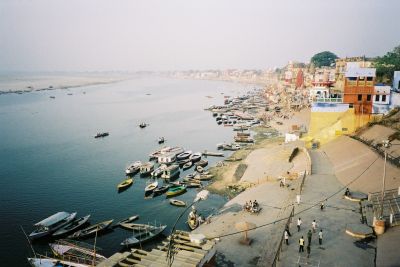 The view of the Ganges from the Alka Hotel

On to the ghat. He dropped us off at what we thought was Ram Ghat, but we found out later was Dasaswamedh Ghat. We started hunting for our hotel of choice, Alka Hotel (hotelalka@hotmail.com). We had heard from Jesse and Ariane that Alka was a good place to stay because Varanasi had a lot of power outages and they have a generator. Good plan! On the way to the hotel, we picked up a couple of touts. It took us some time to dump them again. Finally, we found the hotel and checked in. We got another swamp-cooled room for 300 rupees. It's nice! No bathtub, though. The hotel has a great view of Manikarnika Ghat, one of the most important Ghats in Varanasi (but more on that in another post).

After a little rest, we had lunch at Ganga Fuji and spent the rest of the afternoon catching up on internet.


5/25-27/03 Varanasi-Ghats and Heat!
May 25, 2003 Varanasi, India (High Temp:107.6F/42C):
We got up a bit late as we were tired from the night before, so we weren't able to go see the ghats at dawn like the guidebook suggests. Since it was Sunday, we read an extra chapter in the Bible and listened to some worship music on our CD player for a while. We did go out at around 11:30 because we were very hungry.

We ate at the hotel. Donna had a cheese parantha and I had a pancake with jam (more like a crepe). We decided to go to visit the Golden Temple. Unfortunately, non-Hindus, and especially anyone with a camera, are not allowed near the place. The guidebook states that you can go to the roof of a silk shop next door and see it from there; however, when we finally found the shop, they said the roof was closed since it was Sunday. Oh well. The silk shop next door tried to get us in to buy silks, and then tried to get us to his roof but for a fee, so we just ignored him and went on.

We went back to our hotel to regroup, and it was so hot out, that we just rested and read our books for a while in the nice cool room. We have a air cooler (swamp cooler). I am reading "Pastwatch" by Orson Scott Card, and Donna was rereading "The Bourne Ultimatum" by Robert Ludlum (she had read it once about 15 years ago). Finally, we were again motivated enough by hunger to go out into the heat in search of food.

This time we headed south along the riverfront through all the ghats. A ghat is simply an area that leads to the river. Since the river is low, they all run together here, so it is much easier to walk along the cement/stone steps of the ghats rather than the maze of tiny alley/streets here in the old city of Varanasi. Along the way, many people wanted to sell us boat rides, massages, palm readings, horoscopes, etc. Mostly, people were walking around or bathing in the terribly polluted Ganges. It is so polluted here that the water has 3000 times the safe level of bacteria for bathing areas. This is caused by the 30 sewers that lead into the Ganges, the dead bodies that are dipped in the water and then cremated on the shoreline, the many tons of detergent that are used on the clothes that are washed here, etc. Yet, we see tons of people in the water all day long. Amazing!

We finally got down to where we saw a sign for Baba Restaurant. We followed it and all the further signs that show you the way through the tiny alleyways to the restaurant. The restaurant itself is about a 5 flight walkup, but the food was quite good. Since we had been eating at vegetarian places for so long, we decided to get two meat dishes this time. We had Chicken Maharaja (VERY GOOD) and chicken in garlic sauce, that turned out to be chinese style (it was good too, but we just weren't expecting chinese food!).

After dinner, we headed back along the ghats to our hotel. This time, there was a bit more activity. Girls were selling little candles with flowers that they light and float on the Ganges like prayers or something. Lots of boatmen asked to take us for a ride. Many other hawkers were out. At Dasaswamedh Ghat, they were getting ready for some kind of ceremony. We stopped in to the hotel and rested for a bit but then went out again as Donna had heard that a burning ceremony (cremation) was happening at the Manikarnika Ghat nearby. We headed north this time along the ghats and shortly the ceremony came into view. The ghat area is quite large and there are stacks and stacks of logs everywhere. They had two or three fires going when we visited. Apparently, it is very auspicious to die here and be cremated in this manner for the Hindus. There is a hospice nearby and when the people die, they are brought down and dipped into the Ganges and then set on the pyre and cremated. It was kind of a weird sight.

Later, we tried to go to internet at the same place as yesterday, but it was closed. We walked on up the road trying to find another one we had seen a sign for (Cyber Friend's Internet at the Samman hotel). A tout came along and tried to get me to go to his silk shop. I said no, no, no. He asked where we were going, I said Samman Hotel for the internet. He showed us where and I was trying to tell him the internet wouldn't give him a commission, but he kept following us. We went in, and used the net for about an hour, and he left after 5-10 minutes. Or so we thought. When we were done, I went to pay, and they tried to charge me 30 rupees per hour, when the rate I showed them on their own wall was 15 per hour! The tout was still trying to get a commission! I paid them the 15 per hour and as we left, the tout followed us some more trying to get us into his silk shop! Finally, he left us and we went back to our hotel for the rest of the night.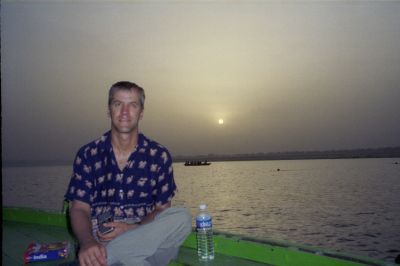 Kirk at Sunrise on the Ganges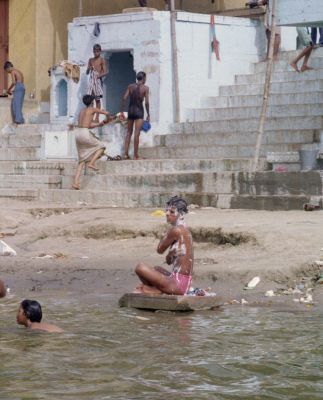 Bather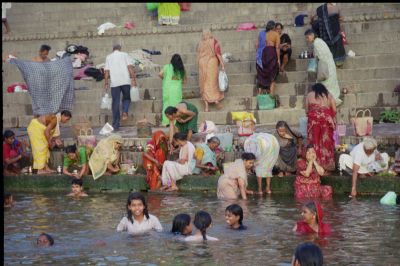 Early morning at the Ganges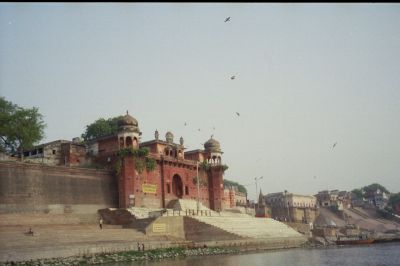 This ghat was formerly owned by a maharaja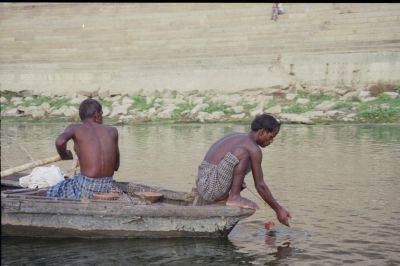 Fishing in the Ganges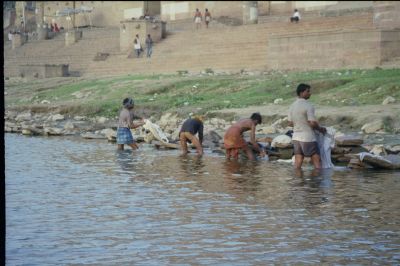 The Dobhi Wallahs washing clothes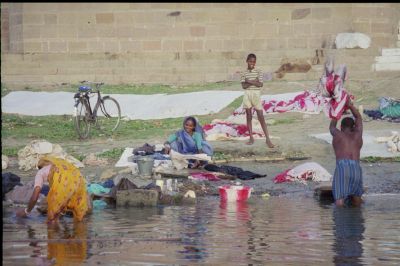 They whomp the clothes on the stones to get the dirt out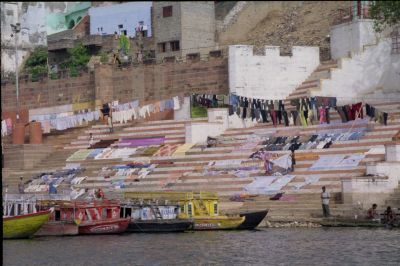 Drying the clothes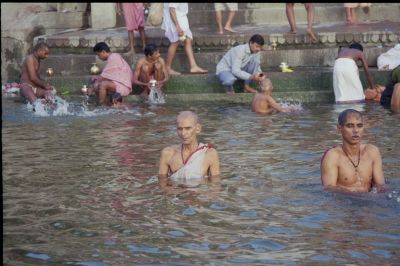 Holy men getting blessings from the Holy Ganges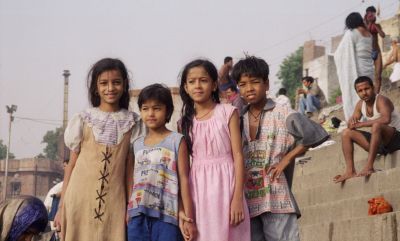 Indian Kids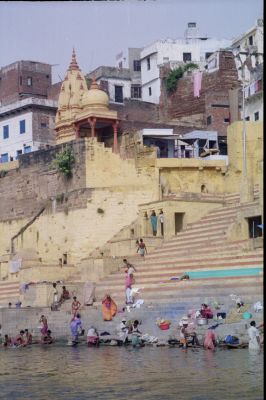 Alamgir Mosque built by Aurangzeb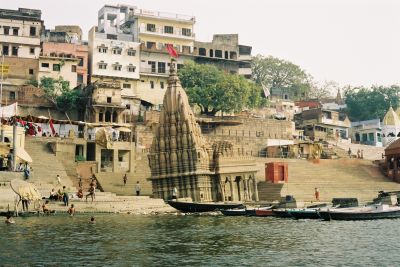 Sinking Temple at Ram Ghat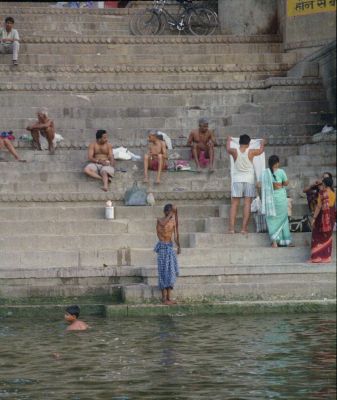 Even the sick come to the Ganges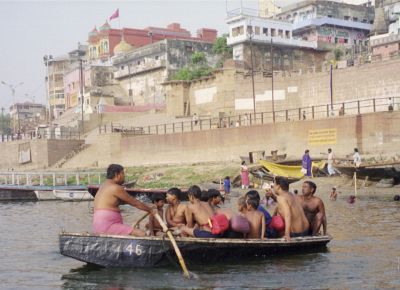 A swimming class going out for a lesson

May 26, 2003 Varanasi, India (High Temp:107.6F/42C)
Today, we got up at 5:00 AM in time for the sunrise and to see all the ghats in their best light. We hired a boat at the foot of our hotel at the government rate of 50 rupees/hour to take us to see all the ghats. We thought we were getting the guy we talked to who spoke very good English, but instead, he put us in a boat with his "brother". Our boat driver (rower) knew almost no English and he rowed very slowly. The trip that should have been 2 hours took nearly 3 1/2. It was a fun trip, though. First we went south. There were people bathing, dousing, kids swimming, people putting candles and flowers in the water, other people brushing their teeth, etc. We passed another burning ghat going south. This one had some of the pyres built and they brought a body down on a bamboo stretcher and set him on the pyre. When we came back by going northbound, the pyre was burning. We went as far south as Assi ghat and then turned around and went north again. As the boat would pass the places with kids swimming, they would often swim out to the boat. At first we thought this was cute, but then many of them were quite rude. They tried to splash us, hang on to the boat, or even try to tip the boat. Our boatman would yell a them or try to go faster than them, but again, he was quite a slow rower... We made it as far north as Trilochan Ghat which has two turrets supposedly rising from the water, but the river is so low at this time of year, the bottom of the turrets were at least 10 feet above water level. We turned around there and headed back for our hotel. As we passed the burning ghat again, they were bringing a body down to load on a police boat. He would be taken away to the police station for the day, and then brought back in the evening to be burned. We pulled in at our hotel and payed the 150 rupees and they were happy with that. We were starving now, so we went up and had breakfast.

After a cooling rest in our room, we headed out again and went to the train station, in search of tickets to Darjeeling. We got an autorickshaw this time since the train station was so far away. He brought us there and since we were going to go to Sarnath, he would wait and then take us to Sarnath direct from the train station. Our driver went quite fast and darted in and out of traffic, with many near misses. It felt to me a lot like the Mr. Toad's Wild Ride at Disneyland since the rickshaw is so short-coupled and we were dodging bicyclists, rickshaws, cars, trucks, pedestrians, cows, dogs, etc. Anyway, we got to the station in one piece and went in to get our tickets.

While we were there waiting, we saw a western couple that had only been in Inda 4 days, but they were dressed in complete Indian costume. She had on a full white silk choli and sari complete with stick on jewel on her forehead, and he had a grey silk salwar kameez. They were trying to fit in, but they really just looked ridiculous to us, like they were going to a costume party. We wondered how they looked to an Indian. However, they were very nice, but ill-informed. They got through the whole process of train reservation, but they didn't have the receipts showing how their money was changed. The rule is in all the guidebooks. They had to leave and change more money before they could purchase their tickets.

We were able to get our tickets for Darjeeling (actually to NJP). We will have to arrange other transport from there. We went on out to the autorickshaw and agreed with his price of 220 rupees to Sarnath and back since the sign outside the train station said it should be 150r one way to Sarnath.

Sarnath was about 10-20 ks outside of town. It is where Buddha was supposed to have made his first sermon in the "Deer Park" We got to the park and walked around and saw some interesting temples. It is kind of strange coming to India, the birthplace of Buddhism, which has since gone mostly back to Hinduism, after coming from South East Asia which is so nearly completely Buddhist. They had fairly recently been restoring their Buddhist heritage here in Sarnath. The main temple we visited was built in the 20th century, although there was a very old stupa near by. The park itself was nice. It felt good to be in a fairly open area with grass and stuff after the old city of Varnasi. We walked around a bit, I offered to take a picture for some Indian boys that were in the park. Later we saw them again by the front and they wanted to have a picture taken with us. We were getting used to this, so we complied.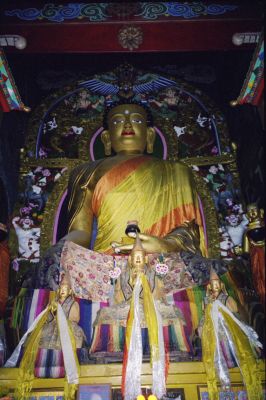 Inside the monastery

Next we walked down to the Archeological Survey of India museum. The cost here is a mere 2 rupees! What a shock! It's the same price for Indians and foreigners Hooray! The museum was small, but it had some well-preserved carvings that had been found as part of the temple ruins in the area. After that, we got some cool drinks and crackers, got in our auto rickshaw and headed back to Varanasi. On the way out of Sarnath, our driver stopped at a Tibetan monastery so we could look around. We did, and went in to the sim and saw the place. It was much different than the other Buddhist monasterys and temples we had seen in SE Asia. It is a pretty sad plight that Tibet had when China invaded...

Back in the rickshaw and off to our little corner of Varanasi. We got back and rested in our cool room for a bit, and then went out to have dinner. This time, we went to Temple Restaurant. This is a good place. Good food, and they are on the second floor, so you can get seats overlooking the street and just people-watch the whole time. Very cool. It was fun to watch the touts work the backpackers (MUCH more fun to watch it than to experience it!). After dinner we went and did some internet for a while, then back to the hotel for bed.

Tuesday, May 27, 2003, Varanasi, India (High:109F/43C)
Today we slept in a bit and then had breakfast here at the hotel. We had to check out by noon, so we rested in our cool room and read our books. I was trying to finish Orson Scott Card's "Pastwatch - The Redemption of Christopher Columbus". Very good book! Donna was catching up on her journal.

At 12:00 Noon exactly (gotta get all that cool air time!), we checked out and stayed in the atrium to finish my book. I finished mine later on. We were able to leave our bags in the room of some other friends here so they would be safe. After we were done with the books, we went to see if we could trade them and get a new one for Donna. She doesn't have much to read on the train tonight, although I have the last of the Bourne series to read. No such luck. The bookstores nearby didn't have any good used ones, and the one that did was all new books. Too expensive. Oh well.

We went on to the internet shop and finished up this post. Then we will go back this evening to take the overnight train to DJP.


5/27-29/03 My Favorite Day - a Travel Day!
Kirk doesn't believe me, that my favorite day can be a travel day! But let me explain. We finished our internet on the 27th and headed back to our hotel. We retrieved our bags from Mike and Jennica's room and said our goodbyes. (They were heading off to the heat of Rajisthan. We will soon have to make a similar decision. Do we head to the heat and interesting beauty of Rajisthan [and we are really interested in this area, just not the heat], or to the cool mountains of Nepal?). Then, we sat on the hotel's terrace, trying our best to stay cool, waiting until it was time for US to head to the train station where we would catch our train to NJP and ultimately head to Darjeeling. We had almost 2 hours to wait. We drank a cool drink or two, had a snack, journaled, read and chatted with whomever wandered by.

We decided to head to the train station a bit early. Yesterday, our auto rickshaw driver insisted the ride was 250 rupees. Our hotelier told us it should be only 150. We wanted to be sure to have time to find someone who would take us for a reasonable cost. We walked out to the main road. The area where we first come out is engine-restricted. The only auto rickshaws there have snuck in. The first guy quotes us a price of 250. We walk away and head toward an unrestricted area. Kirk almost immediately gets a quote of 150 and we climb in.

The ride to the train station, which is about 20 kilometers away, is insane. I now know why you don't see auto rickshaw drivers over about 30 years of age -- their reflexes aren't fast enough. We've explained before what a ride in an auto rickshaw is like. Well, let me just add that about half way through this one, it got dark. And about 2/3 of the vehicles on the road have no lights whatsoever. AND our auto rickshaw, though it had a headlamp, it was virtually useless. SO, if you were able to see anything lit up in front of you at all, it was mainly due to the fact that you saw its silouette lit up by the lights from oncoming traffic. We were very very happy to arrive at the station, Moghul Sarai (about an hour and fifteen minutes after we left Varanasi). Just as we pulled in, the driver tells Kirk he has to pay an addition 15 rupees parking charge. We've never heard of such a thing before. So, as we are getting out of the rickshaw, Kirk asks where the sign is and who does he have to pay the fee to. The driver is momentarily stumped as to how to answer that question and Kirk walks away.

The station is a bit nicer than others we've been to. There's actually people there directing traffic (which is necessary because there is no board telling you which trains are arriving on which tracks). We had a bit of difficulty at first finding the right track, but eventually found out our train was coming on Platform 2 -- in about an hour and a half. We found a place to sit, which turned out to be an excellent people-watching location. Every time a train is about to come in, you can tell...all the vendors, en masse, rush to that platform. We sat drinking tons and tons of water, had a couple of snacks, turned down vendor after vendor (lots of shoe vendors and watch vendors -- the watch vendors try to sell you water proof watches by showing you a watch in a container of water...hence, it's water-proof).

Finally, our train came in. Every time we've ridden a train before, the exterior of the train has been well-marked, allowing us to know which car is ours. This time, we knew which 2 cars were A3 sleepers, but not which one was AS1 and which one was AS2. We got on in between the two and asked. We were directed in one direction. We walked to our seats. Ugh. We had heard of this happening. Someone was in our bunks. Asleep. We stood there, hoping a conductor would come by. A bellboy came by, but no conductor. We waited about 10 minutes, but no one came by at all. Finally, we had the presence of mind to ask someone around us what car we were in. AS2. OH!! Wrong car! We headed for the other one! Yay!! EMPTY BUNKS!

We immediately started putting our stuff away and someone snapped on the light for us. An A3 sleeper means 3 bunks on each side of a compartment. There is also a set of bunks running parallel with the train down the aisle in a 2 bunk configuration. There was a family sleeping in our compartment with us. They were really nice. Kirk and I had the middle and lower bunks on one side. Then, on the top bunk above Kirk was Ajay. Across from us: on the top bunk was Sunny, his 12-year old son; on the middle bunk, Sangeeta, his wife with her 3-year old son, Raghav; and on the lower bunk, their friend and associate, D.Hirendra (or DS). We all said hello and chatted for a few moments and then shut off the lights and went to sleep for the night.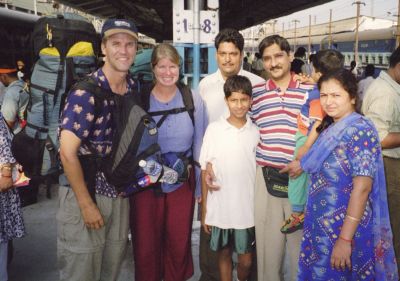 Kirk, Donna, D.S., Sunny, Ajay, Raghav, and Sangeeta

The next morning, on May 28th, we each woke up at different times, but fairly early. There were a lot of children on the train, not just Raghav and Sunny, and many of them (Raghav and Sunny excluded) were quite rambunctious). I woke up and started writing in my journal. When Sangeeta and DS were both awake, they converted their beds into a seat and I was able to start chatting with them. DS was very talkative and speaks excellent English. He had all sorts of suggestions on where to visit both in Darjeeling and in other parts of India. A little later, Raghav woke up and was shocked not to find his mother there with him! He started to cry (she had gone to the toilet). DS tried to pick him up, but then he started to cry for Sunny. Sunny was still asleep, but he woke up and leaned over and Raghav calmed down. Raghav was really sweet. I was eating salted crackers and offered one to Raghav, but he wouldn't take one. A few minutes later, Kirk came back from the toilet. He had a very similar type of cracker, except his happened to be sweet. He offered one to Raghav and he took it right away! HEY... How'd THAT happen?!

Later on, when everyone was up and around, we had a wonderful time. Sunny, it turns out, loves to play cards. So, we taught him to play 101. And then, he insisted on playing about 1,000 rounds of "bluff". So, Kirk, DS, Sunny, Ajay and I played "bluff" until we couldn't bluff any longer.

Raghav was OBSESSED with my watch. He really wanted to take it off my arm and do who knows WHAT with it! I kept having to pull my shirt down to hide the fact that I had one on. Nonetheless, all day long, he'd point at my arm and say "gardi" (Hindi for "watch"). Can't fool that little guy.

The train people brought us some lunch (we have to pay for it, of course). But it isn't very good food. Between Sunny, Sangeeta, DS and Ajay, we ate VERY VERY well. They fed us lychee, and these wonderful home made potatoes and oh...I knew I was going to forget the names of things. A wheat thing that I think was puri. They gave us wonderful baked flour cakes that had spices in them. Gosh, I don't even know WHAT else they gave us! Let's just say we felt adopted! :)

We got on the train at 9:20PM the night before. It was due in at 1:30 or so on the 28th. We actually got in around 4:15. We were really sad to leave our new friends. We exchanged information. They invited us to call them while were were in Darjeeling, and we invited them to visit if they come to the United States.

We headed out to find ourselves a shared taxi to Darjeeling. We knew what it should cost, as we had talked to others who had recently come back from here. At first it didn't look like we'd find one, but then there was one going. But then, they couldn't find 10 people to go in the taxi and they try to get us to pay a disproportionate share of the price. We refused and got back out. We spotted Ajay and clan getting in a taxi a few meters away. They spotted us and waved. We went over and asked if we could share their taxi and they said of course. We moved our bags to their taxi and climbed in. As we drove away, Sangeeta told us that she had been looking for us on the way out of the station. A few minutes later, DS told us the same thing, as did Ajay. Then, they told us they had actually rented a larger taxi, hoping they would find us and we would ride with them! God really does bless us!

The drive to Darjeeling took about 3 hours or so, up very very very windy roads. We make a few stops on the way up, for water, for fruit, etc. And we made one stop so we could all get out for a drink of tea. It was nice, too, to have familiar company on the way up. The temperatures were hot at the very beginning, but quickly, they became more palatable, and even cool. We eventually rolled up the windows. The jeep took our friends to their resort first (they were staying at a time share, Sterling Resort, about 8 km outside of Darjeeling). As we got out of the jeep, I actually was shivering!! What a GREAT feeling! We hung around for a bit while they got checked in and unloaded their luggage and then said our goodbyes.

Then, the driver took us into Darjeeling and started hunting for the hotel where we wanted to stay. It has been in all the papers that Darjeeling is sold out until the middle of June, so when we told our friends that we had come up here without a reservation, they were quite concerned. However, we weren't. We talked to several people who had just come down and they said many of the backpacker places had plenty of room. We wanted to stay at Aliment Hotel [40, Dr. Zakir Hussain Road, Near Youth Hostel, Darjeeling 734101, Phone:(0354) 22-55068, Email:alimentweb@sify.com]. A friend from Laos had recommended it. The driver had a bit of trouble locating it, and actually stopped enroute and picked someone up who directed him to it. It was a little odd and we were a bit leery, knowing in other towns, that often meant you now had a tout in tow. But this was quite innocent, and they were both very very nice. What a welcome relief. They were even willing to wait around until we got checked in, but since we couldn't find the manager right away, we didn't want to make them wait.

We soon realized there would be someone in the restaurant upstairs and then, voila, there WAS a room available. A room with a private bath and a hot water shower for 250 rupees. It's great! We are definitely blessed people! This was a VERY GOOD day. We met some wonderful people, had a great day, albeit a travel day. Why CAN'T a travel day be a favorite day?

This morning, May 29, we got up to nice cool weather! After a warm shower, we had breakfast in the restaurant at the top of the hotel, overlooking the mountains and the town of Darjeeling. We looked over some information on treks in the area, and generally took it easy. We are at quite a high altitude. No reason to push it on our first day here!


5/29-6/4/03 Dawdling in Darjeeling
We spent May 29 through June 4 in the lovely mountain town of Darjeeling, India. It is much cooler here than the rest of India. We heard reports that due to the massive heat in most of India there have been over 1,100 deaths! It is nice to be up in the mountains!

May 29, 2003, Darjeeling, India, 2134 meters altitude:

Mostly, we rested around hotel. I had a case of travelers bowels, so I didn't want to be too far from the facilities. We did some internet downstairs, and had wonderful food. They have great Tibetan Bread here! The restaurant is at the top of the hotel, so it has great views of the rest of Darjeeling, and occasionally when the clouds part, you can see the Himalayas! Later in the afternoon, we decided to go out for a walk and see if we could trade in some books. I had finished reading our Orson Scott Card books. It was a bit cloudy, but nice and cool. We headed down to the main square, and along the way said "Namaste" (hello) to practically everyone we met. It was great. The people here are very nice; they smiled and said hello back.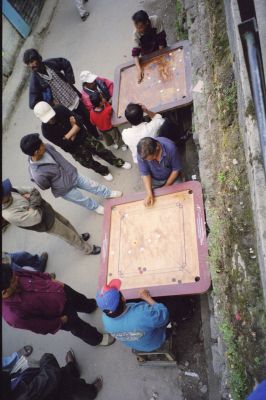 Carrom Players
After a while, we passed some older men playing an interesting game. It is played on a square waxed board, with pockets in the corners. They flick a puck with their fingers to bounce into other pucks and knock them into the pockets. The game is called Carrom. It looked like a cross between billiards, air hockey, and shuffleboard. The cue-puck is a bit larger and differently colored than the other pucks. The other pucks are in two colors with a queen puck as well. You can find more information about it at
http://www.carrom.org/
.
We walked on past some pony stalls to Chowrasta, a large open area with lots of stores around and people milling about. Apparently, they had recently finished a celebration for the 50th anniversary of the Everest Climb, as it was May 29, 2003. We found the bookstore I had selected, but they only sold new books. No used ones, thus they weren't interested in buying our old books. Oh, well.
Next, we went for a walk around Observatory Hill. Along the way, you get great views of the valleys below and the mountains around. You can see many tea plantations around the area, and there were many Nepalese prayer flags strung through the trees.
Back at Chowrasta, we stopped for some ice cream and then went down another street packed with vendor stalls and people. It is appropriately named "The Mall". We checked into a photo store to see if they can make Photo CD's, but no luck. Apparently, we will have to hold our film till we get to another big town.
After we got back to the hotel, we went up to the restaurant for dinner. We ordered a spring roll, some spaghetti, and another Tibetan bread. It turns out the spring roll is about the size of a burrito, so we had PLENTY of food.
Donna wore her green convertible pants today. When we were in Auckland, she had a tailor add backing behind the zippers so they wouldn't cut into her skin (they were tight when she bent her legs). Now they hang off her. It's hard to believe that that was ever a problem. Her tightest pants are now loose. It is nice that our travels have gotten us in shape!
May 30, 2003, Darjeeling, India:
Life here is wonderfully lazy and comfortable. We woke up a bit late, and I was able to get a shower in just before they shut off the electricity to the water heaters (7-8:30 AM and 6-8:00 PM). We went up to the restaurant and had a leisurely breakfast. We chatted with a family that we had seen at nearly all previous meals. They were very nice. Lee is English, and his wife Barbara is Canadian. They live in India with their three kids, Anya, Tao, and Kesar. Lee and Barbara were trying to figure out what the price SHOULD be for a train to Delhi. I let them borrow my India Train book to figure it out. They had been quoted a price much higher than it should have been by a travel agent. It turns out the best and cheapest place to get your train tickets here is ALWAYS at the train station. The travel agents charge exhorbitant commissions.
After checking internet, Pratima, the owner's daughter asked me if I could try to fix some of her computer keyboards. Donna had told her I am slightly <grin> into computers, and probably could fix them. After I fixed them, she had me look at a computer that couldn't connect to the net, and I fixed that for her, too. We were planning to go to the zoo that day, but we decided to have lunch first. At lunch we were playing Gin and showed Anya how to play. Then we headed down to go to the zoo, but on the way out, Pratima asked me to look at her digital camera that had broken. I tried to fix it but found it was beyond my abilities. It had an unformatted card which was easy to fix, but the camera itself had a busted switch. Since it was under warranty, I didn't want to open it up and attempt to fix the switch. Oh well -- you can't fix em all!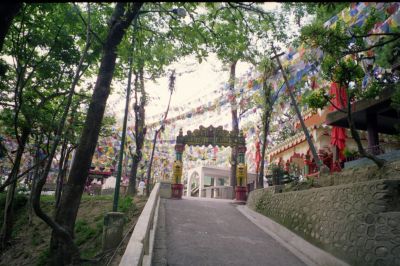 Approaching the temple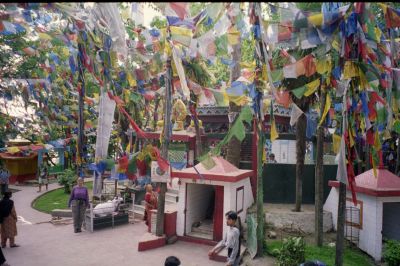 Temple atop Observatory Hill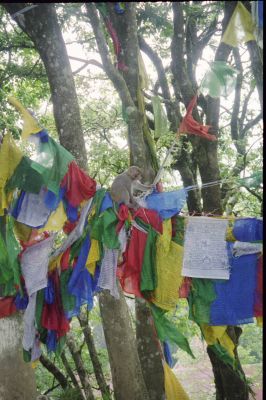 Monkeys playing in the prayer flags
By then it was 3:00 PM and the zoo would only be open for one more hour, so we cancelled the zoo plans and instead walked back to Observatory Hill, and this time went up on the hill. There was a temple at the top, which was very beautiful! There were many prayer flags around. It was very colorful. As we walked around, we saw some wild monkeys playing on the strings of prayer flags.
That evening we played cards in the restaurant and chatted with the other guests. It is very nice here. We played
bluff
, and
palace
. I decided to set aside my current book (The Bourne Ultimatum) and take advantage of the library at the Aliment hotel and read the Harry Potter series. They have the first three books here. I really liked them and highly recommend them to grown ups and kids alike. Now I have to find somewhere with the fourth book so I can read that!
May 31, 2003, Darjeeling, India:
Today we were determined to get to the zoo. After breakfast and checking emails, we headed for the zoo. About halfway there, it started to rain. The drops got quite big, and we didn't have our rain coats, so we headed back to the hotel to get them and see if the rain would stop. We waited a half hour or so, and then decided to have lunch while we continued to wait. It only got worse. By the time it finally let up it was 3:30 and the zoo would close at 4:00 so we couldn't go to the zoo. We spent the entire afternoon reading and playing cards in the restaurant. Donna was reading
"Freedom at Midnight" by Dominique La Pierre & Larry Collins
. It is about India's independence. I was reading the Harry Potter books.
June 1, 2003, Darjeeling, India:
Today we were really determined to get to the zoo. We headed out after breakfast
WITH
our raincoats. We followed one of Jhulendra's (the owner of Aliment hotel) famous maps. He is reknown for being an intricate, but accurate map drawer! We found our way to the
Himalayan Zoological Park
and Himalayan Mountaineering Institute which are housed on the same compound with a single entry fee of 10 rupees each. Very nice price!
The zoo was nice. The enclosures were small compared to those in the states, though it looks like they are remodeling and improving the enclosures to be more natural settings and larger. First, we saw the red pandas. They didn't really look like panda bears, but more like big fluffy foxes to us. They are red on their backs and black on their legs and tummy. They also had several pheasants and bird enclosures near the pandas. Next was a Himalayan Black Bear. He was quite large, and in probably the best enclosure in the zoo. Then some sleeping tibetan wolves followed by some common leopards.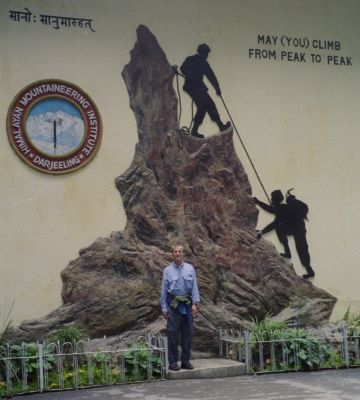 Kirk at the HMI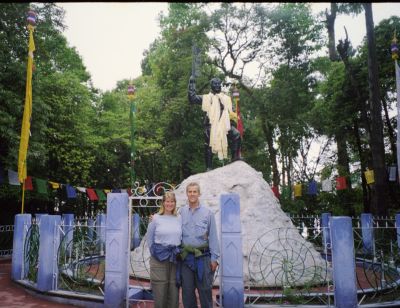 The Tenzing Norgay Statue
Next, we headed into the
Himalayan Mountaineering Institute
. As we entered several of the Indian tourists asked to take their pictures with us. We obliged and then went in to the HMI. They have a nice museum with lots of memorabilia and artifacts from various Everest expeditions. They also had information on the training courses they offer. Then we went up to the Tenzing Norgay resting place and memorial. He is the sherpa that climbed to the top of Everest with Hilary.
After the HMI, we were back in the zoo, and saw the beautiful snow leopards and the siberian tigers. That was pretty much it for the zoo. Not big, but nice.
Next we headed out to find the snow leopard breeding center. It was about a 10 minute walk away, but unfortunately it was closed and would be for at least 15 days. Next stop was the ropeway (cable car). There was quite a long line of people waiting for the 73 rupee ride. It looked quite cloudy across the valley and the guidebook said it is useless when cloudy, so we decided to skip it. Next stop on our map was a tea plantation. It seemed to be down a road nearby. We started walking down and down and down. Eventually it started to sprinkle, so we put our coats on, then the rain got harder and harder until it was a deluge. We stopped under the edge of a building waiting for it to subside. We were across the street from a house. The lady of the house came out and beckoned us in. We came over and didn't really want to go in because we were sopping wet, but she invited us in for tea. We went in and had a nice chat as we waited for the rain to stop and or a taxi to come by to take us back to our hotel. Eventually the rain stopped, we said our goodbyes and decided to just head back to the hotel. We hiked back up the road and tried to find a taxi at the top to take us further, but he wanted 150 rupees, so we just walked on. Another one came by and he offered us a ride for 6 rupees. We hopped in and it turned out he didn't take us all that far. Just to the main bazaar area. We got out and hiked up the hill to our hotel. Along the way we stopped and did internet at a place that supposedly had faster computers. They weren't.
We went back up to the hotel and spent the rest of the afternoon reading, playing cards, and eating.
June 2, 2003, Darjeeling, India:
We mostly relaxed this day. It was very rainy all day long. So we read our books, played cards, ate, checked our email, etc. Donna traded recipes with Preebendra and got their recipe for Tibetan Bread! She also showed him a ton of websites with free recipes.
June 3, 2003, Darjeeling, India:
Donna got up at 4:15 AM and went to the roof to see if she could see the mountains any clearer. She could see a bit better, but it was still hazy. She came back to bed and we got up around 8 and had breakfast. Donna went through the trekking books here and made a map of a possible trek we could do along the India/Nepal border. It included the comments and recommended lodges that people had in the logs.
Next we headed down to the train station to get our tickets back to Delhi. We got there around 11:15, and the line was long and pretty unruly. Most of the time we were there, the computer link was down, and we ended up waiting all the way until 2:00 PM when they close and didn't get our tickets! We would be back the next morning to get them. While we were waiting we met a really nice Indian couple. Sargam and her husband, Ram Kumar, were from Indore in central India. She is an English teacher and he is on the National Shooting Team (rifles). She told Donna about Hindu customs. For example, Indian women who have a bit of red paint in the part of their hair indicates that they are married. A red dot on the forehead or red bangles on their arm mean the same.
Later, we went back to the hotel and relaxed, played cards, and I finished the third Harry Potter book.
June 4, 2003, Darjeeling, India:
We headed to the train station bright and early. We got there at 7:30 when they open at 8:00 there was already a line! This time we brought books to read. Donna got us some breakfast from a local vendor. A very large bun. Really good! Donna stood in line for a while and I sat down and read. She chatted with some Indian people in line. Finally about 9:15, the computers came up and the line moved forward. We were able to get our ticket on 3A (three tier A/C Sleeper) for June 14 from NJP to New Delhi. Hooray!
We headed back up the hill to the hotel. We went up and had a late breakfast. After breakfast, we went out to do some errands for our trek. We went to a hardware store and bought some plastic sheeting to use to make ponchos. I also got some screw in hooks that I can use in our various rooms to put up clothes drying line. Next stop, was to get some clothespins to hold the poncho's closed around us while hiking. While looking for an ATM, Donna heard someone call her name. It was Sargam, who we met at the train station the day before. We chatted a bit and then went on to our ATM. We passed an ice cream shop and decided to ask Sargam and Ram Kumar to have some with us. We found them and went to a restaurant and chatted with them more.
That afternoon we went back to the hotel, had lunch and played cards/read. At one point, Donna looked up and she could see Kanchenjunga! It is 8598 meters high. This was the first time we could see it clearly from Darjeeling! It is weird to have to look up from this altitude (2134 meters) to see that mountain. It was visible until just before sunset.
We played more cards that afternoon, and after dinner we went down to our room and packed for our trek. We would be leaving VERY EARLY the next morning.
6/5-11/03 Trekking in India/Nepal
June 5, 2003 - Darjeeling to Manebhanjung (altitude: 2150 meters) to Tumling (altitude: 3017 meters):
We're going TREKKING!! We had to be up very early this morning. We packed our spare belongings into my pack and our extra bag (we call it affectionately our "Lao Luggage") and stored it here at the Aliment Hotel for the duration of our trek. Then, Pratima (the daughter of the family who owns the place) was wonderful and made us breakfast -- a full hour before the restaurant opened. We were out the door well before 6:15AM. We could see the peak of Kanchenjunga rising in the distance, possibly portending the start of a good trek? We hoped so! When we arrived at the bus depot area, we could not find a bus or shared jeep going to Manebhanjung. Actually, there was a jeep going to Rimbick that would travel through Manebhanjung at 7PM, but we wanted to get there by 11AM! So, we settled for a bus to Sukia (a mere 15 rupees each). From there, we caught a shared taxi to Manebhanjung for another 15 rupees each. (It should have been 15 rupees total, but the taxi driver refused to give us the price he agreed to at the beginning).
In Manebhanjung, we originally went to the Tourist Office, which had signs saying for trekkers to come there for trekking information. It turned out to be the wrong place, although we met the person we were looking for: James. We had heard about a particular guide from some girls in our guesthouse and had hoped to hire the same person. We were hoping, however, to have some other trekkers to share the cost with. Through the help of the folks at the Tourist Office, we were directed to the Forestry Office, but found that we were the only trekkers in town. Even though we waited a full two hours (until 11 AM, the last possible time you can hire a guide and leave for the day), no one else showed up. We hired James by ourselves and set out in a drizzling rain.
The first part of the trek was quite steep. As we walked up steep switchbacks, huffing and puffing our way up the hill, I looked down a particularly steep slope. A small Nepalese boy, about 5 years old, was climbing up the embankment behind us, watching us go by. I smiled and said "Namaste" (hello). I headed up the next switchback. He climbed up the next embankment and was waiting when we rounded the next bend. As I came up next to him, he smiled and said "Sweets?" I shook my head. Sorry, no sweets.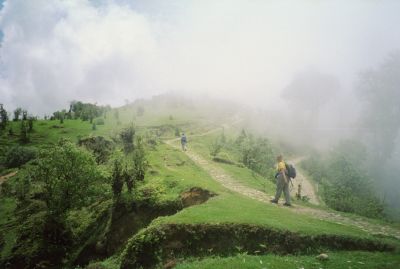 Donna climbing the sherpa trail

A short bit further, we came upon a "short cut" - a sherpa track. The sherpa tracks run as steep short cuts between the road switch backs. They are very steep and sometimes quite treacherous, but save you distance (but not oxygen-deprivation!). We decided to try one. Of course, James clambered up them so quickly and got so far ahead, that we often ended up trying many more sherpa tracks than we intended! Actually, they are a really good alternative to the main track. AND you don't have to contend with jeeps on them. Just sherpas, pack horses, oxen and that sort of thing.

It's amazing the amount of loads that the sherpas carry. We are not talking amazons here. We're not even talking about men that are of average height in the US or Europe. Many of these guys are probably about 5 foot 4 inches, if that (of course, it's hard to guess their true height when they are bent down under all that weight). They are wire-thin. And they are carrying, often, what looks to be about 3-4 times their body weight in materiele. It's truly amazing. The terrain they cover is not a walk in the park either. It's at an amazing altitude, first of all. Secondly, they are going UP. They are going DOWN. They are on narrow tracks, crossing streams, skirting mountain trails, scrambling over rocky terrain. Often they are barefoot or wearing the equivalent of flip flops. These guys are hard core! And the loads are attached to their HEADS by a strap. So, the next time you hear about a sherpa, be sure to have some respect. They deserve every ounce of it!

Along the climb up, up and up, we encountered a couple of guys climbing that James seemed to know. He climbed with them for a while, while Kirk and I huffed and puffed behind. James, at one point, recognizing his superior ability to deal with altitude, took some of the stuff out of Kirk's pack (we had everything in his backpack plus the Camelback, which I was carrying) and put it in his small bag. Afterwards, Kirk's pack was about a third lighter! We came to a village that seemed to be having a big party. There were tents set up all over the place and James' friends stopped for tea. However, we knew that there were quite a few kilometers ahead of us and we weren't sure how long it would take us to cover them (it being our first day and all), so we were eager to keep going. We decided to push on.

After a while, we reached a tea stand on a ridge with a commanding view of the mountains and valley around. The view was spectacular and the sun lit up everything around. This is what makes trekking worth while! Sipping tea in the middle of nowhere in the Himalayas! There was a little boy, about 2 or 3 years old, running around in a long sweater and galoshes (nothing else). He kept trying to pass over a dirty, snotty piece of string to us (for what purpose, we never quite figured out). We really tried not to take possession of it. We were quite sure he really needed/wanted it more than we did!

On to Meghma. By the time we had reached Meghma, we had covered 10 kilometers and had only 2 more to go. Meghma is at 2,900 meters altitude. We decided to grab a little food for the last 2 kilometers, which we had heard involved a bit of a steep climb. We headed into a dark little house, which seemed to be guarded by about 7 kids out front. They finally parted and let us enter. The house was quite dark inside, as there is no power in Meghma (or anywhere in the mountains we traveled, it seemed). There were few windows and light barely seemed to permeate the house at all. But, it had a wood fire stove and they cooked us a marvelous (very) spicy noodle soup (the only thing on the menu). We ate it with gusto! By the time we were finished, however, it had started to rain quite fiercely. We tried to wait it out, and finally decided to try and make a run for it...it was only 2 kilometers, after all. However, after donning our homemade rain ponchos (Kirk made them from plastic purchased from a Darjeeling hardware store for 58 rupees and some clothes pins), we dashed out into the downpour. This time, however, we only made it about 100 yards before ducking into another house. The rain was so heavy that it turned the street into a huge river that we were struggling upstream against.

We tried to wait it out. About 30 minutes later, it had subsided enough that we decided to try again. We didn't want to wait too long or we'd be hiking in the dark. We headed out into a lighter rain. We hadn't gone far and I heard rushing water. We rounded a corner and I saw a newly formed waterfall and river running across our pather. We crossed it easily a continued on our way. A little further on, we encoutered another. And then another, and another, and another. The streams kept getting bigger and bigger and bigger. Eventually, we came to one that wasn't quite so easy to cross. It took a bit more imagination and investigation than the others. I always knew when we were coming up to something that would be a new challenge, because James would stop and wait for us to catch up.

Finally, we were so close to Tumling, I knew it just HAD to be around the next corner or two...and we got to a RIVER that looked like it might just ruin our day. This was no little stream. It completely blocked our path and there was no clear way around it. It was much too wide to jump over, and too deep and fast to wade through. It flowed out of the mountains above, crossed the road and down the hill and into a valley below. James started picking his way upstream to look for a place to cross. I found one place that looked narrow enough, but it was terribly slippery and one misstep could mean disaster, because about 2 seconds later, you'd find yourself sliding down a 30-foot waterfall into the valley below. Kirk found a spot about 20 feet upstream he thought he could jump across to a large, flat rock mid-stream, but it was a terribly long jump and I knew I couldn't make it. James took a look at it and kept going upstream looking for a better crossing. While James looked upstream, Kirk crossed at the flat rock. It was a long jump and even with HIS long legs, Kirk barely made the first jump. James who is shorter than Kirk, somehow managed it. I was annoyed. This is a sure-fire way for me to get very wet and very cold. I went back to the spot that was narrow enough for me to cross, but slippery. I told Kirk I would cross there and made him stretch out his arm as far as he could. I leapt across, grabbing his wrist. We all made it. Differently. Safely.

I was right. Tumling WAS just around the corner. We arrived and checked into the Shikhar Lodge, which is owned by a relative of the folks who own the Aliment Hotel. Almost immediately, we met Nila, Jhulendra's niece. She took excellent care of us the entire time we were there. We checked into a double room with a shared bath (we actually had a room with a double and a single bed) for 150 rupees a night. We hung our wet clothes in the kitchen to dry. Then, we hung out in the kitchen trying to warm up while tons and tons of Indian tourists (mostly from Kolkata) came in and out (all of them having arrived by jeep), engaging us in conversation. We had a wonderful, delicious vegetarian dinner and then left the kitchen so others could come in and eat. The other tourists, however, were not particularly quiet. We noticed that they all seem to talk at the same time, and at top volume. There was a great, friendly cat in the kitchen and a three-day old calf that was sleeping in there to keep warm (it was too cold for it to sleep outside with its mum).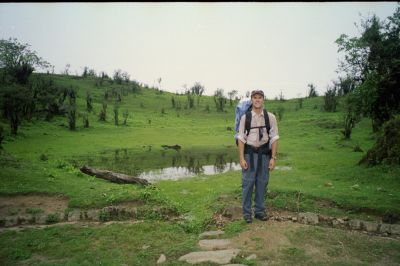 Kirk and the mirror lake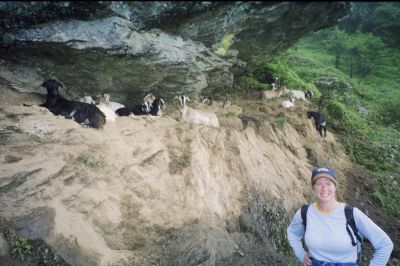 Donna and the mountain goats
June 6, 2003, Tumling, Nepal (3017 meters) to Gairibas (2625 meters) to Kalipokahari (3186 meters) to Sandakphu, India (3,636 meters):
One of the big attractions of doing this trek is seeing the amazing views. However, in this season (monsoons), the views may not be there. Supposedly, you can see Kanchenjunga from Tumling on a clear morning, but we didn't even get up early enough to try and get a good spotting of her. And it was definitely not clear when we did get up. We still got up fairly early. We had a 16 km day ahead of us and wanted an early start. James knocked on our door around 6:15 to bring us some hot water to wash with. Breakfast was shortly after. We had originally asked to have some water boiled overnight and cooled so we could take it with us in the camelback, but they had forgotten. So, they quickly boiled us some more and we were on our way. We left a little later than our plan of 7AM, but were gone by 7:30.
We had a short bit of climbing and then we were at the entrance of Singali National Park. We paid our 100 rupees each admission fee to the park and headed on in. James had to show his guide certification badge. Today was going to be a lot of climbing; however, the first bit was a lot of flat and downhill with a few scattered ascents thrown in. So, from Tumling to Gairibas (about 5 kilometers), it was mostly a descending trail. Then, we had a five kilometer climb back to 3186 meters (from 2625) at Kalipokahari, where we stopped for lunch. Here, Kirk and I each took our dreaded Chloroquil (malaria medication), which we had forgotten to take at breakfast. We noticed that we had been letting James do all of our picking for food & huts, which we didn't mean to do. We actually had recommendations for restaurants/lodges in some of these little places, thanks to our friends at Aliment.
After lunch, we made the last push for Sandakphu, another 6 kilometers and 600 meters of climbing. There was a "jungle trail" out of Kalipokahari that we took. We went 2 kilometers and then stopped at a village for tea and to prepare for the final 4 kilometer push, which was to be the hardest. While we were having tea, a heavy rain started (this is becoming a trend). There were some border patrol guards who stopped into the tea house, too, to escape the rain. One of the guys told the girl of the house that his gun weighed 10 kilos.
We waited for the rain to slow. When it did, we donned our gear and headed out. Before long, the rain stopped and we were hiking uphill and feeling like we were in the sweatgear that wrestlers wear right before a match to try and lose as much weight as possible to make their weight class! We shed the rain gear and kept on climbing. The trek log books had described this section of the trek as hills hiding hills. It was a pretty accurate description, I thought. We heard the border guards before we saw them. They eventually overtook us. We would walk for a while, and stop and rest. They just trudged along, slowly, but never stopping. Of course, periodically, we would see sherpas passing one way or another. Every so often, we would happily pass another stone marker than indicated another kilometer gone by. Eventually, we made it up to a long hill with trees on each side; we saw prayer flags on the hill on our left. We knew we were arriving in Sandakphu.
James, I think, was a bit surprised when we didn't stay in Hut A, which he suggested. But we had heard about the Sherpa Chalet through the Aliment log book, and wanted to stay there. It has connections with Aliment. We headed up there and got a room and ordered dinner. James, I think, went back and got a room at the Hut A. I think that for some reason, they didn't have dorm rooms at Sherpa Chalet. Or perhaps they were full, which was unfortunate, as he disappeared soon after and didn't reappear until the next morning. We were in a corner room, but with all the tourists, it was still loud. A lot of people still come up to Sandakphu by jeep.
The kitchen was small and we weren't able to hang out in there as we had been able to the night before. We got some hot chocolate and went back to our room and hid under as many blankets as we had. It was freezing. And it's SUMMER! I can't imagine being up there in winter!!
Around 7:30, we went in for dinner. There's a tiny little kitten (around 3 months old) in the kitchen. I was petting it for a while and stuck it inside the zip of my jacket. It went to sleep. I didn't like my dinner very well and I had a hard time eating it. Plus there was way more than I could eat. I sat there for a long time, knowing I should eat more, because I needed the nourishment for the trek, but not being able to put any more in me. I felt sick to my stomach after that for most of the evening.
June 7, 2003, Sandakphu, India (3636 meters) to Phalut, India (3600 meters):
The alarm went off at 4AM this morning. We looked out the window. We had been told we should be able to look out and see Kanchenjunga and Everest and see them from our window and the balcony surrounding the Chalet without going anywhere. It was still dark outside. I reset the alarm for 4:15. At 4:15, all we could see was fog. I reset the alarm for 4:30. At 4:30, I could see the house about 30 yards away. I set it for 4:45. At 4:45, I couldn't see the house anymore. At 5:00, Kirk was getting annoyed. At 5:15, I accidently changed the time on my watch instead of the alarm and the alarm didn't go off. At 5:30 I woke up wondering why the watch hadn't gone off yet. Except of course, I had no idea what time it really was. Eventually, I got us up at 7, ready to head to breakfast. We needed to get an early start and it was getting late. We had either a 16 or a 21 kilometer day today, depending on whether we went to Molle or Phalut. Either way, it was supposed to be an easier day...we'd see. We got ready and rushed out the door. It was really 6:40. I had thoroughly messed up the time on my watch. I corrected it, we packed and ate breakfast. We had them make us two extra Tibetan breads (when we realized how small they are -- nothing like the giant ones Preebendra/Chandra makes us at Aliment) to take on the road with us. They aren't as good as Preebendra/Chandra's either, but it was nourishment. By the time we actually left, it was 8AM.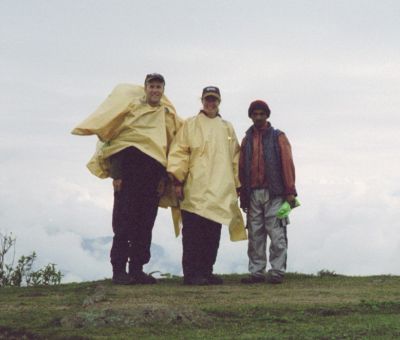 Kirk, Donna, and James, our guide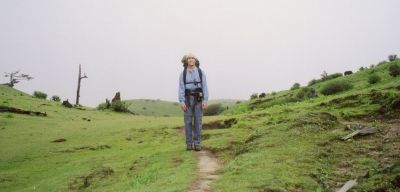 Kirk at the pass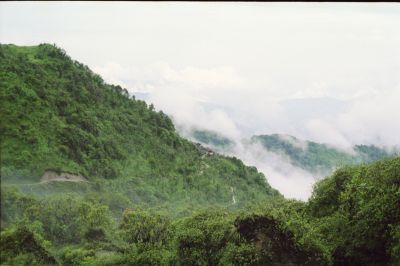 Misty Mountains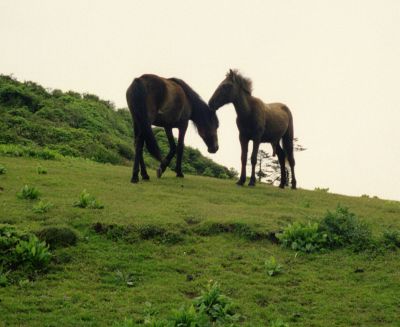 Wild Horses

The first part of the trek was indeed quite a bit easier than yesterday. We had been going for a couple of hours, it seemed, through some really beautiful terrain. We were walking through what seemed like someone's pasture for a good long while. We stopped for a bit and Kirk asked how far it was to Molle. James thought for a bit and then said it was about 6 kilometers. Really? That's it? We'd already done 10 km?! We didn't feel as if we had done that much already! Along the way, we did get a glimpse of a mountain in the Everest range, but not Everest, itself.

We did start hitting some hills, and they hurt. But we got through them. Then, we hit a decision point. There was a split in the trail. Two kilometers outside of Molle, we had to turn right toward Molle, going downhill (losing altitude, which we would have to regain later) or left and toward Phalut, seven kilometers away. Although there wasn't a single place to get food along the way, we decided to go for Phalut and make due with our Tibetan bread (we had 1 loaf left), crackers, candybars (we had stocked up at the Sherpa Chalet and had 3) and water (also refilled with water bottles purchased there). We promised James we would share with him when he looked a little panicked with our decision. It was 12:15, so we walked until 1 and then split up the bread and had some crackers. I took the mouthpiece off the camel straw and we figured out a way to pour some water in James' mouth without drowning him (it took a little practice, and admittedly, he got a little wet first).

Then, we started hitting some steep hills. We had eaten just in time. Kirk and I slowed down substantially. I started to feel like a fledgling mountain goat. I started praying God would let us see Everest. For me, this trek has been about two things. One was certainly the experience. But specifically doing THIS trek -- this PARTICULAR trek, was about seeing Everest -- the top of the world. I really wanted to see it. I knew that coming to look for Everest in the monsoon was a really hit and miss thing to do, but I had faith that we would get to see it. So, I just kept praying. No matter what happened weather-wise now, I didn't care, so long as when we got to Phalut, we got to see Everest. The funny thing was, it couldn't have been five seconds after those words were out of my head when it started to rain. The rain went from a light drizzle to a flat-out downpour in about...oh, 5 seconds flat. We put on our rain sheets. From that moment until well after we reached our destination (3 kilometers away), the rain did not let up.

We got to a point where we could see where we were going -- a building (or group of buildings) at the top of a peak a couple of kilometers away. It was like a taunt. I could see it -- it was in sight. But it was WAAAYYYYY up there. Me and my sore legs and burning lungs were way down here! We split a Cadbury Milk bar three ways and continued up the hill, slowly, back to 3600 meters elevation.

The shelter is actually a Border Patrol Station that is also used as a government trekking hut. Kirk and I set up in a "private" room with 4 single beds (we pushed two together) and changed into dry clothes. We were drenched. We took our wet clothes to the kitchen and then sat over there for a while, had some hot chocolate and some noodle soup. Finally, the smoke from the wood fire drove us back to the barracks, which is unheated. We spent the rest of the evening in there, fielding all sorts of questions from the members of the border patrol about our lives, our trek, our country and learning how to speak (and how not to speak) Bengali, Punjabi, Hindi and Nepali. They showed us card tricks and we taught them to play "palace".

June 8, 2003, Phalut, India (3600 meters):

We didn't leave today. We did the same routine, getting up at 4AM (still dark outside), 4:15 (still foggy), 4:30 (foggy), 4:45 (foggy), 5:00 (foggy, but I could hear the border patrol up and around - there was a contingent that was trekking to Rimbik via Molle today - a full 35 km in one day), 5:30 (the sun is shining in the window)! THE SUN IS SHINING IN THE WINDOW, KIRK! GET OUT OF BED! We jump up and get dressed quickly, rushing out the door. Unfortunately, by the time we head outside, the sun is already obscured by fog. And at Phalut, the viewpoint for Everest is a 1 km hike from the barracks. We go hiking anyway, hoping the sun will be back out by the time we get there. No such luck. Of course, we have no real idea where the actual viewing area is. We just take the first trail that looks right. As we start hiking in the right direction, we also start hiking upward from there and northward, thinking that if it clears, we'll eventually work our way toward a good viewing point. It never clears. We are getting cold. We head back to the barracks.

We have decided to stay another day at Phalut. That was always our plan -- to give ourselves one day leeway, in case this happened. James is a little surprised, I think. We had tried to explain it to him the night before, but I am not certain that he really believed we'd stay another day if Everest never materialized out of the mists. The border patrol guys that didn't leave were surprised when we didn't either. We sat around eating breakfast watching them clean their guns. We chatted for a while and then everyone pretty much laid in their beds all day, underneath piles of comforters and blankets, trying to stay as warm as possible. It was a very very wet, cold day. The day was spent eating, drinking hot drinks. Kirk and I entertained ourselves while in our room reading, playing cards and chatting about our trip (both past, present and future) and about what we will (and won't) do when we return to civilation. All in all, we were happy NOT to be walking today. The weather was terrible.

June 9, 2003, Phalut, India (3600 meters) to Samandan (elevation: no one seems to know):

We had an absolutely FANTASTIC day today! Okay, the alarm went off for the FIRST time at 4:15 (we finally realized that at 4AM the sun isn't quite up yet). I looked outside and it was quite cloudy. Kirk groaned and begged me not to set it again for another half hour! So, I set it for 4:45 instead of 4:30. When it went off again, he thought I had indeed set it for 15 minutes later (he thought the first one had gone off at 4:30). I got up and announced I was going to look for Everest, since it was our last chance to see it. Kirk was NOT happy; it was very very cold out and you could barely see 10 feet through the fog. But, it had been raining all night and I had heard the wind picking up for hours. I had been praying for days that we would see Everest and I wasn't about to make it impossible for God to fulfill that request by refusing to get out of bed to go look. So, I announced I was getting up, pretty sure Kirk wouldn't let me go alone.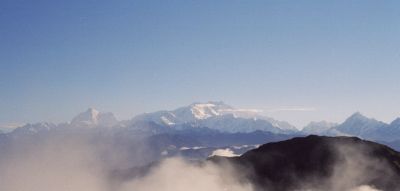 Kanchenjunga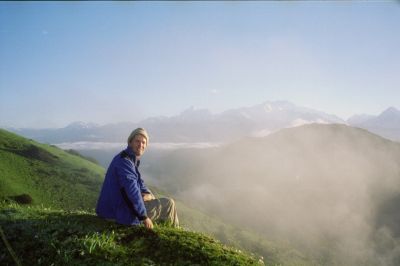 Kirk and Kanchenjunga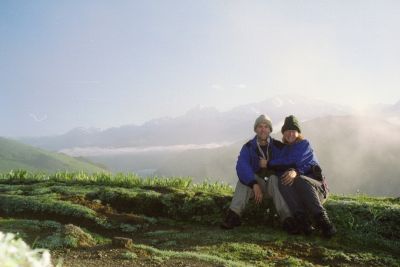 Both of us and Kanchenjunga

We got dressed and headed out. It was like walking in soup, and it seemed even thicker once we got outside. We saw a black dog that we had noticed the day before. It started following us up the hill. We took a higher trail this time, heading up at every opportunity, and angling North. The dog followed us most of the way and suddenly broke away. As we continued upwards, I started feeling warmer, like the sun was trying to break in on us. A bit further on, we broke free of the fog and were greeted with a magnificent sight -- fantastic mountains looming in the near distance, gleaming brilliantly in the sun. We glanced up the hill and the dog was sitting patiently, waiting for us at a "perfect" viewpoint. We didn't immediately correctly identify those mountains, but soon figured out that we were looking at Kanchenjunga (8586 meters).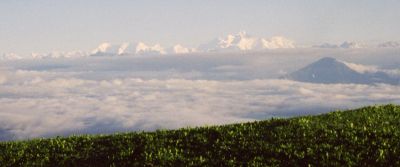 Anna Purna and Everest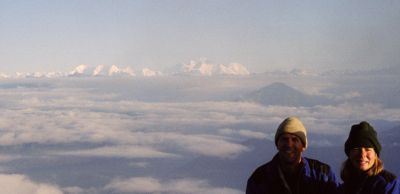 Everest and Us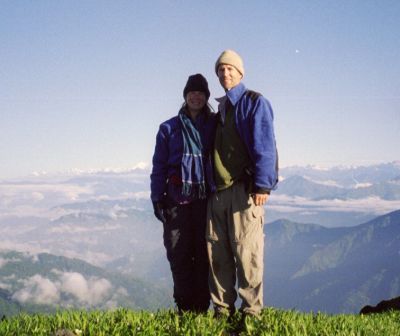 We're at the Himalayas!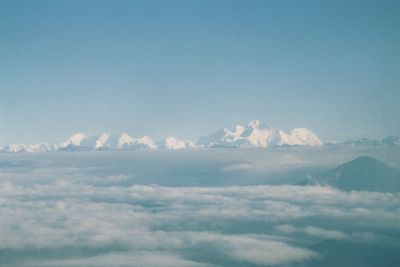 Everest and Anna Purna

Then, we headed to another viewpoint further on that the dog had moved to and were greeted with another magnificent, memorable sight -- Everest, in all its spendor! At 8848 meters, the top of the world. We could also see nearby Anapurna, Makalu, Lhotse and several other famous peaks. The hills were covered with wildflowers this time of year. As we sat on the hillside, taking in the view, James came up the mountain looking for us. He had wanted to be sure we saw what we had waited so long for. I think he was relieved. We were treated to such wonderful views and it stayed clear for so long, we had a hard time deciding finally to go down, leaving the view behind us, rather than waiting for a fog to obscure it from us again.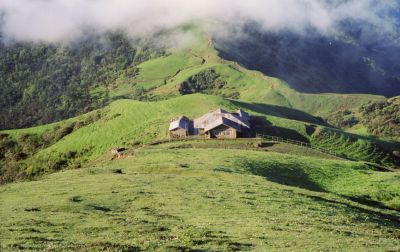 The hut at Phalut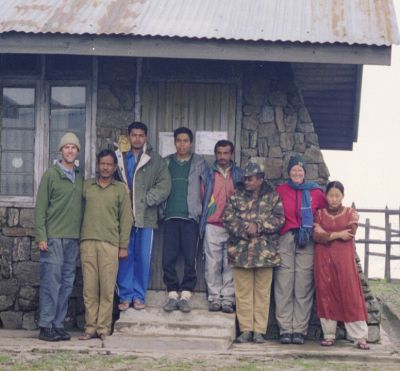 Kirk, soldier, soldier, Passan, James, Soldier commander, Donna, and hut girl

When we finally did reach the barracks, one of the border guards tried to tell us something in Bengali. I didn't really understand him, but Kirk thought he was telling us that there had only been two clear days in a whole month! We are definitely VERY blessed!

We had barely been back for 5 minutes when Passan had our breakfast ready! He must have spotted us coming down the mountain! After breakfast, we got a group of folks together for a little photo op...the two folks who run the trekkers kitchen (Passan and the girl), James, and several of the border guards. A few of the guys were "shy" and refused to come out of their kitchen.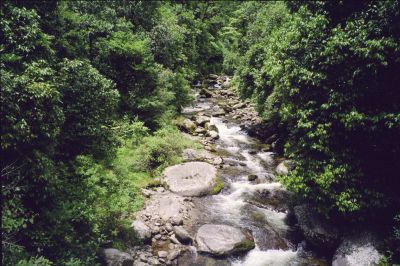 One of the streams along the way

Then, we headed off for our "easy" day. And it WAS an easy day! We had 16 kilometers of walking, but it was a very slight downhill all the way. The road was easy, the terrain was not rough at all. It was like being out for a nice stroll. I was glad for that, because thanks to the bad water I drank on the first day of our trek, I was still not feeling very good. And it made it quite hard for me to eat much, so I wasn't feeling very strong, either. A tough day would have left me feeling in pretty sorry shape, indeed! A nice easy day, after a nice rest day, was EXACTLY what I needed!

We hiked as far as a split in the road right before Gorkhey. There we had to decide whether to head for Gorkhey or Samandan. They were only about a kilometer apart, but Samandan would put us just a tiny bit closer to our destination the next day. It was quite early in the day (only about 10:30AM) so we decided to go for Samandan. As it turned out, we descended a very steep road to the river, crossed a bridge and then ascended back up an extremely steep incline. By this time, I was NOT so happy about my choice to go to Samandan. In addition, I had in my mind that we were heading to a trekker's hut in Samandan that had been recommended by the trekking log, and we ended up someplace entirely different. By the time we got there, of course, it was too late to go back. Oh, well.

The place we did end up was next to a school and Kirk and I were definitely the center of attention. At first it was kind of cute, but soon, it was annoying. I couldn't even journal. I ended up just flipping through my journal and showing them all the post cards and things I had collected and pasted in, because I certainly couldn't do anything else. They would sit there and stare at us. There was a tiny kitten that we played with and they chuckled at our interest in. We played with the children a little. I drew pictures on their hands and feet with my pen. They were quite interested in the combination lock we put on the door and spent a while trying to figure out the combination and get it open. We tried to distract them so they wouldn't figure it out and get it open.

It started to rain, so we ended up retreating into our room where it was dry and warm. I treated the water we had in the camelback with potable aqua. We had had so much trouble with our water and at this point, I really needed some reliable water to drink. We stayed in the room, read our books (I was reading "The House of the Blue Mangoes" by David Davidar, about a family in India during the late 1800s to the first half of the 20th century), and played cards. Later, James brought us some hot drinks and we ordered some dinner. When it was time to eat, I barely managed to have some rice and a little of the papad (hard, dry crispy bread) that came as part of our meal. Then, we went back to the room and laid down again. I slept with the camel straw by my head so I could sip on it while I slept, hoping to get some more water into my system.

June 10, 2003, Samandan (unknown elevation) to Raman (2560 meters) to Sirikhola (1900 meters):

I woke up slowly this morning, and not wanting to wake up at all. Now, pay attention you basketball fans: I was sort of half awake and found myself sort of half-dreaming that Bill Self was coming to California to meet with KU alumni to reassure them about his taking over the coaching of the KU basketball program. And I got to meet with him and give him a piece of my mind (nicely, of course). In my dream, I told him how important it was to NOT be like Larry Brown (who was a good recruiter, and although he won us a National Championship, he left the program in shambles and just wasn't a good collegiate coach, in my humble opinion). I told him what I thought was good about the William regime. Then, I realized that if Self came to California I wouldn't BE there, because I'm in INDIA! So, I started the conversation all over again as a letter and recomposed it about 15 times! Sheesh! Talk about basketball obsession! Can you tell I'm a bit upset about having missed this last season?!

Finally, Kirk told me I needed to get up...it was 7:30! It had been pouring all night long. I remembered looking at my watch at 1:29AM and it had been pouring so hard I wondered if we might float away. We crawled out of bed and I tried to force some breakfast down. Actually the breakfast tasted quite good -- James cooked it, it turned out. It was potato uttapam and omlettes.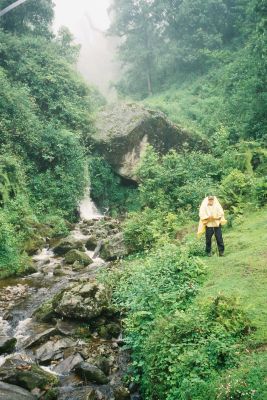 Kirk by a stream on the way to Sirikhola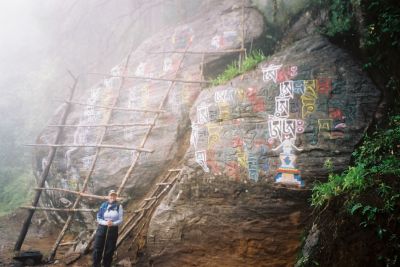 The names of God in Nepali carved in a rock on the way to Sirikhola
When we started off, it was raining and it was our latest start yet - 9:01. We had a 16 kilometer day ahead of us and our destination, Sirikhola, was supposed to be beautiful. The day, for the most part, wasn't as bad as I was expecting. While it did rain off and on, some of the heavy rains started after we were in for the day. But the rains from overnight had their effect. The paths were TREACHEROUS. Imagine going iceskating on an ice rink that is on a 45 degree angle. Add some rocks, trees, hair pin curves, cliffs...get the picture?
Actually, we started with a descent to the river and then a nice long slow ascent for about 4 kilometers to Raman. I was glad it was such a slow ascent. In Raman, we stopped for lunch. We refilled the camelback with bottled water at the trekkers hut in Raman. Then we headed off for the remaining trek to Sirikhola. The last 8 kilometers was long. It was a steep and rocky descent and got to be long and repetitive. Nonetheless, we crossed several bridges over a river (I am not sure if it was always the Raman River or whether we crossed a couple of different rivers) and the scenery we were treated to was fantastic. The trees were beautiful. Time and time again, I was amazed by the way the weather just enveloped us -- mists moving in and around us, giving things a magical feeling, unearthly.
As we neared Sirikhola, we got to a particularly treacherous section that we had to navigate. It took some time to get down. Along the way, though, we found a really beautiful sculpture/carving/alter. It carved into the stone and then painted. James told us it was the name of God written in Tibetan.
We arrived in Sirikhola and checked into the private trekker's hut, Gompara Hut, which is right on the river, next to the government hut. We took a room there for 100 rupees a night. Just a few hundred yards before we reached the hut, the sole on Kirk's boot gave way again. This was the 5th time in 8 months! Lowa is definitely going to get a letter from us! He still has another 8 kilometers to do before we get out of here! We checked in and he borrowed a pair of shoes so he could clean his boots off and try and rig something -- duct tape them together for tomorrow's hike.
We went to the kitchen for some food. Kirk was sugar crashing big time! In the kitchen, we met our first westerner in 7 days! Emil, from the Czech Republic, is a forester. We chatted with him for quite a while, particularly since we plan to spend some time in Prague before heading home. We took a quick nap before dinner was ready. It rained all afternoon. I think the monsoons have arrived.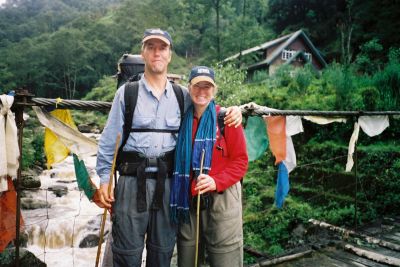 Kirk and Donna on the bridge at Sirikhola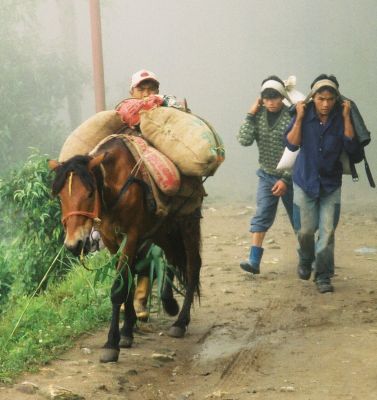 Sherpas on the trail to Rimbik
June 11, 2003, Sirikhola (1900 meters) to Rimbik (2280 meters) to Darjeeling (2134 meters):
We woke up this morning and drug ourselves out of bed. James hadn't woken us up yet. We started packing and then headed out to get our breakfast. It was just after 7:30. We had only 8 kilometers to go today. James had previously told us that today would be "flat", but the elevation charts don't lie. I knew it would involve some climbing. I was right. We left the trekkers' hut and crossed a bridge over the Raman River that is covered with prayer flags. We started walking alongside the river, and immediately, we are climbing higher and higher -- the terrain is quite rocky.
It started to rain fairly quickly. After about 2 or 3 kilometers, the path widens, although it doesn't necessarily flatten out, and James tells us that it will be easier. What he means is that the road becomes more heavily used at this point, so we will no longer be scrambling. We start passing by "civilization". There are tiny huts and houses scattered along the road side, and children come out to watch us pass. Some even start to follow us, seeming to be heading in our direction, perhaps heading to school.
James, while guiding us these last seven days, has been away from his wife and three children. I know he misses them as I watch him interact with the children that gather around him, playing as they walk with him. Kirk's boot gives way -- the tape didn't hold for long. He stops to try and tape the tape to the laces and make it last longer. It starts to rain as he is performing that operation. We try to shelter him and his boots from the rain, which is coming down hard and fast. As he finishes, we put on our rain gear and continue up the hill. About 5 or 10 minutes later, the tape lets go completely. The boot sole is a goner for now.
We trudge on. Three kilometers to go. We pick up a dog. James really isn't that fond of dogs. The dog just seemed interested in following us, so it did. It followed us all the way to Rimbik, which was just fine, until it entered into the territory of other dogs, which caused a humongous dog fight. We had to break it up with our walking sticks before someone got really hurt.
In Rimbik, we booked a shared jeep back to Darjeeling for 85 rupees per person. The bus only costs 40 each, but it only goes at 6AM, and we had long since missed that. The shared jeep goes at noon. We would be on it in about an hour or so. We went on down the street and James pointed Kirk to a shoe repair guy who said he could fix Kirk's boot for 15 rupees. That would be his cheapest repair yet! Kirk said why not, so he put on one of my tevas and left him with the boot. Then we went down the street and sat in a hotel restaurant, sipping hot chocolate and had a little food while the guy did his work.
The boot was ready in no time. We picked it up and then went and got on our jeep. The ride back to Darjeeling was a long one. I don't think the distance is really all that great, but you are driving down REALLY narrow roads with REALLY sharp hairpin curves and you have to stop practically every 10 feet either for someone to pass, someone to get on or off, or something. It's very slow going. And the jeeps are very crowded. If there's no room inside and someone wants to get on, they climb on the back or on the roof. If the person who wants to get on is a woman or someone with a baby, and there's a man inside, they have to get out and get on the back. I was glad they didn't make Kirk get outside. I would have thrown a fit!
Eventually, we pulled into Darjeeling and climbed our tired legs back up the hill to the top of Darjeeling where Aliment Hotel is. We checked back in, retrieved our bags and are back here again for the duration of our stay in Darjeeling.
6/12-18/03 Darjeeling to Delhi
June 12, 2003, Darjeeling, India:
We were back in Darjeeling after our week of trekking. It was nice to have the comforts of the Aliment Hotel. Hot showers are really nice when it is cold out! Donna added an entry to the trekker's book at the hotel describing our trek, so other travelers can learn from our experiences. In the morning we checked email and worked on the website, then had a nice lunch. That afternoon, we headed out and bought some postcards for Donna's journal. We had some ice cream while we were out, and looked at some books to exchange. Then went back to the hotel, worked on the internet a while longer had dinner and went to bed.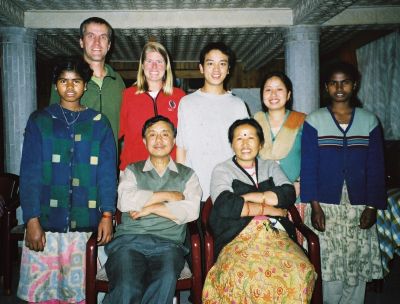 Everyone at the Aliment Hotel
Front Row: Moneesha, Jhulendra, Chandra
Back Row: Kirk, Donna, Preebendra, Pratima, Monika
(Click picture for full size)
June 13, 2003, Darjeeling, India:
This was our last full day in Darjeeling. We will miss it. It is a wonderful town with lots to do, and a great jumping off point for Sikkim and many other places we didn't get a chance to go. Hopefully we will get back here someday.
After breakfast, Donna went down to the internet and finished her post of our trek while I read for a while and when she was ready, I moved it to the website. We then had a nice lunch and played cards/read most of the afternoon. We even learned a few new games. We added
California Jack
, and
Domino Hearts
to our repertoire.
That evening after dinner, we got all the folks at Aliment Hotel together and took a group photo. Then we headed down to our room to pack...our stuff was all over the place and we had to squeeze it all back into two packs since were heading to Delhi in the morning. It took work, but we got it all in! Later we had a discussion about the future of our trip. We are running out of money, and may have to end our trip a bit early if God doesn't provide more funds. We are leaving it in His hands.
June 14, 2003 Darjeeling to Delhi, India:
We got up at 5:15 AM, and packed the remaining items, said our goodbyes and headed down the hill to catch a jeep to New Jalpaiguri (NJP). Unfortunately, the jeeps only go to Siliguri, and we will have to get a rickshaw from there to the NJP station. We hopped in the back of a jeep and were soon on our way. As we were heading down the hill, people would look at us and wave, and we would wave back, then they'd turn and get all of their family members to wave, too! We started to feel a bit like monkeys in a zoo... er jeep. Ah... not really, they were all very nice and friendly.
When we were leaving Darjeeling, we saw an older man in a jacket and trousers, but no shirt or shoes, jogging down the street. He looked somewhat emaciated and dirty, as if he belonged to one of the lower castes. As we drove along, creeping along in the traffic, we kept seeing him. He would pass us, then we would pass him, over and over and over. It was pretty funny. Except that we decided he was probably running because he couldn't afford to pay for a ride...That wasn't so funny.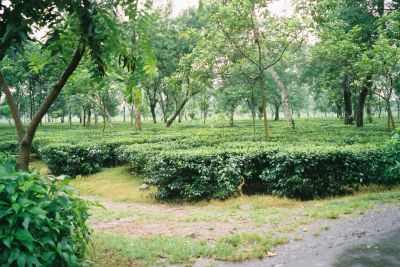 Tea Plantation
The ride from Darjeeling to Siliguri was pretty long (2.5 hours) but we did get a bonus along the way. This time we drove through lots of tea plantations. On the way up, we had only passed a few. We drove by field after field of tea, and even saw people harvesting the tea in the rain.
We arrived in Siliguri around 9:30 and then hired a bicycle rickshaw to take us to the train station for 40 rupees. The auto rickshaws cost 70. It annoys Donna that the autorickshaws get more and they don't do any physical work. It was a tight fit, but we managed to get the two of us and our two packs on board the rickshaw. It was further than we expected, and I gave him 10 rupees extra when we got there. He was very happy with that.
We went in to the train station and decided to wait in the A/C waiting room since it was over 2 hours till our train. We found it and sat down. Donna headed out and got us some vada samber and a dosa and a giant 1 liter pepsi for me. Yum! The pepsi was the smallest size the guy had. We hung out until a few minutes before our train playing cards and watching the other travellers.
Our train was only about 10 minutes late. We climbed on and found our seats without a problem. But right before we did, we were waiting on the concourse and a beggar boy came up to me (Kirk). He wanted the 1/2 of my remaining soda. I said no. The boy wouldn't go away, so pulled out a toothbrush with toothpaste, that I had in my pocket to give to beggars. We had gotten the toothbrush for free from a hotel in Vietnam. Donna had a hard time not bursting out laughing at this point. The boy hesitated, pointed at the soda again, and I said no, offering the toothbrush again. He took it instead. The boy was pretty scrawny looking, and had a piece of food hanging off one corner of his mouth. He stood there looking at the toothbrush and didn't go away. He looked again at the soda. I shook my head, no. The boy started to open the package. He took out the toothbrush and smelled it. Then he took out the toothpaste, opened the cap, and smelled it too. He looked one last time at the soda, and then finally walked away. Donna went to look for books for the train journey, and when she came back the toothbrush boy had come back and was harassing me for my soda again. It was a relief when we boarded the train.
Our companions for this journey weren't nearly as much fun as the family we were with on the way to NJP. They were 4 men, all businessmen. They barely spoke English, and only 1 or 2 of them were more than sporadically friendly.
We spent the afternoon playing cards. Exceedingly long games of cards, ridiculously short games of cards, all sorts of games of cards. We also listened to music, to the extent that we could get our CD player to work. It was being very tempermental.
And they fed us. Boy did they feed us! Food on this train (Rajdhani Express) is part of the ticket price. We didn't realize this or we wouldn't have bought so many snacks before boarding! We got lunch, dinner, breakfast, snacks, tea, soup before each meal, and dessert (Ice Cream! Yum!) after each meal. Dinner was served pretty late actually, Then we read for a while and set up our bunks and went to sleep. It was nice and cold, so it was easy to sleep in general. The bunks were too short for me though, so I couldn't stretch out or my feet would get bumped by all the people walking by.
June 15, 2003, Rajdhani Express to Delhi, India:
At 6:00 AM, they came by and woke us up to offer us tea on the train. Ack! We would have liked a bit more sleep. While Donna went off to use the facilities, the guy from the top bunk (we are in 3A -three tier A/C) came down and sat on Donna's bottom bunk which normally turns into a seat when the middle bunk is put up. Since he wasn't budging, and there was no other room, I set up the bunks into seating position, and when Donna came back she asked the guy who had the top bunk on the other side if she could sleep up there for a bit more. While she slept we all had tea and read the newspapers. Donna came down in an hour or so and we all read papers while waiting for breakfast.
We have both been shocked and amazed by the coverage in the
Hindustan Times
: the frivolity of the articles that appear on the front page, the general lack of depth of coverage, the brevity of coverage on serious issues or events, and the sheer number of typos and errors! The very first thing Donna spotted in the paper was a
tiny
, 1/4 to 1/2 inch article in the blurb section (where they give lead-ins, but no follow up) about a religious conflict that had occurred, resulting in a Christian church being burned down. Apparently, the locals were unhappy about the prosylethysing (that had apparently been successful) and in an attempt to stem growing number of Christians, they burned the church down and massacred a bunch of people. A bit later she found another article about a mall that will be put up behind the Taj Mahal. If they are successful in that venture, the beauty as we saw it will be no more. Tragic.
We spent the rest of the train ride, eating, chatting, looking out the window, and of course playing cards! When we got to Delhi we said our goodbyes and headed out. It was HOT! We are back to 113F/45C heat! It was much different this time, though, we knew what was what. We didn't let anyone pull us astray and just kept on moving. We checked into the Hotel Payal (1182, Main Bazaar, Pahar Gang, New Delhi-110055 Phone:23562867). This time we splurged for a 250 rupee room, since it came with swamp cooler, fan, bathroom, and TV! The swamp cooler is hilarious, it has a leak, so it spits water out at you. It does make it cooler, though! When we checked in, they wanted us to pay all three nights up front, but we said we would just pay them day by day. Weird.
That afternoon, we had my boots and slip on shoes repaired, 40 rupees less than a dollar, what a deal! Then we did some internet. We looked into selling some books back, and caught a cyclo rickshaw to Connaught place to try and drop off our film. Unfortunately it was Sunday, so all the stores around Connaught were closed. We would have to go by on Monday. While there, we looked into going to a movie, but they were all in Hindi, so we skipped that too. We took another cyclo rickshaw back to the hotel, and on the way back, as we were nearing the main bazar, our driver was trying to turn off of Chelmsford onto the Main Bazaar and he got stuck. There was a line of traffic that wasn't moving that he had to cut across. So he stopped, waiting for it to start moving so he could cut through. When it finally did start to move, of course it took a second or two to get us moving. Meanwhile, a guy in a white SUV, whipped his vehicle up and cut us off, stopping immediately in front of us. Our driver was NOT happy. It was totally unnecessary as the white SUV wasn't going anywhere and we were merely going across traffic, not pulling ahead of him to slow him down. They started arguing back and forth, our cyclos wheel up against the door of the SUV. All of a sudden, the driver of the SUV reached out and swung at our pedicab driver! Stunned, the driver then leaned forward and swung back! They were swinging back and forth now. The driver of the SUV tried to open his door and climb out, but the cyclo driver wisely pushed it closed again, trapping him inside. Several other people came around, we think, to see what was going on, and hearing Donna and I protesting in English. They tried to help, and eventually the SUV moved up a little and we were able to squeeze by behind him, onto Main Bazaar. We were at our destination quickly after that! Wow, a ride in a cyclo rickshaw can be pretty exciting!
We went up to the room to relax, and did a little laundry before dinner. We had dinner at our favourite restaurant in Delhi, Sonu Chat House. It was delicious, though we ate too much. We had the Sonu Special Uttapam and a chocolate dosa. Then we spent the rest of the evening in the room.
June 16, 2003, Delhi, India, 106F/41C:
We woke up very early in the morning since the swamp cooler ran out of water, and it got very hot. I refilled it and we slept more until it started spitting all the water out and soaked us, therefore freezing us! I then turned off the cooler and turned on the fan. Finally around 8:00 we got up and headed straight to the internet shop. I wanted to see if my mom or sister had replied to my email with their wheareabouts for Father's Day. They had! I immediately called them at my sister's, and we were able to chat with my family and my father for Father's day! We didn't call Donna's father since he is in different time zone and Donna thought he would be asleep. She emailed him instead. Later she checked her emails and he had responded right away. We should have called him, he had been awake!
We then went back to Sonu Chathouse for breakfast and then back to our room for our daily bible reading. We read 1 Cor 14 today and Donna had some questions about where it says women aren't supposed to speak in church. We talked about it a bit, and maybe she will email someone from our church for their perspective. I feel it is kind of a cultural thing for the times that Paul was writing. Then we were off to Connaught Place to meet with some friends for lunch.
As we were walking through Connaught Place we noticed that something special was going on today. We had seen large gatherings of men in one of the buildings, and then as we passed a park we saw a tent set up and people handing out things. We weren't sure what it was.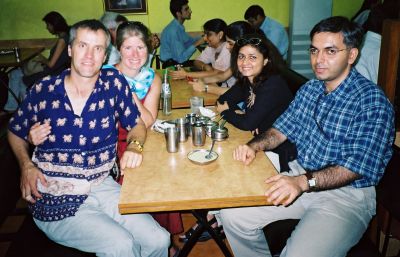 Kirk, Donna, Ritu, & Harit
(Click picture for full size)
Eventually we found the building, and went in. We were challenged at every step of the way to Ritu and Harit's office. They have very good security! It was wonderful to be inside an air conditioned building! They took us out to lunch for south indian food which we love! We went to a place called The Banana Leaf. While there we found out that today was "Sikh-ram", the Sikh new year! Harit told us this, he knew because he is now engaged to a sikh girl. This drew near shock from Ritu. Apparently Harit never talks about his girlfriend at all. We had a wonderful lunch and great conversation. We learned lots more about India. After lunch they walked us to our next destination, the photo shop to drop off our film. Where we dropped off 6 rolls which would be ready the next day. After saying goodbye, we headed off to do some sightseeing.
We hired an autorickshaw this time to take us to the different sights as it was very hot, and they were pretty far apart. We negotiated a price of 200 rupees, and refused to go to any of the shops that he wanted to take us to as well.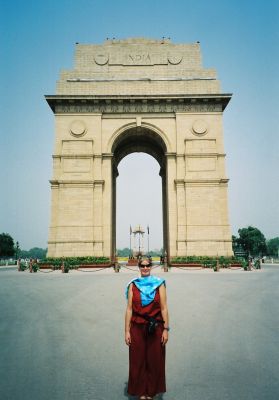 The India Gate
First stop was the India Gate. It is 42 meters high, and made of stone. It is an arch of triumph bearing the names of 85,000 Indian soldiers who died in combat. The whole traffic circle in which it was situated was surrounded by police tape. There were other tourists inside, so we ducked under and walked in to look. There was more police tape around the monument itself with guards inside. It is a very nice structure. For some reason you can no longer walk underneath or right up to it. Maybe they are afraid of terrorists. We said hello to the guards and kept on walking around looking at it. On the way back, there were lots of hawkers and vendors. One girl tried to sell Donna dye to make her hands red and black. No thanks! I gave her one of my toothbrushes to encourage her to go away, but it didn't work.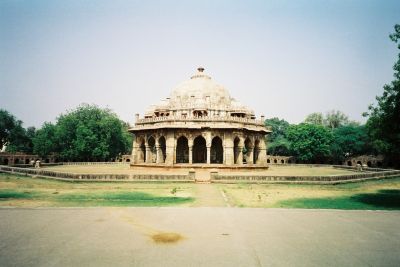 Isa Khan's Tomb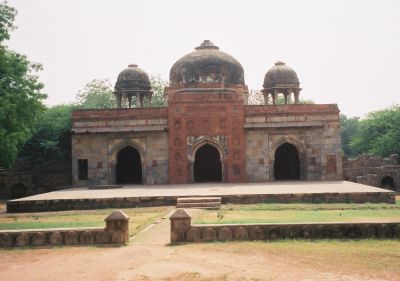 Isa Khan's Mosque
Next stop was Humayun's tomb. This one cost 250 rupees each ($5). On the way in, we were diverted by a man into an area to the right. It seemed like a guided tour, but it turned out to be a con. He took us through Isa Khan's tomb and the mosque next door. They weren't in very good condition, but they did give some good views, especially from the roof of the mosque, you could see Isa Khan's tomb with Humayans tomb in the background. As we left the area, he, of course, asked for money for the tour, so I gave him 20 rupees. It was easier than arguing.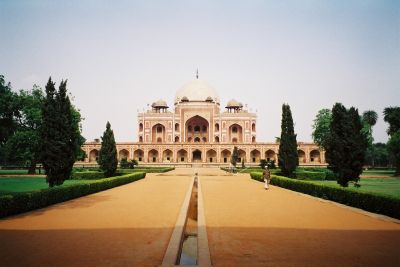 Humayan's Tomb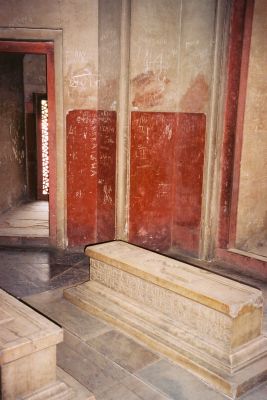 Graffiti Inside Humayan's Tomb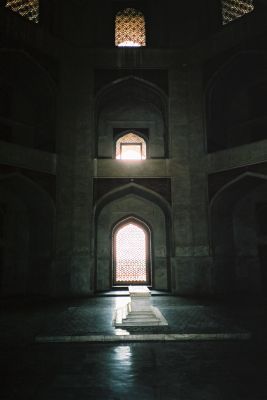 Interior of Humayan's Tomb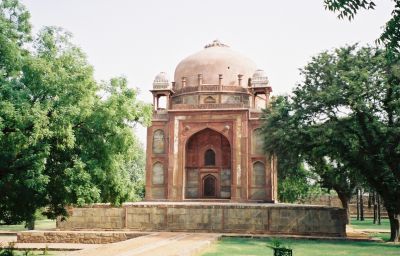 Humayan's Barber's Tomb
Next, we went in to Humayun's tomb. This area was clearly what we had paid for, the grounds had recently been restored and the whole area was in better repair. There had been a significant effort made by the Archaeological Survey of India in the last 3 years to restore this site. They have done a lot of impressive work. We read the placards before entering the grounds. Humayan's tomb was built in the mid-16th century by Haji Begum, the Persian-born senior wife of Humayun (the second Mughal emperor). It is considered to be the precurser to the Taj Mahal. Like the Taj, it is a squat bulding with high-arched entrances that let in light, topped by a bulbous dome, surrounded by formal gardens. The tomb is made of red and black sandstone and black and yellow marble. There are waterways that course through the gardens, many of which have been repaired in the recent renovations. We walked up to the main level, and started walking around the building. We went in to some of the ancillary chambers that had some of the wives and daughters of Humayan buried in them. We were horrified at the graffiti that was carved into the walls throughout the structure. It was only on the sandstone walls as the marble is too hard. Where once red sandstone majestically blanketed the room somberly, now it was permantently marked by names and epithets. This is all done on what is now a World Heritage Site.
As we continued to walk around the building, we came to an entry into the main chamber. Another would be guide was waiting for us there. This time Donna went off on her own, so the guide followed me. I humoured him, and walked around seeing all the rooms and the great stonework of the place. The place is well designed. No matter what room you were in, there was plenty of light, due to the high archways and stone screens. When we finally did leave, I paid our "guide" 10 rupees for his services, and we headed out to see the gardens. When we got out to our rickshaw, there was a guy with two cobras who wanted us to pay him to do a snake dance, but we refused. We don't support those types of animal exploitation. We headed to the Tibet House next.
The Tibet House is a small museum that contains many artifacts that were rushed out of Tibet when the Chinese invaded the country. It was a pretty small museum, but the exhibits were nice. Interestingly, they believe that each Dalai Lama is a reincarnation of the former one.
As it was very hot and we were tired, we had our rickshaw driver just take us straight back to our hotel. We had to deflect one more attempt to get us to go to some shops, but were were successful.
We did some more laundry that night, and Donna took a nap, then dinner again at Sonu Chat House. We had Chicken Biryani this time. Excellent! Then a little internet and to bed.
June 17, 2003, Delhi India:
At about 1 AM, I got up because I was feeling very sick. I called for Donna's help as I was in the bathroom. Let just say, it was coming out both ends! It seems I had food poisoning. It could have been from food or water. She comforted me with aspirin, and tried to keep me warm. I was freezing, but I had a high fever. Later I sent Donna out to have breakfast. She brought some chapatis back for me, but I wasn't hungry at all.
While she was out, she met some guys that are Christians! (we have met very few here) They were Paul and Stauffer (both from Washington State) and three guys from India. They all now live in Indore and are witnessing to Muslims. They need serious prayer as their ministry is quite intense - they live as the muslims live in order to make a connection with them. She gave them our website address and told them to stay in touch.
Later, Donna went out to get more laundry soap and did some internet. She found out some good news and even better news. God has blessed us a bit financially. Our state tax refund came in, and our money from our car we sold in Australia. Praise God! That should take us through Egypt at least. The even better news is that our good friends, Sue and Bill, will have a baby girl by the time we get back! Hooray! We have been praying for a child for them for a long time!
Next Donna did the last bit of our laundry and went out to get the film. You will see more pictures on the website soon. All this time, I was stuck sick in bed. I spent most of the afternoon vegging out in front of the TV.
In the evening I was feeling well enough to go down and have some cornflakes for dinner. But I couldn't stay out very long. I went back up to rest and sleep after dinner.
Wednesday, June 18, 2003 Delhi, India 93F/34C:
Today is our last day in India. I woke up feeling much better, not completely healed but mostly. This morning it was Donna who is now feeling sick. Sounds like it is a somewhat milder form of what I had. Hopefully we won't set off the SARS alarms as we go through the airports tonight! I got up and had breakfast. Donna came down for a bit, but couldn't stay long. It was raining in the morning, but that quit shortly after breakfast.
Later I went out and refilled our Cipro prescription, traded in some books, and worked on this post. I also negotiated with our hotel to let us stay until 7 tonight when they will have a car bring us to the airport. Our flight to Singapore doesn't leave until late tonight.
June 18, 2003, Delhi, India: (by Donna)
I was a bit sicker than either Kirk or I thought. Either I had food poisoning exactly as Kirk did and it hit me later than it hit him, or we both had had a stomach virus and it hit each of us almost exactly 24 hours apart. While Kirk was doing internet stuff, I stayed in the room and slept as much as I could. I couldn't eat and had a hard time even drinking water.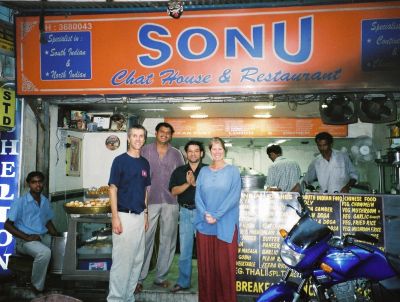 Kirk, Donna, & the owners of Sonu Chat House
The bad part came in the evening when it was time to go to the airport. I still didn't feel better. I couldn't eat. I couldn't even carry my backpack. Kirk ended up having to carry both his and mine downstairs (I did manage to carry the camel). We stopped over at Sonu Chat House and cajoled them into taking a photo with us and then caught our car to the airport.
The drive to the airport was interesting...we saw parts of Delhi we hadn't seen before -- NICE parts. We were driven through the area where all the embassies were, among other things. We knew those areas had to exist, but we just hadn't seen them while we were there. They didn't really represent the "real" Delhi to us, anyway. It's not where the majority of people live and work, anyway.
At the airport, we were there plenty early. Almost too early, it seemed; there was no one at the Singapore Airlines counter to check us in. It was an effort for me to stand, so Kirk found an extra luggage cart, and I sat on that. We were a bit concerned that with all the SARS scare I might get quarantined, but we'd just deal with it if we had to. I didn't have any respiratory problems, so it was unlikely they'd mistake this for SARS. And we weren't worried about GETTING SARS, since Singapore has now been declared SARS-free. They had worked overtime to eradicate the virus from the island.
Finally, an army of people showed up to man the counters and we were quickly checked in and processed. We went through immigration, which was the REAL agony. I had to stand (without a cart to sit on), looking healthy and happy and strong until they were darn well pleased to see me. It didn't really take all THAT long, but it sure felt like it.
Once we got through immigration, we had to go through security. There we had our first real hang-up. Apparently, they have recently instituted a new rule: no spare batteries allowed in the cabin. You can only have batteries that are in things (like in a walkman or a PDA). We had a spare pair with us that we had just purchased. We didn't want to have to discard them and we didn't want to replace brand new batteries with brand new batteries. After a long discussion, they finally agreed to "check" them for us. Go figure. We had images of retrieving them off the baggage carousel in Singapore!
We were finally through. Well, almost. One more security check to get through to the gate. At the gate, there was a small patch of carpeted area. I headed straight for it. There, I promptly took my backroll and laid down on the floor, using it as a pillow. I laid there for the entire time until they called our flight (except for a few trips to the toilet).
The flight from Delhi to Singapore is only about 5 hours or so, but you head east, so you lose time. We were fortunate, in that although we were in a 3 seat arrangement, there was not a third person in our section. Kirk moved over a seat and I was able to lay down after take off. I promptly went to sleep, and slept off and on most of the flight. Singapore Airlines has an excellent inflight entertainment setup, with movies on demand, even in economy class. Kirk watched "How to Lose a Guy in 10 Days", the featured movie, along with "Whose Line Is It, Anyway?" He tried to sleep a little after that, but never did get to sleep.
If you are reading chronologically, click here.