On the way back to our lodging, we stopped at the post office to get some stamps and an aerogramme (yes, Jerry...another will be coming your way). Near the post office all the vendors on the street are selling what look like packs of lottery tickets -- many, many packs of lottery tickets. Last night, we had dinner at a pub that was showing movies on their big screen TV. We saw "Snatch" and "Catch Me If You Can". They were both probably illegal copies. The latter was obviously created by videotaping the movie in a theater (the camera shifted once, the color was bad, and there were no credits).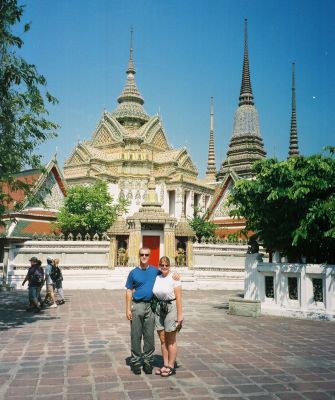 Wat Phrae Kaeo Area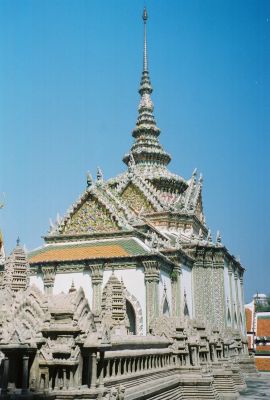 Phra Vihern Vod next to the model of Ankgor Wat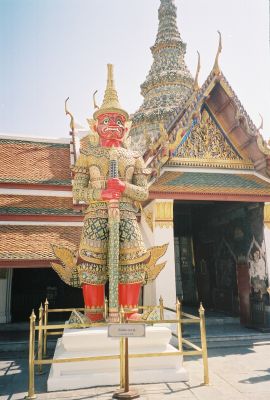 Red demon giant guarding the temple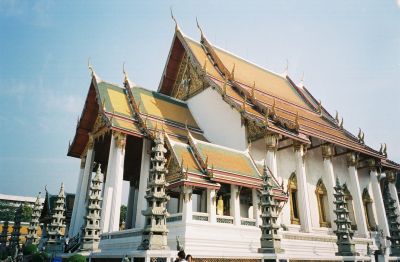 Another building in the Wat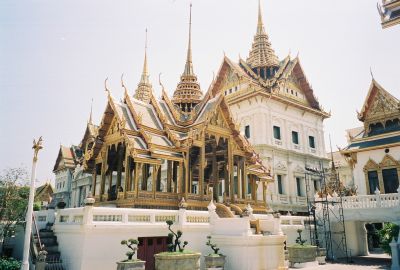 Aphorn Phimok Prasat, the king uses this to get on his elephants.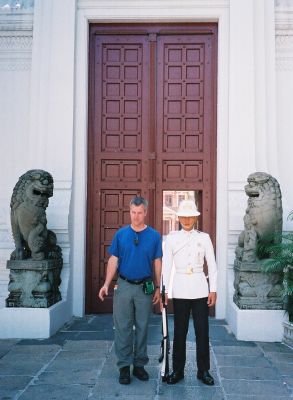 Kirk and the palace gaurd

Today, Feb 4, we headed to the Grand Palace and Wat Phra Kaeo . On the way, we were unfortunately visited by two different touts, which was quite disheartening. They both seemed like very nice people at first, trying out their english and were helpful, but they told us that the palace was closed today due to a public holiday, and wouldn't open to non-thais until 1:30 PM. And they had this "Great Idea" of what we could do until then. They wanted to take us on a tuk-tuk ride to see some other sites. We declined both, and continued on to the palace. They had lied to us. The second guy even called us names for not falling for his trickery. The palace was NOT closed at all; they are open everyday, to everyone.

We decided to purchase an audio tour to go along with our admission, and with that learned all about each of the interesting items in the Wat. This Wat is unique in that it does not have accomodation for the Monks that work here. This Wat is the one that was used by the king when he entered the monastery for a brief time. And this wat is the one that contains the Emerald Buddha. It is really made out of Jasper. The buildings and architecture and intricate design and workmanship in these places is marvelous. After the wat, we toured the palace grounds. Not all of it is open to the public, of course, but it was impressive none-the-less.

This afternoon, we came back to our lodging and rested for a while, then Donna went out to get a massage (for 140B) while I napped. Tonight, we will probably watch another movie at a pub and have dinner. Tomorrow, we are planning to take a bus to Chiang Mai.


2/15/03 Chiang Mai -- relaxing and fun!


Well, last time we wrote we were about to leave for Chiang Mai. We are still there!! On February 5th, we woke up early and headed off to look for our bus. We actually got on the wrong one (it seemed like ours would never come and when one came by with the right numbers on it, we got on, thinking we were getting on the right one...oops!). But no worries...it went along the right route for quite a while, and through hand signals and a very nice lady, we managed to figure out where to get off to catch ours at a strategic location. We were now, however, worried that we might miss our bus to Chiang Mai, which we thought left at 8:30; the connecting bus showed up to pick us up at 8:25. But, as always, God was watching out for us! We arrived at the bus terminal (market?!) at 9:00 and one of the windows said there was a bus leaving at 9:15!! We quickly bought a ticket! The bus was "second class" and the tickets were 487 baht (US$11.50) each. We quickly bought snacks and went to find our bus (which apparently didn't REALLY leave until 9:45. Once it was time to board, we discovered that we had assigned seats -- ours were assigned at the very front. The bus was in essence a double decker, except only the top of the bus was for passengers. We had the seats right above the drivers compartment, on the left, with a perfect view out the front and lefthand windows! Not bad for a couple of tourists! Apparently, the price of our ticket also included food...snacks that were handed out on the bus as well as a lunch stop around two o'clock at a cafe, where we picked from a sort of buffet line. Kirk and I spent most of the ride talking, reading or relaxing. It was about a 10 hour ride to Chiang Mai, which is over 700 kilometers north of Bangkok. About an hour before the bus pulled into Chiang Mai, I noticed that the girl behind us had some sort of pet in her lap. On closer inspection, we realized it was a squirrel...a flying squirrel. In fact, she had two and they were babies! Around 7:30 or 8, we finally pulled into Chiang Mai. Kirk and I had decided to try and stay at the Banana Guest House, which was recommended by the Lonely Planet. The minute we got off the bus, we were surrounded by tuk tuk and pickups drivers trying to convince us that they would provide the best service and price. We finally just got onto one pickup and went straight there, hoping they would have a room for us. We got lucky...for that night, anyway. They had a room with a cold shower. But they didn't know if they'd have room the next day. We checked into our ENORMOUS room (well, enormous compared to what we had had in Bangkok...there, we had barely been able to fit our packs in the room if we were in there, too), at which point, I noticed my watch was missing. I had had it on the bus. We looked everywhere and couldn't find it. Either the band had given way somewhere along the way or it had been nicked off my arm. Either way, I was now watchless. We were thankful it had only cost us US$15. We headed out for a walk around town. We walked over to the Tha Phae Gate area, sat and had a cold drink in a cafe (they have wonderful fruit drinks here) and then walked back to our guesthouse.

On February 6, we woke up and found that we DID have to move after all! And even though Banana Guest House advertised that they had hot showers (we didn't get one in our room, so would have had to use the public shower downstairs), I never did get to use it. We went out looking for a new home in Chiang Mai. We found one...although we didn't particularly like the name of the place: Mr. Whisky Guest House. We had another room for 150 baht, again with a cold shower. But after we checked in, we discovered that the toilet was plugged up and wouldn't flush. We notified the Guesthouse management...when they discovered that the toilets on the entire first floor wouldn't flush, we moved to the upper floor into a room with a hot shower (yay).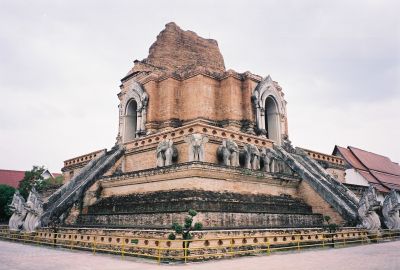 Chedi Luang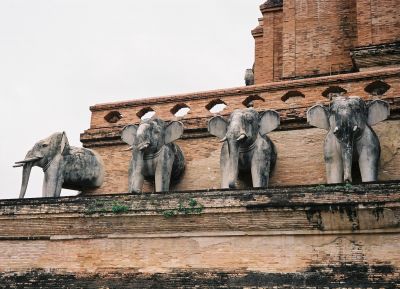 Chedi Luang Elephants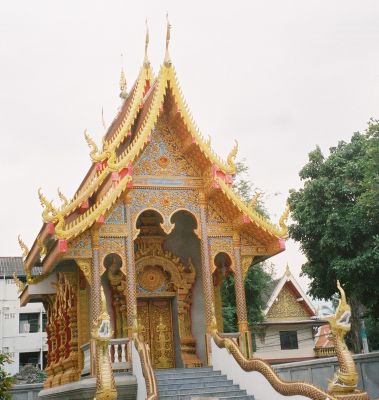 A building in the back of Wat Phra Sing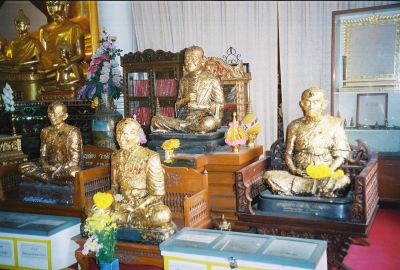 Unusual statues inside Wat Phra Sing

After finding breakfast (from a yummy street vendor), we went on a Wat tour. First, we went to Wat Chedi Luang, which is also known as the monastery of the Great Stupa. Although the height of the stupa was reduced by an earthquake in 1545, it is still a magnificent structure! It was constructed by King Saeng Muang Ma in 1401 and enlarged in 1454 to a height of 86 meters. Next, we headed to Wat Chiang Man, the oldest temple in Chaing Mai. King Mengrai allegedly lived here while the new city of Chiang Mai was constructed. Wat Chiang Man houses a tiny crystal buddha called Phra Seh-Taang Kamanee that is thought to have the power to bring rain and another called Phra Sila Khao that was made by Indian craftsmen thousands of years ago. We made a quick stop at Wat LamCheng, and then headed on to the famous Wat Phra Singh, which was built in 1345 by King Pha Yu to house the remains of his father, King Kam Fu. The Lai Kam chapel houses the revered Phra Singh buddha image, whose head was stolen in 1992.

We walked back to our guesthouse and rested for a bit and then went in search of dinner. We headed down to Chiang Mai gate, where we head heard there were a lot of vendors set up... and oh, my!! We were in heaven! The food was varied and fantastic! We decided to get a little bit of a lot of different things, so we could try out many different items! We had fried chicken from "KFG" (no, not KFC! KFG...and GEEEE it was GGGGOOOOODDDDDD!!!!!) and a stirfry dish from a guy that ended up being one of our repeat favorites! And that didn't include any of the desserts we discovered! We practically rolled home (waddled at the least)!

On February 7th, we decided to rent a motorbike for about US$3 for 24 hours and check out what was going on around town, and maybe even drive up to Doi Suthep. As it turns out, today was the first day of the Festival of Flowers, quite a big event here in Chiang Mai. It would run for three days, with the parade and selection of Blossom Queen on Saturday. We had breakfast at a little place west of Chiang Mai Gate (the entire city was once surrounded by a wall and moat with several gates in the wall...therefore, the gates are now notorious landmarks), walked around a couple of markets hoping to find me a replacement watch (but to no avail) and then headed back to our guesthouse, where we picked up our motorbike for the day.

We ran a few errands and then drove over to city center, which was outside the old city (outside the moat and near the river) to see what it was like. It was very similar to Bangkok, actually. There were American fast food restaurants (yuck!) and a lot more tuk tuks. We walked around a bit, still looking for a new watch, and finally decided to head out of town.

We drove northwest of town up toward Doi Suthep, a Wat on top on one of the high peaks outside of Chiang Mai. The drive up the mountain was beautiful, but we were a bit taken aback when we tried to take a turn-off for one of the waterfalls. There was a guard at the turn-off who pointed at a sign. Foreigners had to pay a fee of 200 baht per day to take the turn off. If you were Thai, however, you could pay as little as 20 baht. We were a bit put off by that and decided not to go see the waterfall and continued up the road to the Wat.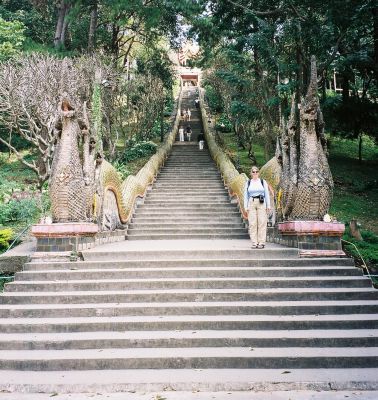 The stairway leading up to Doi Suthet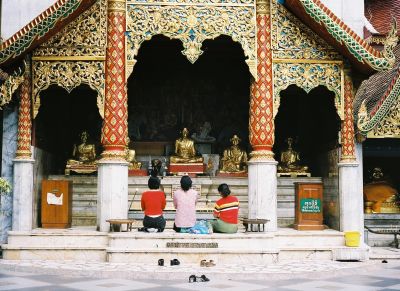 Worshippers at Doi Suthet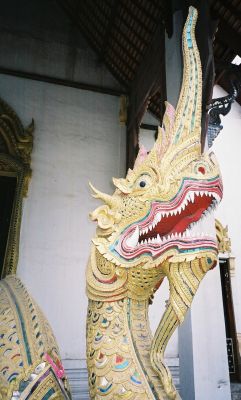 Dragon at Doi Suthet

We arrived at the base of the Wat and parked the motorbike. The Wat Doi Suthep was at the top of a long flight a steps, lined on both sides by a flowing dragon. We made our way up the stairs, where we were forced to pay another fee because we were foreigners (despite the fact that the Wat brochure said "Entrance fee 30 baht (except the member of all religions)"). Oh well. We walked around the Chedi and temple grounds, which were beautiful. However, the most spectacular thing about Doi Suthep, we thought, was its location on the mountain overlooking Chiang Mai. The site of Doi Suthep was selected by an elephant, incidentally -- it was sent to roam the mountainside; when it reached the spot it trumpeted, circled three times, and kneeled.

While at Doi Suthep, I took the opportunity to have a little "Monk Chat"...ask a monk a question that was bugging me. I wanted to know whether it was the soles of the feet or the toes that one need to avoid pointing at others and buddha (in Thai culture). It took a bit of time to get my answer, but the short answer is...the soles.

We wandered a bit more and then headed back down to the base of the Wat steps and then to the market below, where we had some lunch (tourist-priced, of course). We then headed further up the mountain to see Phu Ping Palace, the winter residence of the royal family. We arrived at 3:30, closing time. We were disappointed but checked to see when they opened the next morning, figuring that we'd just come back then. It turns out they would be closed...for 2 months!! The King and Queen are in residence! THAT explained all the armed guards I kept seeing on the roadside on the way up the mountain!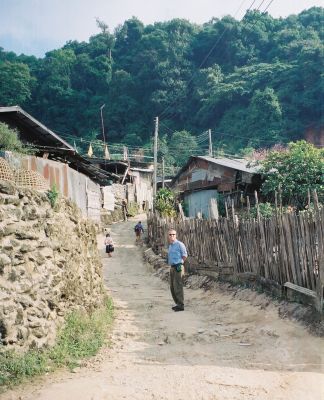 Kirk in Ban Doi Pui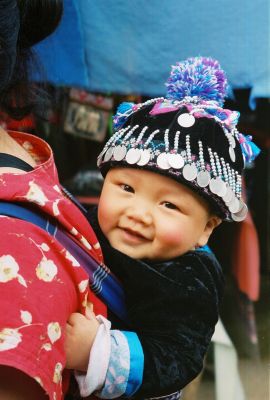 Ban Doi Pui village boy

From there we decided we might as well go the rest of the way...there was a Hmong village, Ban Doi Pui, down the road a little further. Apparently, opium is a big industry there and they have an opium museum. The road to the village was incredibly narrow in places -- clearly the motorbike was the best mode of transportation on which to reach it. When we arrived, the village turned out to be one huge tourist trap! The village was essentially a market -- each little street was nothing but stall after stall of goods, some cheap, some beautiful, most very inexpensive. At the back of the village was a waterfall...with an entrance fee, of course (7 baht). There was also a museum, but we declined to go in.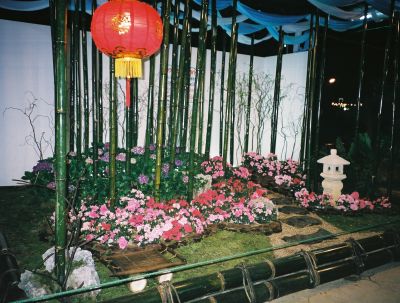 A static display for the Flower Festival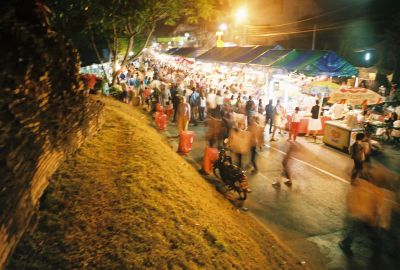 The crowd at the flower fest.
Can you find Donna?

We headed back to town. We stopped on the way at a Thai shopping mall where we finally found a replacement watch for about US$11. Then we headed down to the Flower Festival to see what was going on. We had heard that the Symphony would be playing that night (but pop music or something). When we arrived, it was an Asian Elvis impersonator (he wasn't particularly good and we were hungry). We walked around the stalls looking for food, but all we could find was premade food (which we won't eat...it's gotta be fresh) or very exotic stuff. So, we headed back to our favorite, Chiang Mai Gate market! Yum!

We even managed to find ourselves a favorite internet cafe in Chiang Mai...it's the Star Cafe and it's on the North East corner of the moat. It's run by an American guy named Jason and we've had a great time chatting with him and using his high speed internet from time to time! His seems to be the only high speed internet in town! (Don't let the sign on his shop confuse you...it says "Coffee Shop & Internet Cafe").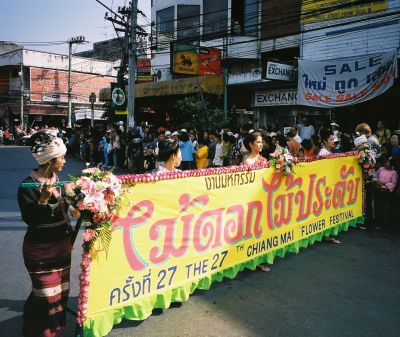 The beginning of the Chiang Mai Flower Parade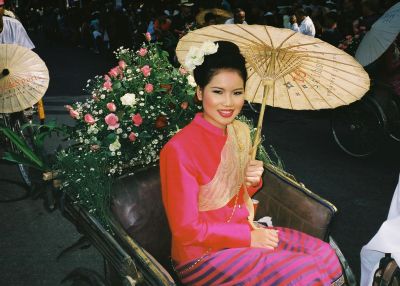 Flower Parade Girl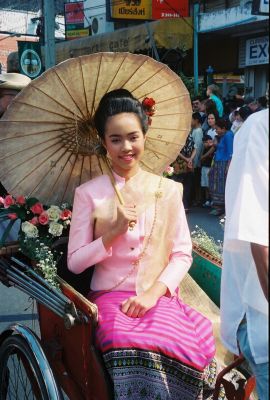 Flower Parade Girl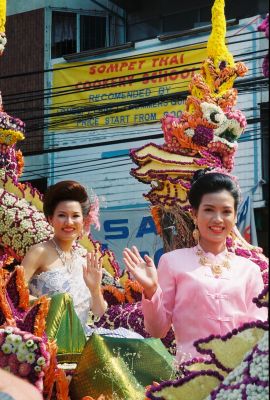 Flower Parade Girls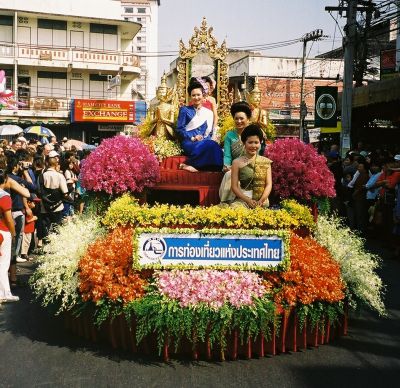 They had great floats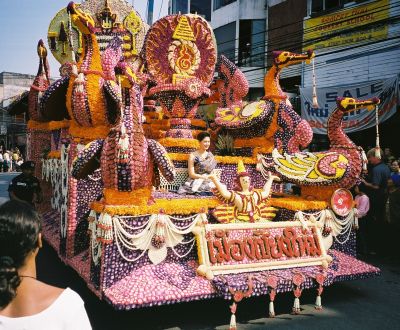 Another nice Float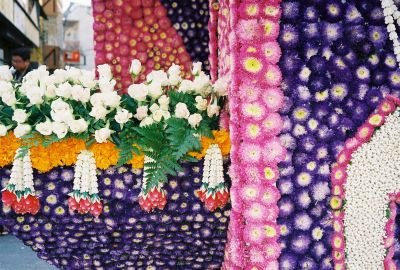 Detail of the Float

On February 8, we woke up relatively early. We didn't want to miss the parade!! What parade?! The Festival of Flowers Parade, of course! We had been told it would begin around 8 AM, so we got up early to get a spot. We had the scooter until noon, so we took it with us and got breakfast and then scoped out the best possible location (we thought) to see the parade as it turned from Tha Phae Road onto the moat road. We got settled and waited...and waited...and waited. The parade didn't actually come by until about 10AM! But it was fantastic and VERY VERY colorful! There were tons of floats and all covered with flowers of all sorts, many different bands and other musicians, dancers. It was an interesting and colorful spectacle to watch! Plus, we got to watch the crowd around us. I was thoroughly embarassed by some of the Americans we saw around us, however; one was taking photos of Thais in the crowd around us (which is completely against the custom here -- you don't take photos of people without first asking their permission...obviously the people in the parade were a different matter), and another continually stepped in the way of the participants and the floats, obviously expecting them to move around him. The parade ended just in time for us to return the motorbike by noon!

We spent the afternoon relaxing. We went over to Star Cafe for a little while and chatted with Jason for a bit. Interestingly, although tourists can't work in Thailand, they can own a business!! We had an interesting time hearing about the ins and outs of having to run to the border every 30 days to renew your tourist visa (it's about 5 hours away) and the other things to look out for.

That evening, we decided to try and hunt down the church we would attend the next day (Sunday)...it's good to know where it is and what time the English services are in advance. We rented another motorbike and went looking, armed with a list of three possibilities. What a goosechase! We were looking for the Hope of Chiang Mai we had heard about an affiliated church from some folks we had met in Sydney. However, we were, after 2 1/2 hours of looking in the "right area" and asking just about everyone we met who seemed like they might speak even a LITTLE English, completely unable to find it!

We now found ourselves in an area that had probably not seen a tourist in 2 years, it was about 10PM and we were STARVING! We pulled into the closest cafe we could find. There was no English menu, no one onsite really spoke any English and we seemed to be the attraction of the night -- everyone who came by pointed at us and seemed shocked to see white people there! But we had a fantastic time! It was, perhaps, one of the best dinners we have had in Chiang Mai, and certainly, one of the most enjoyable (possibly more so, because we had forgotten our Thai phrase book)!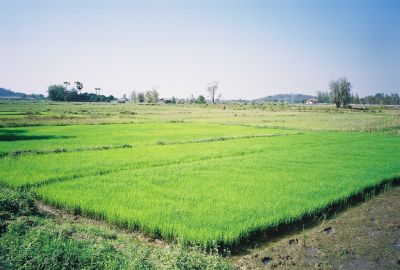 A rice paddy we saw on our motorbike ride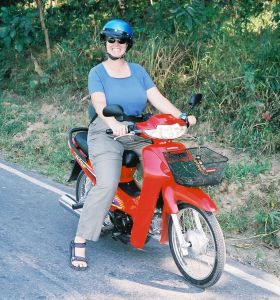 I taught Donna to ride while we were out.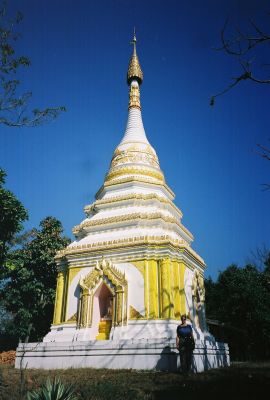 A chedi we saw by the side of the road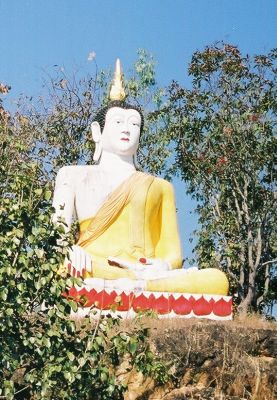 Big Buddha we saw by the side of the road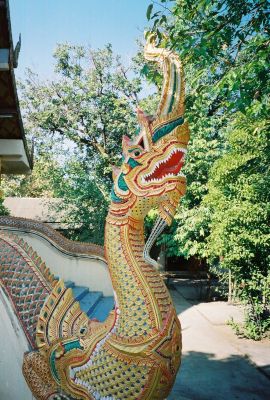 Dragon we saw at the Wat opposite the Buddha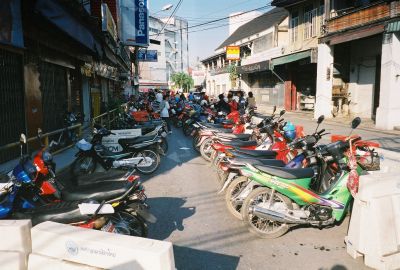 Many many people ride small 100cc Motorbikes here.

On February 9, Sunday, we decided we would attend the Chiang Mai Community Church service, which was not until 5PM, which gave us all day to relax and do other things. We had breakfast at the Sompet Market area. We stopped and chatted with Jason for a while and then took the motorbike out for a ride. We headed east of Chiang Mai, and just kept driving. We went through several villages outside of Chiang Mai, passed a Wat that was presided over by a huge buddha on a hill, passed through rice paddies and eventually ended up at the base of some mountains, where the road turned to dirt and we decided to turn around (the motorbike wasn't really the off-road sort).

We turned the bike around but not before a truck full of Thai came down to check out the tourists! There were a bunch of young boys in the back who called out "Hello!" to us. I answered, "Sawat-di-kaa" and Kirk said, "Sawat-di-klap!", which elicited big grins!

Then Kirk decided to try and teach me to drive the motorbike! It turned out not to be terribly hard, since it had no clutch, just the gears. And it was kind of fun. It did make me a little more nervous when he climbed on the back, and it certainly changed the balance of the bike. I drove it for a while, but when the traffic started to get heavier, I make Kirk drive again.

On the way back to town, we stopped to take a look at the Chedi that was up on the hill next to the giant buddha. We also stopped to walk around the grounds of the Wat. We had some really funny looks from the monks, who probably NEVER had tourists come there. It was a beautiful Wat there and we enjoyed walking around the grounds. We realized it was getting late. We needed to get back so we wouldn't be late for church. We drove back into Chiang Mai and had a quick snack at the Night Bazzar by Nawarat Bridge, which was right by where the church was, then we headed over to Chiang Mai Community Church.

The worship team was rehearsing when we arrived but quit soon after to pray (we got there early again), which seems to be a good habit we have formed on this trip. We were glad to notice we knew some of the songs they were rehearsing. We hadn't been to a church where they played contemporary songs that we knew (like ones from home) in a very long time! At the beginning of the service, the pastor had all the visitors stand up, so we did (it's always embarrassing to do that, but we are slowing getting used to it). The sermon was good - it was a healing message (we seem to be hearing a lot of those lately, which has been appropro). At the end of the service, I stood up to be prayed for since my back is still giving me problems. Kirk told me later that when I did, he became very emotional.

After the service, one lady came up and said hello to us, mentioning that she noticed we had stood up when they asked who was visiting. However, once she found out that we were tourists and had not moved to Chiang Mai, she quickly made an exit. No one talked to us at all after that. Kirk and I have talked about this extensively on our trip. It has been on our hearts and minds before, but especially now that we are ALWAYS the new people in church...every single week. It is so incredibly important to welcome people...new, old, clean, dirty, itinerant, long-term. It doesn't matter their plans, their goals. They all have needs, desires and reasons for being there. As a church, it is our duty to welcome each and every one of them with open arms as if they are the most important person in the entire building...they ARE! God has each and every person there for a reason. Don't hang out in comfort groups. Invite someone you don't know to lunch. Invite them home. Invite them to stay the night! It doesn't matter if they have been at church for a week, a month or today is their first day! You are their impression of the church! Welcome them with God's love! We left Chiang Mai Community Church without really feeling welcome, even though it was a church that clearly had a lot to offer.

On February 10, we woke up with a goal in mind. We had decided to go on a trek and we needed to decide which one. Chiang Mai abounds with trekking companies. The TAT (Tourist Authority of Thailand) lists over 250 companies that have licenses to provide treks in Chiang Mai. We talked with several companies, including Banana Guesthouse (where we had stayed the first night). Frankly, I had thought I would like Banana's the best, since much of the funds from their trekking is put back into the hilltribe villages you visit. They are building a school in one of the villages (you even visit it). Practically every place you go claims that they take you into previously unvisited areas (yeah, right!) and places that no other treks go. But, we stopped by a place called Panda Tours and saw something that really helped us to make a decision. They had a chart that showed where most all of the treks went. Most of them, including Banana, went into one of the same two areas southwest of Chiang Mai visiting the Karen hilltribes, the most populous hilltribe in Northern Thailand. Panda, on the other hand, went to the Northwest of Chiang Mai, where no other groups went, and you visited three different hilltribes, the Meo, the Lahu and the Akha. It also included an elephant ride and white water rafting. After looking around all day, we decided to go with Panda.

When we got back to our guesthouse, the proprietor was quite angry that we hadn't booked a trek through him. A lot of the guesthouses have their own treks and many of them make their money by encouraging their guests to take treks from them. But his treks were more than twice the cost of ANY of the others we looked at AND he wasn't even licensed, so we didn't even consider them!

We had dinner at our favorite vendors at Chiang Mai Gate. We did try a new dessert -- roti! I had mine with chocolate sauce and Kirk had his with strawberry! Delicious! Then, we spent the rest of the evening packing for our trek.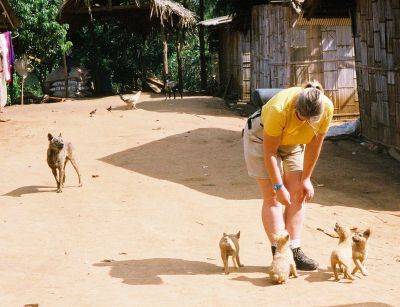 First day of our Trek we stopped at the Meo tribe. Donna stopped to pet the puppies.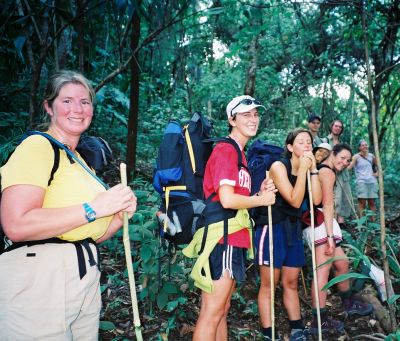 The group on the trail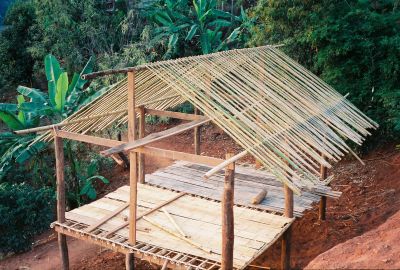 A bamboo hut they were building at the Lahu tribe site we stopped at for the night.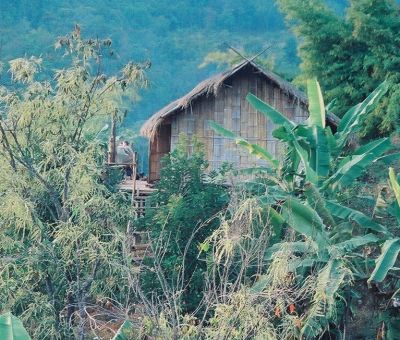 This is the hut we stayed in.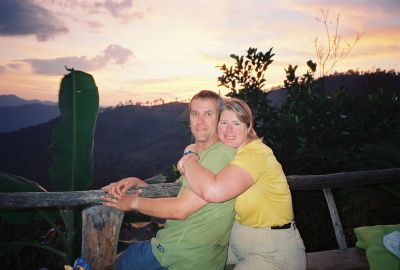 We had a lovely sunset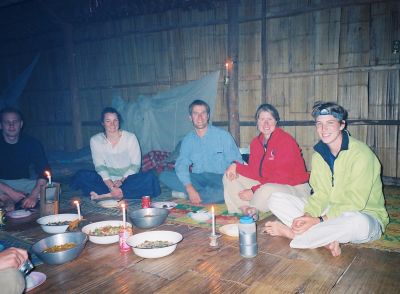 We had a lovely dinner in our hut.
(Click for full size)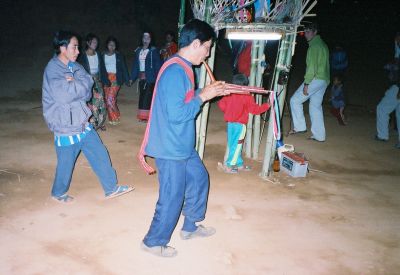 The night we were there was the last night of their New Year's celebration. They danced and sang all night through to dawn. We got very little sleep. :-(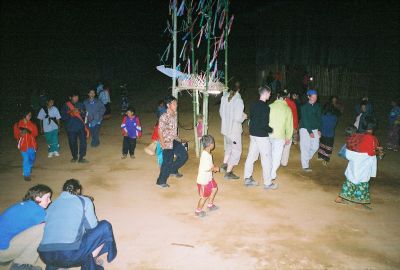 We went down and watched and joined the dancing for a while.

On February 11, we woke up early to finish the last minute packing. We were taking two small packs on the three day trek and storing the rest of our baggage at Panda's facility. They came by the guesthouse to pick us up at 8:30 and take us to their "office" (really and outdoor cafe type place with a bamboo and thatch-covered roof). We took care of some preliminary things and then loaded into the truck for the drive to the start of the trek. We stopped briefly in a small village, where our guide bought some food for the trip and then we were on our way. It was about a two hour trip, but along the way, we passed some folks riding elephants, and others who were being pulled in carts led by bullocks. When the truck stopped climbing (it wound its way up a long, steep, very rutted dirt track for a while), we were beside a trail and ready to hike. But it was not yet time, apparently. There was a covered shelter, where lunch was laid out for us and we sat and ate a lunch of stirfried rice and pineapple.

Our trek consisted of 8 people -- Cookie and Fi (from New Zealand), Martin and Paul (from the Netherlands), Lawson and Jenny Rae (from the US) and me and Kirk. Our guide was Eang and we also had two guides-in-training, Kuan and Min. It turned out to be a great group of people and a very fun trip!

The first day was hot, dusty, and a relatively steep walk. We covered about 7 km and went up about 1000 metres. Somewhere along the line we had missed the fact that going on a "hilltribe trek" meant HILLS!! OOPS! The guide had given each of us a bamboo walking stick at the beginning, which should have forewarned us of what was to come. The climbing was literally straight up in some spots, it seemed. But then again, we had just spent 2 months driving around in a car without a lot of opportunity to hike around, and in a very dry climate. The terraine and humidity here ensured a bit of culture shock the first day. That combined with my tendency to turn bright red during exercise gave our guides quite a fright, I'm afraid. I think they thought I would drop dead at any moment! (Clearly, I didn't).

We stopped midway through the afternoon at a Meo village, where we refilled our water. It was perfect timing, really, as we were just about to run out. Then, we headed off again. Another hour or so, and we arrived at our destination for the night, a Lahu hilltribe village. By the time we arrived, we had been climbing for about 3 1/2 to 4 hours and everyone was pretty happy to be there. The view was gorgeous. We were on a hillside overlooking a deep valley. We could hear a drumbeat somewhere in the village. We followed Eang to our hut, which was near the edge of the village and quite beautiful. It was of bamboo construction, with a thatched roof. There was a nice deck overlooking the valley and village below. We had a squat toilet and cold water shower (wow! I never expected that...we didn't even bring SOAP!) in a little hut nearby.

We sat around on the deck and relaxed and chatted while the guides prepared our hut and our sleeping area. They pulled out mats and set up the mosquito nets around each mat. Meanwhile, in another section of the same hut, they lit a fire and started cooking dinner. It was kind of neat, but also meant that there was a lot of smoke from the fire in our hut. We all rested in the hut or out on the deck. It was pretty hot outside in the sun, so I stayed in for as long as I could stand the smoke.

We had a great time getting to know the various people on our trek...starting with the truck ride, then walking up the hill and that evening. Jenny Rae (from Pennsylvania) and Lawson (from New Jersey), are close friends who have been traveling together for about five months. They are both Christians and have been combining travel with volunteer work. They have spent much of their time in South America and then South Africa. They just arrived in Asia a couple of days before beginning the trek. Lawson will return home in March and will then begin planning her wedding. Jenny Rae is going to continue traveling beyond that date and is contemplating returning to Capetown, which she loved. Martin and Paul have been best friends along with two other guys (who didn't make this trip) since they were about 6 or 7. They are on about a 2 week trip from work. This was actually Martin's second trek with Panda Tours -- he had been on one 5 years before and enjoyed it enough to come back again. He was trilingual (German, Dutch and English). Paul, although we though his English was fine, was a bit shy about it and tended to be rather quiet. He was a very nice guy, though. Cookie and Fi were a hoot! They were spending about 5 weeks or so in Asia before heading off to Scotland to find work. Fi is a nurse, but has been working for the last 10 years as a professional rugby player. Cookie has worked for the last few years as an English teacher in Japan. Put the eight of us together and it was non-stop fun and non-stop interesting conversations (in my humble opinion, at least). At one point, Fi and Cookie and Jenny Rae and I were sitting in the smokey hut talking to Lawson about why she should have a wedding dress made here in Thailand. As it turns out, she and Jenny Rae are going to go looking for one in Bangkok!

Dinner was a total feast! Green curry with chicken, vegetarian stirfry with mushrooms, pumpkins with eggs. After dinner, we watched the sunset over the valley from our deck and then we all went down to the village to see what was going on. They were having some sort of celebration, apparently. There was dancing and they were playing music and beating a drum, clanging cymbal, dancing around a pole. The musicmakers took turns, to a certain degree. There were definitely generational differences. There was an older man with a sort of pan flute who played wonderful tunes and had intricate but slower dances that older folk could easily keep up with. The younger musicmakers had drums and cymbals and made a lot of loud noise, played fast, and made up complicated dances that involved a lot of jumping and seemed designed to try and trip one another up.

We all joined in at one time or another with the dancing and watched more of the time. After a while those, it was really repetitive. The one thing that seemed really remarkable to most, was that despite the large number of children running around the village, not a single one was fighting. They were all just playing.

At last, we walked back up to our hut, sat out on the deck for quite a while and chatted, watching the moon rise over the valley. When we went to bed, it was pretty late - close to midnight - and the party in the village was still going strong.

...It never stopped. We found out later that they were celebrating the Lahu New Year. They were still going strong at 7AM. As if the banging drums and clanging cymbals weren't bad enough!! On top of all of that, they had a loud speaker, so they were singing over the loud speaker and playing music all night long. Not a one of us slept (except perhaps Lawson and Jenny Rae, and we still haven't figured out how they managed to do it). We finally crawled out of bed in exasperation. Breakfast was 4 slices of toast and a hard-boiled egg, plus tea or coffee, which practically everyone needed to stay awake, anyway.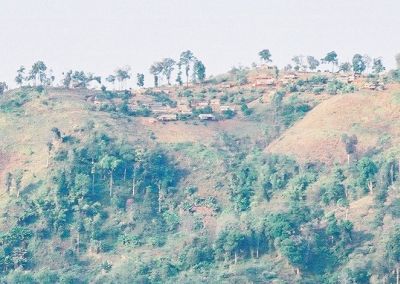 This is the Lahu vilage we had lunch at the on the 12th.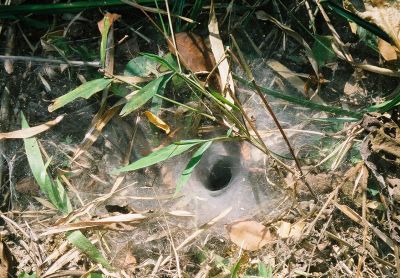 A funnel spider web I saw on the trail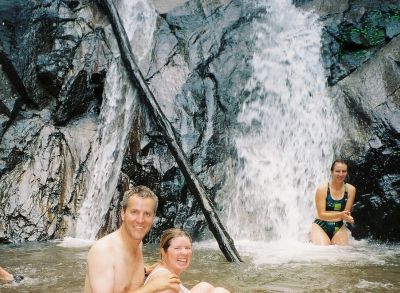 We had a good time in the falls on the 12th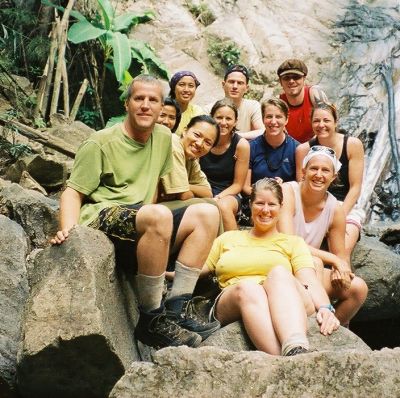 Our group at the falls.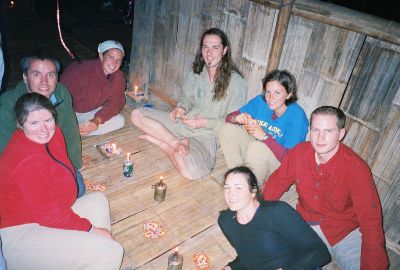 That evening we all had a great time playing cards

It was a pretty motley group that crawled out of the huts and packed up for the trail on February 12th. We looked across the valley to the top of the next mountain/hillside, where we saw another village. Eang told us that was where we would be having lunch and it was about and hour and a half hike to get there. It wasn't a bad hike, really, despite the fact that everyone was exceptionally tired and a few people were feeling a little sick. Perhaps that is WHY it wasn't so bad...we were all moving a bit slower. At lunch, we arrived at the hut and all collapsed indoors, out of the sun, which was very hot. Lunch was a hot, noodle soup (using three types of noodles). They were delicious. We were all joking at lunch about wanting pancakes and roti for dessert, but alas, we didn't get any. We had a nice long rest though, which was good, since I managed to cool off quite a bit.

Finally, it was time to go. We had another hour and 15 minutes to go, all downhill to get to our next stop -- a waterfall. Downhill turned out to be quite strenuous, though, since it was very steep and quite treacherous in spots. We all finally reached the waterfall and everyone but Cookie and Fi and the guides donned their swimmers and climbed in! It felt great! I ducked my head under the falls and was thrilled to be cool!! Kirk came over and did the same thing. We all posed for photos until we were waterlogged. After we had dried off, we took a group photo in front of the waterfall and then headed off for our last hour of walking. It was to be the last hour "along the river side". Sound like a little path? It did to me! NOT!

We scrambled the whole way -- over rocks, crossing many rivers on precarious bamboo bridges. At one point, I thought I was a goner...the log I was crossing started to roll and I didn't have the balance to stay on. I turned and tried to make it back to the bank behind me (the closer one). Cookie, who was closest to me, managed to grab my arm, and helped swing me to shore. The only casualty...I dipped my right foot into the water, getting the outside of the boot slightly damp. Not a problem!

We made it to the elephant camp without further mishap and quickly got settled into our hut, which was beside the river. The hut was three-sided, the open side faced the river, giving us the beautiful sound of rushing water to listen to through the night. As we relaxed, waiting for dinner, Kirk took a shower in the river, rather than waiting in the line that had queued up at the shower hut.

At dinner, Fi announced (for the first time that day) that it was Cookie's birthday! We all sang happy birthday and did our best to make a big deal of it! We had yellow curry with chicken, a veggie dish with chicken and cabbage with chicken for dinner. They were all good, but not as flavorful as dinner had been the night before, we all agreed.

After dinner, we had a marathon game of cards! We played one game of "I Doubt it" but then switched to a game called "President" that was quite fun! We ended up moving about half way through the game from the dinner hut to our sleeping hut because the wind kept blowing the candles out and it was almost impossible to play...we couldn't see! It's a fun game, because whoever wins the round before is president for the current round and gets to make up the rules. We had all sorts of rules...including that whoever got skipped had to compliment Cookie (it was, after all, her birthday...and we didn't even have a cake...the funny part was when Paul had to compliment her 8 times in a row and then she had to compliment herself)!




On the 13th as we waited to go ride elephants, some people played hopscotch.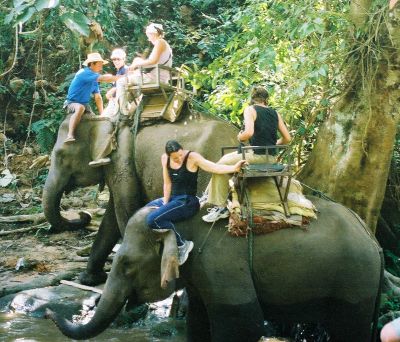 We had a great time riding the elephants!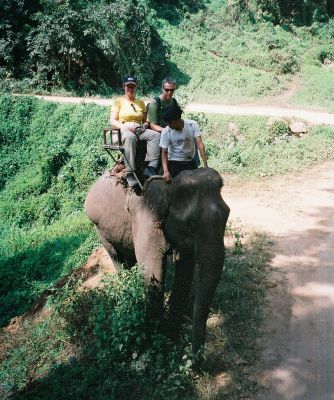 Our elephant was a bit unruly. It needed its own driver!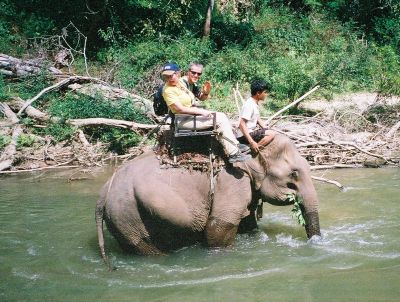 We forded the river several times. Donna is surprised at what is coming down the river behind us.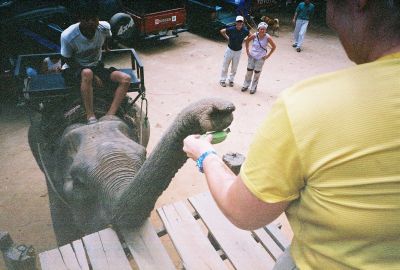 At the end of the ride, you can feed the elephants.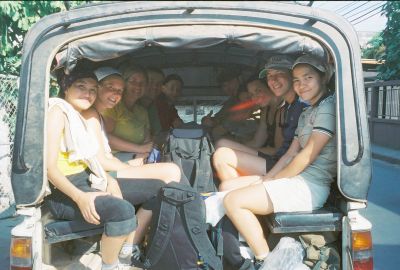 We all had a great time on the trek!
On February 13, we got up blissfully late! EVERYONE slept well, happy to have gotten a good night's sleep and had no new year's celebration going on to interrupt it! Breakfast was toast, scrambled eggs and pineapple! Yummy! After packing, we headed off to have our elephant ride! Whooo hooo!

The elephants had seats on top of them and we mounted them from a little loading platform of sorts. Kirk and I got onto one elephant, and two people each got onto the others. At first, we started up a road, which was no big deal, although it was cool to realize we were on an elephant! But then, the elephants turned down an impossibly narrow path down a STEEP hill toward the river! There was even a log across the path part way down at a turn in the path. WHERE are the seatbelts on these things?! YIKES! It was really cool, though! I kept looking down and seeing those huge elephant feet lifting up and setting down on the path, impossibly sure of themselves. When we got to the spot with the log and the turn, our elephant actually had her head up almost against a tree in front of her and had to back up to make the turn. But, she did make it. We went all the way down the path and then had to cross the river. The others crossed ahead of us. As we headed out across, there was a raft coming down towards us. Our elephant actually had to run/walk/swim downriver a little while she crossed the river in order to avoid a collision with the raft. We ended up about 8 yards or so downstream from where the other elephants crossed.

At one point, Cookie and Fi's elephant decided to take a path of its own and went off among some trees, practically knocking them off into the river. Instead, Fi's brand-new Bolle sunglasses became part of the river! She was gutted over it!

After another river crossing, we were climbing back UP that steep hill. I thought it was steep climbing DOWN! Good grief! I could hear Cookie squealing all the way up!

After we made it back to the elephant camp, Kirk paid 10 baht and bought a bunch of bananas and I got to feed our elephant! It was fun to see her trunk snake up to grab a banana and then slip it into her mouth! She sure did like 'em!

We then had a few minutes to get ready before we headed down the river for our white water rafting trip. The rafting was fun. We divided up into two boats of 4 people each. Kirk and I shared a raft with Martin and Paul. Of course, there were some good splash fights. The white water was good in spots, but no more than Level II or III, I would say. At the bottom, we pulled the boats in and had some lunch. Phat Thai and papaya and watermelon. It was a good lunch. Unfortunately, Kirk's stomach was a bit upset, so he didn't eat much then. We had started on our anti-malarial medication last week and it's wreaked a bit of havock with our digestive systems, I'm afraid.

After lunch and some chatting, we headed to the Akha village. To me, it was just another tourist trap. They had set up the area as a market and the tribespeople we met were all hard-sell. One lady in particular kept following us around and every stall we went near she kept calling out and saying "What you want? You want this?" and pointing to something. She had on the traditional headdress of an Akha tribeswoman, but she also had a pipe hanging out of her mouth. I don't know if she was smoking opium, but since the hilltribes are so entrenched in the cultivation of opium and I didn't recognize the scent of the smoke, I somehow assumed that it was. It started to rain while we were there, so we happily darted back to the pickup and headed back to town, which took about one and a half to two hours. We all agreed to meet for dessert that night at Chiang Mai Gate at 9, to celebrate Cookie's belated birthday (and our failure to have a cake on her birthday) and just to have an excuse to get together.

Kirk got us a room at the Smile House, a guesthouse right around the corner that we had seen before and looked nice (and quiet). It turned out to be a bit more expensive (250 baht), but they provided sheets and towels and toilet paper, which meant we could wash our sheet and towels, which we desperately needed to do, especially after this trip!

We went and checked in and took very long hot showers. The water at the Smile House was REALLY hot. Not luke warm, like it had been at Mr. Whisky, where they only CLAIMED to have hot water! Hooray!! We relaxed and then caught up on emails a bit and then headed over to meet our friends at Chiang Mai Gate. It turns out that some of them had gone to Tha Phae Gate first. (There are actually about 7 gates in Chiang Mai, but Tha Phae and Chiang Mai are the most popular areas). Between us, we got all sorts of different desserts and then passed them around the table and everyone tried them all. Jenny Rae and Lawson got some really atrocious desserts some of which, I have to say, were pretty disgusting (I actually didn't try many of them, because by then, MY stomach wasn't feeling great, but I could see by their faces that it was a good thing I was missing out). We all hung out for a while, and then walked back to our respective guesthouses where we all parted with fond farewells!

On February 14, Kirk and I got up early and signed my up for a Thai Cooking school, the Sompet Cookery School, which is one of two that comes highly recommended in Chiang Mai. Interestingly, Chiang Mai schools are actually more highly recommended than those in Bangkok. We had a quick breakfast (I actually ended up getting mine takeaway) and then I was off on my own for most of the day. The class was very interesting. They spent the first hour taking you through their private garden, identifying Thai ingredients and then helping to identify what western ingredients can be substituted and what can't. Then, we learned how to make a curry paste from scratch. Apparently, a lot of the cooking schools don't teach you to make the paste; they make it for you. Then, we made five different dishes. The hard part was that then we had to eat all of our food! It wasn't so hard in that it tasted all that bad...it was just too much food! Luckily, we were able to bring home doggie bags, so I brought a ton back for Kirk to try!

While I was at class, Kirk checked into transportion to Pai, where we are heading next. He also relaxed a little, picked up photos (which are online!!), and did some web maintenance.

After the class was over (I even got to bring home a cookbook), I met Kirk at the internet cafe, where he was waiting for me. I walked in and he handed me a red rose for Valentines Day! AWWWWW! And I handed him a bag of food! :) Unfortunately, his stomach still wasn't feeling all that great, so he wasn't terribly hungry, but he did try everything.

We stayed at the internet shop, trying to get the website updated until they closed.

And that's plenty for now...

I hope we haven't bored you too much this time around!

We miss you all! Don't forget! We love to hear how YOU are doing too!

God bless you all!

On February 15, we basically kicked around Chiang Mai, relaxed and worked on our post all day (you think updating this website is EASY?) and then went to the Night Bazaar that night. We walked around and looked at all the crafts and items, most of which were incredibly cheap. The only thing we purchased was a pair of clear sunglasses for Kirk, so he could safely drive the motorbike at night, without bugs flying in his eyes!

On February 16, we got up and had breakfast and then took the motorbike up to the northwest side of town. We were going to try a new church. This time we went to the Chiang Mai Christian Fellowship, which was held at the Phucome Hotel. As we walked in, we ran into Lori, one of the girls I had taken the cooking class with! I shouldn't have been surprised, since I had been talking to her and another lady about churches, and it didn't sound like they would be attending the 5PM service church, but somehow, I had forgotten, anyway. Lori was with Sarah, a missionary from the organization Partners, which works with a refugee camp on the Burma/Thailand border. We chatted for a bit, and then headed into the service.

The music was great! We recognized almost every song. Then, the sermon was given by one of the elders, an American. Afterwards, he encouraged the members to invite one of the visitors out to lunch. Unfortunately, this one time, we couldn't stay! We had booked a minibus to Pai and had to go home to pack and catch our bus! We said our goodbyes and then took our motorbike back to the rental place.

At the Smile House, we packed fairly quickly and then just had time to finish lunch, when the minibus showed up (10 minutes early). Interestingly, the "second chef" was on duty that day, and he didn't know how to cook a hamburger, which is what Kirk ordered. Instead, Kirk had to choose something else to eat. Normally, we order Thai food, but since our stomachs had been acting up due to the choloquine and he had an opportunity to order unspicy "American" food, he thought he'd take the opportunity.

The minibus ride to Pai was about 5 hours, although the distance wasn't all that great. We met a Canadian couple onboard who also keeps a website and a hilarious English couple. There was a French couple in the back who spoke little English and a couple of the guys in the front who spoke to no one. We passed the time alternating between chatting, reading our books and looking at the phenomenal scenery...we were driving through some gorgeous mountains!




Our Bungalow at the Eden Guest House.

When we arrived in Pai, we all looked around. It was tiny! We had been in Chiang Mai for almost two weeks and Pai was going to be a big change for us (but not unwelcome). We caught a ride on the minibus to the Sun Hut, which had been recommended as a good place to stay. Unfortunately, they were full for the night. So, we walked right next door to the Eden House and got ourselves a beautiful little bamboo bungalow with hot (outdoor, but private) shower and bathroom for 200 baht a night. It's a quaint little place and we are happy there. It's a bit out of town, but we don't mind. It's probably a bit quieter that way.

Kirk then caught a ride into town and rented a motorbike so we'd have some transportation. After picking me up, we rode back into town and got some dinner at a little outdoor market (reminescent of Chiang Mai Gate, I must say, although much smaller). We even found a place with roti -- the guy who served us is a Burmese political refugee.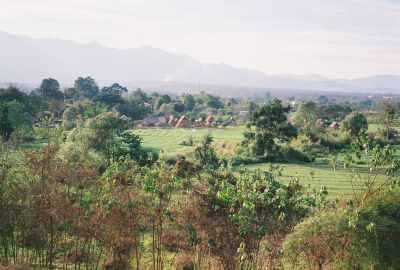 A lovely view of Pai.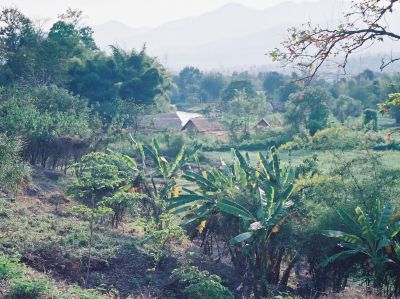 Another lovely view of Pai.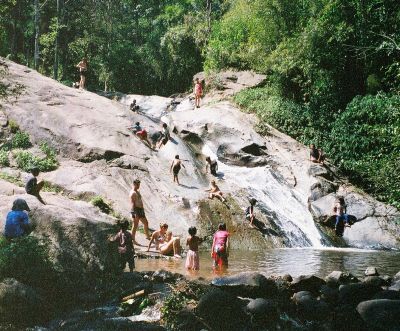 This is the watefall with a built in slide.

On February 17, we woke up to some VERY cold weather! We are way up in the mountains and the temperature certainly drops. We may even have to dig into our cold weather gear! We've pulled out our light fleece, but at this rate, we may have to pull out the rest! After a nice hot shower (but since it was outdoors and the water pressure wasn't great, only the part of your body that was DIRECTLY under water was warm...the rest was FREEZING), we dressed and headed into town for breakfast.

Then, we decided it was time to go and find ourselves a waterfall! The drive there was quite interesting and took us through beautiful "typical" Thai countryside...rice paddies, tiny villages with sleeping dogs, crazy (colorful) roosters, amazing bamboo structures. We also drove past an Army base, which looked as much like a university campus as anything else. Eventually, the road petered out and we were on dirt track, so we had to slow down. Even that got particularly bad, since they were in the processing of paving it; we were dodging piles of gravel and other construction materials. When we reached the portion they were actively paving, we had to detour onto a REALLY bumpy section. Kirk, of course, was loving it -- he's ridden dirt bikes since he was 8. I, on the other hand...

Anyway, the waterfall, once we got there, was GREAT! It had a natural waterslide built in and it was in full use! There were also natural pools at the top and bottom. There were local kids all over the place and a few other farang (white people) like us there as well. We actually hadn't thought ahead enough to bring our suits, so we were relegated to watching, but it sure looked like fun!

After watching for a while, we hiked back up to the motorbike and then rode around a bit more to see a bit more of the Pai area. Pai is nestled in a valley that is completely surrounded on all sides by mountains -- it's gorgeous! At one point, we went up to the Temple on the Hill, which is quite near our guesthouse. It's quite high on the hillside and you can either take a very long flight of rickety old stairs or you can take a windy old road on the motorbike. We took the motorbike up (we rented it after all, didn't we)? At the top, an optical illusion made the eyes of the dragon guarding the temple look alive -- it was late afternoon, and the sun glinting off the red reflective glass made the eyes glint red! It was pretty cool. We shed our shoes (which we must do at every temple) and then walked around. It wasn't particularly spectacular or shiny or new, but it was beautifully situated and unique. There were a lot of wind chimes about and the place certainly had an air of serenity. We did notice that the Chedi at the top had a sign indicating that women were not allowed to step up to look at it closely (although men could). I thought this was curious, since we had never noticed this before at other chedis. We tried asking the monk whether it was unique to this chedi and, if he understood us correctly, it was. However, we have no idea why...perhaps it had something to do with the way it was situated with respect to the main chapel.

We headed back down and then into town where we found a little cafe which showed movies all day. Some of them are pirated and some aren't. Today, they showed Lord of the Rings: Fellowship of the Ring in the afternoon. Tonight, they are showing American History X, which neither of us have seen. We decided to give it a go.

We stopped at the guesthouse for sweaters and stuff and then headed into town. We also picked up the book I had just finished, Letters from Thailand, by Botan and translated by Susan Fulop. This is a fantastic book about a Chinese immigrant to Thailand who writes letters back to his mother in China, describing his life (over a period of over 20 years). Interestingly, the letters were intercepted by a Chinese censor (they never reached his mother), who later, as a result of the Thailand depicted in his letters, defected with the letters. The Police General got his hands on them and after agonizing long and hard, finally decided to have them translated into Thai and published. He agonized about it because the letters do, in many respects, criticize the Thais. They are not inaccurate, necessarily. Just critical. It's a fascinating book. Particularly since Bangkok is about 50% Chinese. But, I had finished the book and it was time to trade it in on something else, if we could find an open bookstore.

We did, but nothing worth trading for in that one. So, on we went to the movie. I don't know if any of you have ever seen American History X, but it's terribly disturbing...it's about skinheads in America. We were about half-way through the movie and it finally started to turn around...the lead character, played by Edward Norton, had had enough and wanted out of the lifestyle of hatred he had so long espoused. Unfortunately, about that time, a combination of hunger, smoke inhalation and who knows what else gave Kirk a splitting headache, so we left without seeing the outcome.

We grabbed some light fare from some vendors around the corner, and headed back to our bungalow for the night.

On February 18th, we had our (outdoor) showers, left our laundry with the guesthouse staff to wash (it's cheaper here -- only 20 baht per kilo) and then headed back into town for breakfast again. A quick internet check (NO EMAILS?! Oh yeah...it's President's Day back in the States...I guess that's why). We ran into Todd and Courtney again -- they were renting a motorbike from our email shop (lots of places here are into multiple businesses). We chatted with them for a bit and then we went our separate ways. Then, we decided to go find the hot springs. Pai is surrounded, apparently, by several, the closest is just up the road from our guesthouse, so that's the one we headed for. As we drove up the road, we passed several elephant camps! I didn't even know they were there! It was quite fun seeing them, even though we weren't planning to do any elephant riding while we were here in town! The drive to the hotsprings turned out to be not quite as eventful as the one to the waterfall yesterday (although no less beautiful) -- it was paved.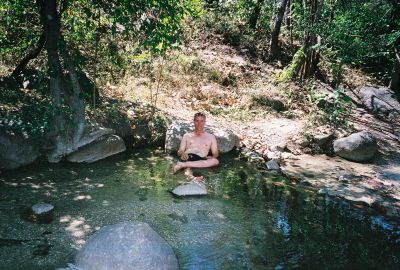 Nice warm hot springs.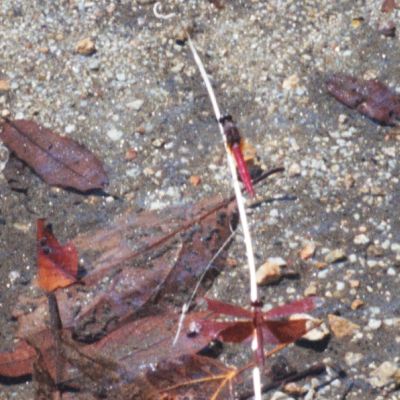 Some Dragonflies at the Hot Springs.

The hotsprings were...HOT. I actually decided not to get in. I was actually feeling a bit dehydrated and hot already. The springs were more like a stream with several pools. The higher up you were, the hotter they were. Kirk tried several locations and really seemed to enjoy them. I think I would have enjoyed them in the evening when the air was a lot cooler, but not in the heat of the day. Also, I wasn't feeling all that great -- we had started on our Chloroquine a couple of weeks before, and I was experiencing some side effects.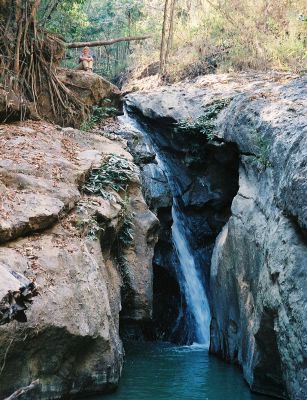 The Lower Falls.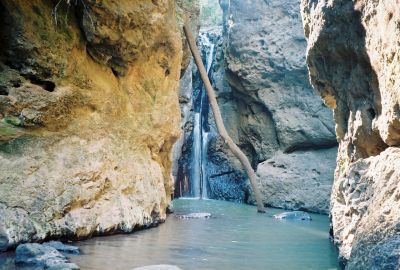 The Upper Falls.

After the hotsprings, we went for a ride. At first, we were looking for the "canyon", but then detoured for gas and then to exchange my book for another. Then, as we were driving up to the turnoff we had seen for the Canyon, Kirk spotted a sign for ANOTHER waterfall -- one that wasn't on any of our maps! He took it, of course, and we ended up on yet another long, dirt road. We even crossed two bamboo bridges on the motorbike (they were quite a bit sturdier than others that we've seen...these were even built for cars). Finally, we arrived at the waterfall. It was much different than the other one. There was a lower waterfall and a sign that said "upper waterfall 150 meters". So, of course, we started climbing to get to it. We had to cross over the river to get to a vantage point, but it was certainly worth it. And, unlike the other waterfall, this place was completely deserted! What a gem!

As we left, we retraced our steps so that we could find the elusive canyon. And we did. I decided, having discovered that Kirk's headache from the night before was contagious, to rest in the shade of a hut nearby while he hiked the half-mile to the canyon. While he was gone, two other farang came by and I asked them how it was. The girl's reply was "It's NOT the Grand Canyon." and she laughed. A few minutes later, Kirk was back and I asked him the same question. Surprisingly, his answer was identical! I asked if he had spoken to the other two people on the trail and he hadn't even seen them!

We headed back into town to relax a bit...a fruit shake and watch the end of Lord of the Rings: Two Towers (the pirated version, of course) at the little cafe. I have to say, we've seen this version before in Bangkok, and most of you don't realize that it's really not the drama that you suppose. Somewhere along the line, someone had subtitled it into...English. Odd, since it's already in English, you'd think. But particularly odd, when you watch it and realize what a horrendously BAD job they did! It's actually funny though, when you're watching a really serious scene and the subtitling is so bad that the entire room breaks out into hysteric laughter! Of course, we got there about 2/3 of the way through the movie (that we must have seen now, at least 4 or 5 times - once live and legitimately in the theatre).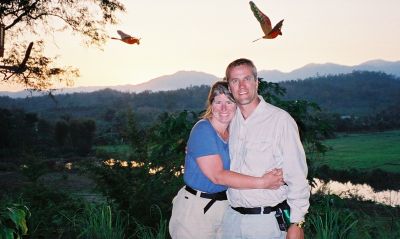 The sunset at Cafe Del Doi.

After it was over, around 5:30, we looked out the door, and decided to head to Cafe Del Doi, a rather famous place on the edge of town, which looks west and is known as a great place to watch the sunset! So, we jumped on the motorbike, and off we went. When we arrived, we saw Todd and Courtney occupying a table, so we joined them for a bit. The sun was actually close to dipping below the mountain at that point. We all chatted for a bit and took a few photos. Then they headed off to grab a dip in the hot springs before it got too late and we ordered some dinner. Kirk got something quite unusual -- we had never seen it before, but it was tasty. It was called "deep fried toast with minced meat"...it sounds awful, but it was wonderful!

Afterwards, we headed back to town and to the movie place where we got one of the prime seats (they are in the front and it's basically a couch where you can lay down in front of the TV...like you're at home)!! They were showing the movie "Casino". I'd seen it before and didn't much care for it the first time, but Kirk had never seen it. I think the reason I didn't like it was that all the characters were so negative.

After the movie, we headed back to the bungalow. Our laundry was finished and hanging on hangers (wow!!) on our door or folded in a basket on our deck.

Today, (February 19 - which means we've been married one year and one month!), we haven't decided what we'll do yet, but it's probably our last day in Pai. If we can get a bus direct to Tha Ton, we will. Otherwise, we may be forced to head to Chiang Mai first.


2/22/03 Oh my! Pai to Chiang Mai!


On February 19,2003, we were looking for a way to get to Tha Ton from Pai, and discovered you can't get there from here. It figures! Basically if you want to go anywhere you have to go back to Chiang Mai first. Of course, we'd already spent almost two weeks in Chiang Mai... it should be no surprise we'd end up back there again! We were able to get a mini-bus to Chiang Mai for only 150B (the ride to Pai was 190B).

In the afternoon, we went back to the movie place and watched a weird (which is typical for) George Clooney movie, "Confessions of a Dangerous Mind". After that, we had a relaxing evening back at the bungalow reading our books.

On February 20, we packed up in the morning, since we were going to have to meet the minibus at 3pm to head back to Chiang Mai. After a nice breakfast and checking our emails, we went looking for some shoes for me. It seems everywhere I go, I have to take my shoes off to get in. Since I am usually driving the motorbike, I don't want to wear sandles, so I keep having to take my boots on and off all day long, which is a big pain. So we were looking for some cheap slip-on shoes for me. It turns out that in Thailand, I have BIG feet!! (And my feet aren't THAT big!) The largest size most places have is a 42 (in European sizes, which is a US 8.5). I take a 44 (US 10). We searched for a while in Pai, but didn't find any there.

Next, we started heading for the minibus pickup place. Since we were staying outside of town, I had planned to shuttle our gear out on the motorbike. I dropped Donna off at the pickup point, and then went back to get the first backpack. The proprietress figured out what I was doing and showed up with her motorbike and a rope as I brought the first pack out. I understood what she meant, and gave her that pack, and then I brought my pack on my bike. She saved me a trip. Donna thought it was great when I pulled in with the pack and she saw the proprietress following behind with her pack, too. We loved staying at the Eden Guesthouse and can't recommend it highly enough...they took amazing care of us the entire time we were there!

The ride back to Chiang Mai was not the joy that riding up was. We had a much smaller passenger list, granted, and the ride was faster (only 3 hours), but I thought Donna was going to jump over me and kill the man sitting next to me! It's one thing to have a bad attitude. But when he sits there belittling someone else around her...well, it's not an easy thing for her to deal with. The man was farang (white...you know, European descent) and the woman looked like she was of Asian or Thai descent. She seemed very nice. She was certainly quiet. And very submissive. He spent the entire three hour ride alternating between criticizing her and then telling her nice things. It was a horrid spectacle that at first I didn't notice, since I was happily engrossed in my book and he was speaking rather softly throughout. Donna made sure that my obliviousness didn't last. We did take a quick stop for gas and we chatted briefly with an English couple sitting in front of us. They were quite nice. Finally, the torturous ride ended and we were, at last, back in Chiang Mai.

Once we had unloaded our gear, we looked around for a guest house, trying to find something a bit cheaper this time. We found Julie Guest House for only 130B ($3/day) It has a double bed and hot water shower and a fan. Then I went out and rented a motorbike for 100B/day and we now have both lodging and transport for less than we stayed here earlier at the Smile House. We had dinner at Chiang Mai Gate area and then headed to the Night Bazaar.

We were still searching for cheap slip-on shoes for me, and a new journal for Donna. As we walked past the stalls and stalls and stalls of vendors, it looked pretty hopeless. All the people that sell journals seem to get them from the same supplier. They were all the rough-textured paper and fairly small. The shoes also seemed to be the same selection at each vendor -- all much more expensive than I wanted to pay. Finally, near the end of our walking we came across a real shoe store that had some cheap deck type shoes... AND they happened to have a pair of size 44. They are white, but, oh well. They were only 139B! They are very comfy and I can slip them on and off easily. We didn't find a journal for Donna. We would look elsewhere for that. It seems the Night Bazaar mostly has stuff oriented to tourists to bring home or clothes.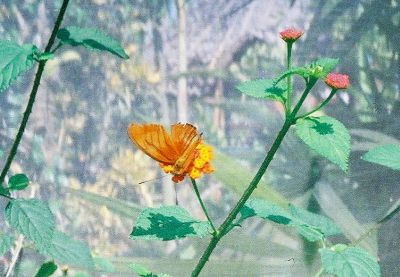 Here is a butterfly at the farm.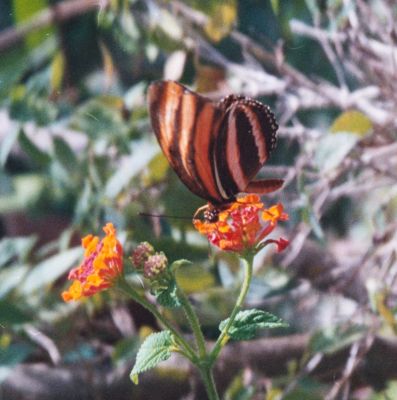 Tiger Striped Butterfly.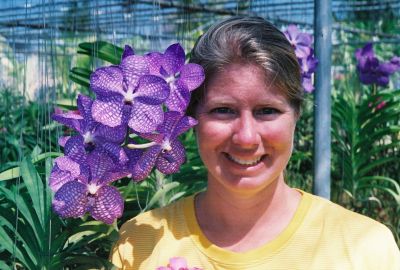 Donna and the Orchids

The next day (February 21), we had breakfast at the guesthouse. (American Breakfast for Me, and Hard Boiled eggs that turned out to be very runny for Donna). Then, we decided to go for a motorbike ride that morning and headed North. We drove out to a Butterfly & Orchid Farm that Donna had seen on our way into town the day before. We paid the 20B admission, and our ticket showing we had paid was an Orchid corsage! The butterfly farm was really neat! It is a mesh enclosed building with lots of flowering plants and tons of butterflys! I think I spotted about 6 different varieties. I thought there would be more. Several orange ones and a few Tiger Striped orange and black ones.

Next we went to the Orchid farm and walked around looking at the different varieties and shooting a few pictures, we then found ourselves in the store. We walked slowly through, vaguely interested to see what tourists (rather than travellers) spent their money on.

Before we left we decided to head back to the butterfly farm again. Donna spotted three of the tiger-striped butteflies on one bush and was trying to photograph them when she kept noticing that the bush behind it was jumping and moving as if something was in it, but whenever she looked she saw nothing. Finally she leaned closer and saw a butterfly trapped in what looked like part of a spider's web. She got a pen from me and used it to pull the web loose with the entangled butterfly. Then she pulled the butterfly loose from the the web. At first he just dropped to th ground, but then he flew away straight to one of the open pineapples laying about and then started drinking like crazy. It looked like part of his wings had been eaten away, but luckily he was still able to fly.

After a while we got back on the motorbike and continued North. We passed lots more interesting buildings and farms, etc. Eventually we decided to pull over and get a bite to eat. We got some chicken satay sticks from a vendor on the street and some soda from the convenience store and had a little lunch. We made this our turnaround point. On the way back into town, we stopped at a couple of Wats and took a few pictures of the unusual statues . The first one was doing a lot of construction and looked like they were getting ready for a new school year. They were repairing all the playground equipment.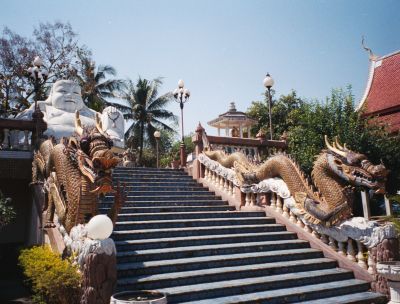 Wat Piyaram

The next one was Wat Piyaram, it too was under construction, but they had a very large FAT Buddha statue next to the main temple, guarded by a pair of unusual dragons. Very different than the other buddhas we have seen at other Wats (most of the Thai buddhas are really skinny). We took a few photos and the continued on.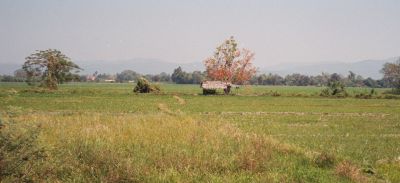 Dilapidated Shack and Tree.

A few miles down the road, Donna had me stop and take a picture of a scene she had seen on the way out of a dilapidated shack with a flowering tree behind it in the middle of a rice paddy.

When we arrived back in Chiang Mai, we went to the Lotus mall and found a journal and some new pens for Donna. This store reminded us very much of a Walmart in the US. Even some of the advertising campaigns were similar.

That evening after dropping off our film, which you now see on the website, we did a little internet and then decided to go see a movie in an actual movie theater! A first for us in Thailand! We headed to the Major Cineplex at the Airport Center south of town, and saw Shanghai Knights. Very funny! It is sequel to Shanghai Noon with Jackie Chan and Owen Wilson. The best scene is a fight scene with Jackie Chan using umbrellas. Excellent! The theater was wonderful. They have assigned seating, just like for a live theatre back home. The screens were huge, the aisles had plenty of legroom, and comfy recliner seats with cupholders, the ushers show you to your seats with a flashlight. There are no slideshow ads before the film. And to top it all off the tickets were 100B/person, the two tickets plus a coke and popcorn came to a total of 270B ($6.43!) It beats Pacific 16 at home anyday! After a few ads and the previews, a message comes on that asks you to stand and pay your respects to His Majesty the King. We stood with everyone else and saw a nice vignette about the king and royal family with I think the national anthem playing. It's nice to see how patriotic the Thais are -- you'd certainly never see the English standing up before every movie to pay their respects to their royal family!

The movie was very funny, and we had a good time. After that we went back to our guesthouse where Donna caught up on her journalling and I continued reading the Lord of the Rings. I am about halfway through (the entire chronicle of three books, that is).

By the way, we've now decided we don't WANT to go to Tha Ton... well, we DO eventually. But it is right by the border crossing into Laos that we will be taking next month, so we figure we'll save it until then! Our next destination...? We'll let you know when WE figure it out. We have to be in Bangkok by the 28th to catch our plane to Vietnam. Other than that...somewhere between here and there would be good.


2/28/03 Farewell Thailand, but only for now!
A day of internet. A day on the motorbike. February 22nd, we spent most of the day indoors updating websites, sorting out photo issues (the photo shop that was supposed to add our latest set of photos to our existing photo CD somehow managed to replace our photo CD...we had only one set of photos on it when we got it back! We took it back along with all the old negatives so they could completely recreate the old one!). In the evening, we headed back down to Chiang Mai Gate for some dinner. While there, Kirk and I were discussing just where in Thailand we were going to head next. We had ruled Tha Ton out. We hadn't ruled anything else out. We were discussing Lampang, Sukhothai and Ayuthaya among other places. But we didn't have our Lonely Planet and we were a little unsure of distances. I asked the farang couple sitting next to us if we could take a quick peek at their LP so I could look up how long it would take to get to Sukhothai. It turned out they had just ARRIVED from Sukhothai!! So, we started chatting with them. They were from the Netherlands and were very helpful. They even suggested a guesthouse in which to stay (knowing a good guesthouse is always a good thing). So, I asked them if they were going to Pai. They hadn't heard of it. We ended up moving over to their table. It was easier than shouting across 4 meters of space. We told them about Pai and Chiang Mai (they had just arrived). They were quite interesting and it was fun to have a conversation with other travelers for a change. They were traveling for only 4 weeks, but planned to see as much of Thailand and Cambodia as possible. We even had the pleasure of pointing out some of the best dessert vendors in the Chiang Mai Gate area for them. They tried the coconut custards! Yum!

We said our goodbyes and they headed off to the Night Bazaar. hmmmmmm..... Night Bazaar. I had seen a blue shirt there the other day that I still was regretting not picking up. Kirk...? Off we went. It took a couple of u-turns, but we found the same vendor. She started at 220 Baht. I started at 120B. I got the shirt for 150B, which is exactly what I wanted to pay for it. Then, we headed back to the room for an early night. We had church to attend in the morning!

On February 23rd, we went back to Chiang Mai Christian Fellowship. We met a very nice couple that was visiting from Bangkok, Joe and Chris -- their son was playing in a basketball tournament in Chiang Mai. We hope to visit their church one of the times we are back in Bangkok. The service was actually quite fun. It was conducted by the B21 group - the high school students - start to finish. The message was given by the youth pastor. After church, I saw Lori (from the cooking class) and we chatted with her for a bit. Then she left to have lunch with some friends, so we left too.

We had decided to take the motorbike to Lamphun for the day. Lamphun is the oldest existing city in Thailand and is about 25 kilometers south of Chiang Mai. It was an incredibly beautiful drive down to Lamphun and we saw some interesting sites along the way. At one point, we saw what appeared to be some sort of ceremony. There was a truck driving along the street with a floral arrangement in it and announcing something on a loudspeaker. There was another truck following it, carrying some monks. Behind that, a large number of ladies in dresses and bright orange hats followed on foot, carrying silver bowls. We had no idea what was going on. (More on this later).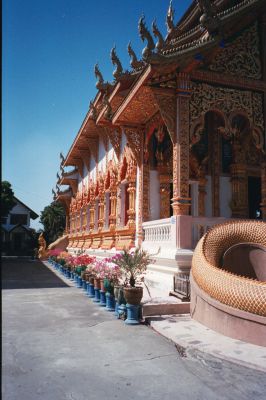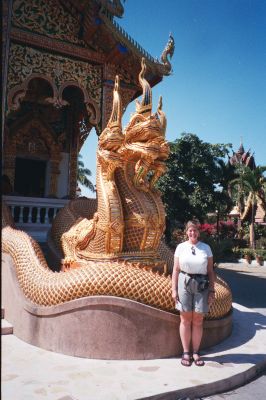 Wat Mahawan in Lamphun

We arrived in Lamphun and drove around the city to get oriented. We had no map. The city is surrounded by a circular moat. We figured we'd just drive until we found a wat that looked interesting enough to explore. I spotted a sign for one that looked good and we went just outside the moat to Wat Mahawan, which is perhaps one of the most famous in Lamphun. It was built by Queen Chamdevi over 1300 years ago and is particularly famous for her "Pharot Lamphun" amulets. People used to dig all over the temple compound looking for them! The wat had an interesting triple-headed dragon guarding the temple. After looking around the wat for a while, Kirk and I sat in the shade of a tree and decided to learn to count in Thai. It was actually easier than we expected, once we figured out the tones (that's assuming, of course, that we have the tones right)!

The next temple we found was a bit more touristic. They had a cappucino shop outside!! And, a 20 baht admission price! But, it looked good, so we paid and went in to see Wat Phra That Hariphunchai, which was really quite large. We actually ran into a German tour group at one point and tagged along, trying to eavesdrop on the tourguide, but he was speaking German with a Thai accent -- and I barely remember enough to understand German with a perfect German accent! Needless to say, I didn't catch much!

Wat Phra That Hariphunchai, by the way, boasts the largest bronze gong in the world. It hangs in a pavillion on the grounds. (No, we did NOT ring it!)

Well, Kirk was getting tired of wats for the day, so we went over to the market for some food. We had seen it earlier when we were circling the moat. We found some vendors selling satay - pork and chicken and one even selling fried chicken satays with Thai chili sauce! Yum!!

On the way back to Chiang Mai, I had my eyes open for a temple we had seen on the way to Lamphun. It had looked quite interesting and I wanted to stop and check it out. I spotted it and we pulled over. There were two monks inside sweeping the grounds as we parked the motorbikes and removed our helmets (yes, we are two of the few in Thailand that actually use helmets!). As we started to round the corner, we realized that there were a lot of people there and there was something going on...a ceremony -- wedding, funeral, party or something. We immediately retreated and slipped back on the motorbike and out the front gate as quietly as possible. I don't think we made too much commotion. I had noticed pink flowers - the same color we had seen on the truck earlier. Kirk thought he saw a portrait on an easel. Curious.

We drove down the road a short way and saw a huge market we had noticed on the way out. It didn't look like a tourist/farang market, so we decided to stop! What fun!! There wasn't a tourist vendor in sight! We got to see what the Thais buy when they are at the market! The vendors hardly gave us a look (except, perhaps, out of curiosity); there was none of the grabbing, hard-sell tactics that we get from the vendors in the other markets we had seen! We walked through the whole market.

As we were leaving, the truck with the flowers and ladies with silver bowls was back. This time, though, they had on white or straw hats. I was close enough to see in the bowls... they had flowers and incense and money. They were walking through the crowd, collecting donations. Of course, we still didn't know for WHAT. We resolved to ask our friends in Chiang Mai if they knew.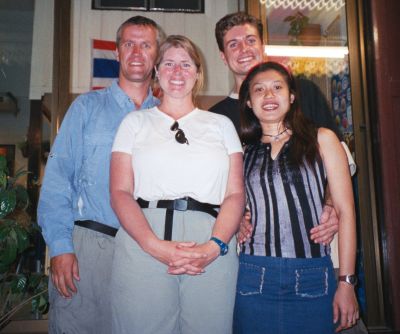 Kirk, Donna, Jason and Nok. Jason owns the Star Cafe.

When we arrived in Chiang Mai, we headed straight for the Star Cafe, where we asked Nok, Jason's girlfriend if she knew what we had seen. Of course, our description probably wasn't the most complete, but as best as we can tell, we probably saw a funeral ceremony. Interesting.

By the way, have we told you that here, practically EVERYONE travels on a motorbike (I won't say motorcycle, because many of them are much SMALLER than that and really too small to be called motorCYCLES like we think of them at home)... sometimes, we see three and four ADULTS on them at once!! OFTEN, you'll see whole families (two adults and two kids) on them. It's funny...I've NEVER thought of a motorcycle as a family car before!

We were about to leave Chiang Mai. We figured we'd go and see one more movie (if we could find one we wanted to see). We thought we'd try the OTHER cinema in town. When we got there, we decided to see Ong-Bak, a Thai film that had English subtitles. All you action film/kung-fu lovers out there...this movie was GREAT!! (However, it's not for the faint-of-heart). The star of the film, Phanom Yeeram, is like a combination of Jackie Chan, Bruce Lee and Jet Li. He is fast and flexible like no one you have seen before! The movie features interesting aspects of Thai culture, such as the tendency of male Thais to spend time as monks, tuk tuks (3-wheeled motorcycle taxis), Muay Thai boxing (Thai-style martial arts), the theft of buddha relics for profit, etc. The main character is a monk-to-be who leaves his failing village to recover a buddha head that is stolen. He is forced to use muay thai, although previously he had never fought before. The downside of the movie is that, although it promotes non-violence, it shows MUCH violence to promote that theme.

On February 24th, we showered and packed up some stuff we had decided we wouldn't need for the next month or so. Jason had agreed to let us store some things at his place. So, we left our tent, sleeping bags (it's WAY too hot for them), camp stove and cooking gear, and some other heavy items at his apartment. WOW is my pack light now!! Yeee haaa!! Then, after a quick breakfast and a chat with some other North Americans (Peter and Sarah), we caught a tuk tuk to the bus terminal and booked a second class bus to Sukhothai. We bought snacks and got on board. It sure didn't LOOK like a second class bus to us. We had been on second class before and it was MUCH nicer and WAY cooler than this!! They did turn on the A/C shortly after we got on, but frankly, it wasn't much help. For the next five hours, we sweated and bounced all the way to Sukhothai.

The one good thing about the ride down was that they had a DVD player on the bus and they showed movies that were in English and subtitled in Thai! So, we could actually understand them! First, they showed "Air Force One". Then, "Then We Were Soldiers". It certainly helped to pass the time a little. Plus, unlike our bus to Chiang Mai, there were heaps of farang. We chatted with a few, off and on.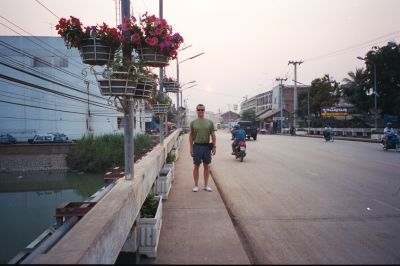 Sukhothai Sunset on 2/24

When we arrived in Sukhothai, Kirk and I caught a ride to the guesthouse with a Songthaew. We ended up paying 30 baht (less than $1). We went to a place another couple had recommended, Friend Guest House. When we pulled up, it looked much fancier than I had imagined. It actually looked more like a hotel. But we got a room with fan and cold water shower for 250 baht. We immediately changed clothes and went out for a walk around town. We checked the prices of motorbikes and decided to wait until tomorrow AM to rent one (so to save money). We headed over to the night market.

As we headed across the river, we saw at the huge square (which is grass-covered) that a stage had been set up and a guy was leading about 200 girls/women in an aerobics class!! First of all, we NEVER see Thais exercising! And CERTAINLY not doing aerobics...in a PUBLIC SQUARE!! We were shocked!! We stopped and watched for a while (plus it was fun to hear the really old music they were playing)!

We found a great little vendor where we ordered dinner. We later ended up there again! We had the basil chicken and split it. It's normally a very spicy dish, but she was pretty tame on us! She also had an exceptionally friendly cat. I had leaned over and petted it for a few seconds on the head. It promptly put its paws in my lap, put out its claws and then tried to climb up (without jumping)! OW!* I picked it up!! After that things were better and it did NOT want to leave. Of course, I'm a sucker for a cat that wants to be petted. I let it stay in my lap until dinner came and then it went onto the floor...until dinner was gone and then I picked it up again. We also were sitting right next to a fruit shake vendor, which we made good use of. Yum! Pineapple for me and watermelon for Kirk (we reversed roles for the night)! While we were sitting there, we chatted with a guy from the Netherlands (John) and one from England (Aidan). It turned out they had both been in Pai. In fact, Aidan had been in Pai at the same time we had, and we had even SEEN him at the waterfall (we had seen him slip on the slide and fall in)!! What a small world! We all finally realized we had been there a while and taking up the poor vendor's table! We said our goodbyes and left!

When we were walking back to our room, we noticed all the bugs all over the place. They were clustered around every light. They were every where! And there were tens of geckos on the walls around our room...going after bugs (go get 'em, boys!). But, we seem to have startled the geckos a bit. They ran away from us as we approached. One of them ran a bit too fast along the ceiling and lost his grip, falling on my head. I was, shall we say, a bit surprised. Kirk, who was walking behind me, saw the whole thing unfolding and laughed his head off!

On February 25, we got up LATE!! It was REALLY hard to get up! Especially for Kirk, who didn't sleep very well at the Julie GuestHouse (which was very loud, by the way). It is wonderfully quiet here! Surprisingly so, actually. We finally crawled out of bed around 9:30 or so and went and rented a motorbike. There were two places in town, both claiming the same rates (200 baht for 24 hours, or 150 per day). We actually rented the bike at the shop that had the newer bikes for 150 baht per 24 hours.

After a trip to the post office, we found a little place to have breakfast in town. It was actually an interesting experience. As we sat there, we noticed there weren't ANY farangs around (other than us, that is), just Thais. From about 9AM to 5PM (or so), farangs seem to abandon the new city en masse and converge on the old city. Then, at 5PM, the new city is once again deluged with foreigners demanding food and searching for a bargain among street vendors and guesthouses. Rising late allowed us to see the city as it is "normally" during the day...without the intruders. We also took time to admire the many contraptions that drove by. Thais are particularly ingenious, it seems to us (although we haven't yet been to other Asian countries). Everywhere we look, there are variations on the motorbike -- tuk tuks, samlor tuks, gourmet cookeries set up on the front end of a motorbike, traditional transport and even for hauling goods, all sorts of things!

Then, we headed to the old city...and it was farang (and Japanese tourists) everywhere! We decided to go through the Ramkhamhaeng National Museum first. When we arrived, they were in the process of shining EVERYTHING. Apparently, the King was hosting the Swedish Monarchy and on the 27th (the day we planned to leave Sukhothai), the Prince was bringing them to visit the city. We were glad that we were planning to be gone by then, since the entire city was going to be closed down that day to everyone except the Royal family and their guests!! We enjoyed our trip through the museum (except for the odor of the polish everywhere!). Afterwards, we stopped in the museum shop for a cold drink and sat by the window in the shade. We got a good laugh when Kirk was talking and waved his hand over the water (there was a pond outside the window) and all the fish ran over, expecting food! The fish have apparently learned to beg!!

On we headed into the Sukhothai Historical Park, which was inscribed as a World Heritage Site by UNESCO in 1991 (along with several surrounding areas). If you don't know, there are over 730 sites worldwide that have received the UNESCO inscription (and hence, much focus is placed on them, increasing the protection they are afforded). I didn't realize how many there were (or how many I had actually been to)!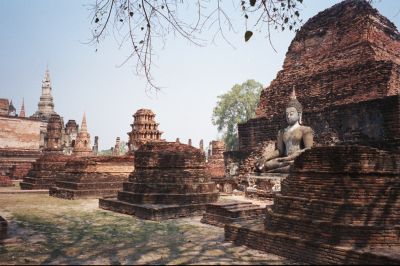 Wat Mahathat

Our first stop was at what is probably the showpiece of Sukhothai, Wat Mahathat. Wat Mahathat has the most central location in the city and is the largest. It once contained 198 chedis, several chapels and sanctuaries. It still has buddha images at the ruins, unlike some of the other sites we visited. The lotus bud shape of the main chedi is typical of the Sukhothai style of art. There is a 9 meter high buddha between the north and south principle chedis, which is believed to be one mentioned in a famous Stone Inscription.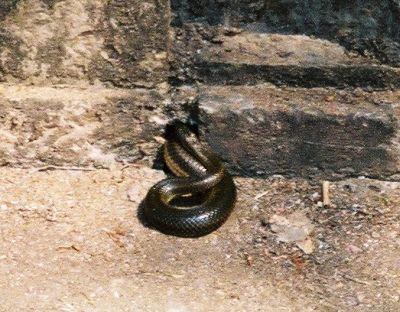 Snake we saw at Wat Si Sawai

We stopped briefly at Wat Trapang Ngoen and then headed on to Wat Si Sawai. Wat Si Sawai has three beautiful prangs. Prangs are quite different from chedis. As we were walking around the prangs, we actually saw a snake crawling into the niche in the wall! We stopped and took a photo of it (we were really surprised to see it, but probably not as surprised as it was to see us!), and then gave it a really wide berth.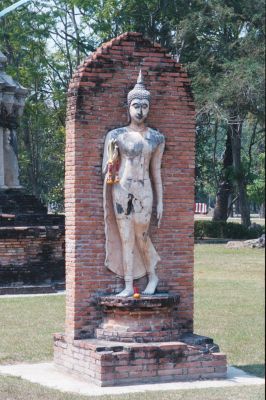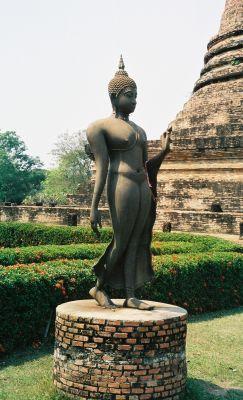 Walking Buddhas at Wat Sa Si

We then headed on to see Wat Sa Si. The Sukhothai period was particularly famous for its walking buddha art. We saw quite a number of walking buddhas in Sukhothai, including at Wat Sa Si; up until now, we hadn't seen them at all!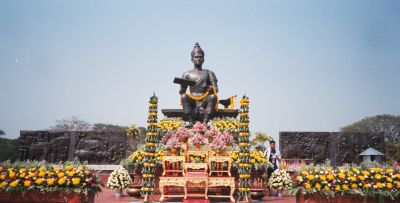 The King's Monument

Next to Wat Sa Si is Wat Chanasungkham, which seemed to be fairly minor. But, it was right across from the King's monument (King Ramkhamhaeng). We walked over to take a look. There were flowers all over it! At first, I thought it had something to do with the visit by the Swedes, but then I realized that the flowers would all wilt long before Thursday (it's VERY hot here!!). We saw many people taking up flowers to leave as an offering to the king. While we were at the monument, we took a photo for a large group of people (Thais) -- it was a sports team of some sort, complete with coaches and chaperones. There is some sort of games going on in Sukhothai. We had seen people wandering around town in the morning, wearing warm-ups, and plastic ID badges. We asked them what they were doing in Sukhothai and they said they were here for the Physical Education Games. We ended up chatting with several groups of kids from the Games throughout the day -- they were happy to talk to us, it seems (and many of them spoke English well). In fact, as we walked back to the motorbike, a group said hello to us (in English), so we said hello back (in Thai). They asked us where we were from and we said the USA. Suddenly, one of the girls looked at me and said something (REALLY FAST) in Thai. I looked at her, started to open my mouth to say something and realized that I didn't know WHAT to say. I had NO idea what she had said. My face was completely blank! I could FEEL it GO blank! The entire group of kids burst out laughing, as did Kirk and I! It was hilarious! She told me she had said "How are you?" and what to say back. We learned some more Thai that day!!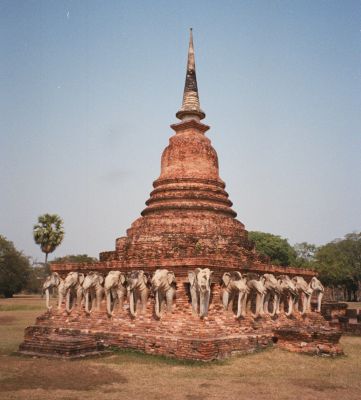 Nice chedi with surrounding elephants at Wat Sorasaki

Armed with a bit more Thai, we headed over to Wat Trakuan and then out to Wat Sorasaki. I particularly liked Sorasaki. It had interesting elephant sculptures encircling the base of the stupa. Wat Son Klao wasn't very spectacular, so we headed on to Ta Pha Deng Shrine, which was built in the Khmer style during the Angkor Wat period (1107 to 1157 AD). Several god and goddess images carved in stone were found in the situ. We climbed up the stairs to the center of the shring, but quickly turned back due to the stench.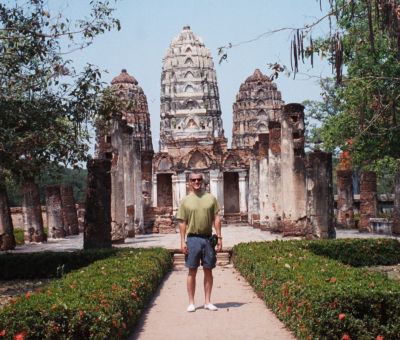 Wat Par Pai Luang

Sukhothai Historic Park, which is huge, is divided into five zones. We decided it was time to head outside the city walls. The town is rectangular in shape and actually had three city walls and three moats surrounding and protecting it. There was a gate and defensive tower on the middle of each of the walls. We drove through the gate and headed east, toward Wat Pha Pai Luang. It took us a bit of time to locate a road to get there, as it is completely surrounded by a series of moats and a challenge to reach. One of the things I noted about this particular wat was the number of buddhas that we saw laying around in pieces. I don't know whether it was from deterioration or so-called "tomb-raiders" or what, but there must have been over 100 buddhas that had been damaged and left behind. It did make me wonder what the place had looked like when it was in use! The temple clearly had at least three prasat style buildings. We also, while we were there, saw some men from Japan who had been commissioned by the "Administration Office" to map the wat. They were using some sort of high tech camera that transferred the data direct to a computer mapping program. It was pretty cool to watch.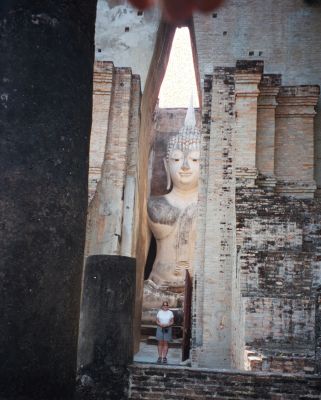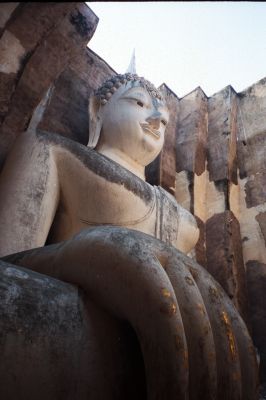 Wat Sri Chum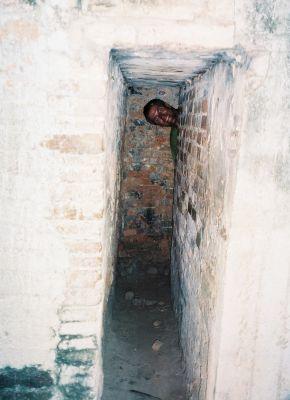 Kirk went in the hole in the wall!

We next found Wat Si Chum, which was pretty cool. Aw we walked down the pathway toward the temple, I could see a HUGE buddha image in/on the building looking out at us (and I mean, H-U-G-E)!! As we got closer, we could see it was defintiely in the building, seen through a slit in the wall. The buddha was in the building, sitting in the position called "subduing mara". Close up, you almost had to crane your neck to see him!! We took a couple of photos (of ourselves and for others -- we met a guy from Madagascar who is on a 7 month RTW) and then headed back to the motorbike. We were enticed by the ice cream man...it was seriously hot outside and that ice cream looked really good (and it WAS). I can't believe that's the first ice cream I've had in almost a month (my first in Thailand)!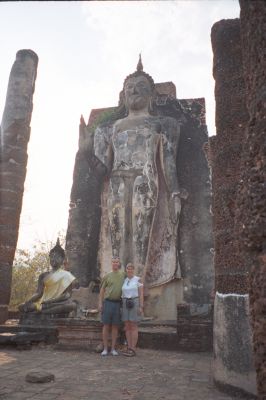 Wat Saphan Hin

We headed for another zone, toward the dam. We stopped at Wat Saphan Hin. You remember that great ice cream? Me being hot? It being nice and cold? Well, I just ruined all those benefits of a nice, cold ice cream! Wat Saphan Hin, it turns out, is at the top of a really steep hill. But, we were determined to see it anyway! In fact, it was on our list of wats we "must-see"! The "road" to get up there was actually a "bridge" of slate rock, climbing the mountainside. So, up we went. And up. Up. Up. Up. About half way up, we passed a chedi, but I figured I'd see it on the way down. I didn't want to stop now. I was on a roll. As we neared the top, I noticed a Thai couple sitting on the wall, watching us climbing. Now, you have to understand...I have a bit of Norwegian blood. And English. And probably a few other things, German maybe and who knows what else. I have ALWAYS turned a bit red at the drop of a hat. Embarrass me and I go red. If it's a bit hot out, I turn red. If I exercise (it doesn't matter if it's 10 degrees, 60 degrees or 100 degrees), I turn red...not a little pink, mind you...BEET RED. I think the Thai couple was staring, wondering how long it would be until I passed out! (If they were taking bets, they both lost...I should have collected!)

After Kirk and I had walked around the ruins a bit, we went and sat down near the couple, looking out over the valley below. It really was a nice view. We ended up trying to have a conversation with them. Of course, we speak no Thai. They spoke no English. But, we have a handy-dandy phrase book (that seems to have very little practical stuff in it...how is it that nothing I want to say is actually IN there?!). They were in town for the Physical Education Games. The boy was competing in Judo. They were both 20 years old and students. We must have talked (or attempted to, anyway) to them for an hour before they had to go! It was taxing, but a lot of fun!! We took some photos for a Japanese couple that came up the hill and then headed down ourselves.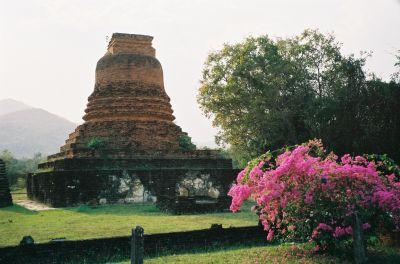 Wat Manghorn

We took a last minute run by the ruins of Wats Chang Rob, Khaw Phra Bat Noi, Manghorn, Manakaset Piman Hall & Shrine, and Pa Mamuang. The ruins in this area just don't seem to have survived as well as those we saw earlier in the day. We decided it was too hot to continue on, so we headed back toward the new city. We stopped at a little market where we picked up snacks (satay and chicken strips) and very cold drinks (yay!!) and then walked around the market for a bit. We were pleased to see it was another "local" market rather than a tourist market.

We spent the evening relaxing, doing internet, etc. We had a late supper at the night market area.

On February 26th, we got up late again. We had stayed up late the night before. How is it that once you start going to bed late, it's hard to force yourself to go to sleep early? We forced ourselves out of bed at 9AM and had breakfast at the guesthouse. On the way to the old city, we stopped at the bus station and bought tickets to Bangkok - 256 baht each for the 10AM bus. It was first class this time, but the photo looked like the second class bus we were on from Bangkok to Chiang Mai. We would see.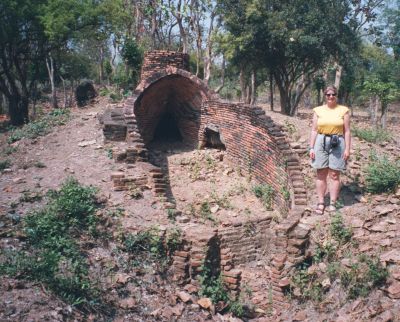 Thu Riang Kilns where they made pottery.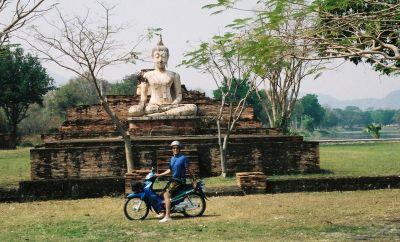 Kirk, our motorbike and Wat Mae Chon

Once in the old city, we headed back to an area near where we had been the day before! We went to the Tao Thu Riang Kiln! We had somehow totally missed the kilns the first time we had been there...we had seen the sign, but not the actual kilns. On the way back to the south side of the city, we also stopped by Wat Mae Chon, which we had seen yesterday. As many wats as there are in Sukhothai, the guides that you can purchase for the city only provide a small piece of the picture. Everywhere that we turned, there were wats and ruins, some marked and some not, that were NOT on any of the maps or guides that we had! Wat Mae Chon was one such ruin.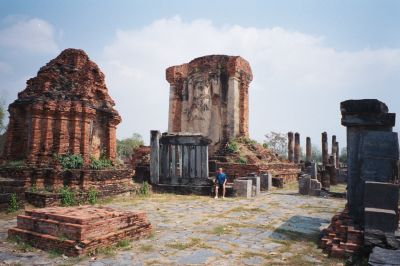 Wat Chetuphon

This was actually a day of surprises for me. Some of the ruins we found in outlying areas turned out to be really nice finds. Wat Chetuphon was one. This temple is well know for four (huge) buddha images in sitting, standing, walking and reclining postures on each side of the wihan. Interestingly, the also supported the roof of the wihan where they were enshrined. We also found some unusual type of rock used in the structures. It looked like slate or something.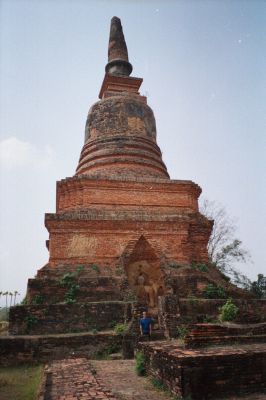 Wat Si Pichit Kiti Kalyeram

Right across the road was Wat Chedi Si Hong, which had an interesting chedi with elephants and people on it. We didn't stay long though...we kept moving, desperate for shade. We didn't find any at Wat Si Phichit Kiti Kalyaram, but we found an ENORMOUS chedi. My camera didn't have a wide angle enough lens to take a photo of it...I had to use Kirk's camera! We took quick peeks at Wats Asokaram and Mum Lanka (which had trees but we now needed cold drinks) and then found ourselves a little vendor with shade and very cold drinks for sale. Despite ordering in Thai, we didn't get quite what we ordered, but frankly, we were so hot and thirsty, we didn't care. We were just happy to be sitting, in the shade with a cup with ice and liquid in it! Who cares about the details! We did take that opportunity to learn how to say "How much?"

We were off again. Wat Tha Phang Thong Lang was next on the list. Supposedly the stucco reliefs on the 3 sides of the mondop depict certain stories from the life of buddha, but Kirk and I have NO idea how they can tell WHAT the reliefs were depicting! For the most part, they were completely decayed! The next wat, Wat Chedi Sung, which was on the map, was perhaps the biggest surprise. Not because it was particularly spectacular, but because there is no road to get there!! It sure is a good thing we have a motorbike and Kirk knows how to drive wherever he wants on it!! The main attraction of this wat is the unusual chedi, which is in a much different sytle than all the others we have seen so far (and believe me, we have seen LOTS!!).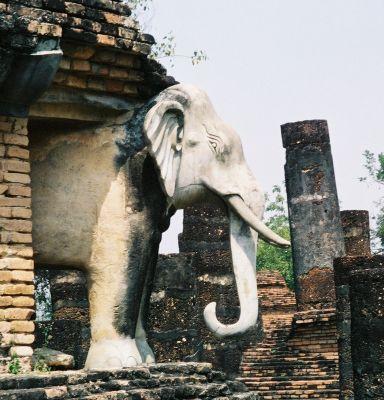 Wat Chang Lom Elephant

We then went on to see Wat Chang Lom. I honestly wasn't expecting much, but I was now VERY pleasantly surprised! Wat Chang Lom's chedi is surrounded by 36 elephants, some of which are still in one piece. We then decided to drive into the main part of the city to the three places we had missed the day before. I had saved these for last, thinking they would be the most interesting. I was wrong. Sigh. Wat Mai and Noen Prasat were right by the East Gate. We had actually seen them yesterday, but just not really paid attention. Noen Prasat, which was on the map as the "King's Palace", had actually been practically definitely disproved as the site of the King's Palace in recent years. We went off to the last site, Wat Traphang Thong. It had a beautiful setting, on an island, completely surrounded by a moat, but the wat itself was fairly unremarkable. We decided to have another cold drink to console ourselves.

We were pretty much wat-ted out, so we decided to go find the waterfall. We had seen signs for one. Off we went. I was a bit nervous. The signs going our direction were clear. I was glancing back everytime we made a turn. The signs going the other way were all in Thai. It was going to be tricky getting back. And of course, the road turned to dirt. We drove several kilometers on the dirt road and came to a house. We weren't sure if we had taken a wrong turn and hesitated. A bunch of kids sitting outside waved us on (they looked like kids in town for the Phys Ed Games), so we drove up the road on the motorbike. A man came running up the hill after us, trying to stop us. Yes, it was the right way, but we had to park the bike and go the rest of the way on foot, about 2km.

We took our gear and started hiking, passing a few people coming the other way. It was a nice hike and we came to a stream rather quickly. We hiked upstream for well over half an hour (and certainly more than 2 km) and never found the waterfall. We eventually stopped when we hit an area that was impassable. Instead, we stripped to our swimsuits (we had planned ahead this time) and climbed into that wonderfully cool water! Oh, what a joy to get into cold water on a really hot day in Thailand!! I didn't even mind the fish that kept swimming into me (not too much, anyway). We hiked back down, climbed on the bike, and easily found our way back to the main road...stopped for ANOTHER cool drink (of COURSE) and headed back to town.

Remember that great little place with the cat? You know, the outdoor vendor lady? We went back and had another great dinner. Phat Thai for me and Chicken Noodle Soup for Kirk. We met a German guy and a French guy this time. The French didn't speak much English though. A walk around town (and roti for dessert) before heading back to the guesthouse.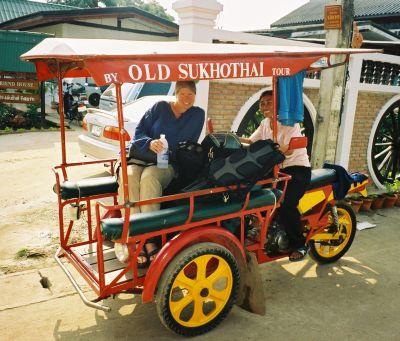 The samlor tuk we rode to the bus station

On February 27th, yesterday, we got up, packed, had breakfast, caught a samlor tuk to the bus station and then boarded our first class bus to Bangkok. It was really more like the Second Class bus we took from Bangkok to Chiang Mai...well, frankly, not even THAT nice, if we are TRULY honest, but whatever. It was cheap (US$6 each). We were on the bus for 7 hours and then we took a city bus from the north bus terminal to Kho San road. Now, get this. When we got to the bus terminal, we had tuk tuk and taxi drivers trying to get us to ride with them to Kho San. We asked how much. They quoted us prices anywhere from 250 to 400 baht. No, no, we said. Too much. No one would go below 250. We knew we could take a bus for less, but weren't sure of the exact cost. It depended on which bus we caught. We got bus number three. The cost? 3 1/2 baht each. Yes, that's right...a TOTAL of 7 baht. I'd say we got the better deal. And it only took us about 30 minutes longer to get there than if we had taken a taxi.

We decided to go back to the place we had stayed last time we were in Bangkok, Central Guest House. We tried a few other places, but they were either full or wanted too much. We got a room for 160 baht a night. Nice and cheap. Last night, we just had some dinner, relaxed, checked on bus prices to the airport on Saturday, dropped off some film. Nothing too strenuous. We even did some reading about Vietnam.

Today (February 28), we woke up tired. I had forgotten how loud Bangkok is! We have been very spoiled up north, that's for sure! We drug our tired bodies out of bed and went looking for breakfast. We went back to our favorite little shake lady. This is the woman, who, a month ago, got me (and Kirk, I think) hooked on fruit shakes. She was still there, in the same place, and even remembered us. She had some competition around her this time, though. We stopped at the post office to see if a package we are expecting had arrived (Kirk was hoping it would arrive today...otherwise, we will have to wait until we return from Vietnam). It wasn't there yet. We had breakfast at the vending area next to the government lottery office. We had eaten there before and liked it. This time, the vendor we went to was actually a bit rude to us since we ate only one dish and shared it (we've been doing this quite a bit lately, as we usually end up wasting food otherwise). It was annoying. Boy do I miss North Thailand.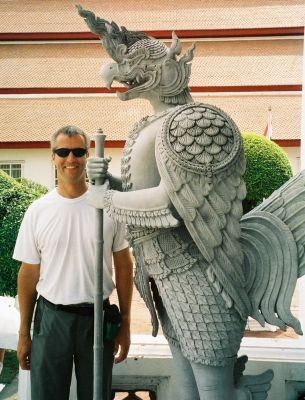 Kirk and the griffin outside the National Museum

We decided to head over to the National Museum. We hadn't managed to get there before when we were in Bangkok. There were a couple of wonderful advantages of this. First of all, it was AIR CONDITIONED. This makes us very very happy. We LOVE air conditioning. The main part of the museum has a lot of history of the kingdom of Thailand and the various kings that have ruled over it. We found all of the information quite intriguing. For example, did you know that we are actually in the city of Krung Thep Mahanakhon Amon Rattanakosin Mahinthara Ayuthaya Mahadilok Phop Noppharat Ratchathani Burirom Udomratchaniwet Mahasathan Amon Piman Awatan Sathit Sakkathattiya Witsanukam Prasit? That is the full name of Bangkok. Bangkok is really just a nickname. In Thailand, names are very very long. Phonebooks list people by their first name. Most people are known by nicknames. It's all very interesting. Bangkok's real name, by the way, is in the Guiness Book of World Records as being the longest name of a place. There was a place in New Zealand (that we didn't go to) that was the longest word/name of a place.

We also learned a lot about the monarchy in Thailand, which I found interesting. One thing that was curious was that Rama VIII "died suddenly", but it never said how. We looked around and finally, on a computer database, we discovered that he had been assassinated in his residence. It was strange to us that this information was so hidden. Note: As I was looking for an online reference to show you about Rama VIII, I found conflicting stories. Once seems to indicate he accidentally shot himself while cleaning his gun and the other that he was assasinated by Royal Guards. Incidentally, the guards were later tried, acquitted, re-tried, found guilty and executed in 1954.

There were also references to tragic occurrences on October 14, 1973 and May 19, 1992, dates which we had not heard of! We knew of nothing which occurred on these dates that they might be referring to. However, upon researching it here, on the internet, we discovered that numerous citizens were shot and killed during demonstrations on democracy in two separate events on those dates, supposedly under orders from a corrupt military dictatorship. It's an odd, confusing story that does not seem to have been told yet. If anyone knows of a good account of it, please pass it on to me.

We finished up at the museum, bought tickets on a minibus to the airport tomorrow (70 baht each), and checked back at post restante. No luck. We'll have to wait until we're back from Vietnam.

I bought a couple of books on Vietnam to read while we are traveling through that country: Vietnam: A History by Stanley Karnow and Romancing Vietnam: Inside the Boat Country by Justin Wintle. Hopefully, these will last the three weeks we are there! Kirk is almost done with the Lord of the Rings, too, so I imagine he'll pick at least one of them up when he is finished.

We are just catching up on the internet and uploading some photos tonight and doing last minute stuff before we head off to another country...Vietnam. So, farewell for now from Thailand. We will see you again in Vietnam!!

To continue reading chronologically go to our Vietnam section.