Cambodia 2003 Travelogue
Entries:
April 2003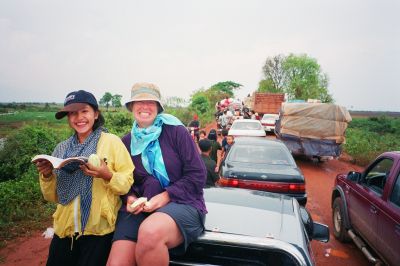 Donna and one of the other riders in the pickup during the traffic jam

4/27/03 Hello Cambodia!
At around noon on April 27, we crossed into Cambodia at Poipet. When we exited passport control, our new Cambodian friend showed us where to catch a pickups to Siem Reap. We tried to figure out how much they should cost and we think we didn't bargain properly as it cost a total of 500b for both of us to get to Siem Reap. They wanted to be paid up front, but I didn't agree to that; so, we negotiated to pay 200b now and 300b when we got there. We now think that the whole ride to Siem Reap should have cost us around 80-100b each. Oh well. Anyway this pickup is just that, a pickup -- not like the songthaews in Thailand or Laos that have benches on the side and a roof. This is a bare bones pickup and you sit in the back on top of whatever luggage or cargo was going along. We waited a bit at the border, and then drove around the circle a bit waiting for more people to climb on; then, we were off. As we went along, people would flag the truck down and hop on. When they wanted to get off, they bang on the side of it and hop off. After we got to Sisophon (about 1/3 of the way to Siem Reap), the driver stopped and a bunch of guys jumped on the truck and said we should get off and on to another truck. I was a bit wary of this, and refused to do it until the driver told us to. I was then to give the 300b to the new driver when we reached Siem Reap.

A few kilometers outside of Sisophon, we ended up in our first Cambodian Traffic Jam. We were on a dirt road and apparently the bridge was out. Traffic was at a standstill in both directions, on either side of the bridge. Of course, this is the time that it started to rain -- with us just sitting there in the back of a pickup! Shortly after the traffic stopped the vendors started magically showing up. They would walk down the aisles of cars offering food and drinks for sale! Everyone is an entrepreneur!

Eventually the vehicles started moving again, and the rest of the way to Siem Reap was pretty uneventful, bumpy but uneventful, or so we thought. Just outside of Siem Reap they stopped the truck and asked for our money. I didn't pay, however, until they brought us to our ultimate destination. We had them bring us to Dara Guesthouse, run by Mrs Ouk Sang (#10 Sivatha St, Siem Reap, www.angkorhotels.org Tel:(855) 12 63 04 48) where we planned to stay. They had a nice room for $5/night with attached bath, TV, and Fan.

As we were settling in, we discovered that somewhere on the pickup truck ride, Donna had been pickpocketed! At times, there were many many people on board and with nothing to hold on to for balance, people end up holding on to each other. Somewhere along the way, someone had stolen 6,000 baht out of Donna's zipped and velcro-closed pocket! They even zipped and closed the pocket after the removal! We had at least split the money between us that we took out of the ATM, so they didn't get all our money, but we will be a bit more vigilant as to how much we have in our pockets, and keep our attention on them more in the future. Beyond that, we are in God's hands and He will provide.

That evening we headed out and found a nice street restaraunt just down the road and had dinner. The owner's son was there who was very cute and nice. He would coax people to sit down with the menus. Then he took our order, item by item, relaying it to the adults. Later, he watched us play cards and chatted with us. He was maybe 5 years old!

After dinner we went back to the guest house and booked a tuk tuk driver to take us around Angkor Wat the next day.


4/28-30/03 Angkor Wat...Tomb Raider in real life!
On April 28, We met our driver Han at 8:00 AM. His taxi was a regular motorbike, but he had a hitch on the back and towed a trailer that had a bench seat facing forward where we sat, and there was a canvas roof overhead to protect us from sun and rain. We headed off to Angkor and stopped along the way for some baguettes for breakfast. The baguettes were good, but not as good as the ones in Vietnam. At least the French did leave these countries with some good baguettes!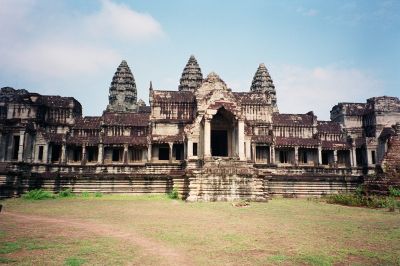 Angkor Wat as viewed from the Elephant Gate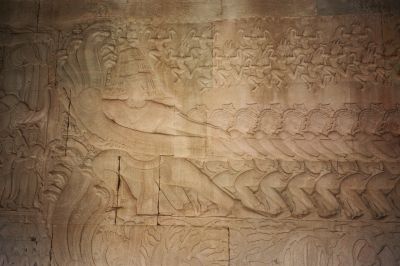 The churning of the sea of milk bas relief in Angkor Wat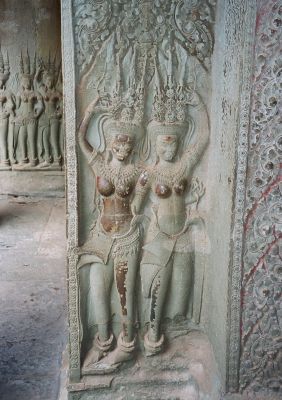 A carving in Angkor Wat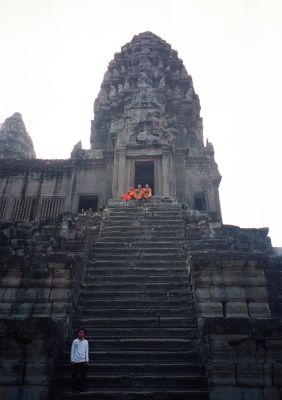 Monks inside Angkor Wat

Our first stop for the day was Angkor Wat itself. This wat is the centerpiece and of the whole Angkor complex. It was constructed as a funerary temple for Suryavarman II in the 11th century to honor Vishnu, the Hindu diety that the king preferred. It took about 30 years to build. The whole wat is surrounded by a moat. You enter the wat over a bridge on the West side. Around the main temple inside there are 800 meters of bas reliefs on the walls. The reliefs tell several of the Hindu stories of the day.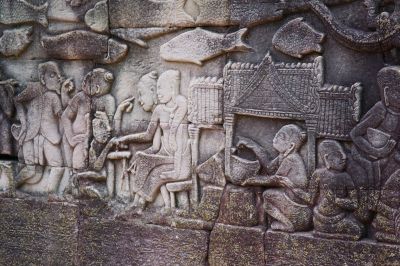 A bas relief on Bayon showing everyday life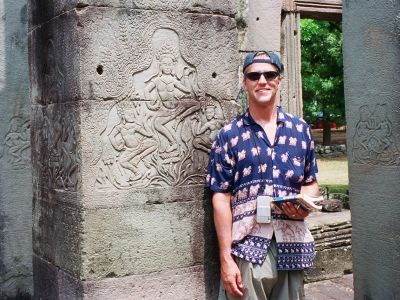 Kirk and one of the carvings at Bayon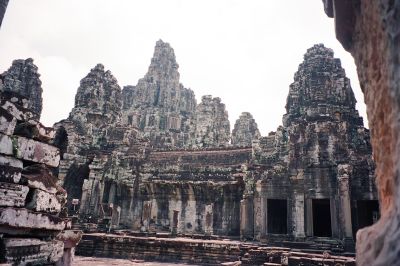 How many faces can you find?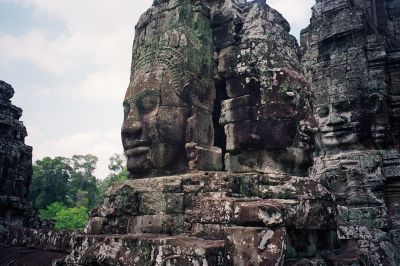 These are easier to see.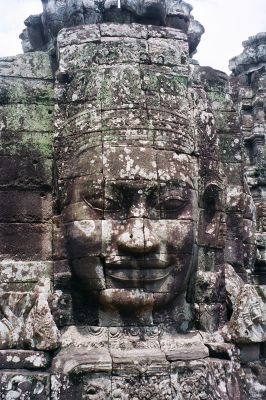 Surely you can see this one.

The next stop was the Bayon inside of Angkor Thom. Angkor Thom is a fortified city 10 sq km in size that was built by Jayavarman VII (who reigned from 1181 to 1219). The city may have supported one million people at its peak. The Bayon was also built by Jayavarman VII. It has the wonderful gargantuan faces of Avalokiteshvara. They have a really cool smile. Similar to the Mona Lisa smile. There are some very nice bas reliefs at the Bayon (1.2 kilometers worth!). Some including depictions of everyday life during the time.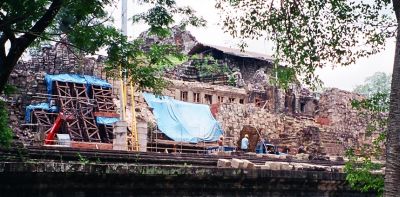 Reclining buddha on western side of Baphuon under restoration

Next was the Baphuon. This is a pyramidal representation of mythical Mt Meru. This temple was being reconstructed when we were there. On the Western wall, they were working on what was supposed to be a reclining buddha built into the wall, but it was particularly hard to make out with the reconstruction work.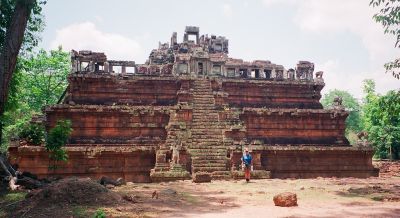 Donna at Phimeanakas

Next stop was the Phimeanakas which means "Celestial Palace", they say it once had a golden spire on top of it. Not so today. It is another pyramidal representation of Mt Meru. I climbed up to the top and looked around. As it was very hot and there were kids to play with at the bottom, Donna stayed down and watched.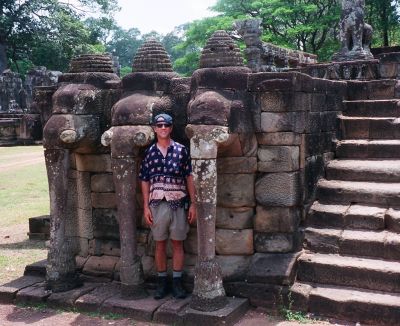 Kirk at the Elephant Terrace

Next was the Terrace of the Elephants. It is 350 meters long and was used as a reviewing stand for parades and such. Along the wall of it are bas reliefs with elephants. There are some elephants that come out of the walls, too.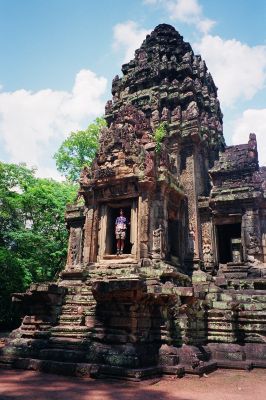 Kirk in a doorway at Thommanon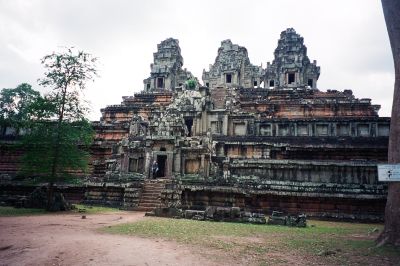 Ta Keo

Our next stop was Thommanon. This is a temple dedicated to Shiva and Vishnu (Hindu gods). After that, we went to Takeo. This one was unusual in that it was never finished. All the blocks are undecorated with no carving. It was built by Jayavarman V (who reigned from 968 to 1001) and it was the first Angkorian monument built entirely of sandstone.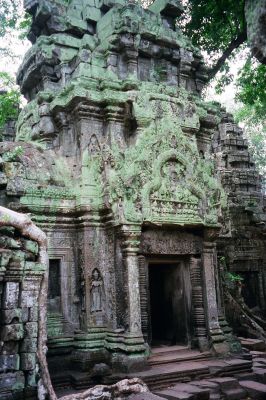 One of the lichen/moss encrusted entrances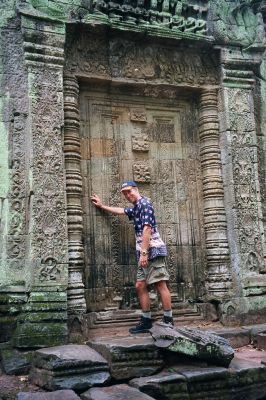 Kirk "opening" a door at Ta Prohm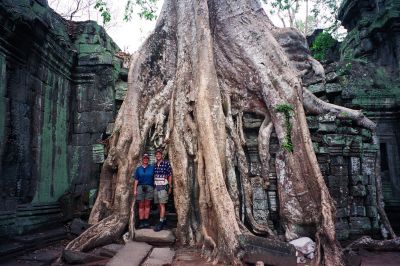 Those trees are really taking over!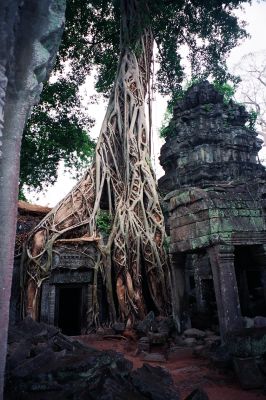 Aggg They are invading!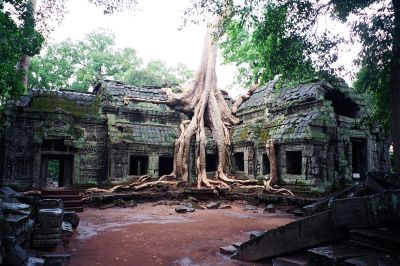 And winning!!!

The next temple was Ta Phrom, and was one of my favorites. They call it the jungle temple. This one was very cool. They have filmed part of Indiana Jones and part of Tomb Raider here. It is unique in that there has been no restoration here except to cut the road out to the temple. It is the way the French found it with the jungle trees all growing through the buildings and such. It gives it a very good atmosphere. To me, it felt like I was walking through a real-life Tomb-Raider game while visiting this temple.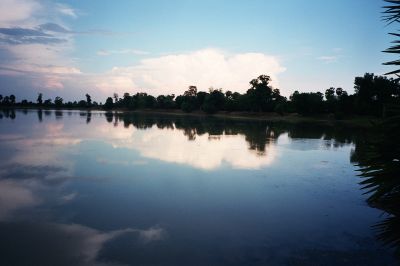 Sras Srang "Pool of Ablutions"

Our next stop was Banteay Kdei and Sras Srang. Banteay Kdey is a Buddhist temple from the latter part of the 12th century. Sras Srang "Pool of Ablutions" is just East of the temple and made for a cool water-reflection picture.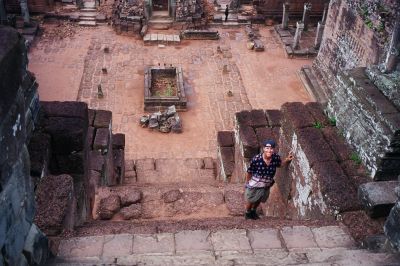 Kirk climbing Pre Rup

After that, we went to Pre Rup, another temple-mountain type of place built by Rajendravarman II. They say it may have served as an early royal crematorium. Since it is a pyramid, we, of course, had to climb it!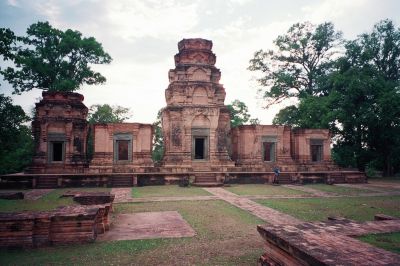 Prasat Kravan

Later, we went to Prasat Kravan. This one was different in that it was not built by royalty. It consisted of five brick towers in a line on the North-South direction. Inside two of the towers were interesting bas reliefs.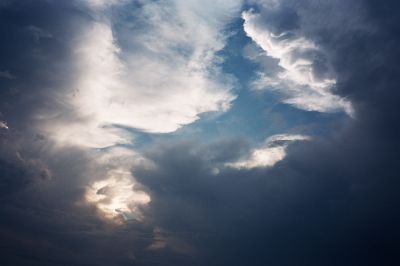 Sky over Phnom Bakheng

Our final stop of the day was Phnom Bakheng. This is one of the best places to go at Angkor for sunset. The approach to the temple is very, very steep. They even have elephants that you can ride to the top. For a price of course! We trudged up to the top and waited for the sunset. Unfortunately, the sky was not cooperating and the clouds obscured our sunset. So we left a bit early and headed back down to our guide and motorbike taxi.

On the way back to Siem Reap, we saw another amazing motorbike going down the road. This one was piled high with what looked like bags and bags of charcoal. It must have been at least 6 feet higher than the seat. And to top it off, someone was sitting on top of the load! It is AMAZING what they put on motorbikes out here!

After we returned to the guest house I went to exchange money so we could pay for the guide and our accommodation. Donna meanwhile negotiated with the guide to take us out again tomorrow to visit Banteay Srei and some of the more distant locations for $11. They seem to use US Dollars as the preferred currency in Cambodia! It really surprised us, as we haven't seen US Dollars in almost 7 months! The Cambodian currency the Riel is quite devalued so generally, if you owe $4.50, and you pay with a $5 bill, then, you'll get your change in Riel (they don't use coins) -- you'd get 2,000 Riel back. It's very strange.

We went back to the same place for dinner that night with the adorable little boy. Neither of us could eat all our meal, and as we were getting ready to leave two other boys came up with plastic bags and wanted our leftovers. We of course gave them to them, and then wished we had stopped eating earlier so they could have more.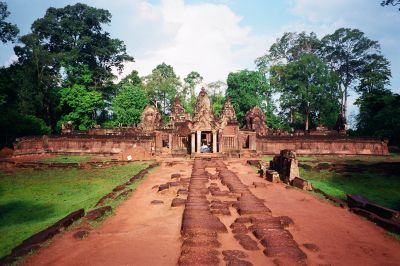 Entry to Banteay Srei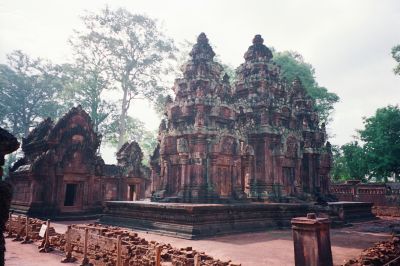 Banteay Srei Courtyard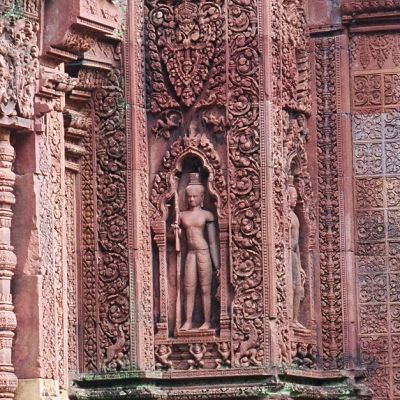 Carvings at Banteay Srei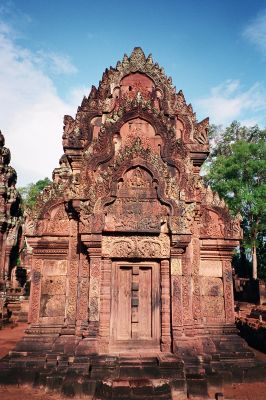 Nice door at Banteay Srei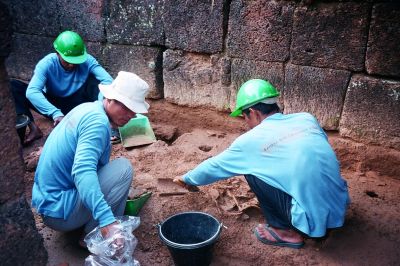 The dig

On April 29th, we met Han at 7:00 AM since it would take an hour to get to our first stop. We got baguettes and water on the way out for breakfast. Our first stop was Banteay Srei. This is a Hindu temple dedicated to Shiva. It is cut from stone with a pinkish hue and with very intricate carvings, making it one of the more beautiful temples at Angkor. The site isn't all that big, and the temple buildings themselves don't even look full-sized -- maybe 2/3 sized to me. The name means "Citadel of the Women" and it is said that it must have been built by a woman as the elaborate carvings are too fine for the touch of a man. It was built around 967 AD and is one of the few temples at Angkor, NOT commissioned by a king, but by a Brahmin wo may have been a tutor to Jayavarman V. While we were there, we got to observe some archaeologists at a dig at the site.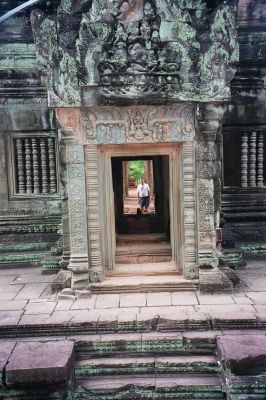 Can you see Kirk?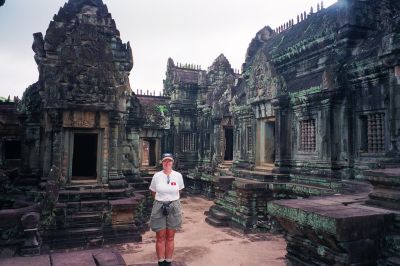 Donna in the courtyard

The next stop was Banteay Samre. It dates from the same period as Angkor Wat and was built by Suryavarman II (reigned 1112-52). One unique feature of this temple is that it had an interior moat. Unfortunately, it was all dried up. But it does make a unique perspective in some of the pictures.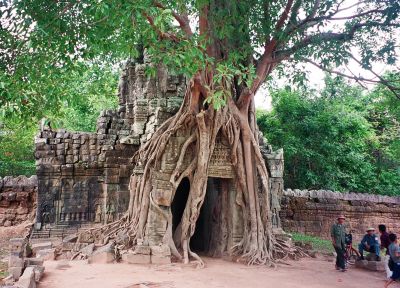 Eastern gate of Ta Som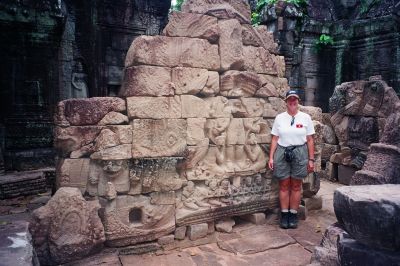 Donna and the Stonework

Our next stop was Ta Som built in the late 12th century. The central part is pretty well devasted, but the Eastern gate is neat in that it has a tree that is enveloping the gate. They also had some of the stonework stacked up that they were restoring.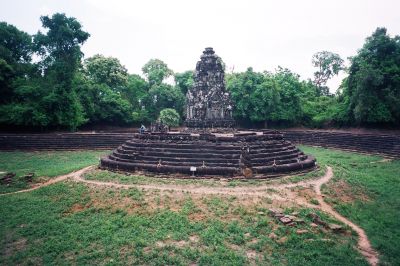 Circular island in central pool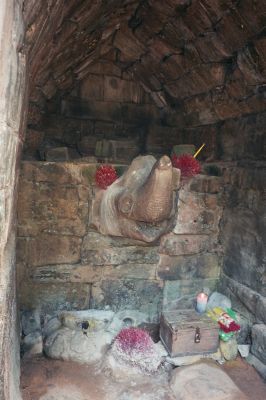 The elephant head spout

Next, we went to Preah Neak Pean, which was built in the late 12th century. It was neat in that it was a square pool (no water now) that fed into four smaller square pools, one on each side. The water flowed into the external pools through spouts that had designs of various heads; horse, elephant, lion and human. In the center pool was a circular island encircled by two naga (snakes). We walked around to all the pools and examined the heads and remaining statues.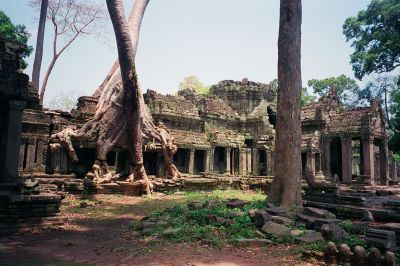 Trees taking over Preah Khan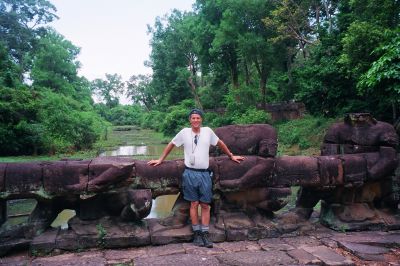 Kirk on the bridge leading into Preah Khan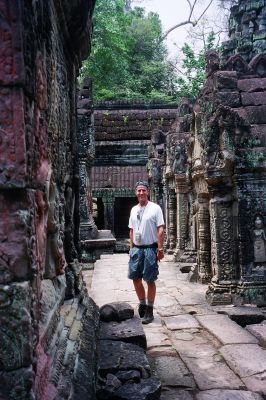 Kirk in Preah Khan

Our next stop was Preah Khan (Sacred Sword). This one is similar to Ta Prohm in that there is lots of jungle encroaching it (though less than Ta Prohm) and lots of it is in a jumbled ruined state. This has lots of narrow hallways and lichen covered stonework. It is quite a big site. It is dedicated to 515 divinities and during the course of a year 18 festivals took place here. We walked all around the place and at the East end there is a strange European-looking building that doesn't seem to match the rest of it.

Our next stop was the North gate of Angkor Thom. We had seen it the previous day, but today we wanted pictures of the statues outside the gate that depicted the "Churning of the Ocean of Milk".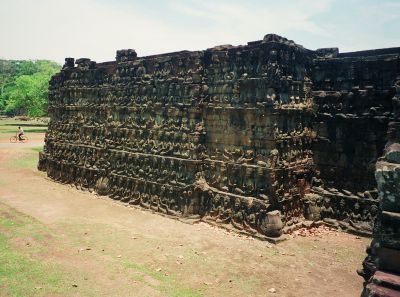 Front wall of the Terrace of the Leper Kings

Then we went to the Terrace of the Leper Kings inside Angkor Thom. This one has a platform that has a nude, though sexless, statue. They don't know what it is of. The front retaining walls of the terrace are decorated with at least 5 tiers of very good carvings of various figures. Behind this is another wall with more carvings that was only recently discovered. It makes sort of a winding narrow hallway through the mound. Pretty neat.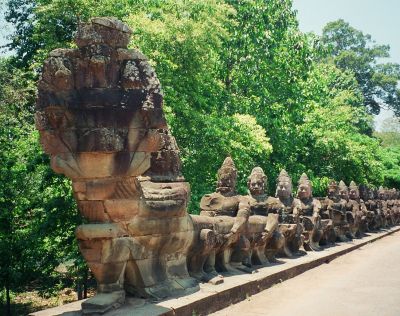 South Gate of Angkor Thom

Next we were off to the South gate of Angkor Thom for another picture and on to Baksei Chamkrong. This one is just made out of brick, which is unusual for Angkor. It was built in the 10th century and they think it was originally covered with lime mortar.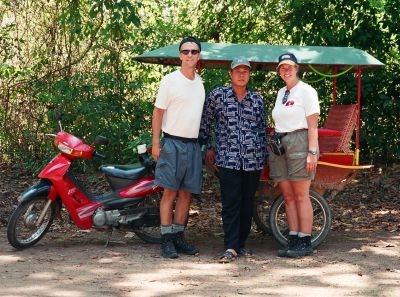 Kirk Han and Donna

By this time we had seen all we wanted of Angkor so we headed back to Siem Reap and thanked Han for his wonderful service. If you get out to Siem Reap and want to hire Han, here is his info:

Mr. Han Mony
The Motorbike Trailer Transport Service
Excellent English and very knowledgeable
about Angkor temples
Mobile Phone: 012 759 683
From overseas call: 855 12 759 683


We had some lunch and then rested in the room as it was terribly hot. We did buy a bus ticket back to Bangkok that would leave the next morning. No more pickup rides in Cambodia for us! We packed our bags and went to bed early as it was going to be a long day of travel the next day.

On April 30, we got up and got ready to go... and it's a good thing...the bus picked us up early! It wasn't a problem though as we were nearly ready when it got here. It wasn't a full-sized bus, but sort of a mini-bus. And just like all our other experiences here in South East Asia, they filled it to the brim! This bus had no space for luggage (no roof rack or lower holds) and they had sold every seat to backpackers, so all the floorspace was covered with bags! You couldn't get out of the bus at the various rest stops without moving bags out of the doorways and such. Pretty unsafe, but we made it to the border just fine. As we went across the border we were both very cautious about or money and pockets and had no problems. They did have us fill out a SARS-questionnaire as we crossed into Thailand, but that was no problem.

To be continued in Thailand!....


If you are reading chronologically, click here.