Vietnam 2003 Travelogue
Entries:

3/2/03 Hello from Vietnam!
Yesterday March 1, we got up VERY early for us, 5:00 AM, and packed up and headed over to Khao Sahn road to meet our mini-bus that was scheduled to take us to the Bangkok Airport at 5:50AM. We got ready faster than we expected, and got over to Khao Sahn at about 5:25, so we had a bit of time to wait. But it wasn't boring, a local Tuk Tuk driver came up and chatted with us. After he figured out we weren't going to go for a ride with him, he kind of relaxed and talked with us until our bus came. It was nice, I learned a lot about the Tuk Tuk business here. He rents his Tuk Tuk for 300B/day and spends about 120B on gas, but he makes about 800b/day in trips. That means 380b/day profit or slightly less than $10/day. Not much.

Well, we hopped on the minibus when it came. They went to a few more stops until it filled up and then we headed to the airport. We flew from Bangkok, Thailand to Ho-Chi-Minh City (Saigon), Vietnam. Saigon's name was changed to Ho Chi Mihn City in honor of Uncle Ho, or Ho Chi Minh, the revolutionary war hero. The flight was pretty short. I think 1 hour 10 minutes. Food on the flight was very good. They even gave all the women an orchid. When we arrived in Vietnam, we had to go through immigration. Boy did that take long! We stood in the queue for over an hour to get our passport stamped! But by then our bags were ready and waiting at baggage claim, and customs wasn't too bad. We had heard and read in our book that the Vietnamese can be a bit pushy with foreigners, but we didn't really know the extent of that until we stepped out the door of the airport. My goodness! We had to walk down a gauntlet of taxi drivers wanting our business, and wanting it NOW!

We decided to get a flight from Ho Chi Minh City to Hanoi right away because we decided it would allow us to see more than trying to do it all by train or bus. That way we can do the land travel only one way (we are flying back to Thailand out of Saigon in three weeks). We were able to get the last two tickets on the 5:30 PM flight from Ho Chi Minh to Hanoi. It was currently around noon. So we had a few hours to kill. We decided to leave our bags at the airport with the service counter 60,000D ($4) and take a ride into town.

So we changed our Thai Bhat to Vietnamese Dong and also traded some US$ to Dong as well since there was no ATM at the airport. It turns out the Dong is a very depressed currency. You get slightly over 15,000 dong for US$1.

We turned around and there was a nice taxi driver and he agreed to a US$4 ride into town. He initially wanted US$5, but our guidebook said it should be $4, so he agreed to that. He was very nice and spoke english fairly well. We went to the old section of the city where there was an ATM, and lots of stuff to look at. He agreed to pick us up again there at 3:30 and take us back to the airport.

Boy is traffic different in Vietnam! At first I thought there were no traffic lights, and everyone just went all at once. But in fact there are traffic lights at some of the intersections, and they are obeyed...sometimes. But with all the motorbikes, it seems everyone is going all directions at once. Also, it seems the most important part of a vehicle is the horn. They are honking at each other ALL THE TIME! Mostly little toots to say "I am here", or "get out of my way", or "MOVE OVER"! Mostly the latter.

When we got to the downtown area, we started to walk around and just get a feel of it. In the first half hour or so we must have been propositioned to buy this or that at least 100 times. Some people see us from across the road and just walk right on over and ask us to take a ride in their Cyclo, or Taxi or whatever. Lots of people were selling lighters, sunglasses etc.

When we found a place to sit down and eat something and have a cool drink, we sat facing the street in some deck chairs. While we were sitting there, it was an endless stream of vendors trying to sell us this or that. We had been reading our phrase book and found our new important word, "Khong". It means NO! Later we found another phrase that will be useful, "Di Di"! (Go Away!). We wandered around some more and found the park. It seemed to be a wonderfully peaceful oasis. No Vendors! Hooray! It seemed they were forbidden from the park, although they did stay on the outskirts and motioned to us through sign language that they wanted to take us for a ride! They were over 100 yards away!

At around 3:30 our taxi showed up and we headed back to the airport. The flight to Hanoi was uneventful, though they take you from the terminal to the plane in a bus here. We did meet a very nice girl in the airport in Saigon before we left for Hanoi and chatted with her briefly before boarding the plane for Hanoi. Her name was Ha and we enjoyed our opportunity to chat with someone without having to keep saying "no no no"!

At Hanoi, it seemed a bit more peaceful in the airport. The way to get into town here is via mini-bus. Vietnam airlines provides them. The book said it should cost $2. Of course the quoted price was $3, but they agreed on $2. I suspect the Vietnamese pay much less than that. Instead of dropping us off at the last stop (where we had asked to go), he took us to a hotel. It was $10/night, which was more than we wanted to spend. There were people waiting at the curb when he pulled up, wanting to show us around the hotel and take our bags inside! Obviously, somehow, he had called ahead or something. So, we convinced him that we didn't want to go there. He ended up taking us to the area we wanted to go (instead of dropping us off where we were supposed to be dropped off). Again, they were waiting at the curb...How do they do that? The girl walked us in the door, straight up the stairs and showed us a room. We were laughing hilariously. This was nuts! She showed us an enormous room with airconditioning and a private bathroom with hot water. How much is this room, we asked. $15. So, we immediately began retreating. So sorry to have wasted your time. Too much. Too much. She wanted to know how much we wanted to spend $4-6 we said. Oh. What's your maximum? $6. (US money is quoted here all the time, since the dong is very unwieldy $1=15,000 dong). Well, we made it all the way out the door and were standing on the street trying to figure out WHERE we were when she came running outside after us and asked us to wait, she came out with her boss. She offered us the room for $8 tonight and they would switch us to a room on a lower floor (this was on the 5th floor) tomorrow night for $6. We finally agreed...they were VERY persistent.

But that's not the end of it. About 10 minutes after we had gotten settled in, she knocked on our door. They had lost someone's reservation and needed to put that person in our room and move us to a different room in another hotel next door. The old bait-n-switch. I went to look at the room. It was not even their hotel...it was the one next door. The room was HUGE...much bigger. The only disadvantage was it fronted the street, so it was louder. But it was great.

Today, they moved us back to their hotel. Small room, no windows, and so far, no air conditioning (the air conditioner is broken). We are trying to work all that out. We don't care about the size of the room or the windows. We do care about the air conditioning. We'll see what happens.

This morning we went walking around the area to find a place to eat, and again, we are continuously propositioned to buy this or that, or take a ride on a Cyclo. We did find a good place to eat and I had a Chicken and noodle dish. It was wonderful! They also have Lemonade here! Hooray! They didn't have that at all in Thailand, and I had missed it since Austrailia where they have a wonderful lemon soft drink called Lift.

A few differences I have noticed here versus Thailand:

Motorbikes: They have tons of them! I think more than Thailand, they are slightly larger, maybe 150cc, and they seem to all be four stroke models. We saw a very few old Russian ones which are probably two-stroke, but NO japanese two-stroke bikes. This in addition to the lack of diesel cars, means they have less engine noise on the street, and less pollution! Hooray! The motorbike riders do not wear helmets. I think Donna saw three helmets in use on the at least thousand motorbike riders we have seen so far. (I saw none). No mirrors on the bikes. The mirrors are either removed or turned inward to effectively disable them. I suspect it is to make it easier to cut traffic, nothing to hit a car or other bike with, and the taxi driver says people think the mirrors are ugly. Also, there are many more motorbikes here than cars, a much larger proportion than in Thailand.

Driving: The drivers of all vehicles use their horns continuously. Always beeping or flashing their lights at the slower drivers ahead to get out of their way, or warn of their approach. (Probably because they have no mirrors to see the approaching vehicles!)

Vendors: Of course this seems to be the land of the hard sell. Any foriegner anywhere is constantly approached to buy this or that, or go here or there.

Organization: It seems so far that in the cities it is common for similar businesses to be on the same street. This morning we went down a street where all the businesses on the street were selling sheet metal fume hoods for over stoves, or other stuff made from sheet metal. They were all different stores, but the same product. Another street seemed to be the paint product street.

Dress: There is more traditional dress here than in Thailand. Lots of the street vendors wear the traditional asian straw conical hat.

Street Food Vendors: It seems so far there are far fewer street food vendors here than in Thailand. I have seen a few, but not the sheer numbers that were in the towns of Thailand. Also, related to this may be the fact that there seems to be no on-street parking; therefore, all the sidewalks are filled with parked motorbikes. It gets so bad in places that you can't walk on the sidewalks. You have to walk in the street to get around the motorbikes.

Litter: This unfortunately is not different than Thailand. There is litter everywhere! No public trash cans. It seems the streets and sidewalks are never cleaned either. Sweeped, but not cleaned.


3/14/03 Hanoi to Halong Bay...what a trip!
Ack! Vietnam is CRAZY!! First of all, let me go a little out of order and fill you in on what happened finally with our hotel debacle! We went over to talk to the people around noon the next afternoon and they insisted that we move back to their hotel. Kirk went over to check out the room. It was much smaller and had no windows, but it still had an air conditioner and hot shower, so we agreed. We packed everything back up (which actually involved quite a bit since there had been a minor explosion of sunscreen in Kirk's pack that we were cleaning up from) and moved everything back over to their hotel.

As we were standing in the room, now VERY sweaty from carting our bags down flights of stairs and back up in the heat of the Hanoi afternoon, we tried to turn on the air conditioner. Now, all the air conditioners at these hotels seem to be operated with remote control. This room had an air conditioner, but now, we couldn't find the remote control! What a pain! When Kirk went down to find the girl, who had just a moment ago said "if there was ANYTHING we needed...", she was most unhelpful, telling us that for $6, we shouldn't expect working air conditioning (nothwithstanding that we had it the night before -- in BOTH rooms they showed us). We had quite a confrontation, unfortunately, and made no headway. We left the hotel for the rest of the day, and she was supposed to speak with her boss to either fix the air conditioning or try and find us another room. End result: neither happened. We returned late that evening to a broken, remote-control-less air conditioner.

The next morning, guess what?! We were leaving to go get breakfast and the girl practically RAN out the door after us to inform us that they had rented our room for that night and we had to move out! They were throwing us out!! How's THAT for a nice hotel?!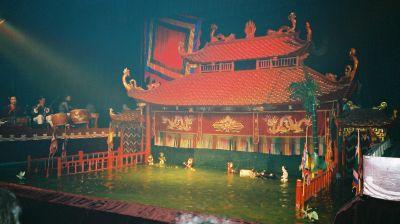 The Water Puppet stage with musicians to the left.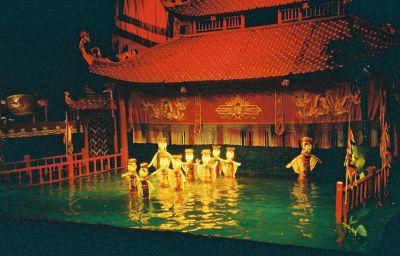 It was a pretty cool show!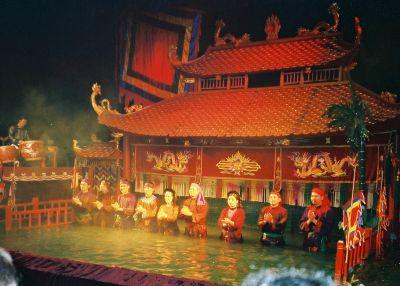 The hidden puppeteers.

Our first full day in Hanoi was spent wandering around and getting oriented. We did a little internet and then finished the day off with a trip to see Hanoi's famous Water Puppets.

We went over to the area where we had originally WANTED to find a guesthouse, found one for about $6 a night, and then went back to move our stuff. When we went to check out, they tried to overcharge us! Unbelieveable! We told them that we would make sure that we let our friends know how we had been treated there and not to stay at their hotel! They asked where we were moving and we told them. Suddenly, they wanted us to consider staying. No, we said, never. And walked out the door. The name of the hotel is Ngoc Mai Hotel. I would avoid them at all costs.

Vietnam is a rather interesting place in that they seem to have no regard whatsoever for copyright laws here. They steal everything. They photocopy books. They illegally copy CDs and DVDs. You often can't tell that you've purchased a copy right away (although the price SHOULD be an indicator). One of the biggest things for travellers though is the photocopies of travel books, which tend to be very expensive. You name it, and they've got it...Rough Guide, Let's Go, Lonely Planet... you can usually pick one up for about 2 or 3 dollars (sometimes less if you are a really good negotiator). On March 2nd, we had decided that we needed a more detailed guide for Vietnam than what we had (Lonely Planet's Southeast Asia on a Shoestring just wasn't providing sufficient detail) and had found ourselves a used copy of LP Vietnam. So, we headed off to do some errands before we started our sightseeing. We then discovered that errands in Vietnam take about 4 times as long as in any other country we had encountered so far. We can't just go to the post office to mail something...we have to go to the INTERNATIONAL POST OFFICE...of course, it took us two post office visits to find this out! And, by the time we arrived at the international post office, it was closed for lunch.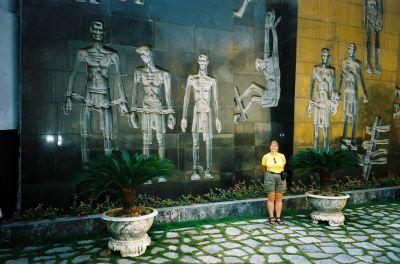 Donna at a monument at the Hoa Lo Prison.

Well, finally, we did get our stuff mailed out and decided to do a little sightseeing. First (on March 3rd, by the way), we went to Ngoc Son Temple, which is a temple on an island in Hoan Kiem Lake, in the center of the Old Quarter. It was nice, but quite touristy, so we didn't stay long. We then headed to Hoa Lo Prison, which many people (at least in the US) know as the "Hanoi Hilton". The prison was interesting, but most of the displays were in Vietnamese, so it would have been helpful to have had an English-speaking guide. One thing that we found interesting, though: despite the prison's notoriety during the Vietnam-American War, the vast majority of information and displays in the prison were dedicated to the imprisonment of Vietnamese Revolutionary Political Prisoners by the French (i.e., through 1954). Only one small area even mentioned the "American War", as it is called here.




One of the canals in North Hanoi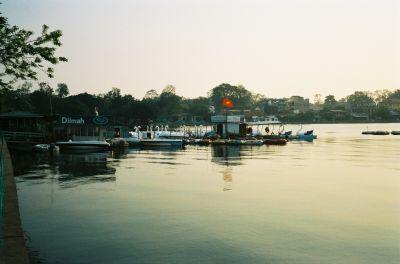 Sunset at West Lake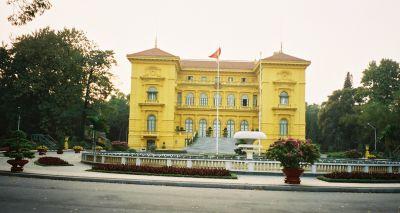 The presidential palace in Hanoi

For the rest of the afternoon, we wandered around town on the motorbike, heading far north to Tay Ho and back. We stopped at one of Hanoi's many lakes to watch the sunset, but then decided we were a bit too early. We drove around a bit more and decided to head back to the Old Quarter and get some dinner. We decided to revert to our habits in Thailand and find ourselves a street cafe. As we drove toward the Quarter, we examined several places and picked one that looked good (not a westerner in sight!). We pulled up our motorbike and found two available plastic stools at an open table. The food, once we figured out what to order (there were no menus), was delicious...and cheap! 5000 dong per dish! That's less than US$1 total.

After dinner, we stopped at a couple of places to try and find ourselves a tour of Halong Bay. We wanted to do a three day trip, including Cat Ba Island and were looking at the various options/prices available. While we were coming out of one shop, we were stopped by a girl in a neighboring store. At first, I thought to myself, okay, here we go..she's going to try and sell us something. But she started to speak to us in German, which was a bit surprising. Normally, all the vendors speak to you in English, automatically assuming everyone speaks English. I actually DO remember a little German...enough to tell her we aren't German. We proceeded to stand there and talk to her for almost an hour! She was really sweet! Her name is Khuyen (pronounced "Quinn") and is studying German. She thought we were German and was hoping to practice her language skills!

We headed back to the hotel, where we booked our Halong Bay tour and stayed in for the rest of the night to prepare for the next day's sightseeing. We were planning a marathon day and needed to plan a route, so as to be able to see the most in the least amount of time (plus many places only have certain odd hours).

On March 4th, we got up EARLY. Our first stop was to be Ho Chi Minh's Mausoleum, which is only open from 8AM to 11AM Tuesday to Thursday, 9 months a year. Interestingly, he actually wanted to be cremated, yet his wishes were ignored and this mausoleum was built between 1973 and 1975. Photography is permitted outside, but not inside...this is taken so seriously that all handbags, bags, cameras, etc. must be left with security prior to entering the mausoleum. Once you clear registration and security, you are then "marched" single file (and it really did seem that way) by the honour guard into the mausoleum. Just as you enter, guards make sure hats are removed out of respect. One guy had a pack of gum in his pocket and the guard pulled him out of line to have him reveal what he was concealing! The atmosphere in the mausoleum itself was quite reserved. The lighting was dim and the only noise was our footsteps on the marble floors. It was quite strange to parade around a glass case containing the once-vibrant body of Ho Chi Minh, now looking frail and yet still as if he could sit up at any moment. But, we were ushered along quickly, not pausing at any point, and then we were out the door. That was strange!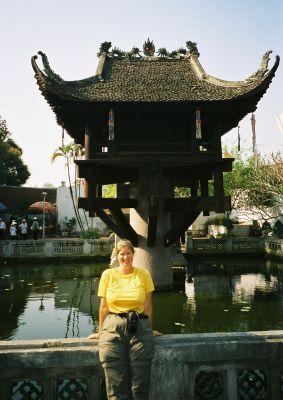 One Pillar Pagoda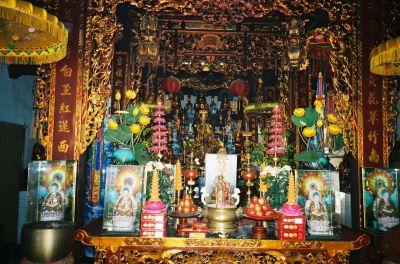 Altar of Dien Huu Pagoda

Directly behind the Mausoleum is the One Pillar Pagoda, which is quite famous. It was built by Emperor Ly Thai Tong, who ruled from 1028 to 1054. He built the Pagoda in 1049 after having a dream that seemingly came true. It is built of wood on a single stone pillar and is designed to resemble a lotus blossom rising out of a sea of sorrow. One of the last acts of the French before quitting Hanoi in 1954 was to destroy it; the structure was rebuilt by the new government. We also visited Dien Huu Pagoda, which is directly behind the One Pillar Pagoda.

Next we headed off to the Ho Chi Minh Museum, which was quite nearby. We had heard that it was best to spring for an English-language guide since it would be difficult to get much out of the museum otherwise, so we negotiated with one at the door and arrived at a price of 20000 dong (about US$1.30). He took us through the museum, explaining the exhibits, which are arranged in two sections ("Past" and "Future"). It was quite interesting, but we did get our first REAL taste of the communist perspective with repeated references to "American Imperialists". We did find the museum quite interesting, though, particularly as it explained quite a bit of Vietnam's struggle against the French and Chinese for independence, which they finally won in 1954.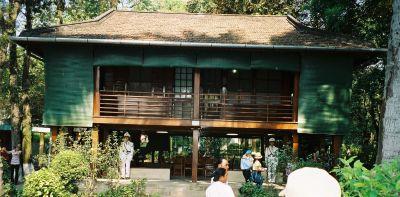 Ho Chi Minh's Stilt House

Staying on theme, we headed over to the Ho Chi Minh Stilt House (can you tell they really like this guy?). No one really knows how much time Uncle Ho spent here (if any), but this house is supposed to be where he lived from 1958 to 1969. It really was a beautiful place.



| | |
| --- | --- |
| One of the stelae at Temple of Literature | Bell at Temple of Literature |
Next, we went off to the Temple of Literature. It was getting near 11AM, when many of the museums and other places were closing. The Temple of Literature stays open through lunch (yay)! It was much different than either Kirk or I expected! It was founded in 1070 by Emperor Ly Thanh Tong, who dedicated it to Confucius to honor scholars and men of literary accomplishment. Vietnam's first university was established here in 1076. In 1484 stelae were erected in the temple premises to record the names, places of birth and achievements of men who received doctorates in each triennial exam, commencing in 1442.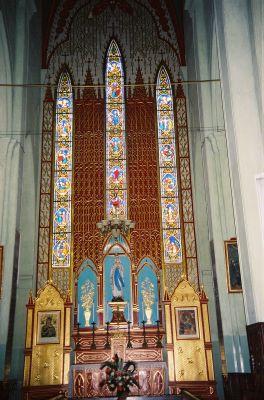 St Joseph's Cathedral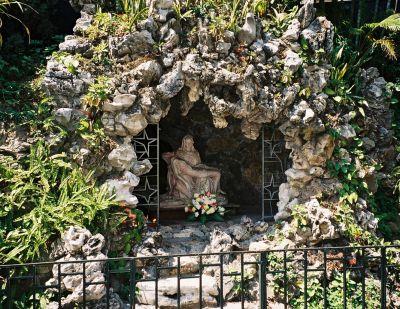 The statue out back

St. Joseph's Cathedral was next. We found the cathedral, but weren't immediately sure how to get in. It looked as if it was locked up tight. But eventually, we found the entrance. The cathedral was fabulous! It was inaugurated in 1886 and has some amazing stained glass windows!! In addition, there is an amazing mural and statue of Mary holding Jesus behind the cathedral that shouldn't be missed! We would have missed it if the curator hadn't taken us outside and shown it to us! He was inside ringing the bells (to mark noon...Kirk followed him up the stairs of the bell tower...I didn't because it was WAY too loud) when we were looking around the church.

By now, we were starving, so we headed toward the museums (which didn't open until at least 1PM or so) to find food. We found parking next to the Revolutionary Museum and then found a restaurant right next door. It looked sort of cafe-ish. We sat down and soon discovered they actually had a menu (but I already knew what I wanted). I pointed at a dish that the man at the table next to me had. I asked what it was...they pointed at it on the menu and I ordered it. Then, Kirk ordered his dish. There was some sort of a turf-tiff going on between some wait-staff. Two different groups of people seemed to be fighting over who was going to wait on us. We tried to stay out of it. We just wanted our food.

They brought my food, and it was DELIGHTFUL. It was "Lon Xien Nuong Ngu Vi" or Beef pierced and roasted with five spices. It was served with three dipping sauces. To date, it is STILL one of my favorite meals here. Kirk really liked it too. But, when they brought Kirk's food, they brought one for me too! That is NOT what we ordered! We looked for our waiter, but he never came back. We didn't flag anyone else down, I just pushed the dish aside, figuring we'd deal with it when he came back. He didn't come back until it was time to pay and then he insisted we pay for the extra dish. We didn't want to. It was quite an ordeal. We finally offered to pay half. Eventually, they gave us the half we offered back and we left.

We tried to go to the Revolutionary Museum, which Lonely Planet said would be open, but it wasn't open for another half hour. We would rather go to the history museum, which also opened in a half hour and was across the street, so we headed over there to wait. There was a nice little cafe in the shade and we sat down and ordered a cold drink. The nice man who waited on us even turned a fan directly on us, since it was so hot outside!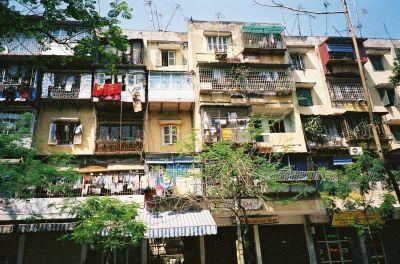 Hanoi street scene on way to the museum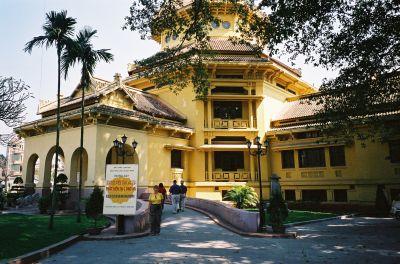 History Museum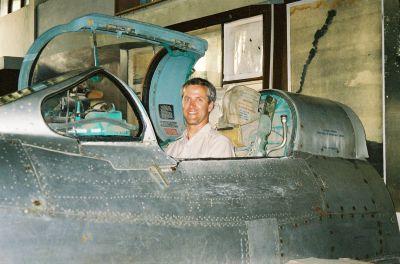 Kirk in a Mig cockpit at the Air Force Museum

At 1:30 exactly, we paid for our drinks, bought our tickets for the museum and headed inside. The History Museum is actually in one of Hanoi's most stunning pieces of architecture. The exhibits were quite varied and interesting, although, perhaps not quite as friendly as the Bangkok museum was for English-language patrons. We did not hire an English guide this time. By the time we finished the museum, we had a little over an hour before the remaining museums would all shut their doors. We weren't sure which one to go to, but finally decided to try for the Air Force Museum, which was a distance away, but open a bit later. We drove across town and found the museum (or so we thought), parked the motorbike and tried to go in...it was closed! What's up with THAT? We soon realized that we were at the Air DEFENSE Museum...the Air FORCE Museum was down the street. We had to go a little further. By the time we got to the right place, we had about a half hour to go in and look around. As it turned out, it was really plenty of time, since it was fairly small. We looked at the outdoor exhibits after they had closed up everything inside.

By now, we were pretty tired! We had done quite a lot today. We headed back toward the Old Quarter at a leisurely pace. We needed to get some dinner, and thought it might be fun to invite the girl we had met last night, Khuyen. We stopped by her shop, but she was working and couldn't get away. She asked if we could have dinner the next day, but we were leaving for Halong Bay. We decided to have dinner the night we got back, Friday.

We had a quiet little dinner and then headed back to the hotel to pack and get ready for our trip to the bay. We made arrangements to check back into the same hotel when we got back from Halong Bay (at the same rate). We were relieved not to have to go through the whole ordeal of finding a new hotel and negotiating a rate all over again when we got back!

On March 5th, we were up and ready to go. As we sat by the door, ladies surged toward the stairs trying to sell us baguettes and donuts and anything else we might buy. The proprietress of the hotel came out and carefully told us what each item was worth. No more than 1000 dong for a baguette! The donuts and larger items, 2000 dong each, no more. It was nice to have some idea of what we should be paying! A few minutes later, a man came by to get us and told us to follow him. He led us down the street...several streets in fact. We had assumed they would pick us up in a van or bus or minibus. But nope. Not in Vietnam. We waited in front of a travelers cafe for them to bring some other groups of people and then they herded us all down more streets out to the main highway, where the buses were waiting. There, they divided us onto various buses. Apparently, the bus we should have been on, the one with the people taking the three day trek, was full, so we ended up on a small one, with mostly people on one or two day treks. We didn't care. We were on a bus. Our packs were with us. We had seats. There were a lot of unhappy people around us though. There were two German guys that I don't think stopped complaining the entire three days we were on the trip. I sat next to two nice folks on the bus that were on a one-day trip to Halong Bayand had just made their way up from Hoi An. We chatted for a good way out to Halong and they gave me some tips about Hoi An. They had had some clothes made in Hoi An (which is what the city is famous for) and told me about the shop where they had had them made. The woman who made them, Emma (at Anh Huy, No. 1, Hoi An Market, Tel: 0510-863-998, Email: tranthithuy81@hotmail.com), not only made clothes for them, but also invited them to her home for dinner! They said it was the best meal they had had so far in Vietnam!

We arrived in Halong City after about 2 to 2 1/2 hours in the bus over a road that, in some spots, was just being constructed. Kirk noted, and it seems to be true, "They are building Vietnam as fast as they can!" In Halong City, we unloaded into a hotel for lunch -- it was pretty good. There were several different dishes that were passed around the table until nothing was left! Yum! Kirk had sat next to an Australian couple, Kean and Linda, on the bus; they were married exactly one week before us and had been on the road for seven months. They are almost at the end of their trip. After Vietnam, they head to Perth for a month and then back home to Sydney.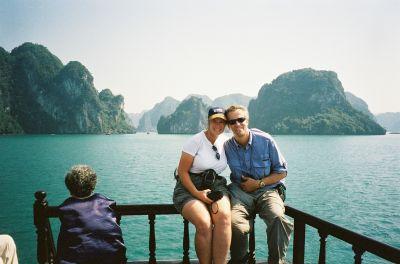 On the boat to Ha Long Bay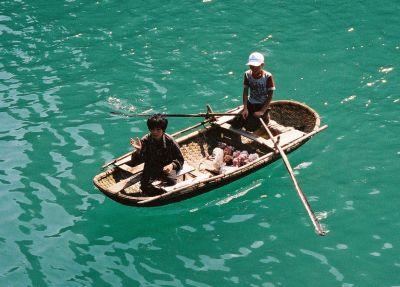 Some boys we saw on the way.

After lunch, we had to sort ourselves out (the guides were terribly confused, it seemed) into different buses. There were different buses for each group, the 1-day trip, 2-day trip and 3-day trip. We found our bus and got on for the short ride to the wharf. We all loaded onto our quaint chinese-style junk (although it had no sails, but that was okay, because it meant we'd move faster and see a lot more), stored our gear, and then Kirk and I headed onto the upper deck so we'd have a good (and hopefully smoke-free) location from which to view the bay.

Halong Bay is beautiful! It consists of over 3000 islands of varying sizes, shapes and colors, scattered around the bay. Halong means Descending Dragon. The dragon may be legend, but a mysterious sea creature known as Big Tarasque has been reported by people in Halong Bay area. We never saw it, though!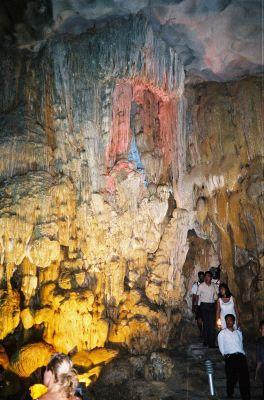 Surprising Cave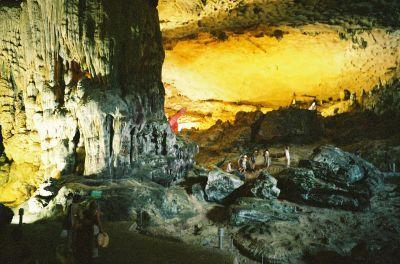 Isn't it HUGE!?!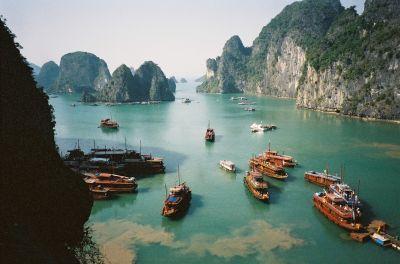 The view from the cave exit. Lots of tourist boats!

It would be amazingly easy to get lost in Halong Bay. We toured through the bay for well over two hours, before pulling up at one island that was the home of Sung Sot ("Surprising Cave"), one of the largest caves in Halong Bay. It was ENORMOUS!! Although neither Kirk nor I had been in Carlsbad Caverns in years, we think it is probably on par with that. For years, fishermen and boat people had taken refuge in the cave from inclimate weather. Entire armies had hidden there in preparation for battle. As a result, there has been a lot of damage in the cave. However, despite the recent designation as a World Heritage Site, the Vietnamese Government seems to have done little to educate or train its tour guides to prevent further damage; people were allowed to run rampant in the caves -- climbing on rocks, leaving the marked path, touching stalactites and stalagmites, all of which damages a growing cave. It was a painful sight to see. We are quite hopeful that this will change in near future.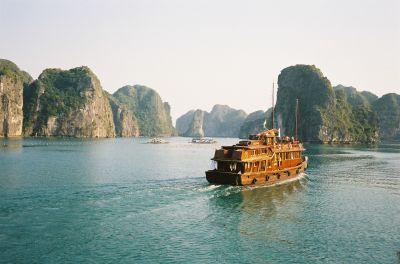 This boat is similar to ours, except ours had no masts.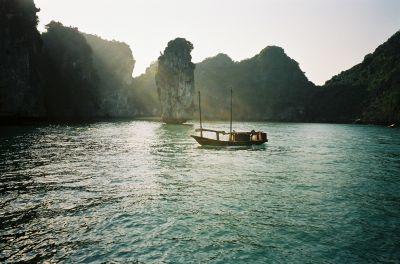 There were a few sailboats on the bay too.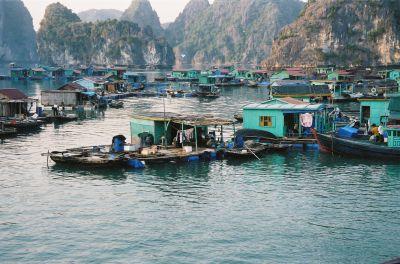 Chinese fishermen live in these villages.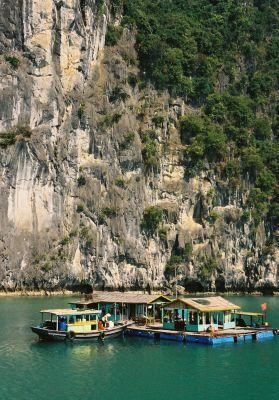 Nearly all their lives is spent on the water.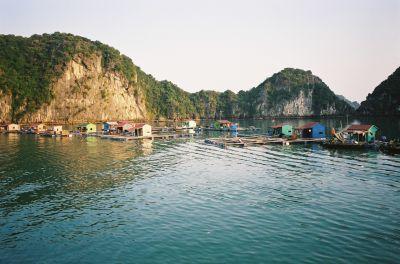 We even saw some that had dogs on the rafts.

After touring the cave, we reboarded our boat and headed for Cat Ba Island, the largest island in Halong Bay. Cat Ba has a total area of about 350 square km, much of which were declared a national park in 1986. We dropped off all but 12 passengers (including me and Kirk) and then our boat motored back out into the bay, past one of the boat people's villages on the bay into a deserted cove. There, we moored for the night. Kirk and I had elected to spend one of our two nights on the boat. As the passengers hung out on the decks chatting, the crew busily readied the boat for the night and prepared dinner.

Kirk and I spent a good deal of time during the day and while waiting for dinner chatting with Irene and Cynthia, a couple of older ladies who were traveling together. Irene is from Belgium and is a retired teacher. Cynthia is from the UK. They had met while traveling through Laos, where Kirk and I plan to visit next month. We thoroughly enjoyed our time getting to know them and hearing of their experiences, both of traveling abroad and just of life in general.

Dinner was fantastic! We sat with two Jackies, which made remembering their names easy! Afterwards, each table of 4 seemed to get embroiled in some sort of game. The table next to us started playing skipbo. The table behind them played either hearts or spades (I can't remember). We taught the Jackies to play speed scrabble. At some point in the evening, the various crew members all came by and would stop at each table, entranced, watching. Apparently, cards are not often played in Vietnam, nor is scrabble (of any sort). I felt sort of bad we weren't playing a game we could invite them to join us in.

Eventually, we all decided to turn in. It felt very late, although when we looked at our watches, it wasn't really. There were berths below deck that we had been assigned earlier and Kirk and I retired to ours. It was fairly hot and we wanted to sleep with our window open, but decided that in order to do so, we'd need to hang our mosquito net. So, we spent about 30 minutes figuring it out (it was the first time we'd had an opportunity to use it!). But, use it we did. And with the window open, the room cooled off nicely. A quick trip upstairs to ask the captain to turn off the generator, which not only made a lot of noise, but spewed quite a bit of diesel fumes, and we were set for the best night's sleep since we had arrived in Asia. No motor bikes, traffic, cocks crowing, monks chanting, market noise, nothing. Well, there WERE a few birds chirping on a nearby island in the morning. And the captain did start up the engines in the middle of the night to reposition the boat and again in the morning to motor back to the harbor, but it was perfect as far as we were concerned!




The were constructing the road as we drove through on the bus.

On March 6, we got back to port, had our breakfast on board and then waited for our guide to come and get us. It turns out, we were the only 3-day trekkers on the boat. Everyone else was heading back that day. We were bused from the wharf to the "city" or fishing harbor, which was about 20 minutes away, and where all the tourist hotels are located. We had about 20 minutes to check in, change and then we were leaving for the "long trek" for which we had signed up. There was a "short trek" option or a "long trek" option. We chose the latter. It was about 12km and traversed 6 mountains as you trek through Cat Ba National Park to Viet Hai fishing village.

We took a long bus trip to the beginning of the trek. The views on that trip were incredible in and of themselves! We arrived at the entrance to the National Park and met our guide for the trek. There were a good number of people on our trek, many of whom we had a chance to chat with during the 3 hours or so that we were out walking. We met a couple from Germany, Stephanie and Christian, and a couple from France, Nathalie and Nicolas, who we ended up traveling with for a while afterwards. We chatted with an Aussie (Mike), who is living in China. It was quite interesting to get his opinion on living in a communist country, and on the differences between China and Vietnam.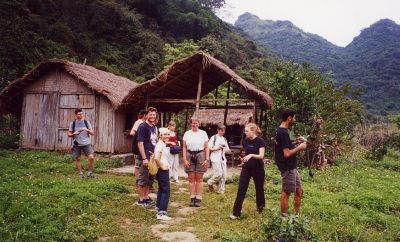 A hut we stopped at near the end of our trek

The trek itself was great! It was hard work, yes, but Kirk and I were amazed at the terrain! Many of the rocks were incredibly sharp on top as if they were covered with shards of glass. We were amazed that men had crawled through the jungles over rocks like this during various wars! We couldn't believe how unfriendly a place it could be! Some of the hills/mountains we climbed were STEEP! Others weren't so bad. Luckily the day that we picked to do this trek turned out to be a rather cool, overcast day.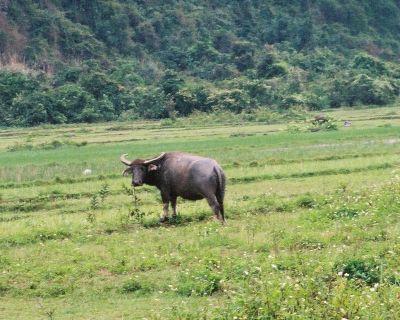 A water buffalo we saw at Viet Hai

Eventually, we ended up in a little fishing village, Viet Hai, where we stopped and had lunch. Afterwards, we walked a bit further, where we caught another boat that took us back to the fishing harbor and we were returned to our hotels to shower and relax for a bit before dinner.

Kirk and I happily showered and lounged a bit before heading down for dinner. By the way, did I mention our hotel room was 602? That means it's really on the 7th floor. And in Vietnam, there ARE no elevators! Only stairs! And we ALWAYS seem to be on an upper floor. So all day long, we seem to be going up or down. After climbing up the stairs to our room with our packs in the morning, we were out of breath...quickly had to change clothes and run back out. Then, AFTER the trek (climbing up and down mountains all day), we had to climb up these stairs again to get back to our room. So, we figured, take anything downstairs we might need for the night...once we went back up, we were in for good.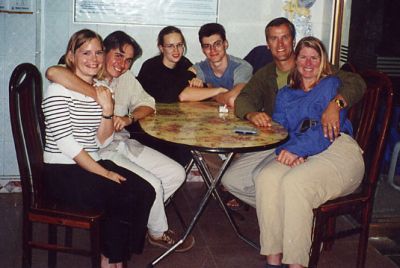 Nathalie, Nicolas, Stephanie, Christian, Kirk, and Donna

We ate dinner with Stephanie, Christian, Nicolas and Nathalie, thoroughly enjoying a situation where none of us had a common native language. After dinner, at Christian's suggestion, we went down the street where we thought an Australian band was playing, but it turned out to be a bar that served Australian beer. That didn't really interest Kirk and I, but when we walked in, we ran into Mike, Kean and Linda. We ended up chatting with Kean and Linda for well over an hour -- by that time, Mike, Christian and Stephanie had all left. The bar, by the way, is actually run by a kiwi ex-pat who saw an opportunity in Cat Ba. Go figure. We enjoyed our sodas, though. :)

On March 7th, we got up early, showered, packed and were getting ready to go downstairs when we got a call from the front desk. They said we were supposed to be downstairs for breakfast right now. That was quite strange, since our guide had told us we didn't need to be there for another half-hour. We were NOT going to go down there and climb back up for our packs when we were ALMOST done packing, so we finished up and were downstairs a few minutes later. It was no big deal. Breakfast consisted of baguettes with cheese and bananas. The breakfast on the boat was much fancier (a much better deal, even though we had to pay for our drinks there). However, I am now addicted to baguettes with cheese. This is the really good kind of soft french cheese that I used to have as child and haven't had in years! The baguettes here are also quite good.

Afterwards, we were herded back on a bus, driven back to the wharf (well, mostly...they are, of course, constructing the road and the bus couldn't get through, so we had to walk part of the way), and get back on the boat. It was a different boat this time. And Kean and Linda were on our boat. They had originally planned to go back a day later, but the cold weather had caused them to cut their stay on Cat Ba short.

The ride back from Cat Ba to Halong City was uneventful but beautiful. It was different than the ride out, since the weather was quite different. No longer was the sun out and shining, the weather warm. Instead, it was cold and overcast, giving the water a grey hue.

In Halong City, they fed us again. Kirk, Kean, Linda and I had the misfortune this time of sitting next to the complaining German guys (the vegetarians who had sat behind us on the bus from Hanoi on the first day). They couldn't seem to find a single good thing to say. Nothing was right. It was simply unreal.

The bus ride from Halong City to Hanoi was pretty uneventful. We had seats. The ride was long, but we had done it before, so we knew what to expect. But, we were on our way back to Hanoi...briefly.

Until next time!


3/16/03 Hanoi to Saigon
On March 7th, we arrived back in Hanoi in the afternoon and went to our old hotel which we had reserved and we found that in the meantime they had filled up and couldn't honor our reservation. Oh well, this is Vietnam! Of course they had a solution, their cousin had a hotel just around the corner and we could go there. We did, and it was a bit more than "around the corner", but it was a decent room, and they accepted the price we had been paying at the other hotel (102,000 dong). And they managed to find rooms for the other two couples we brought along with us (Nathalie & Nicolas and Stephanie & Christian).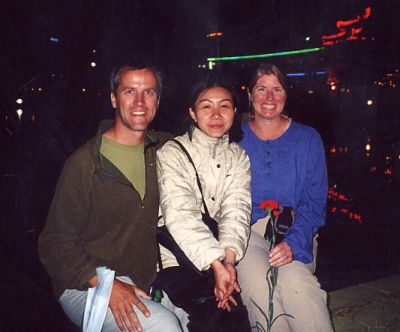 Kirk, Khuyen, and Donna

That evening, the six of us scoured the town looking for cheap tickets for a bus to Ninh Binh. We finally figured out we were going to have to take a "local" bus and the tickets should be under $2 each. We chatted with them for a while and then went to meet with our Vietnamese friend, Khuyen. She spoke German well, so we invited Stephanie and Chrstian who are German to join us. Khuyen was very happy for that, and she talked to them a lot in German. Donna could understand it too, but for a bit, I was left out of the conversation.

Khuyen brought us to a nice inexpensive Vietnamese place for dinner. We had a delightful time eating and chatting. Khuyen explained to us that tomorrow, March 8th, is "Woman's Day" in Vietnam. Woman's Day is similar to Mother's Day in the U.S., except that ALL WOMEN are recognized and given gifts by loved ones (friends and family). After dinner, Khuyen ran across the street and bought a flower for both Donna and Stephanie in honor of Woman's Day. After dinner, Donna and I walked around with Khuyen for a bit and then walked her to her bus stop and waited until it came to pick her up. She made the last bus of the night by five minutes!

The next morning, March 8, we ate breakfast with Stephanie, Christian, Nathalie and Nicolas, and then all took a taxi to the bus station. From there, we caught a local bus from Hanoi to Ninh Binh. As the driver was closing the tailgate of the taxi he slammed the door on the buckle of Donna's backpack and shattered it. We didn't realize this until we arrived at the bus station.

At the bus station, we went in and found where to get the ticket to Ninh Binh, but they wouldn't sell it to us just then; we had to wait a half hour. After waiting quite a while, I went up and bought our tickets for 14,000 Dong each, and then they wanted us to get on board right away. Weird. Remember now, this is a local bus. That means No Air Con, No storage underneath, and LOTS of people. We boarded the bus, and there was only 1 other foreigner besides the six of us. The bus was entirely full. They put our bags on the roof, and then we all got in. All of us got a regular seat except Nathalie, who had to sit on a little stool in the middle of the aisle. After we got going, I counted the people and it came out that there were 27 actual seats, but over 56 people on board. In the front they were on stools down the middle, but in the back there wasn't enough room, so there were several people standing. Even in the footwell of the exit door at the sides of the bus! Thank goodness we only had a 115km or so trip.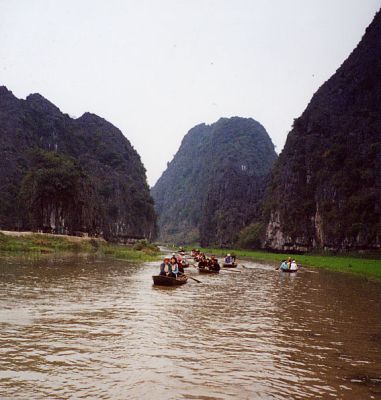 The rowboats going down the canal at Tam Coc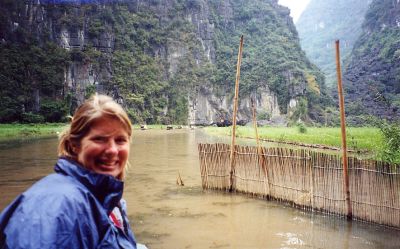 Tam Coc is a beautiful area!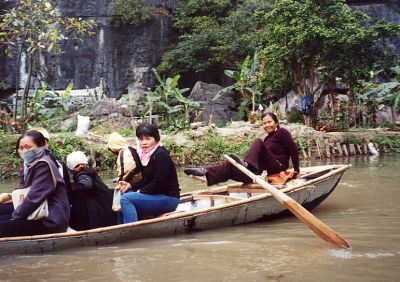 One of the foot rowers.

When we arrived in Ninh Binh we checked into the Thanh Thuy's Guest House. Then we rented a motorcycle from the Queen Mini Hotel. Just $2 for the afternoon. We drove out to Tam Coc and got there just as Christian, Stephanie, Nathalie and Nicolas were getting into their rowboats. Tam Coc is visually similar to Ha Long Bay, except the islands are in rice paddies instead of the ocean. Here, to visit them, you have to buy a ticket and get in a boat that is rowed and steered by two people. They row you about 3km out and back, along a canal that runs through the rice fields and mountains. It was very nice on the way out. You even go through a tunnel or two. The people here row their boats with their feet.

The way back was not so pleasant to say the least. That is when the rower and steerer turn on the hard sell. The woman of the team (formerly the steerer), opened up a very large bundle of embroidered tableclothes and napkins. At first Donna and I had been planning not to buy anything, but I think temptation got the better of us, and we did end up buying a tablecloth. We bargained hard and got it for 135,000 Dong including napkins and doilies. We aren't sure yet if we paid too much. After that it got worse. They continued to harass and beg for a tip for nearly 25 minutes. If they had just mentioned that a tip is usually given and left it at that, we may have given them one, but with so much begging and harassing, we gave them none. It really ruined the rest of the boat ride.

That evening we met up again with Nicolas, Nathalie, Stephanie and Christian for dinner. We ate at a local street vendor on the sidewalk. It was very good. They just brought us the food, no menu. We had some fried disk like things that had shrimps in them, and then some lettuce with dipping sauce and also some very large spring rolls. Very nice. It was actually the last we saw of Nicolas and Nathalie. The next day, they headed back north toward Hanoi. Perhaps we will see them when we are in France!

The next day, March 9, we rented a motorbike in the morning and went all around town trying to get a train ticket from Ninh Binh to Hue. It looked pretty unlikely, but we had to check back that afternoon at the train station to be sure. When we got back to our hotel, we found Stephanie and Christian there eating breakfast.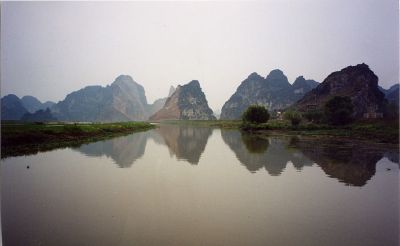 Kenh Ga is very beautiful too!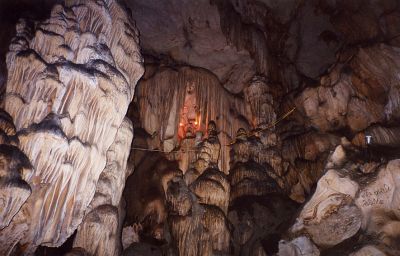 Inside the Kenh Ga Cave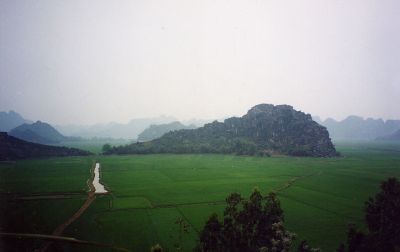 The view as you exit the cave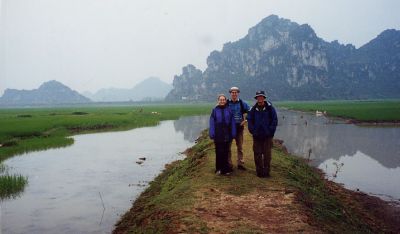 Stephanie, Christian and Kirk, returning from the cave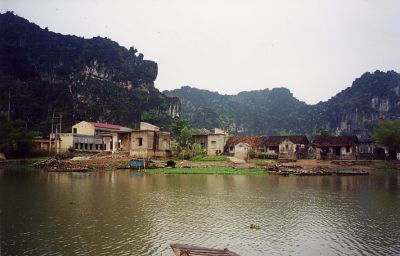 Kenh Ga Village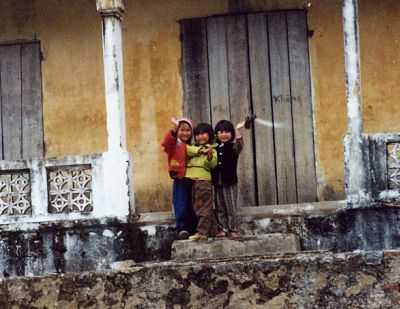 Happy village girls

We all decided to go together to Kenh Ga on motorbikes. Kenh Ga is an area with a floating village and a cave. The weather started getting bad as we drove out there, and for the last 2-3k, it poured rain like crazy. We both had our rain coats on, but not our rain pants. My pants were soaked by the time we stopped. We stopped at a restaurant right next to the ticket booth for Kenh Ga. You have to take a boat out to see the village and cave and stuff. We waited for the rain to stop and then got our tickets and got on the boat. This boat was a long open boat with a roof and a diesel engine at the back. It was a nice ride out to the sights. The four of us were the only passengers.

The ride out was pleasant. Our driver spoke no english but whenever you got up to take a picture, he would slow the boat down so you could get a good shot.

Along the way we passed several other cement boats that they used to transport rock from the mountain down the canals to be processed. They filled the boats so full that the water was only a few inches from going over the gunwales.

At the turn around point, they stopped and motioned for us to get off and go to the cave. We walked on a berm between the rice fields for about 1km and found the cave. When we got there, a guide showed us through the cave. It was quite large as we have found all the Vietnamese caves to be. Though, like the others, there is a lot of graffitti and damage done by previous occupants and visitors. The caves were used in war time to hide troops, and also by the local villagers for shelter from storms.

While we walked back from the cave I got a chance to chat with the guide and found out that a local farmer makes about 5,000,000 dong/year. That's around $350 US. A Chinese motorbike (the kind that most people around here have) costs 10,000,000 dong.

When we arrived back at the dock, we parted company with Stephanie and Christian. They went on to see other sites, and we went back into town to check on our train tickets. We met up with them later on for dinner before we left for Hue. Well, we had no luck getting train tickets. They only had hard seats for the overnight train from Ninh Binh to Hue. We decided to take the overnight bus instead. At least that would have soft seats.

As it turned out, most of the overnight buses were sold out, too. We were able to find one that had availability. This was a tourist bus, so they didn't have people in the aisles; however, they had sold every single seat on the bus, and the seats in these Vietnamese buses are designed to fit a Vietnamese person, not western people (so they are a bit narrow and not much leg room). However, when we got on the bus, there were two open seats in the back. At least, we thought they were open. As soon as we started to sit down, someone came back and told us they were already sitting there. Thats OK, but the only two other seats were on the back row of the bus and were already occupied by people's packs. I politely asked if we could sit there, and the man on the right (Nice Bob) started to move his gear, and make a seat available, but the man on the left (Rude Roy) refused and was very angry and upset about it and wouldn't move his stuff, insisting that the seats were too narrow to seat five people back there, despite the fact that there were five seats. So I went back to the front and talked to the bus steward who found me a seat up in the front. However, right after I got to the front, a French man went to the back to sit in the last seat and Rude Roy in fact had to move his stuff out of the seat. Donna was sitting back there and had to endure Rude Roy's whining for the next hour. The bus ride took quite a while and was fairly bumpy in spots. We left after 10 PM and got to Hue around 8 AM the next morning. There were a few potty and eating stops along the way.

We arrived in Hue on March 10 and quickly found a room in the Hoang Long hotel for $5/night. We had a nice breakfast with wonderful real hot chocolate at a restaurant across the street from the Hung Vuong Hotel. We don't know the name of the restaurant, but if you can find it, we highly recommend the hot chocolate. We rented a motorbike for the day from the same restaurant and then went out to tour the city.

Hue is famous for the Citadel originaly constructed in 1804 by Emperor Gia Long. We rode our bike over there and went inside. Just outside the main entrance to the Forbidden City is a 37 meter high flag tower built in 1809 and extended in 1831 that is the highest in all of Vietnam. Throughought its life, it has been blown down by many storms. Now it looked like there were no less than 32 guy wires holding it up.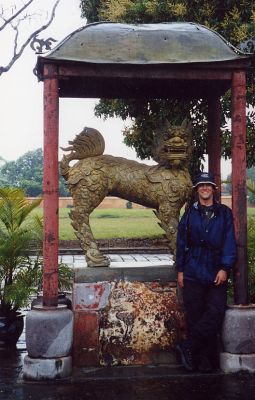 Kirk and the lion inside the Imperial Enclosure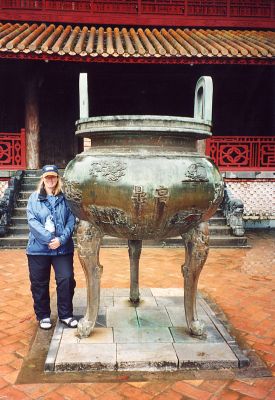 Donna and one of 9 Giant Urns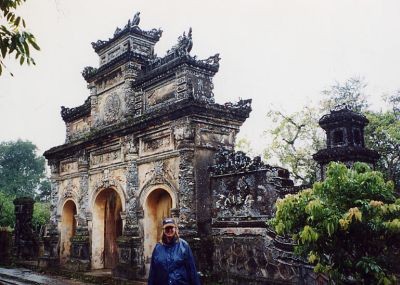 Gate to the queen's rest area

We entered the Imperial Enclosure through the Ngo Mon Gate and then went through the Thai Hoa Palace. The palace has a throne inside and very nice red painted columns with gold decorations. Upon exiting the palace building which is really just one big room, there are the mandarin halls. These were in OK condition. Nearby was the reading room. This one looked nice, and inside it had a model of what the whole place looked like in its heyday. After walking around and taking a few pictures, we went back to our motorbike and headed to the next destination.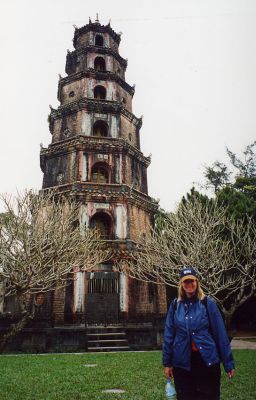 Tower at the Thien Mu pagoda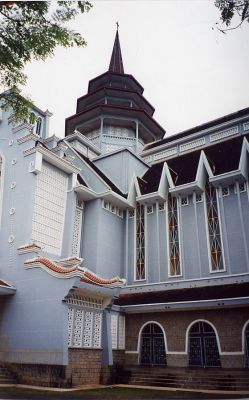 After the pagoda, we saw the Hue Catholic church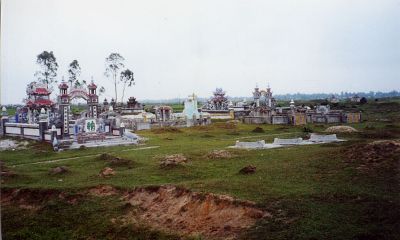 Then we drove out of town and passed this cemetery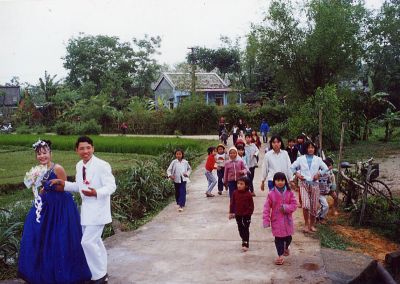 Then we came across this beautiful wedding!

We went on to the Thien Mu pagoda. Here is a tip if you go there on motorbike. As you approach the pagoda, there is a large pay parking lot for motorbikes. Ignore the man waving you in, and drive past the pagoda around to the other side. There is a second stairway up to the pagoda. You can just park your bike on the street for free (a rarity in Vietnam if you are a Westerner)! The pagoda grounds are nice. They have several altars, and a nice gong and drum. The 21 meter high tower here was constructed in 1844 under the reign of Emperor Thieu Tri. One kind of weird thing they have here is the Austin motorcar which transported the monk Thich Quang Duc to a Saigon intersection where he burned himself to death in 1963 to protest the lack of religious freedom under the government of Vietnam at the time. There was a famous photograph of his self-immolation that was on Time and Life and all the newspapers at the time.

That evening we headed back to our hotel, and Donna laid down and stayed in the room while I went out and got her some dinner. She had come down with what we think was the flu. She had fever the first day, and lots of coughing with chest and nose congestion and headaches. Later I came back with some Chao Ga (Rice porridge with chicken) and a baguette with cheese. (The baguettes here are fantastic!) Shortly after I turned out the lights and climbed into bed, we heard a lot of yelling outside our door in Vietnamese. It seemed to be from a drunk male. This went on for about 20-25 minutes and Donna was about to go out there (against my wishes) to show him that there were tourists on this floor in the hopes that this would cause him to stop. We were on the very top floor where there were some rooms for rent, and the living quarters of the owners of the hotel. Just as she was about to open the door, we heard the distinct sound of glass breaking just outside our door. And then a second one a few seconds later. We decided it would be better to stay in our room for a while. The yelling then died down and we could hear that he had gone down to the lobby. We then decided to go out and see if we could find someone from the hotel to ask for this to stop or for them to find us another room in another hotel. When we went out, and down the stairs, we stopped a flight above the lobby. He was still in the lobby and it was a mess. The trash cans were turned over, beer all over the floor, several broken bottles were around. He was still yelling and there was another Vietnamese male there, apparently trying to calm the angry man down. I could see the angry man's reflection in a mirror and saw that he pulled another beer out of the fridge. (Just what he needs!) We figured then that we were probably blocking his way if he decided to go back up the stairs, so we went on up to see if we could find one of the girls that spoke English and tell her what we wanted.

When we got to the top floor, we looked for the girls, but couldn't find anyone who spoke English. Then we realized that while we were looking, the angry man had come up stairs and had gone past us. So we took this opportunity to go downstairs and see who we could find down there. When we got down to the lobby, we saw two police officers coming in. This was good news! However, it was somewhat unusual, since we had read earlier that the Vietnamese very rarely call the police and usually solve their disputes themselves. When the police came in, there were handshakes all around, pats on the back, cigarettes handed to them and some family members were talking to them while others were cleaning up the mess in the lobby. More family members showed up via motorbike. After about 20 minutes of discussion, the police looked like they were going to leave. During the whole discussion the police remained in the lobby and the angry man stayed in the top floor. Several family members came up to us and said not to worry, everything was OK. Well, it wasn't OK for us. The man was still here, and we had to go back to our room up there with him! Donna got quite upset and we were trying to say that we wanted the police to at least go up and talk to him, or take him away. The police could see we were upset, and after a bit more heated discussion with the family they did go upstairs and talked with the angry man for about 10-15 minutes. When they came back down, they got on their motorbike and left. One of the English speaking family members told us they would switch us to a room on the bottom floor. This was good. I made Donna stay downstairs in our new room, which was HUGE btw; it had two double beds and two singles! And I went up to our room and packed everything in the packs, and brought all our gear down in one trip. I didn't want to go back up their because the angry man was still yelling. After we got settled in for the night, we heard him come back down to the lobby and yell some more, but he didn't throw anything, and it only lasted 10 minutes or so. Needless to say, we do NOT recommend the Hoang Long hotel in Hue!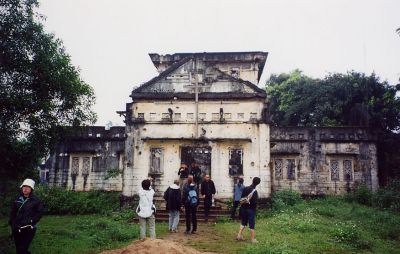 This church is first stop on the DMZ tour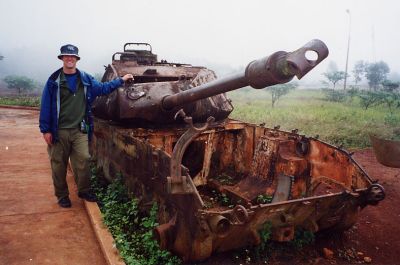 A tank at the Khe Sanh combat base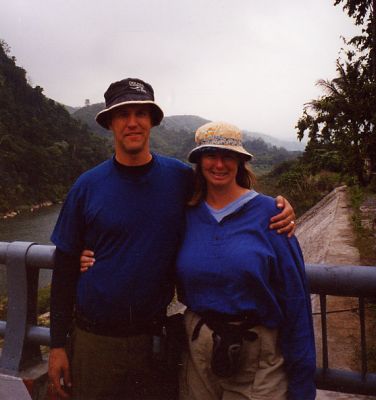 At the Ho Chi Minh Trail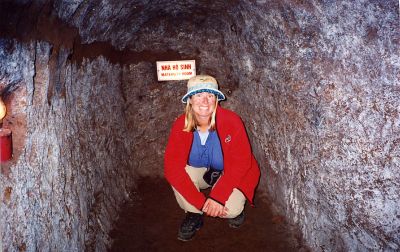 Donna in the maternity ward of the Vinh Moc tunnels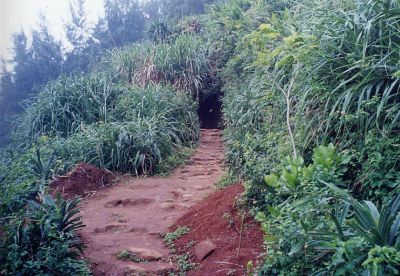 One of the coastal exits of Vinh Moc cave

The next morning, March 11, we got up at 6AM, and went on a DMZ tour. This tour takes you by bus to the DMZ (De-Militarized Zone) a little ways north of Hue. This is the location where there was a lot of fighting during the American War (Vietnam war to you non-Vietnamese). The DMZ was formed when Vietnam was divided in the 40's. On the tour, they brought us to a restaurant and we got free breakfast, then they split us into all the different groups. You could take a half-day as well as full-day tour. We opted for the full-day tour including Khe Sanh combat base. After breakfast, we met our guide, and got on the bus and drove west along the Highway 9 towards Khe Sanh. This road was built by the French, and improved by the Americans. The Americans used it to supply all the bases along the DMZ. Along the way, we stopped and saw where the Rockpile marine base was. Nothing is left now, except for the 230m high pile of rocks that the base took as its name. Apparently after the war, the local Vietnamese scavenged all the metal and bricks and other useful stuff from the bases to rebuild their homes and to sell as scrap.

We then drove on to Khe Sanh combat base. This base was famous for a 75-day siege that cost 500 American lives and over 10,000 North Vietnamese lives, and was a diversion for the Tet Offensive that started 7 days later. This siege brought lots of protests to the war in America. At the base they had an old tank, some artillery, and a museum. The museum told of the siege and had some pictures from the time as well. Out behind the museum was the location of the runway. There is still no vegetation growing on the runway, probably due to the chemicals that were dropped on it.

After Khe Sanh, we went back down to the a bridge that connects to the famed Ho Chi Minh Trail. This wasn't the main trail, which is in Laos and Cambodia, but a shortcut that was used late in the war after the Americans had begun pulling out.

Then we drove back to Highway 1, and had lunch (not free this time). After lunch, they brought us North on Highway 1 through the actual DMZ. This area is the flood plain on either side of the Ben Hai river. The area for at least 2km north and south of this river is currently all rice paddies. No trees. The Ben Hai river was the demarcation line between North and South Vietnam.

After the river, we went on North to the Vinh Moc tunnels. These were civilian tunnels that were used to house the residents of Vinh Moc village who had volunteered to stay and help supply the troops on the front line at the DMZ. The tunnels are deep underground. This is why they survived to this day. The Americans bombed this area continuously, but the bombs of the day could only destroy tunnels 10 meters below the surface. These were three levels, and the first level was 15 meters below the surface with the third and lowest level at 28 meters deep. The families of 4-5 people lived in very small rooms (about 2 meters by 4 meters). There was even a maternity ward where 17 babies were born during the war.

After the tunnels, they drove us back to Hue. If you go to Hue, definitly go on the DMZ tour. The quality of the tour really depends on the guide you get. Ours was fantastic. He lived in Dong Ha, a village near the DMZ in South Vietnam during the war, and was about 10 years old when the Americans came. He still has vivid recollections of the war.

When we got back to our hotel, we met a kiwi (NZ) couple we had met previously on our travels and found that they were staying at our hotel and had heard all the commotion of the previous night. Instead of coming out of their room, they decided to stay inside and just put furniture in front of their door. We spent that evening in our now big room without any incidents (thankfully).

The next morning at 8:00 AM, March 12, we took a tourist bus from Hue to Hoi An. The bus was ride was good, although our driver was a bit out of control at times, and the bus certainly stopped a lot for rests and stuff. Along the way, we stopped at Marble Mountain, which is one of 5 different marble mountains north of Hoi An. This one had a cave tour that you can take. We did that, and again, it was quite a large cave. This cave was also used in the war time. We could tell that bats live inside too, due to the smell and noise. This cave seemed to be dry and didn't have any stalagtites. After we got out of the cave, we sought refuge from the many vendors by staying inside the cave entrance in the shade until the bus was ready to go again.

When we arrived in Hoi An, the bus brought us to a few hotels on the outskirts of town and offered us rooms for $8-10 and said all the rooms inside the center of town were more than $10. We didn't believe them, and just got off at the last stop. Then we booked our train tickets to Saigon. We had been planning to take the train from Hoi An to Na Trang and then from Na Trang to Saigon, but there were no openings available, so we ended up getting a ticket straight to Saigon and we skipped Na Trang.

After we got that sorted, we went into the center of town near the market and got a room at the Pho Hoi 1 hotel for a negotiated rate of 105,000 dong/night. ($6.94) This hotel is right next door to the building that all the tailors are in. Hoi An is the best place in Vietnam to get clothing custom made. More on that later....

After checking in, we walked around the town and through the market which is very extensive, and ended up eating lunch at a nice restaurant overlooking the river. At the restaurant a Vietnamese girl befriended us and chatted with us while we ate. Near the end of the meal, she happened to mention that she works with her folks who are the "Best" tailors in Hoi An. We had in fact been planning to get some clothes made while we are here, but we were planning to find the tailor and get fitted the next morning but we had been given a recommendation of a different tailor. We decided to go along with her, and just look at the shop. Donna even set her alarm on her watch to give us an escape in a few minutes. She was planning to say we had to go meet our friends Kean and Linda, from Australia, when her alarm went off. We followed the girl through the market, and past many other tailors and finally to her shop, and guess who was there getting their clothes fitted? Kean and Linda! Well that shot that plan. We chatted a while with them, and put off all the prods to get our clothes there and said we would think about it.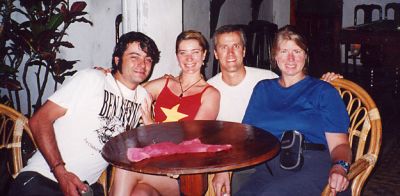 Kean, Linda, Kirk, and Donna
Click for full size

That evening we had a wonderful dinner with Kean and Linda. (We had first met them on the Ha Long bay trip). They were heading out from Hoi An the next morning.

The next morning, March 13, we got up and went down to find our tailor. We went to the shop that Donna had got the recommendation to. It is called Cloth Shop Anh Huy, and the proprieter is Emma. It is shop number 1 in the Hoi An market building. Phone (0510) 863998 Hoi An, Vietnam, email: tranthithuy@hotmail.com. I got a two-piece charcoal grey, lined cashmere suit, a white japanese silk shirt and blue silk print tie. Donna had a skirt, and four blouses made. The next day she threw in an additional pair of trousers for each of us since we had recommended her to some friends and they had made a big purchase. She also hemmed two of my travel pants as well. She treated us to lunch with drinks, and more drinks the next day and then dinner at her home on the next day when we got our final fitting. Very professional. The clothes look great. Our total cost was US$117! We highly recommend her.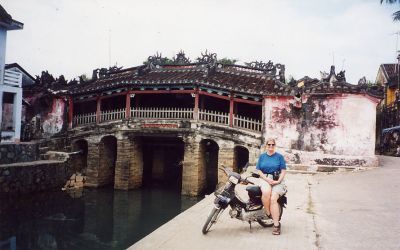 Japanese Bridge

After our initial selection and measuring, we rented a motorbike and drove around Hoi An. We saw the covered Japanese bridge and then we headed to the beach. As you approach the beach, they have a gate across the road and force you to park in their pay parking lot. Though he asked for 5,000 dong, I said 1,000, and we agreed on 2,000 dong. Everything is negotiable in Vietnam! The beach itself is nice. The white sand reminded us of home. Except at home, they don't have vendors walking up and down the beach selling trinkets, food, or offering pedicures. To avoid the vendors we walked over to the area in front of a fancy hotel. Soon the security of the hotel shooed us away and we went to the area beyond the hotel. This was out of vendor range! Hooray! We had a good time watching the little crabs on the beach.

After the beach, we went back into town and wanted to go visit one of the restored homes. When we drove up we found that we had to get a ticket to go in at a tour agency down the block. There we found that we had to buy a ticket for 50,000 dong, and it was good for one each of a museum, the houses, and some other things we didn't want to see. We didn't like the deal, so we just skipped it altogether.

We then headed out of town to the other direction (opposite the beach) and just kept riding and riding. This is one of the things we like to do, just explore an area. It is great when all the little kids yell out "Hello!" when you go by and we say "Hello" back. This time our luck with the motorbike wasn't too good. As we got about 20km out, the motorbike sputtered and died. It acted like it was out of fuel, but the gauge was on half-full! Fortunately, we were close to a place that sold petrol, so we put in a liter or so, turned it back towards town, and it ran again, but not very well, and only for about 100 yards. Donna got off and we started to walk it back to town. After about 1-2k, I decided to try it again, and it fired and ran. I told Donna to jump on and go, cause I didn't know how long it would go for. We got it back to town and just turned it in to the guys we rented it from.

That evening we did some internet and planned to meet up with Stephanie and Christian, the German couple for dinner. However it turned out that Stephanie was sick, so we had dinner with Christian. (He brought dinner back to Stephanie afterwards). We each ordered one of the town's specialities, Cau Lau (which I had already tried), White Rose (very much like chinese dumplings) and Fried Wontons (which Donna had had for lunch the day before). It was all very good.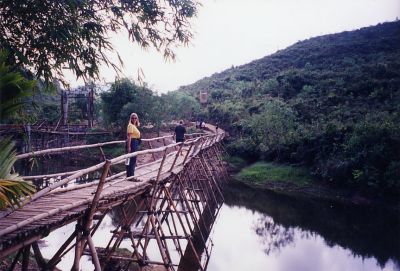 Bamboo bridge leading to My Son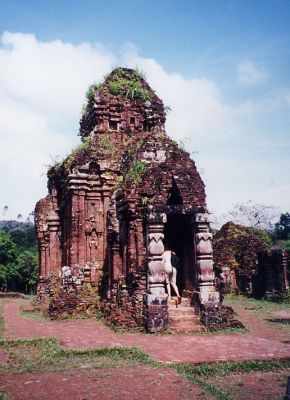 This ruin was built in the 8th century and was used to worship Shiva.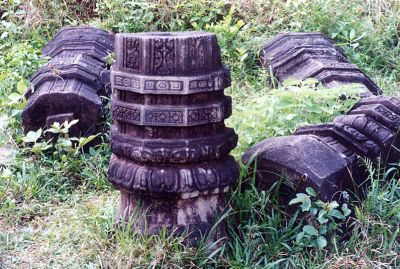 Some of the ruined columns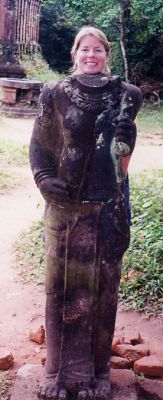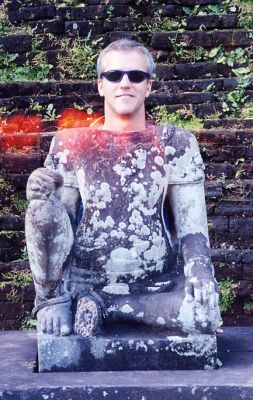 Kirk and Donna in stone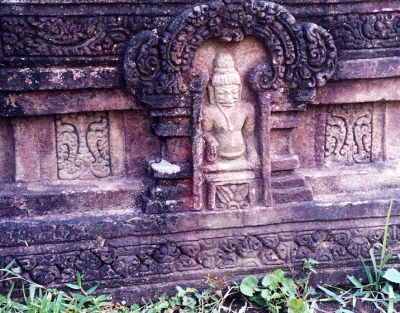 The ruins had very nice bas relief work

On March 14, we went on an 8AM tour to My Son, Vietnam's most important Cham site. The kingdom of Champa flourished from the 2nd to the 15th centuries. The bus out there cost us $1.50 each and the ticket to get in was 50,000 dong. It is worth it. You walk over a bamboo bridge and then they have some jeeps to take you out to the ruins site. There are 4 different areas of ruins that you can walk through.

The ruins are mostly brickwork some with altars inside, and others are big towers. Unfortunately several of them were damaged in the Vietnam war. It got so bad that a french scholar wrote a letter to President Nixon during the war about the destruction of the ruins, and Nixon ordered US forces to continue killing the VC, but not to do any further damage to Cham monuments.

Several of the monuments are under restoration, or more likely deterioration prevention. They were removing the soil from around the brick monuments.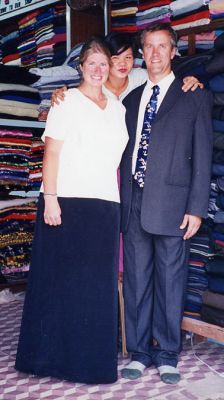 Donna, Emma and Kirk.
These are some of our new clothes.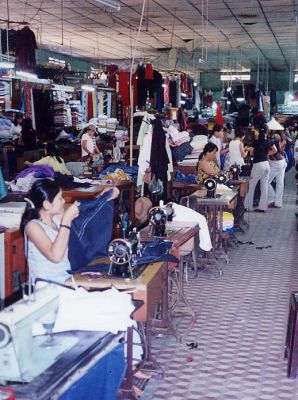 Some of the tailors at work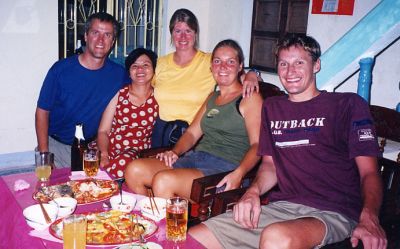 Dinner with Emma, Korny, and Raymond

After we returned from My Son, we did some more internet (we had lots to catch up on) and had our fittings at Emma's shop. They are amazingly quick. You get sized one day and go back the next to try on the clothes they made to make sure they fit and have any adjustments made. They made a few adjustments on my trousers and jacket. Donna had some adjustments on some of her clothes as well. Emma also had a photographer there to photograph some of the clothes she had made for us. She kept copies of the photos and gave us copies as well.

Later on, we went over to her house with a Dutch couple, Korny and Raymond, for dinner. Her husband cooked an amazing dinner for us! Wow!! We had four wonderful dishes plus rice, a dipping sauce, home made nuoc chanh (our favorite drink here) and fresh mango for dessert! Afterwards, she brought us back by taxi and we picked up our last few items of clothes that were having final adjustments made. Donna had one top that still needed adjustments even then, so she promised to have it ready by 7AM, (we were leaving on an 8AM bus). Donna went and picked up a pair of shoes she had had made to match her skirt (for $8) and then we finished up on the internet and went to sleep. We were tired.

On March 15, we were up early to pack! We had more stuff to stuff in our bags now! And thanks to a leaky camelback a few days ago, we had completely emptied them out to dry everything out. They had to be packed from scratch. We were completely packed and ready to go by 6:55, so I went with Donna to get her other blouse. She tried it on and it fit right this time. She was relieved. We got baguettes with cheese and sat in the hotel lobby with our packs, relaxing and waiting for our bus to show up and take us to DaNang.

The ride to DaNang was uneventful. We chatted with some guys who were heading back the way we had come, so we shared some of our experiences with them about places to stay and places to avoid. The bus stopped at Marble Mountain AGAIN, but we just wandered a bit and did our best to avoid the hawking vendors.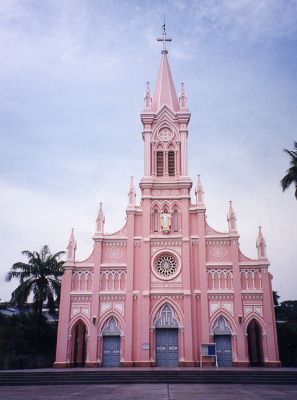 Danang Cathedral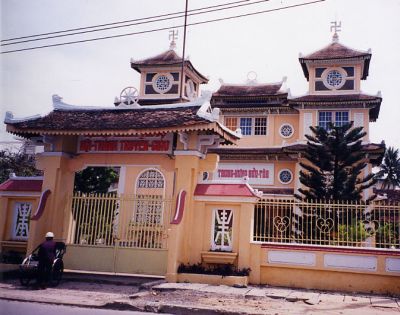 Danang Caodai Temple

Once in DaNang, we stored our packs at the An Phu Tourist Office for a few hours while we walked around the city a bit. We located the Danang Cathedral, which is the Catholic Church, but the gates were locked so we only viewed it from afar. Then, we headed over to the Cham Museum, which houses many of the statuary removed from My Son and other famous Champa sites. We went looking for Tinh Hoi Pagoda, but didn't find it. We walked through the central market area. As we walked through DaNang, we got a lot of people trying to get us to ride on their cyclos or motorbikes. A few vendors wanted us to buy things. Donna tried to smile at a few people, which generally gets at least a 50% return of smiles. Here, the few people that did smile back only gave half-hearted or fake smiles. No one looks happy. It's a strange place. The one funny moment was when we were walking down a VERY Vietnamese street past a shop selling used U-joints for drive shafts. The vendor waved at Donna and tried to convince her to come over and buy one! It was pretty funny. She couldn't tell if he was kidding or not!

Our last touristy stop in DaNang was at the Caodai Temple, which was built in 1956. Caodai is a strange religion in Vietnam that seems to be a melding pot of every single religion out there, featuring five of the world's predominant religions: Islam, Greek Orthodox, Christianity, Buddhism and Confucionism.

That afternoon, we boarded a train to Saigon (Ho Chi Minh City). The trip is 21 hours. We got two Soft Sleeper bunks with A/C for 427,000 dong (US$29). The bunks are in a four-bunk room with a door that shuts. Ours were the top two bunks. Two very nice Australian girls from Perth got the bottom two bunks, Lee and Natalie.

Shortly after we left, they served us dinner. Let's just say the Lonely Planet description of the food was accurate: it leaves a lot to be desired. We got rice, plus three other items that you could put on top: very smelly fish, spinach and some green beans with meat. I liked the beans/meat. They also give you a bottle of water, but you have to buy any sodas or other drinks. I bought a coke. The bunks were comfortable, and I got quite a bit of sleep despite the rocking and noise of the train. It kind of lulls you to sleep.

In the morning, March 16, they gave us a roll which looked like it had cinamon stuff in it, but no luck. It tasted kinda spicy/tomatoey. I think I was the only one who ate it. Also, they gave us another water. It is nice to watch the country side go by on the train. For lunch, we had more rice with toppings. This time, there was a boiled egg, too. None of the toppings were any good, and the two Aussie girls and I went in search of the dining car which we were told was aft and would have soy sauce. Well, we ended up walking all the way to the last car in the train, and what an experience THAT was. After we left the soft sleeper, we didn't see a single western face. The next level down in class is the Hard Sleeper. Those berths are similar in size to the soft sleeper, but they have three bunks per side in the room, no closing door, and no A/C. Many people seemed to have a whole family on a single bunk. After that is Soft Seat with A/C. These are like airplane seats, but people and their gear were everywhere. Next is Soft Seat, No A/C. These are similar, except there are lots of fans down the roof of the center aisle that oscillate all around. In fact, the seats are different; they are more like beach lounge chairs -- they have vinyl strips, I suppose for ventilation. The next class is Hard Seat, and they do mean HARD. The seats are made from wood slats with a perfectly flat bottom and slightly slanted backs. Here, most people were sleeping on the seat bottom or the floor, with luggage and rubbish strewn everywhere. At the back of the train was the "dining car". It was really the crew car and kitchen. They didn't have soy sauce, and the moment we got there, the guys at the table started leering at the two Aussie girls and wanted them to sit down at their table with them. So, we decided there was no dining car and turned around and headed back. The rest of the trip was pretty uneventful; we got into Saigon around 1:30 pm.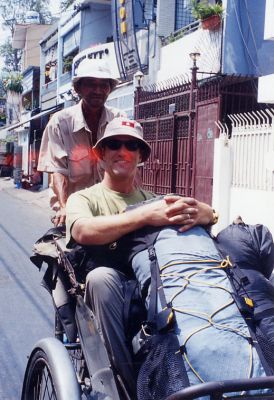 Kirk on the Cyclo

When we went out to get a ride to the area where our hotel was, the first taxi guy wanted $7 but we knew that was way too much so we offered $1 (which was too little), he balked at that, but a cyclo driver offered to drive us for $1 each on his and his buddy's cyclos. We decided to go for it. We hadn't been on a cyclo before. These are 3-wheeled bicycle-based contraptions with two wheels in the front and the passenger in between and the third wheel in the back. The driver sits on a regular bicycle seat. It was pretty fun! Very slow, but it was interesting to flow through all the other traffic at that pace.

We found a place to stay in the Pham Ngu Lao area. There are several low-cost backpacker accomodations here. We chose the Diem Thuy room for rent, 228 De Tham St, District 1, HCM City, *84-8)8.367113, dimthuy228@onebox.com. We got a third floor room on the street, with two beds (one double, one single, with fan and hot water shower and a balcony for $6/night(90,000 dong).

For lunch, we had our first pizza in Vietnam. Not bad, but Donna thought the sauce was a bit too tomatoey. Then, we signed up for our 3-day Mekong Delta tour, leaving tomorrow morning. We also bought more guide books for our upcoming countries. The guide books are cheap here since they don't enforce copyright laws. They sell photocopy versions for $3-$10 depending on the book.


3/21/03 Tam Biet Vietnam!
"Tam Biet" is "Goodbye" in Vietnamese. Let's continue the story....

On March 17, we got up, packed and went down to board the bus for our 3-day Mekong Delta tour. We had baguettes and cheese for breakfast. Our group was fairly small, 10 people, initially. They had a fairly large size Mercedes van for us all. When we got to the first stop, we started to notice that one of the participants of our trip was a bit "different" from the rest. He was very paranoid, and talked to himself a lot. Many people thought he was crazy, or just plain weird. An older woman on our trip got a chance to talk to him when he was a bit off-guard and found out that he was a crystal-meth & marijuana addict. He happened to be from the Isle of Man. Several times, he wandered off. At one point on the tour, he decided to not go along with us on one of the boats. After much discussion, the guide convinced him to go along, and when we got back to the hotel that we had lunch at, the addict decided he would rather stay there and go back to Ho Chi Minh City the next day. This was a relief to all of us and especially the guide. But back to the tour.

The Mekong Delta is at the southern tip of Vietnam. It goes pretty much south of Ho Chi Minh City to the Cambodian border. The delta is broken up by many rivers and even more canals. So on the tour we got to ride in all sorts of boats.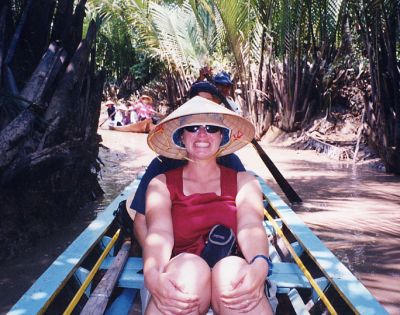 One of the many boats we rode in.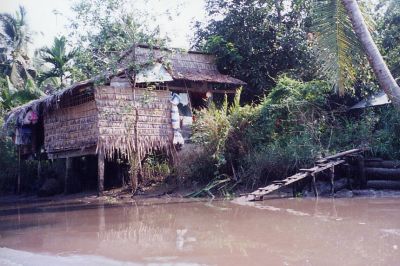 An example of a home along the delta.

After arriving at the first major river, we had lunch, and then took our first boat ride on the river. They brought us across the river to one of the islands and we had a fruit and tea tasting at one of the plantations. They even had some local girls sing and played Vietnamese music for us too.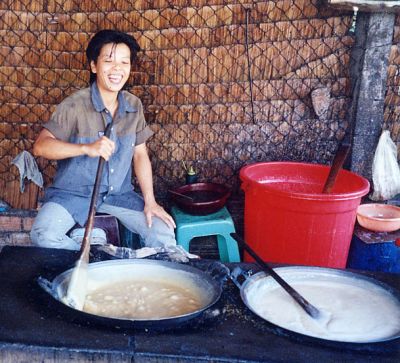 First the coconut juice is mixed with sugar and cooked in these pots. Check out those muscles!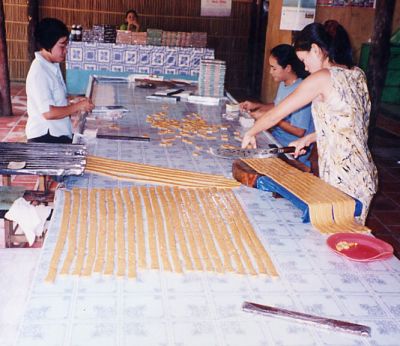 Then it is poured out on this table, allowed to cool, cut and packaged.

Next, it was into some long rowboats for the ride to the coconut candy factory. It was neat watching them make the candy. Our guide, Bau, tried to wrap them and pack them. He was much slower than the other girls that regularly do it. We bought a pack of the candy to take with us. Yummy!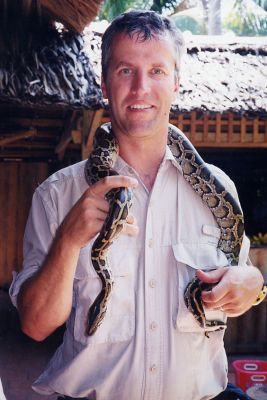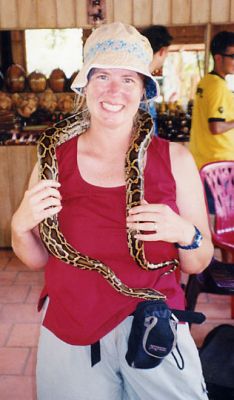 Snakes are fun!

Next, we went on to a honey farm and had some special honey tea. (A little too sweet for me.) They also had a ball python that Donna and I tried on for size. We stopped at a market to walk around a little before we arrived in Can Tho, where we were to spend the night. A LOT of people stared at us or made comments and pointed. It seemed pretty rude, but we really had no idea what they were saying.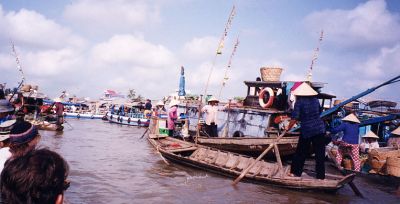 The floating market

The next day, March 18, we went to the floating market in the morning. Lots of people are selling all sorts of things directly from their boats to people on other boats. To advertise what they have for sale, they put an example of it up on a bamboo pole sticking above their boat. So you see all these poles with a bag of tomatoes, or just one big pineapple or some with all sorts of things on them. Pretty cool. There were lots of produce sellers, there were also boats filled with clay pots, some that looked like drugstore type of sundries, others selling bottled drinks, etc.

Almost all of these boats use a longtail engine to drive them. This is basically a long tube with a shaft inside of it that connects directly to the engine and the other end has the propellor. The whole engine/driveshaft/propellor is pivoted to provide propulsion and steering. This was used on boats from the smallest rowboat size all the way up to large barge type boats that may have two engine systems on board using two full size automobile engines. I didn't see a single regular marine outboard in Vietnam. The system worked well in this type of a delta. You could easily adjust the depth of the propellor depending on the depth of the water and you don't have to use a "marine" engine. They were mostly air or water cooled general purpose engines.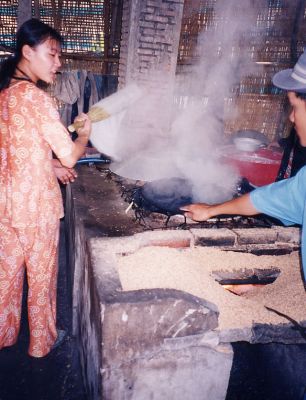 Flipping the noodle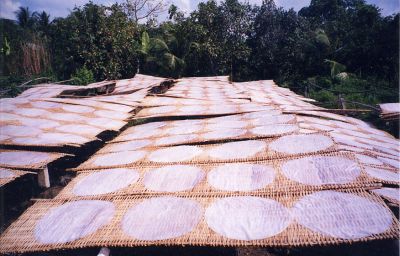 Drying the noodles

Next on the itinerary was the rice noodle factory. They made the noodles from a rice paste that is poured onto a cloth that is above a vat of boiling water. After a few seconds of cooking, it is pulled off the cloth as a big disk and then placed on a bamboo rack. The racks are laid in the sun to dry. Eventually they use a noodle cutting machine to cut them into noodles. We were shown the whole process and Donna even tried her hand at removing the disk of noodle and placing it on the bamboo rack. It is harder than it looks!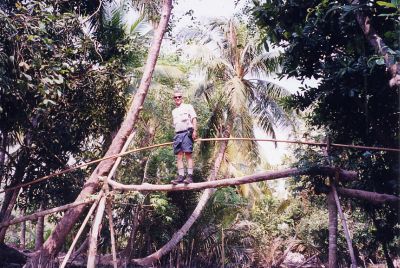 Kirk on the bridge

On the way back from there, we went by a monkey bridge and I crossed it of course! It is really a big log across a river and even has a bamboo handrail.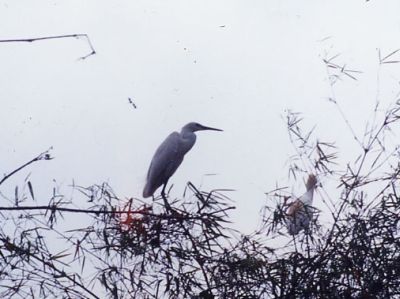 A stork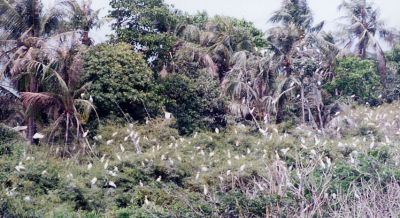 The storks

After that, we went for a 2k walk out to the stork sanctuary. The moment we left the boats these children took our hands and insisted on walking with us. They made us rings out of blades of grass. Some of the other kids made little purses out of the grass. This being Vietnam, I thought there was going to be a cash motivation to all of this friendliness, and I was right. At the end of the trip they each begged for some money or for us to buy them coca colas (which were sold at inflated prices). We didn't want to encourage the begging, but we did give them some of the coconut candy.

The stork sanctuary itself was pretty good. They have a tall platform that you can take stairs up to that puts you at treetop level. There are many storks to see. Bring a long zoom lens if you want to get good pictures.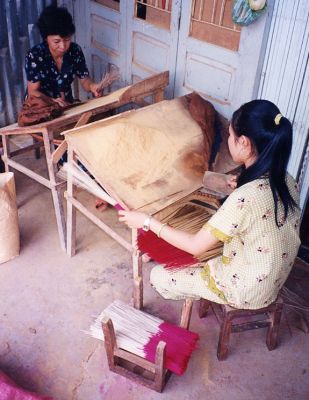 Making the incense from sawdust, glue, and bamboo sticks.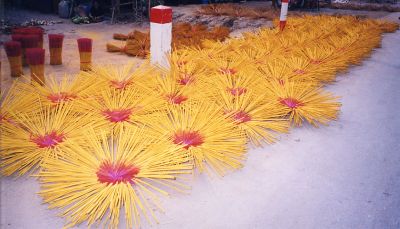 Drying incense sticks

Next stop, was an incense village. This is a village where many people make incense sticks. They use the incense sticks in many asian religions. They even made a special stick for Donna.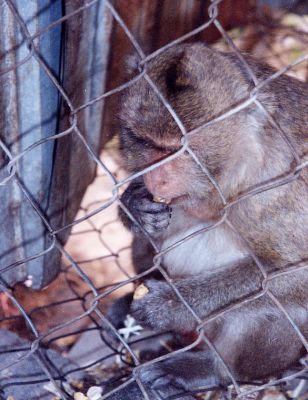 One of the caged monkeys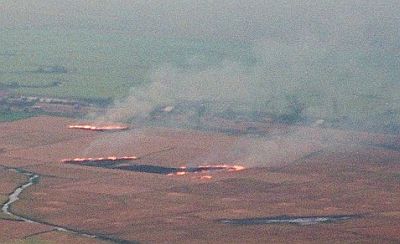 Slash and burn agriculture as viewed from the mountain

After that we drove to a mountain overlooking Cambodia. We hiked up to the top and took a few pictures. It was very steep, and mostly stair steps the whole way up. The view from the top was great. You could see into Cambodia from there. They had some caged monkeys up at the top and somone bought peanuts to feed them. One monkey grabbed the whole bag and took it in with him, but when he dropped them through the floor of his cage we were able to spread the wealth to the other two monkeys.

On the way back to our hotel we saw a few pagodas in the local town and walked around a bit.

The next day, March 19, we mostly drove back to Ho Chi Minh City, but had some stops along the way.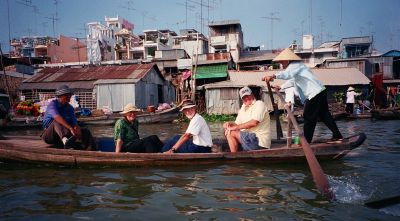 Bau, Gail, Merv, and Brian in their rowboat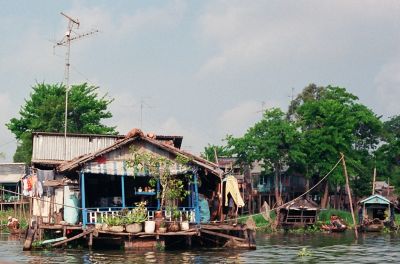 One of the houseboats along the way.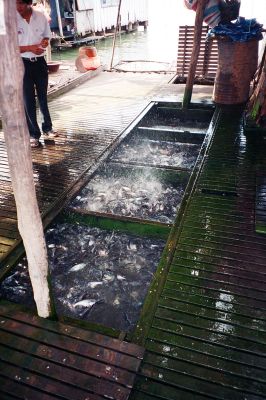 The fish at the farm.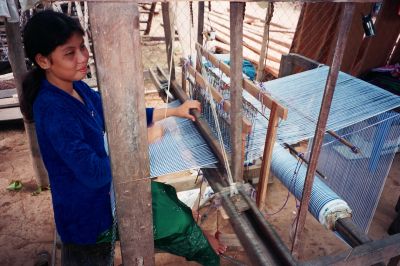 Weaver making Cham weavings.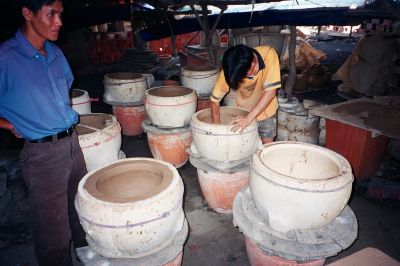 Making pots at the brick factory.

We took a rowboat (usually rowed by a teeny Vietnamese woman, standing up) to two locations. First,we took the rowboat to a floating fish farm. This was attached right to the platforms that the people had their houses on. The fish were in pens in the river under the platform. They said they were grown mostly for the markets in Japan. It was pretty cool when you throw some food into the pen with the fish, they swim for the food so fast, that they splash and spray the water onto a large area around the pen.

From there,we went to an area to see weavings. There, they were doing Cham weaving - making local crafts like sarongs, skirts, scarves and other items from handwoven cloth. They were beautiful. Then we walked to a Mosque in the village that had been built recently.

We made another stop at a brick making factory. We got to see the kilns, and the whole process. They take the clay straight from the river bottoms with no modification. They were also making large clay pots and other ornamentation here too. The bricks are different than the regular red clay bricks I remember from home. These are somewhat smaller and are hollow. They have two hollow tubes running the length of the brick. A few of the sides have ridges in them as well. In most of the construction here, it seems eventually the bricks are covered up by a concrete slurry. So maybe this is so the concrete can grip better. The bricks sell for 200 dong each (1.33 cents/brick).

Next stop was a "Bonsai" garden. I didn't like this place at all. It was an obvious tourist trap with very little, "Bonsai" and several caged animals. The animals were in very small cages with no water at all. They had several monkey cages, some snake cages and a few that looked like hedgehogs. The cages were mostly made from chain link fence. The monkey cages had signs warning you to stay back 1 meter (because the monkeys would grab you), but many tourists said their tour guides had told them to get a bottle of water and feed it to the monkeys. I guess this gets them a bit of water, but it is still dangerous. The aggressive mokeys just grab the whole bottle and pull it through the cage. There was lots of plastic trash in the cages. It seems the people of Vietnam have not yet gotten the message of keeping your zoo animals in larger, more comfortable enclosures, rather than in tiny, metal cages.

When we returned to Saigon, we were able to get a room in the same place we had stayed on the 16th.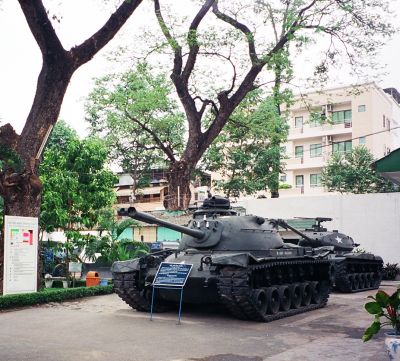 The grounds of the War Remnants Museum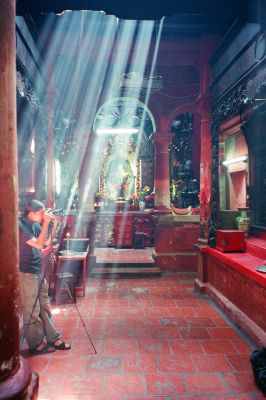 A side room in the Jade Emperor Pagoda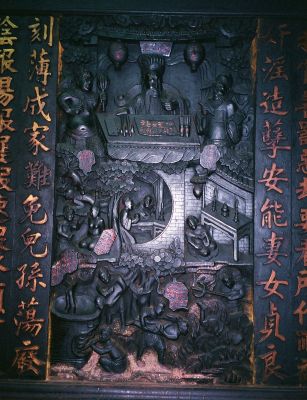 This panel from the Jade Emperor Pagoda depicts Hell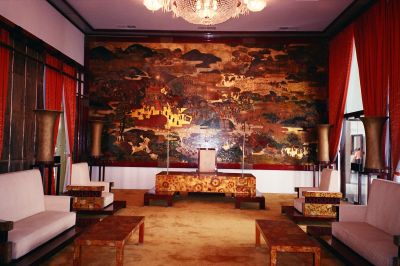 One of the beautiful reception rooms in the Reunification Palace

On the 20th of March, after a breakfast of baguettes and cheese, we rented a motorbike to see some of the sites of Saigon (no one except the government calls it Ho Chi Minh City).

Our first stop was the Jade Emperor Pagoda. This had many interesting sculptures inside and lots of bas reliefs depicting various sections of hell. The Pagoda was built in 1909 by the Cantonese Congregation and is one of the most colourful in Saigon. It is named for the main figure, the Taoist Jade Emperor, who stands at the center of the main alter, draped in luxurious robes and flanked by four guardians and in front of six other interesting figures. In addition to the main sanctuary, which has many carvings and colourful statuary, there are several additional side rooms. One in particular was quite beautiful, containing ten carved wooden panels which graphically depicted various torments awaiting evil people in each of the 10 Regions of Hell.

Next stop was the War Remnants Museum. This had lots of information and pictures from the American/Vietnam war. At the time we went, it looked like the museum was in temporary structures and they were in the process of constructing a new building. The pictures of the mangled and disfigured people was particularly disturbing. Agent Orange has had a lasting and horrible effect on the local people who lived in and returned to their villages.

They had a few tanks, planes, and helicopters in the outdoor section. Lots of (hopefully) defused bombs and shells, too. While I was waiting for Donna outside, an older gentleman talked to me a bit and explained he was in the war. At the end of the talk came the usual request for money.

After lunch, our next stop was the Reunification Palace. During the war, this was the "Presidential Palace" (also known as Independence Palace) where much of the war was directed. The building was only damaged once near the end of the war by a South Vietnamese pilot who happened to be a spy for the North. He bombed the central stairwell and helicopter pad on the roof.

The entry price includes a nice English-language guided tour through the building and at the end you can watch a video showing the history of the building and synopsis of the American/Vietnam war. The video is worth it even if you just go for the awesome air-conditioning in the room!

That evening, we did a bit of shopping for upcoming birthdays and Christmas with the last of our Vietnamese dong. After dinner, we ran into Christian and Stephanie! We met with them and had dessert while they ate dinner. It was good to see them again!

The next morning, March 21, we got up packed our now VERY stuffed bags and ate our final baguette and cheese breakfast while we waited for our taxi to the airport.

It didn't take long to go through the airport security, though the immigration step was very slow (though not as long as our entry INTO Vietnam). Security was able to let me pass with a hand inspection of the cameras and film. When we had finally gotten through everything, we wanted to spend our last dong on some candy at the duty free shop, but they would only take US$! Weird. Fortunately we were able to convert our dong to US$ at the curio shop nextdoor. The flight to Bangkok was smooth, and it was raining when we arrived.
Conclusions about Vietnam:
Sales Tactics: Vietnam has very high pressure sales tactics. All the vendors are in your face to buy, buy, buy! No prices are posted, and foreigners pay at least 5 times the price that the locals pay for many things (and that's only after much negotiation). This can get tiring after a while. The most important phrase to remember for this is "Khong Mua". This means "No Buy". If they don't get the hint with that, add "Di Di!" to the end. This means "Go Away!".

Begging: Lots of Vietnamese beg. We can understand the disabled people on the streets who do it. But also able bodied folks do it in addition to children. We even witnessed a mother teaching her child to beg. That was really sad. It seems to be a way of life that we haven't learned to adjust to.

Accommodation: Costs are slightly higher than Thailand, however, the quality of the accommodation is better. In Vietnam, the least we paid was $5/night (but only once); usually we were only able to get $6/night or higher. The rooms always had a private bathroom with hot water shower. In Thailand, you can pay less, $4 or so, but you get a room and have to share the toilet/shower facilities. Beware of shady hotel staff in Vietnam. We had a bait and switch game played on us.

People: The people are wonderful once you get to know them, and IF you can get past any sales tactics they might be playing. The few people we met and talked with on a genuine level were great!

Sites: Most of the sites of Vietnam are difficult to get to and see on a completely independent basis. The packaged tours of various things are pretty good and inexpensive, though. The natural sites are spectacular!

History: Vietnam is filled with lots and lots of history. If you are at all interested in the Vietnam-American war, you need to go and see the sites, and hear the views of the Vietnamese. But we also encourage you to do some independent reading. Often, all you will hear is the view put forth by the North Vietnamese government, which, of course, is the one that came into power. If you want to hear the negative things that happened, you've got to read things written by an independent source. The book "Vietnam: A History" by Stanley Karnow is a good source (so far...we're not done reading it).

Country: The country of Vietnam is growing very, very rapidly. Since 1990, the economy has opened to capitalism. They are building roads and an infrastructure very quickly. In 10 years, the country will be quite different. For example, ten years ago, they averaged 1 motorbike for every 10 households; now, on the average, each household has at least 1 motorbike.

We both had a great time in Vietnam, and we are glad to be back in Thailand now.

If you are reading chronologically, click here to go to Thailand.