France 2003 Travelogue
Entries: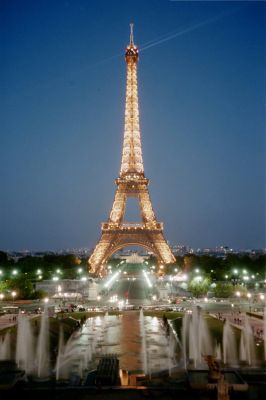 Eiffel Tower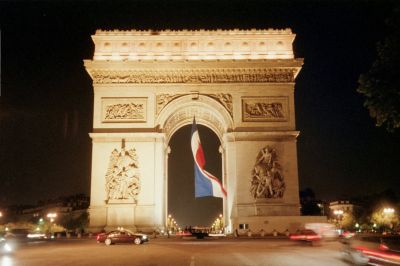 Arc de Triomphe
We had dinner here at a place called Quick. It seems to be a french clone of McDonald's. It had a pretty messy seating area, but ok burgers. After a bit more walking, we took the metro back to our hotel. They didn't have a public refrigerator here, but one of the other guests had a fridge in her room, and she offered to store our cold goods there. Then it was up to bed and to sleep.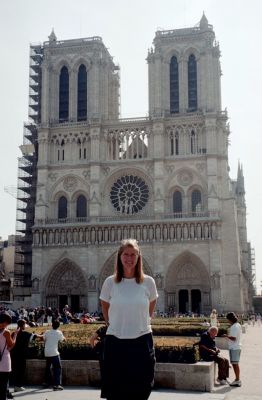 Notre Dam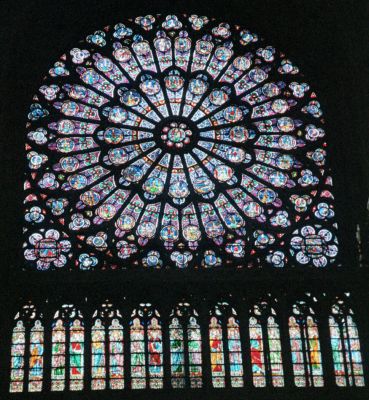 One of the rose windows in Notre Dam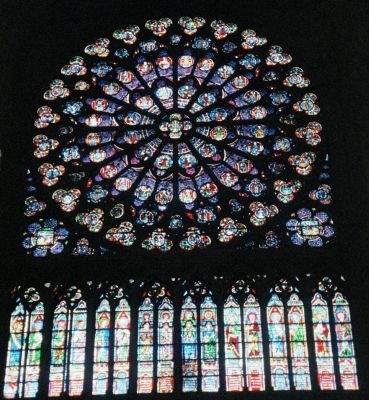 Another of the rose windows in Notre Dam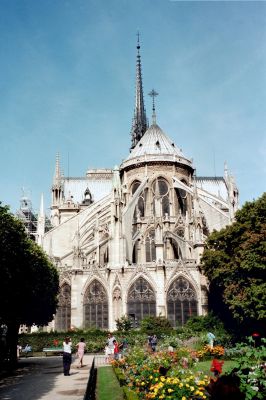 The back of Notre Dam
You can see the flying buttresses here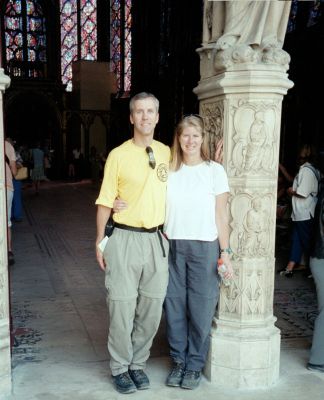 St Chapelle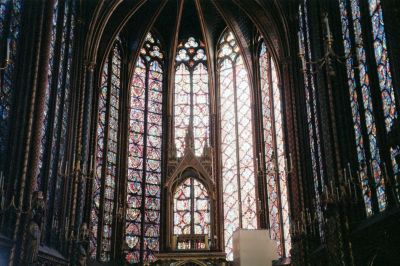 St Chapelle Apse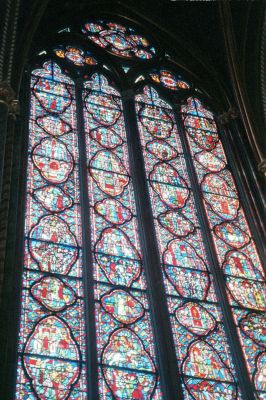 History of Relics panel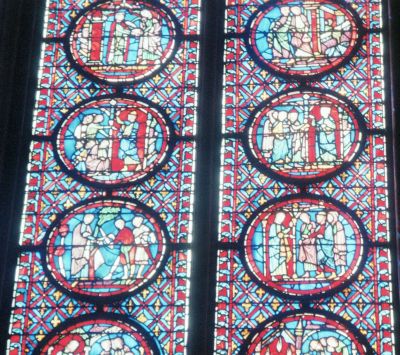 Stained Glass Detail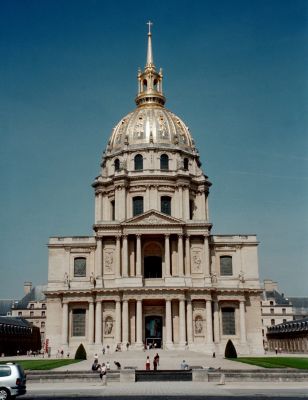 Egliese Du Dom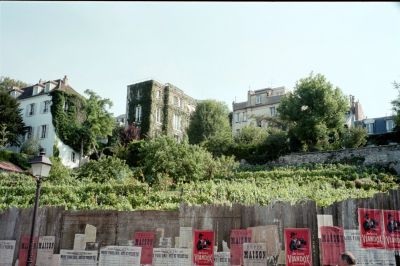 The only vineyard in Paris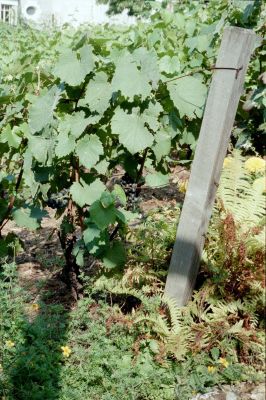 Grapes on the vine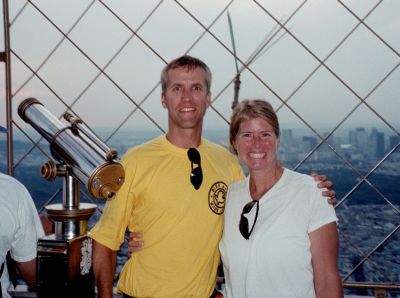 On the Eiffel Tower
We got up around 8:00 AM, showered, and I went down to get our food bag, and bought some more groceries for breakfast. We had breakfast in the room, and decided to just stick to food that didn't require refrigeration.
Next, we walked across the bridge over the river Seine, and looked for a cheap internet place that was in our guidebook. Unfortunately, they were closed...permanently. It was time for lunch, so we split a chicken swarma with fries. Not bad. We did find another internet place after lunch, XS Arena, 53 Rue De La Harpe. We split the time and bought 1 hour for 3€.
We called Nicolas back and agreed to meet them the next day after they get off of work.
Then we headed back to the hotel and made sandwiches for dinner in the room and went to sleep.
We got up late this morning and had breakfast in our room. It's becoming a nice little routine -- bread and cheese or jam, a banana and boxed juice. It's a great way to live without a refrigerator, which we no longer have access to.
I have a great friend from Atlanta who lives in the Montpellier area, whom I haven't seen in years. She and her husband had invited us to come down and visit and we really wanted to do it. We headed down to the Gare de Lyon train station to try and sort out train tickets. We figured we only had hotel reservations through tonight; we'd try and get a train ticket for tomorrow morning and go see her for a couple of days and then come back for the last two nights in Paris before we head to London. It sounded like a perfectly good plan to us...and my friend Laura was up for last minute plans, too...
Well, we got to the correct train station and went looking for ticket information. There wasn't really any, so we stood in the long line to just buy a ticket. When we got to the front, we got quite a shock! They wanted 264€ for two round trip tickets to Montpellier, which was about all the money left we had in the bank for the rest of our whole trip!! In Austria, the tickets would have cost about 1/2 to 1/3 the quoted price. We asked why they were so expensive and she said because the train was booked quite full...in other words, because we didn't buy them in advance. Needless to say, we were quite disappointed and ended up not going to Montpellier. As much as we would have liked to, it was just not something that we could have done within our budget.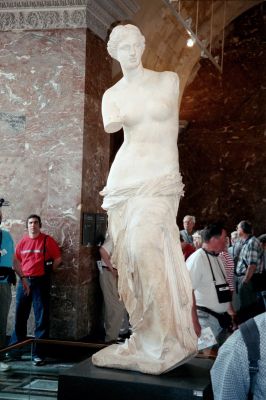 Venus de Milo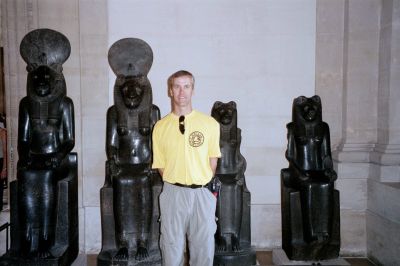 Kirk and more stolen Egyptian artifacts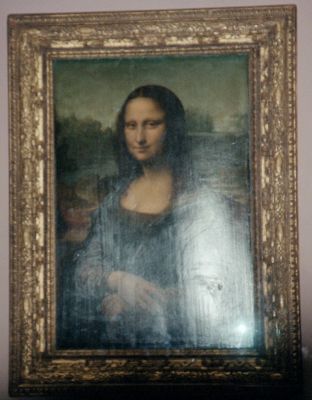 Mona Lisa
She is behind a screen to protect her from flashes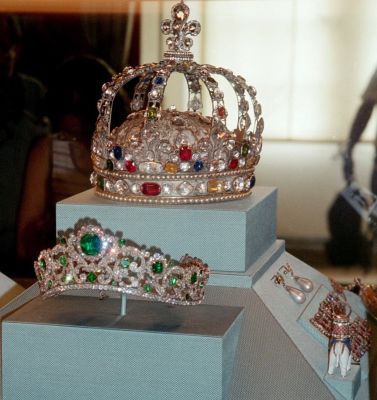 King Louis XV's Coronation Jewels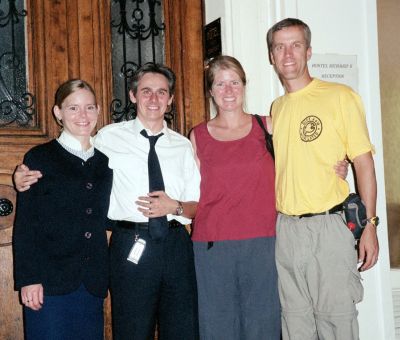 Natalie, Nicola, Kirk, and Donna
(click for full size)
We found that the Levant and Antique Iran areas were closed, so we cut back toward the Greek Ceramics, Terracotta and Bronze and Precious Objects on the next floor up. After a quick pass through those rooms, we headed back downstairs and had lunch underneath one of the pyramids. We had made lunch in the hotel room -- our typical cheese and sausage sandwiches (about the cheapest thing you can get here), two cookies a piece (a real luxury...we've found ice cream is even too expensive in France!!) and water. After a bit of resting our feet and filling our tummies, we decided to head back into the bustling milieu.
Finally, we decided we had had enough for one day and we headed out. We headed over to the XS Arena internet cafe to check email. We found that we had both had our yahoo accounts hit by the so.big virus. It didn't hurt our computers, since we just deleted the messages, but our mailboxes were FULL of spam messages! Good grief!! While there, we decided to check on train fares to Bristol, where a friend lives that we are visiting in England. After the experience in France, I am now paranoid about booking trains. We got a quote and then emailed my friend to see if it was a good price or if there was a cheaper way to go see her. While we were checking emails, we had another surprise...a friend had invited us to stay with her in Hertford our last two nights in England! Cool!
We decided it was time to head back to the hotel. We wanted to rest a bit and grab some food before we had to meet up with Nicolas and Nathalie at 9:30. Actually, as we were leaving, Kirk told me they were coming between 9 and 9:30. We caught the subway and started to make our way back. As we worked our way back along the various lines, we realized we may not even MAKE it back by the time they got to our hotel to pick us up!! ACK!!
We arrived at the hotel at 9:04PM. There was no one waiting outside. Whew!! We went ahead and went up to the room and made sandwiches, as we were starving! About 15 minutes or so later, Nicolas and Nathalie arrived. They had come straight from work (they work for one of the airlines at Charles de Gaulle airport). We went down to meet them.
They announced that they were going to take us to a real French creperie, to ensure that we had a genuine taste of France. They didn't want us leaving, only having eaten sandwiches the entire time! Nicolas drove us around giving us a little sightseeing tour on the way. It was good to see them! We had spent a few days traveling with them in Vietnam and had a great time. They gave us a nice insight into what to see in Paris, as well. The creperie, which was in an area heavily populated by resettled Brittanies (that is folks from the area of France known as Brittany), was excellent! I had the Ile de France, which was cheese, mushroom and creme. Kirk had egg, sausage and cheese. Afterwards, we even had ice cream! Nicolas and Nathalie were very nice to treat us to dinner! It was wonderful!
Afterwards, they drove us around Paris some more, showing us more sights. Eventually, we came back to the hotel, and took a photo outside (we forgot to take one at the restaurant). Then, we had them write down for us, in French, how to ask to stay in the hotel longer. The lady at the reception speaks no English and we speak no French. And we have no reservations after tonight -- we had expected to be on our way to Montpellier tomorrow morning. We said our goodbyes and went off to sleep, after a very long, but wonderful day!
Ack! We woke up late, after having been out so late last night! Kirk went downstairs almost right after we woke up (at 10AM) to see if we could stay the next four nights, which is the duration of our time in Paris. He came back... no. They are full. Bummer!
And check out is at 10. We're already late leaving. Well, we can't leave without eating breakfast first. We had a quick breakfast while we packed. Then, we headed downstairs and turned in our key. We weren't quite sure what the best course of action was, so we headed to Gare de Lyon train station. Lonely Planet said it had a Tourist Information office that helped with accommodation booking.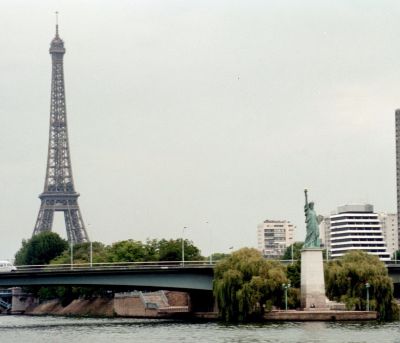 Eiffel Tower and Statue of Liberty in Paris
Then, we walked back along Allee des Cygnes, the island on which the statue resides and then caught a train back to our hostel. We hung out for a while in our new room. It was a rather odd room, which apparently at one time had its own toilet; but no more. We played cards and relaxed. Eventually, we made some dinner (thereby, breaking one of the hostel rooms -- no eating in the room) and ate it in our room. Then, we decided to go and visit a cemetery that Nathalie had said was a beautiful place to visit, Cemetiere du Pere Lachaise. We hopped a train and were there in no time...but it was closed for the night. And the neighborhood was not one we wanted to wander around in. In fact, Kirk turned us around rather quickly and we hopped right back on the train.
We jumped off briefly at one of the stations to get some groceries, and then headed back to our hostel. We spent the rest of the night relaxing in the room. We listened to some music (ahhhh... the Abalandeli Brothers...the CD we bought in South Africa!!) and one of our downloaded sermons from church!! Then, it was time to hit the sack.
But oh... the beds had bedbugs!! ICK!! We ended up squeezing onto one of the little bunks so as to take advantage of the sleep sheet's benefits. It's pretty good at keeping the bed bugs at bay.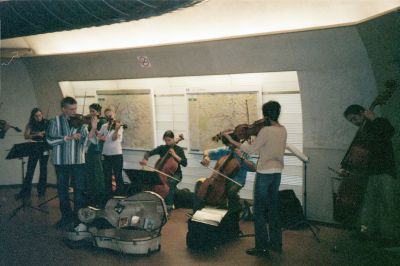 Buskers in the Paris Metro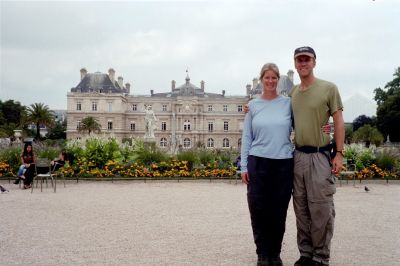 Jardin du Luxembourg
We got up around 7:00 AM and went downstairs for our free breakfast of tea, two baguette pieces and jam. That is pretty much what we have ourselves anyway, except for the tea. We had been planning to go to Versailles today, but it was very rainy, so we decided to postpone Versailles. We went upstairs and made sandwiches, and then went to our favorite internet shop, and wrote the last two posts you read. We ate our lunch while doing that.
After they finished, we walked around the garden and took a few pictures, then we sat near the fountain and listened to another of our sermons from home. It is great to hear the familiar voices and have a good message. Later, we took the metro back to the hostel. We ate dinner in the room and played cards and listened to our new CD and then some others.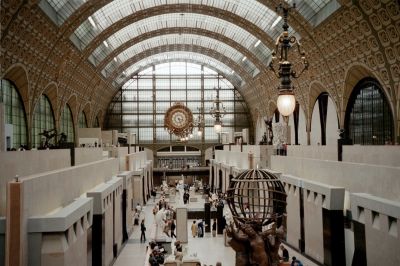 Musee d' Orsay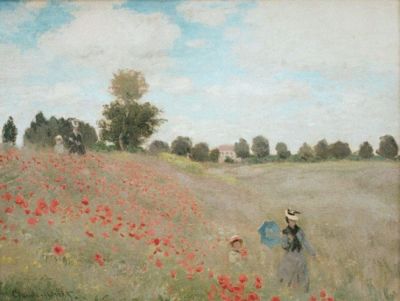 Claude Monet - Coquelicots (1873)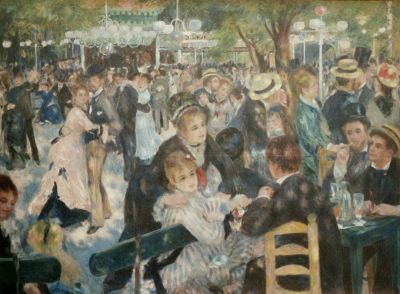 Pierre August Renoir - Bal du Moulin de la Galette (1876)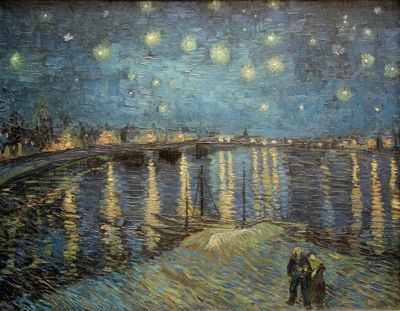 Vincent Van Gogh - La Nuit Etoilee Arles (1888)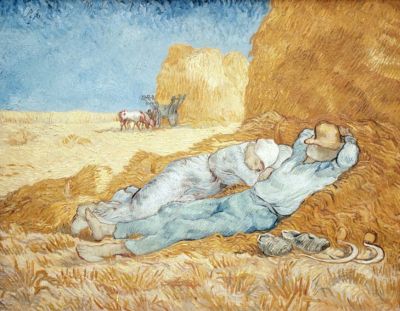 Vincent Van Gogh - La Meridienne Oula Sieste D'Apres Millet (1889-1890)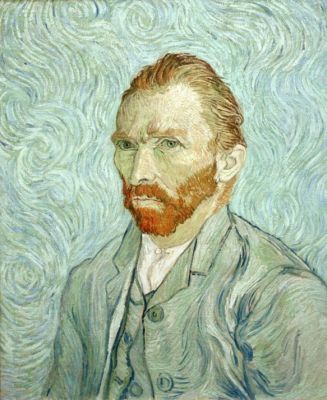 Vincent Van Gogh - Portrait de la Artiste (1889)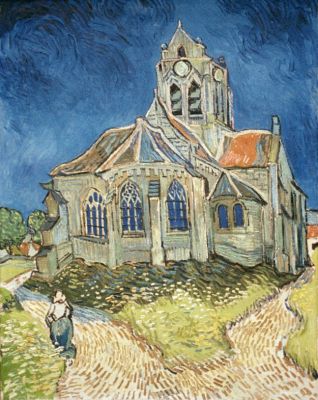 Vincent Van Gogh - Leglise d'Auvers (1890)
Today was rainy as well, so we decided to go to Versailles on Sunday. We got up around 8:00 AM, and Donna took her shower first. She informed me that it was very cold, so I agreed that I wouldn't take one this morning. We went down for our free breakfast again, and stayed and chatted for a while with other folks from the hostel. We met a guy from England who works in Coventry for Landrover. Once he found out about my Spitfire, we had lots to talk about.
After breakfast, we went back to the room, packed and moved to our new/old hotel, Hotel Richard. After we got settled in, I went out and bought us some more groceries and film. Developing is very expensive here, so you probably won't see any more new pictures until after we get home. We made our lunch and then took the metro to the Musee d'Orsay.
While we were there, we found some out of the way seats near the restaurant (there was no art around) and sat down to eat a snack. When halfway through our apples, a museum rep came by and said we couldn't eat there, we would have to go into the restaurant. We tried to protest, that we didn't want to buy any food there, but she insisted and said we just had to go inside. So, we went ahead and went in with our apples, where they proceeded to seat us at a table. When the waiter came by, I said we didn't want anything, and tried to explain, but he wouldn't hear it, and kicked us right out! He was quite rude about it, too. Whatever. We finished our apples in the doorway between the restaurant and the hallway.
After the museum, we went back to the internet place and did more internet. After that, we got a crepe with sugar. Very yummy! Then, we headed to the Citibank branch on Champs Elysées, where we withdrew nearly all our money. We only have one week left, and we knew we would have nothing left when we go home. It looks like that will be the case!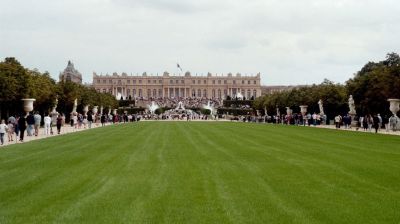 Versailles Chateau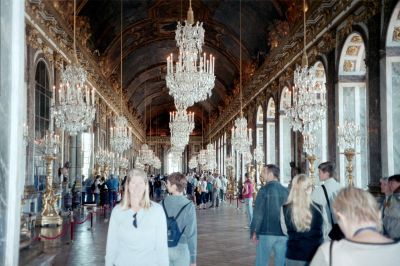 Mirror Hall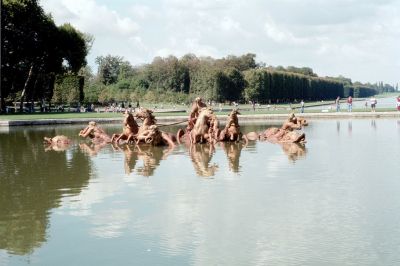 Bassion de Apollon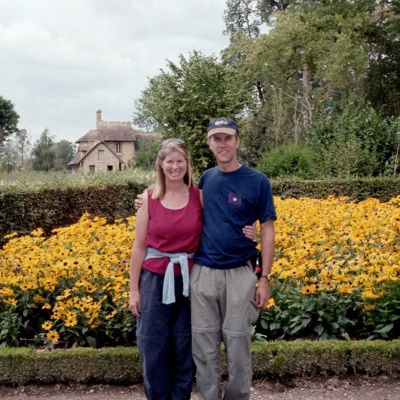 At the Queen's Hamlet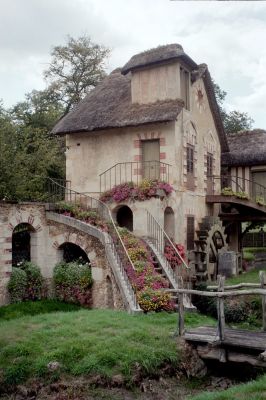 Queen's Hamlet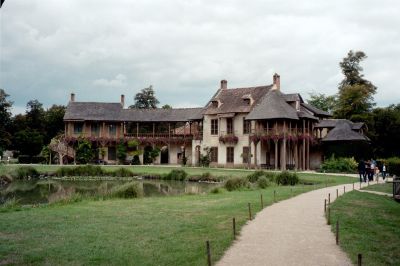 Queen's Hamlet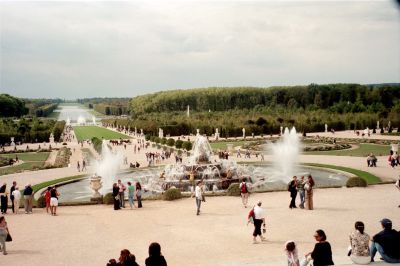 Versailles Fountains
A Day in Velvety Versailles
We got up early this morning - 7AM so we'd have an early start to Versailles, our destination for the day. We had breakfast in our room. We are quite happy to be back at Hotel Richard, where eating in our room does not involve breaking the hotel's rules! I showered, we made lunch and stuffed it into our pockets. Then, we headed over to the train station. It was quite chilly this morning, although the weather was supposed to be warm and sunny later on (only partly cloudy today, and no rain).
We took a roundabout way to get to the right line, but there is no direct line to the train we needed to be on -- the RER C line to Versailles - Rive Gauche. We had to make three train changes! But we are getting to be experts at this, and if there's anything in Paris that we've gotten our money out of, it's certainly our Carte Orange pass!!
The entire time we headed through the State Apartments, however, we were literally surrounded by hundreds of people. There were times when tour guides shoved us aside to get their tour groups into a room. It was quite an off-putting experience. It reminds us why we like seeing things independently whenever possible. We were quite happy to be finished with the State Apartments and hoped the rest of the areas wouldn't be as crowded!
We wandered back through the gardens up toward the Chateau. We originally planned to head to the coach museum, but then we realized that Les Grandes Eaux Musicales was about to start, so we decided to wait for that and then go to the Coach Museum afterwards. Les Grandes Eaux Musicales is a musical fountain display. Supposedly, the fountains dance to music. We headed back around and into the gardens. Kirk had a map that one of the women at information had marked for us, showing which fountains had the best displays. We headed for one of those. They made an announcement over the loudspeaker about not doing something because of a watershortage, but we didn't ever figure out what they were talking about. At 3:30, the show started.
Afterwards, around 4:30, we headed over to the last thing on our list...the Coach Museum. This small museum houses the few remaining ceremonial vehicles from the 19th century. It also included Louis XVIII's hearse coach.
That's it! We were done. We headed back and caught an RER train back to Paris and then Kirk negotiated us back to our hotel along the subway lines. We had a snack in the room and then headed over to our favorite internet shop. Right outside is a little creperie, and since it's our last night in Paris, we decided to treat ourselves a little! We each had a "jambon fromage crepe" -- that's ham and cheese to you English-speakers! It was delicious! And it cost us €3.40 (each). After we do internet tonight, we'll probably head back to the hotel and listen to one of our sermons.
I do have one very serious prayer request, though. As I logged onto my email account tonight, I found out that my grandmother had a serious stroke last night. They don't think that she will recover. I don't know what her status is at this point. Please pray for her, my grandfather and my mother and uncle!
That's all from Paris! We catch a flight tomorrow morning to London!
See you from there!
If you are reading chronologically, click here.