Egypt 2003 Travelogue
Entries:


So, we headed through passport control in search of the club. We found it. However, it was shortly after 6AM and they didn't open until seven. So, we wandered for a bit until they opened up. Ahhhh...the comforts of luxury. For a few hours at least! We walked in to the smell of freshly baked bread and freshly brewed coffee. After checking in at the front desk, we found a nice place to set up (Kirk in front of CNN and me in the corner where I could read) and we settled in for a few hours. I had some fresh bread and soft german cheese (yuuummmmmyyyyy) and cappuccino and orange juice.

Later on in the morning, we decided we had better head for the gate. Everything went fine at passport control, but when we hit security they absolutely refused to handcheck our film and cameras. We tried to explain to them that they had done it earlier and what they had done, but the guy there wouldn't even listen to us. He just kept demanding we put the film and cameras on the belt or stay and not go through security at all. He was terribly rude. Eventually, Kirk got frustrated and saw there was no reasoning with the guy. He just put the cameras on the belt and walked through.

We arrived in Cairo at around 3:30PM local time (one hour ahead of Frankfurt time, 2 hours ahead of Greenwich Mean Time). We breezed through immigration. We had decided to wait and get our visas here in Egypt as we'd heard from someone who had been here recently that the visas at the airport cost only US$15, while if we had gotten them in South Africa, it would have cost us over US$20 each (plus time and hassle). We waited forever for our bags at baggage claim (I guess when you have a five hour layover, it means your bags were probably first on the plane). When Kirk put mine on the cart, I noticed that the zipper on the lid of my backpack was partially open. I zipped it closed, assuming it had come partially unzipped during the loading and unloading process.

We walked to the bus terminal and waited for our bus. It cost us a grand total of 5 Egyptian pounds (LE) to ride the bus downtown to the Egyptian Museum, which is where we wanted to find a hotel. The fare included two fares of 2 LE each plus an extra 50 piastres each for the bags. A taxi wanted upwards of 50 LE to take us downtown! Once downtown, we started hunting around for a hotel, which didn't take us long. We ended up at the New Sun Hotel, which is about a 5-10 minute walk from the Egyptian Museum. We got a double room with with fan and a shared bath for 40 LE per night; it includes a light breakfast (hard boiled egg, two rolls with butter and jam, and tea). The exchange rate here is 6 Egyptian Pounds (LE) per US Dollar.

We relaxed in the room for a bit and tried to adjust to the new heat. We had been away from the high temperatures for four weeks now. We were back to 30+ degrees C. It wasn't really all so bad, just an adjustment. It will be even hotter in Luxor.

Later in the evening, we decided to go out and find some food and check email. We end up at a place nearby called Cafe de Paris, which also has its own internet cafe. Afterwards, we headed back to our hotel and got some much needed sleep!

After splitting a chicken swarma for lunch, I continued journaling (I was on a mission to catch up today). Kirk went out to try and get our 7 rolls of film from South Africa (and some from Singapore) developed and to see what options we had to replace our tripod. He had luck with the film (he found some developing that was cheaper than Southeast Asia, even), but the tripod was proving to be difficult. Everything he found was metal and quite heavy. He went out again later and looked some more. He did eventually find one that was made of wire that looked like it might work, but it didn't have the velcro options that our REI tripod had. We have some extra velcro. Maybe we'll just have to try and attach some to it.

For dinner, we went out looking for another restaurant, but were largely unsuccessful. Somehow, we ended up at another mall and ended up splitting another swarma. We decided we'd better find some other form of food here fast or we'd get really sick of swarmas!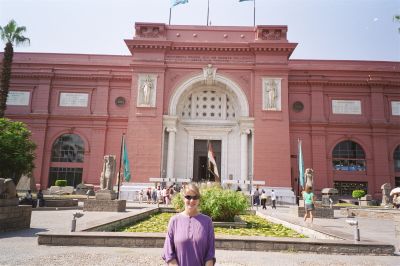 The Egyptian Museum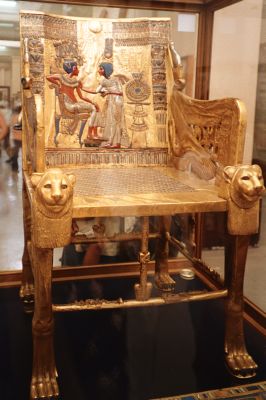 Lion Throne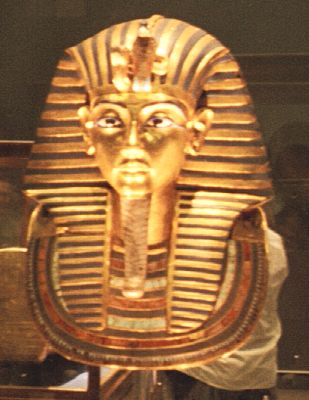 King Tut's Death Mask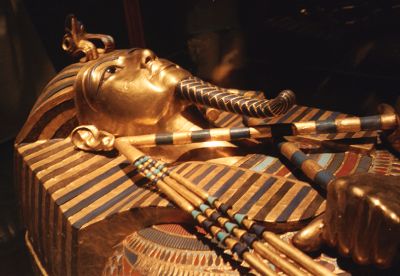 King Tut's Larger Sarcophagus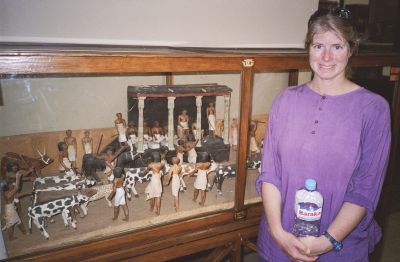 Donna and one of the models
We zipped through several other exhibits, everything from portraits of Graeco-Roman period mummies to pharonic technology. We eventually flee to the museum cafe for lunch around 11:30AM. It's no less crowded when we came back to the museum about 40 minutes later! One of my favorite areas was two full rooms of miniature models recovered from the tomb of Meketre (an 11th dynasty chancellor) providing a portrait of everyday life in Egypt 4000 years ago. The detail work was amazing and they were quite life-like. There were models of fishing boats, slaughter houses, carpentry workships, a loom, model of Meketre's house, counting of cattle, etc. It was quite fascinating!
There aren't as many highlights down there, so we hit those first. First, we saw the larger-than-life statue of Khafre (Chepren), a masterpiece of smooth, black, dioritic stone. Khafre built the second pyramid at Giza. In the Amarna Room, we examine the different artistic styles used by Akhenaten, who promoted the exclusive worship of Aten, the sun god.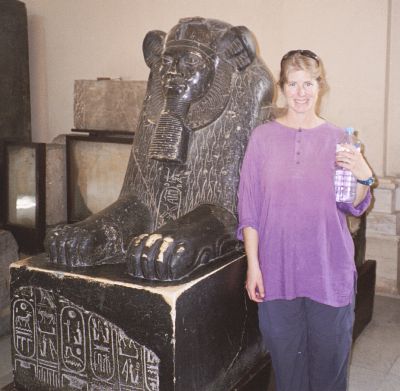 Sphinx
There were several granite sphinxes housed in the museum -- much smaller, of course, than the Sphinx of Giza fame. They were sculpted during the 12th dynasty (around 1850 BC) for the pharoaoh Amenemhat III and discovered in Tanis in 1863.
We headed back to the hotel, where we relaxed for a little while. Then, as I worked on my journal, Kirk went and picked up our photos. I was actually quite disappointed with the way the photos came out. We had used my camera almost exclusively to take our photos in Kruger, since it has a longer zoom. However, it appears that my camera is failing. The light meter, or something, is not functioning properly and many of the photos didn't come out properly or clearly. How disappointing!
We had dinner back at Cafe de Paris and did some more internet, starting our last post from South Africa (we've got some catching up to do).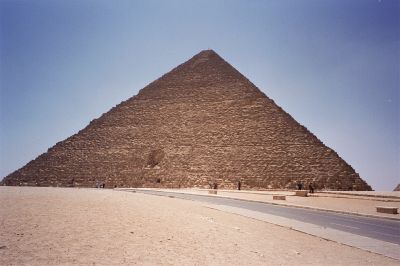 The Great Pyramid of Khufu
We had calculated what it was going to cost to do all the stuff at the Pyramids (it's not cheap). The Giza Plateau entrance fee is only 20 LE each. We were expecting to pay a 10 LE camera fee for each of our cameras, but apparently they had eliminated that recently (yay!). Then, we had to pay a 40 LE entrance fee for each of our tickets to get into the Great Pyramid. Some time ago, they had been running some sort of a program where the tickets to get into the Pyramids were limited, I think to limit the wear and tear on the interior. As a result, we were expecting some hassle and possibly, to either have to stand in line for a long time or not to get a ticket at all. According to our guide book, they had been issuing only 300 tickets per day to enter the Great Pyramid. Well, no such program was in place when we were there! There were tons of tour buses and just about EVERYONE seemed to be buying tickets to get in without a problem. We bought our tickets and decided to walk around outside while it was still cooler out, and head inside when it got a bit hotter.
Everywhere that you go at the Pyramids, there are hawkers trying to get your attention for one thing or another. Either they want you to take a camel ride or a horseback ride. The camel riding is quite a scam. They will often tell you it's free to get on, but then charge you a virtual fortune to get back off! And you can't just "hop off" a camel!! It's impossible! Many of the camels looked in terrible condition, as well. All of the tourist police in the area (there are regular police, and tourist police. If you are a tourist, you only talk to the tourist police) ride camels. We compared the police camels to the hawker camels and it was a pathetic comparison -- the hawker camels looked like they wouldn't make it across the street. Horseback riding is another issue! The horses here are malnourished and in horrible shape. Our guidebook received a letter from a veterinary surgeon who visited Egypt and complained that less than 30% of the horses he saw at the Pyramids were fit to be ridden -- most were lame or emaciate. What we saw confirmed his observations. Most of the rest of the hawkers are trying to sell you postcards, or other useless souveniers. Occasionally, someone would sell something useful -- like water.
Then, there were the crooks. People who would try and sell you tickets for things that didn't require tickets. However, our guidebooks and other people had warned us about this. And people who offered to take photos for you and then demanded money. Things like this abound. The tourist police are cracking down, but there are WAY more touts, crooks, hawkers and unsuspecting tourists than there are police.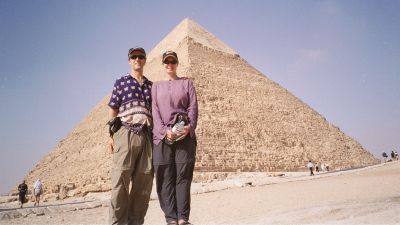 The Pyramid of Khafre
As we made our way around the massive structure, we were followed by every manner of hawker. One man was actually polite. He was trying to talk us into taking a ride on his horses (he had three). He showed us photos of what we could see. He told us where we could find him or his sons later. He even gave us his name. All the while, as always, we said "no thank you."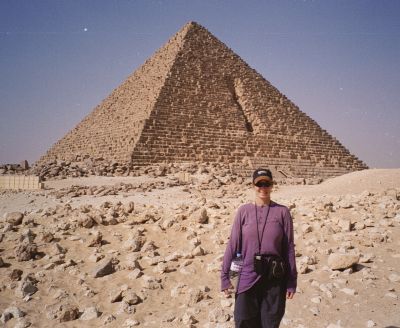 The Pyramid of Menkaure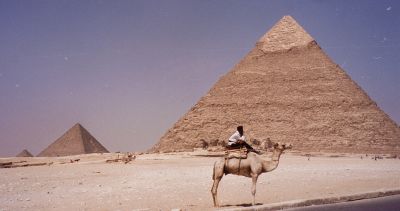 Pyramids
We descended into the pyramid down a long narrow passageway. We both had to stoop over to climb through. Occasionally there were sections where we could stand up for a moment. There were people climbing in and out, so we had to stop and let people pass as they climbed out, as the passageway was quite narrow. We got down to the bottom and were in the antechamber. From there, a room led off into a burial chamber and into the tomb. Cool! We tried to hang out, but had unfortunately arrived around the same time as a busload of tourists, so we ended up leaving rather quickly. Man, Egypt sure is crowded!! We thought it would be cooler inside the pyramids, but with all those people inside, it was actually cooler outside! After we climbed out, we walked around behind the Pyramid of Menkaure to see the Queen's Pyramids, three dilapidated pyramids that are situated to the south/southwest. One was in much better shape than the other two.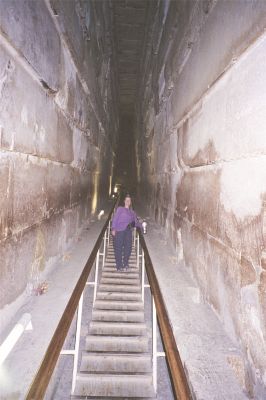 Climbing the Steps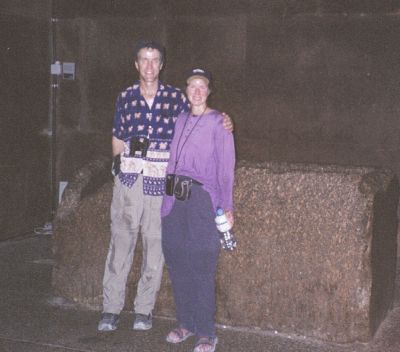 This room is >3500 years old!
The long climb takes you to a chamber at the top where the tomb was. It was one very very echoy chamber. Kirk spoke his name and it echoed for a full 10 seconds! We timed it! It was quite an interesting place! We hung out for a while, enjoying the fact that we were the ONLY tourists there, and then finally climbed down.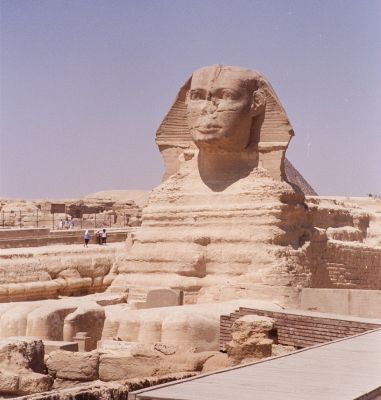 The Sphinx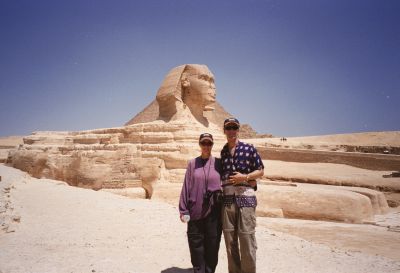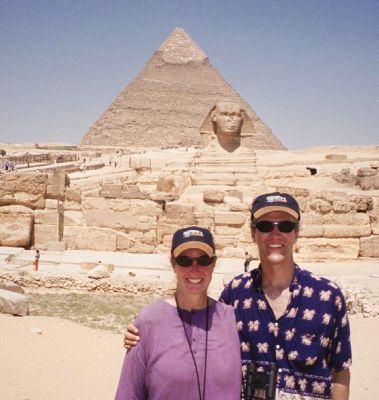 The Sphinx & Khafre Pyramid
After viewing the Sphinx we wandered a bit looking for a perfumery some friends of ours from Australia (that we met in Vietnam) told us about, but I had forgotten the map, so we decided we'd have to come back armed with the details another time. Most of the places are rip-offs.
We headed back across the plateau and caught a bus back into town. We decided to head straight for the train station, where we booked a train into Aswan tomorrow night. From there, we caught the metro back to the hotel, had dinner at Fatatri at-Tahrir again and then worked on our posts some more.
An uneventful day. Breakfast, checked out of our hotel and then worked on our website. Next, we'll be in Aswan!
As of this post, we have great news: God has blessed us financially through Donna's Grandfather, so that we now have enough funds to complete our entire trip as originally planned! Hooray! Praise God! Thanks Grandpa! So that means, we will be heading to Europe for 4 weeks after Egypt, and arriving back in Los Angeles on September 8. We will be home soon!
By the way, Upper Egypt is the area of Nile Valley South of Cairo. It is called "Upper" because it is higher elevation than the "Lower" delta region including Cairo and Alexandria area. It can be kind of confusing because "Upper" Egypt is South of "Lower" Egypt!
After we finished with internet, we went back to our hotel, got our bags, and set off for the train station. We took the subway to get there. Cairo has a pretty good underground metro, but they have a bit of a flaky pricing system. According to our Lonely Planet, it should cost 50 piastres to go our 3 stop distance. There are 100 piastres per Egyptian Pound. However, a previous time the ticket man insisted it was 65 piastres, and this time he said it was 55 piastres to go the same distance. Since there are only 25 or 50 piastre notes, they were forcing you to pay extra. I gave the guy 2 one pound notes and he only gave me back one 50 piastre note! Arrghh. Oh well, it isn't much money anyway. (6.07 LE (Egyptian Pounds) = $1).
We got to the train station and found our way to our proper car and cabin easily. It was a nice 2 person cabin. The bunks were one above the other, perpendicular to the car. We had our own door and window, so we could have complete privacy if we wanted. The meals are eaten in your own cabin. There is even a sink and a little switch on the wall that allows you to play or turn off the piped in music (1970's and 80's pop).
When got to our cabin, we noticed that there were lots of people congregating around the cabin next door. They were a bit noisy, but we hoped they would be quiet when it came time to sleep. Later on, as we were waiting to leave, we had our interior light off and were watching out our window to the platform across the way. We noticed some Egyptian men staring into what we thought must be the cabin next door (the noisy one). Donna asked me if she should warn them, and I agreed. She did, and it was a single woman in there, who thanked her and shut her drapes. However, she was fully clothed and didn't seem to be doing anything untoward that would attract attention. We continued to watch outside, and the men were still gawking at the train. It must be the next cabin down. Donna asked the lady next door if she knew the passengers in that cabin and she did; her sons were staying there! Just then one of the sons came in laughing. Apparently, the other son had changed ALL his clothes in the cabin in full view of the window! Ooops!
Shortly after 8:30 PM, the train departed, and we were on our way to Aswan. They served dinner very soon thereafter. It wasn't that bad. Egyptian food, I think beef, chicken and several other dishes. Later, they set up the beds and we tried to sleep. The tracks in Egypt aren't as smooth as those in other countries, so it was a bit of a rough ride. It was not very easy to sleep.
We woke up around 7:00 AM had breakfast and arrived at the station in Aswan around 8:30. We left the station and headed out searching for hotels with our Lonely Planet. We selected the Nubian Oasis Hotel, 234 Sharia as-Souq, tel 312-126, fax 312-124. We asked for an A/C room with bath, and the first one we got the A/C unit was very old and cut out a lot, so we changed to a fourth floor room (409) that had a much better A/C. This one kept the room nice and cool. We paid 25 LE for this room, including breakfast.
After a cool shower and rest in the room, we decided to head out in search of the Nubian Museum. We tried to follow the poorly photocopied map in our Lonely Planet, and got there after a little bit of a round about fashion. It was VERY HOT, 104F/40C!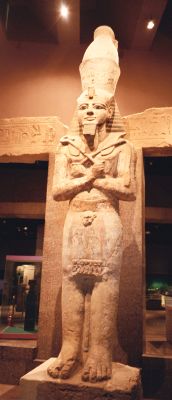 A Statue of Ramses II at the Nubian Museum


The Sculpture Garden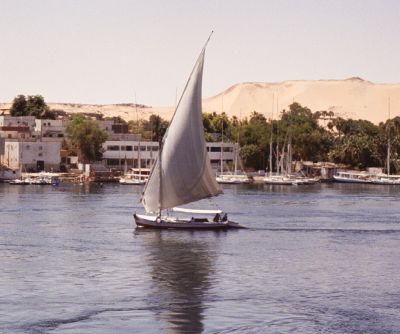 A Felucca on the Nile
On the way back to our hotel, we tried an internet place in a back alley. The connection was very poor dial-up, so we went on to our hotel. Donna stayed in the hotel and worked on her journal while I searched for an internet cafe that had a working CD-rom drive so that I could upload our new pictures. It was a long search. I must have gone to 5 different places. They either had no CD-roms, or the ones they had didn't work. I think the CD-rom drives don't last very long here since there is so much dust in the air. Finally I made it back to our hotel, and ended up using the computer there. Its CD worked OK, and it was the only computer, so I had the dialup connection all to myself!
After dinner, we went back to the hotel and read and went to sleep around 10, as we were getting up early for our Abu Simbel trip the next day.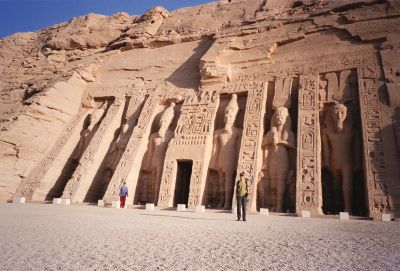 Temple of Hathor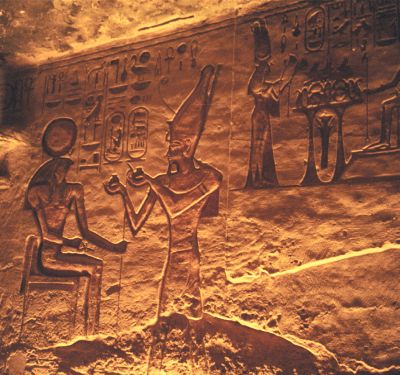 Inside of Temple of Hathor
The first temple we went to was the Temple of Hathor built by Ramses II. It has some big images of Nefertari on the outside. Inside are several inscriptions and paintings. It is well lit, and they have covered the floor with wood to prevent damage.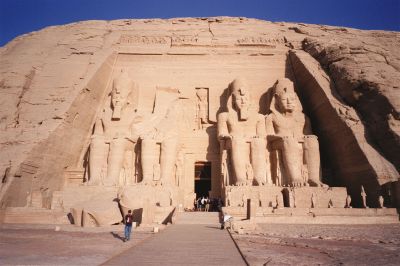 Temple of Ramses II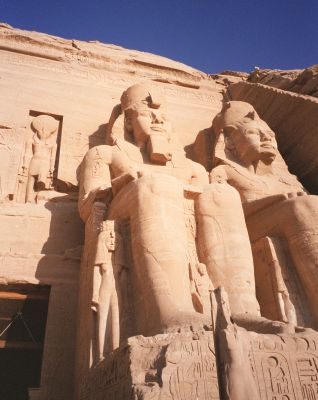 Close up of two of the statues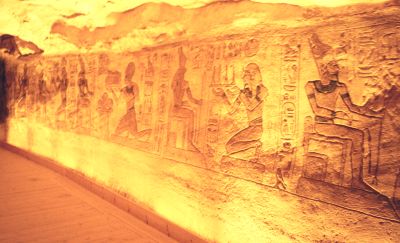 Store Room Number 2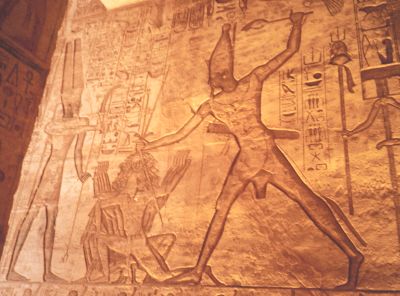 Detail in the Great Hall
The next temple was built by and dedicated to Ramses II. It is just to the south of the other temple and at a bit of an angle to it. The statues on the outside are 20 meters high!
We didn't take many pictures inside the temples, but we got a few. We did get some excellent ones outside.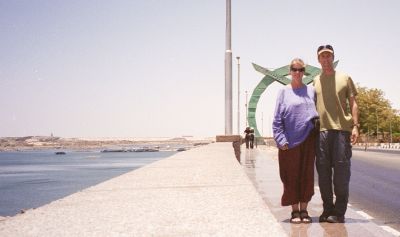 High Dam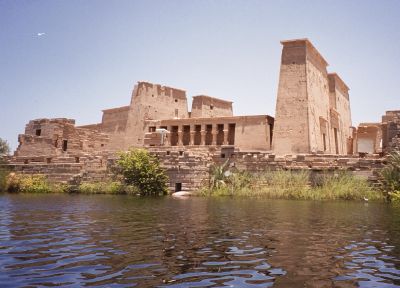 Temple of Philae, Gate of Ptolemy (from boat)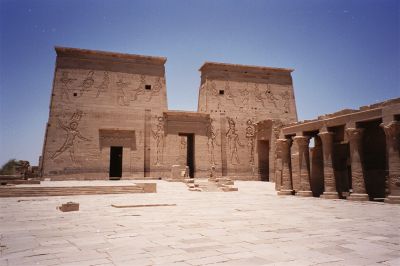 Gate of Ptolemy, First Pylon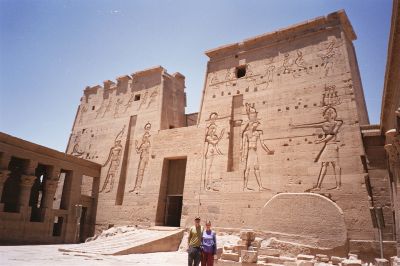 Second Pylon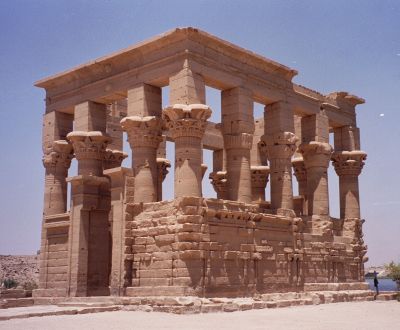 Kiosk of Trajan
About ten minutes into our tour of this phenomenal temple, disaster struck...my camera died. This time, I think it is for good. It won't take pictures anymore, even though it has good batteries and film. I can't even get it to rewind the partially used roll! I'll have to get it removed at a camera shop. But that now means we are without a good camera! Bummer, we will look for a replacement camera in Cairo. We have essentially found that the little towns we have been in (in the meantime) do not have quality camera equipment. Ugh.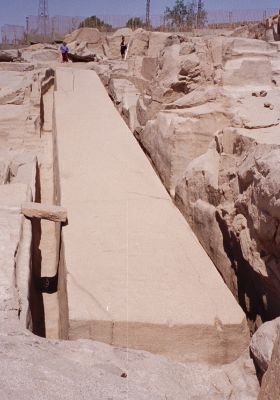 The Unfinished Obelisk
When we got back to the hotel, Donna worked on her journal (she is on book 6, by the way), and I continued working on the net putting up our pictures. At 6:00 PM, we went for dinner at Medina Restaurant. They, too, have a set menu. The food was pretty good.
We got up, had our breakfast, and went out to look at the camera shops for a bit to see if we could find a replacement camera. They are all just film and developing places, so they didn't have anything suitable. We planned to finish out the roll we had in Donna's failing camera and then get some disposeable cameras until we could get to Cairo and look at a real camera shop.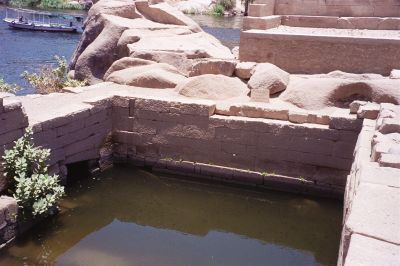 Nile-O-Meter
We paid our 10 LE entry fee for both the ruins and museum, and saw no notice of a camera fee. We attempted to go into the museum first, but they insisted on a camera fee, or surrender our camera to storage, so we just went back out and toured the ruins first. The ruins were in pretty sad shape. Nothing resembling anything near a complete structure that we were able to actually get into. There were a couple of interesting sections that looked great with some statues and great reconstruction, but they were blocked off to tourists. It was interesting to walk around though. We were able to find the two "Nile-o-meters" that they had. They used these to have an accurate measure of the Nile at various times of the year, so they could predict the extent of the floods and future harvests.
After a walk around the ruins, we headed into the museum. We decided to just store the cameras, since we rarely take pictures in museums. The main museum building had many small artifacts from the area, but was obviously very old and hadn't been improved in a long time. After the main building we retrieved our cameras, and went to the new annex next door. The attendant didn't take our cameras here, he just asked us not to use them. This annex was much better. It had a cooling system and the exhibits were much better presented. There was a lot of good information with the exhibits.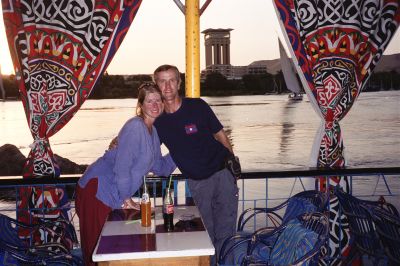 Us at the Aswan Moon
On the way back to the hotel, we picked up a disposable camera to use for the next few days.
We had signed up for a felucca trip through our hotel for 60LE per person for 3 days and 2 nights from Aswan to Edfu with the Jamaica Family. At 11:00 AM, 1/2 hour after they were supposed to pick us up, we found that they "didn't have enough people" for us on Jamaica Family, and had thus put us on a different felucca with another captain. Lonely Planet said this is common practice. We paid half our fee now, and were told to pay the remaining 60LE when we got to our destination.
They brought us down to our felucca, and we climbed aboard. Another couple, Christine and Jack, from France were there waiting. When we got on board we got a high pressure sales pitch to buy a 15LE van ride at the end of the trip to bring us to Edfu temple and on to Luxor. We agreed with this but didn't go for the other stuff he was selling. Our crew was Sala and Mohammed. It turns out we had to wait 2 more hours until Hangun, from South Korea, showed up. It wasn't his fault, they knew he was on an Abu Simbel tour and had scheduled him for this same felucca.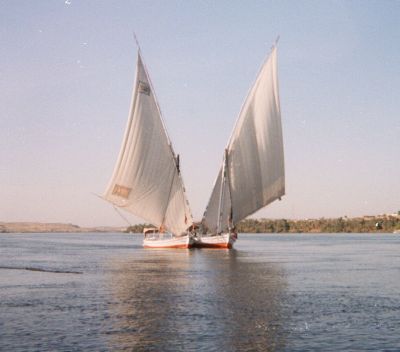 A pair of Feluccas on the Nile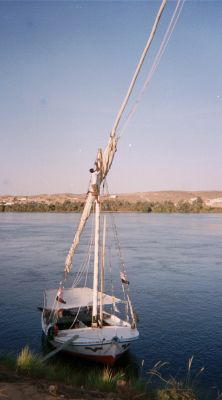 Fixing the Mast
Soon, we were sailing. It is very nice and peaceful to sail down the Nile in a felucca. Although, we didn't sail for long. We stopped about 5:00 PM. We moored to the side of the Nile and we had dinner. It was a sort of soup, with lots of tomatoes, which Donna hates, and no meat. After dinner, we played palace a lot. We even taught Hangun and the crew. They left the canopy up this night, so we couldn't watch the stars. We didn't sleep very well, Donna tried to read by her flashlight, and there was a lot of chanting and singing from the mosques throughout the night.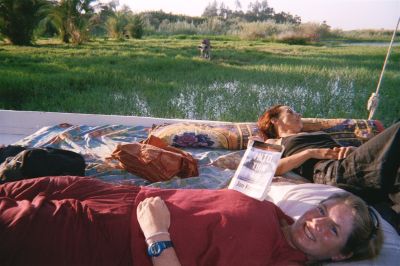 Relaxing on the Felucca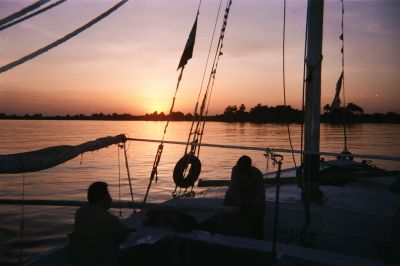 Sunset 7/30/03
We got up around 7:00 AM, had our breakfast and then they untied at around 9:00 AM. They rowed us out into the middle of the river and we just drifted down the Nile. We drifted until about 11:30. We had caught up with another felucca filled with Aussies. We stopped at the side and tied up and had lunch.
Around noon, the winds picked up and we could have sailed. However, we stayed tied up and doing nothing. At one point, the wind had pushed our boat so it pulled the stake out of the sand and we were floating out to the river. Our entire crew was onshore at that time and the captain of the other boat had to jump in and swim out to us, then hoist the sails and sail us back to shore. At around 4:00 PM we set out and sailed some more. But again, not for very long. We soon stopped on the other side of the Nile at a little shop where we could buy cold drinks.
At this point, the French couple talked with the crew about a camel market they wanted to go to. Apparently, they thought it was near here. I think the crew said it was closed or something. Eventually, after about 20 or 30 minutes at this stop, we pushed off and sailed for 30 more minutes. We then tied up within sight of Kom Ombo. This would be our stop for the night. It wasn't even 7PM. As the crew made dinner, pasta with rice and more tomatoes! I think it is called Kushari. The French couple found out from the crew that the camel market had been very near where the drink stop was, and they could have gone. They were upset that the crew had told them it was closed.
This night they took the canopy down, so we could watch the stars at night. After dinner, they tied us up so we were a little ways from the shore. Unfortunately, they hadn't asked if any of us needed toilet facilities before they set us out in the water. Donna and I had to have them pull us all the way back in and set up the plank again so we could go use the facilities before bed. On a felucca, you sleep on a big platform in the middle that is covered with matresses. We all got blankets and pillows to sleep under. This night, it was fun watching the satellites and shooting stars in the sky overhead. You can see a ton of stars here! However, sleep was still a problem. We could hear more chanting from the mosques. Plus, cruise boats go up and down the Nile all night long and their wakes rock the felucca.
At around 6:30 AM our crew rowed the felucca across the river and tied up on the Kom Ombo side. We had breakfast and then unloaded from the boat. I paid the captain our remaining 60 LE, but didn't give any baksheesh (tip) due to the fact that we hadn't sailed much and were supposed to have been to this temple the previous day, and other problems we had on the trip. Then we hauled our stuff out to the street by the Kom Ombo temple and waited for our van. The other member of the crew came up to me and asked about the money, he hadn't realized I already paid the captain. He then tried to beg for more baksheesh, to no avail. The van came shortly thereafter, and we loaded our stuff up and then went into the temple.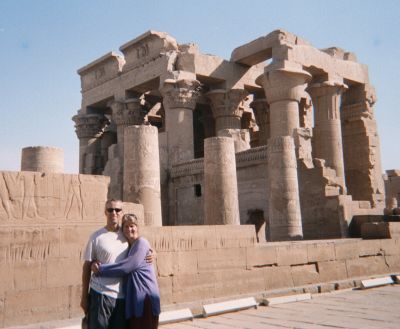 Kom Ombo Temple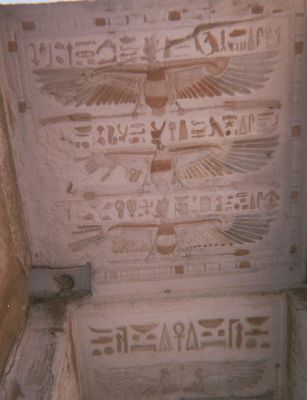 Birds on the Ceiling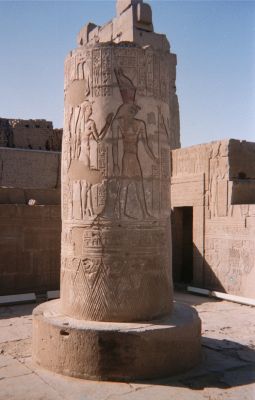 Column at Kom Ombo
After the temple we loaded up into the van and were off to Edfu. Our new van mates were the Aussies from the other felucca. It turns out they paid 120LE per person and were in fact with the Jamaica Family and had much better food and it sounds like a better crew. We also met a Swiss egyptologist on the van and a real nice guy from Taiwan.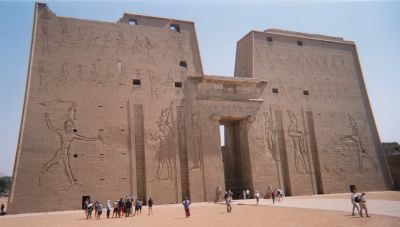 Edfu Temple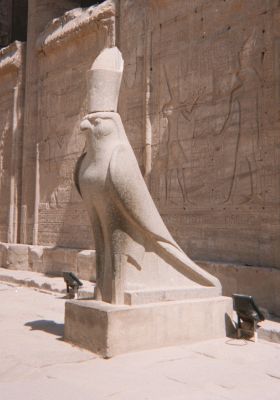 Falcon Statue at Edfu Temple
The van then brought us to Luxor. They stopped at the Happyland Hotel where several of the riders stayed, but we wanted to go on to the Grand Hotel, (Much cheaper) so we stayed on and someone got on the van with us, who we thought was a tout. He tried to take us to the Grand Hotel, but we ditched him by going to an internet cafe and checking email. After that, we went on to the Grand and found that the only AC room they had was still in use. But the owner insisted on coming out and helping us find another hotel. Eventually he brought us to the Oasis Hotel just down the street where we got a room with A/C and in-room bath for 15LE per night. Breakfast was 3.50LE each. We rested for a bit, showered, and then went out to look for a book store and camera store.
After a futile search for books and cameras, we had dinner at Amoun Restaurant. We shared a mixed grill. We had to have meat after our no-meat felucca trip! The meal included kabob, kofta, chicken and steak, with fries. Very good! They also have pretty good lemon juice and we had some ice cream for dessert. After dinner, we bought another disposable camera on the way back to our hotel.
We got up around 7:00AM, had our breakfast, and met the minibus that was taking us on a tour of the West Bank today. The tour cost 75LE per person including entry fees. It covers 42LE in entry fees. On our mini bus, we met some Egyptology students from Toronto, Canada. We had previously met Gary at an internet cafe in Cairo, but this was the first time we had met Julianna, Katie, Sarena, Lynda, and Hajni. They had all finished two months of research in a little village, and were now touring the rest of Egypt before they head home. It was great to see the sights with real (almost) egyptologists. They taught us a lot, and pointed out many fallacies that the official guide was espousing!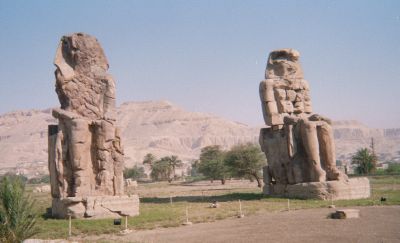 Colossi of Memnon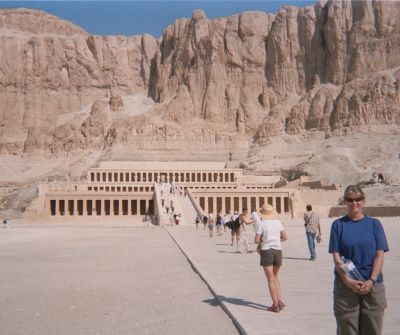 Hatshepsut Temple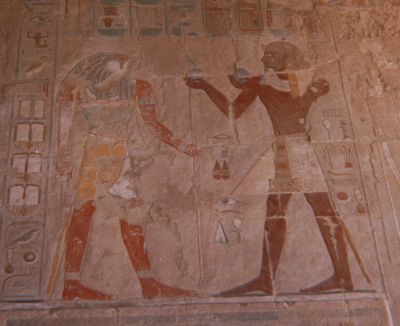 Detail of Hatshepsut's Son In Law
Our next stop was the ticket office where the guide bought all our tickets. Then we went on to Deir al-Bahri, which contains Hatshepsut's Temple. This is a mortuary temple used for the 18th dynasty ruling Queen Hatshepsut. It is also the location where several tourists where killed in the 90's. Every tourist attraction you visit in Egypt is heavily guarded by police or military men with guns. The templed is terraced and built into a slope. Only the upper two levels are open to tourists. We could use our cameras for no charge, but without flash. It was fun walking around with the egyptologists. They could translate the Hieroglyphics and explain a lot. They also told us that the story that the guide told us about the pregnant hippo god representing evil is all wrong. In fact, the pregnant hippo is a goddess that protects women in childbirth (Taweret).
After the tombs, we made our way back to the van. On the way to the Valley of the Queens, we stopped at an alabaster shop and had some cool drinks and the obligatory pitch to buy alabaster trinkets. Donna and I didn't buy any, but we did get some drinks. Julianna told us she had bought some alabaster a few years ago when she had visited Egypt with her father and the stuff at this shop was way over-priced (and they wouldn't even negotiate...VERY un-Egyptian!).
We however did go to see three other tombs here. The tombs are not just of queens, but princes as well. No photography is allowed at all here, we had to give up our cameras to our guide who held them while we went in the tombs. So to see pictures of them, go to the links.
And that was it for our tour. The van brought us back to Luxor and we changed clothes and went swimming and had some cool sodas at the New Radwan Hotel where the Canadian egyptologists were staying (10 LE to swim for non-hotel guests). We decided that we would meet up with them again the next day to tour the temples at Karnak together.
For dinner we went to the Al-Hussein Restaurant. This is right next door to Amoun. We ordered their mixed grill, but it was smaller in size, and not as good as the one from Amoun.
After breakfast in our hotel, we met with our Canadian friends at their hotel around 7:30 AM. I bought us a some more cold water while we were waiting. It turns out that Gary wouldn't join us today as he had been out late the night before and wasn't feeling well. So it was me, Donna, and the 5 Canadian girls. We caught a minibus to Karnak for 50 piastres each, right at the traffic circle by their hotel.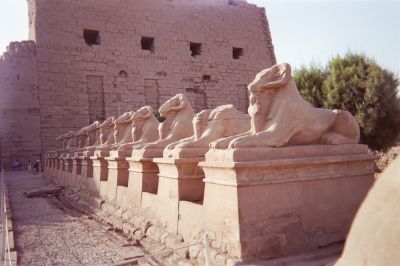 Sphinxes at Karnak Temple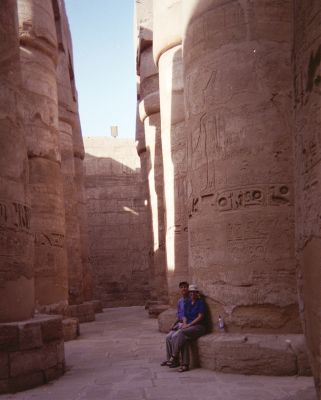 Hypostyle Hall at Karnak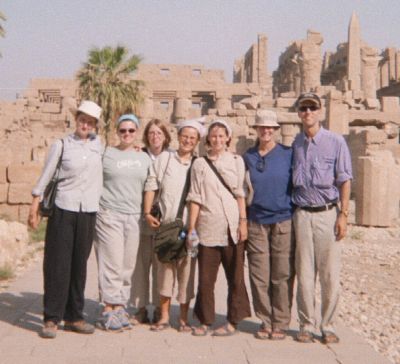 Julianna, Lynda, Serena, Hajni, Katie, Donna, and Kirk
(click for full size)
After that we all walked back to Amoun restaurant for lunch. I got a few comments about my harem as we walked in. They also had remembered Donna and I from two nights before. After lunch, we all split up. Their group was parting ways in the next few days with some going home soon and others staying on in Egypt for more touring.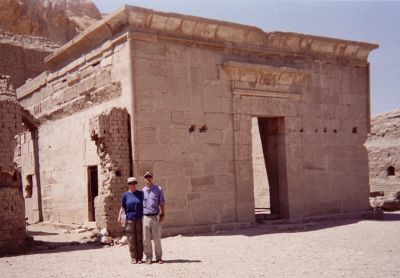 Deir el-Medina Temple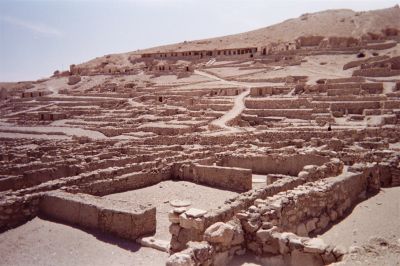 Worker's Village
Next, we went to the tombs of Sennedjem and Inherkhau. These are two of the workmen. The tombs were small and basic, but the painting on the walls was very well preserved, much better than many of those in Valley of the Kings.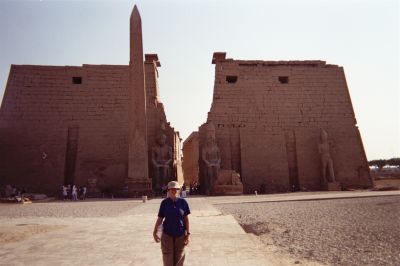 Luxor Temple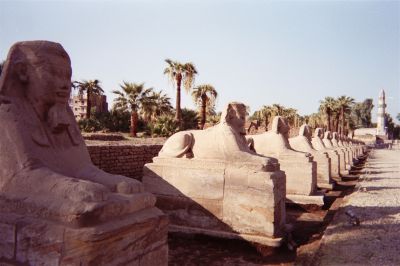 Luxor Temple Sphinxes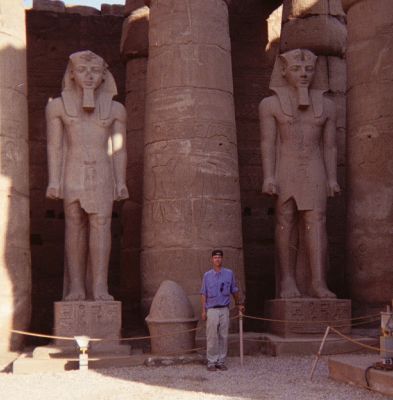 Kirk & the Two Ramses Statues
On our way to dinner, we got information on the bus to Hurghada. It departs at 6:30 AM! We had dinner at our favorite Luxor restaurant, Amoun. This time we had spaghetti bolognaise. Then, it was back to the hotel to pack and sleep as it would be an early morning.
We got up early today. Our hotel had pre-made our breakfast and gave it to us in a bag -- that way we could eat it on the bus. We made our way to the Upper Egypt bus station, got our ticket to Hurghada for 24LE each, and got on board. The bus left at 6:36 AM. At around 9:30 AM somewhere out in the desert, they pulled over to a roadside cafe/toilet stop type of place, and the driver got out and others got out. We stayed on board thinking it was a toilet stop and we didn't have to go. After about 45 minutes, I went out and asked how much longer it would be and the driver said it would be 10 more minutes. After another 30 minutes, we got out of the bus and waited outside where it was cooler. Eventually we found out that the bus had broken down and we were waiting for a replacement bus. The second bus finally came after more than a 2 hour wait. This bus was quite a bit less comfortable as it only had seats for the front half of the bus. The back was just bare floor. We had to sit on the floor in the back the rest of the trip. We finally arrived in Hurghada, Egypt on the Red Sea at around 2:30 PM. Since this is no longer Upper Egypt, but near Sinai, you will have to wait untll the next post to find out what happened next!
After we got off the bus in Hurghada, we were accosted by taxi drivers and hotel touts. One of them mentioned the hotel we happened to want to go to, the Four Seasons, so we looked went with him. A free ride to the hotel would be nice. We hopped in and along the way, mentioned we wanted to take the ferry to Sinai the next day. They said they could help us with that, so they stopped at the Sea Waves hotel where we got tickets on the Red Sea Jet ferries for $30 (US Dollars) The other ferry is $40. Then they brought us to the Four Seasons. At this point we found that our hotel ride, in fact was NOT free. Oops. I didn't want to hassle with it, so I paid the guy the 20 LE. The Four Seasons didn't have any AC rooms, a requirement at this point, so we went on looking for others. We went to several hotels and didn't found any that had rooms with A/C available. Eventually, we ended up back at the Sea Wave (065-545-071, Owner +2 012 468-8741). (We didn't remember the name of the place from when we bought the ferry tickets, but remembered it by the building). They had an very clean A/C Room for us with bath and breakfast for 35LE. They weren't in our guidebook, but they should be. They were excellent!
We had dinner at Norhan's Restaurant. We split a Chicken Pane Gambo (Gambo means Jumbo) It was basically a big fried chicken sandwich. Surprisingly delicious.
After dinner, we went back to the hotel, rested, ordered a taxi for the morning, and Donna worked on the journal.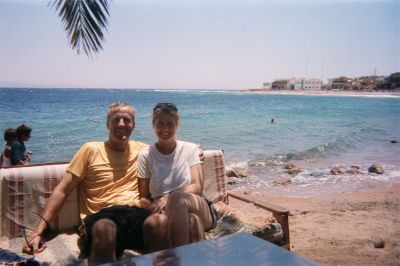 Lunch in Dahab
After lunch, we did a little internet at one of the many satellite internet providers here, and then picked up an underwater camera for our dives. We found one right next door to Deep Blue, and it is reuseable and goes down to 28 meters! When we got back to our room we dropped off our clothes to be washed. We hadn't washed clothes since Pretoria, South Africa!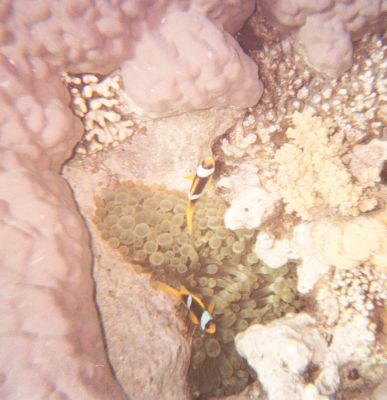 Egyptian Fish!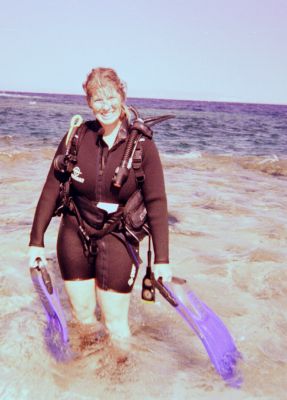 My Beautiful Mermaid!
After the dive, we washed our dive gear and put it away for our dive the next day. We had a wonderful dinner at King Chicken Bedouin Restaurant. After dinner we went back to the room, and made some notes of our travels, so I can update the website without using Donna's journal. (We were both a bit behind). There was a nice little kitten that lives at the hotel, and she would come in our room, insisting to be petted. We couldn't keep her away since the window and door were open. She was very cute. We went to bed a bit early as we had had a long day and were very tired.
We got up and had breakfast at the Karnak Restaurant a few doors down from Deep Blue Divers. Donna had the English breakfast (eggs with sausage), and I had the American breakfast (Spanish Omlette). It turned out Donna's "sausage" was really a hot dog, ewwww!
At 9:30, when we were supposed to meet our divemaster, we found out that he had to go to Cairo for something, and they wanted to switch us to another group. This was going to be two dives, one at Bell's and the Blue Hole, and another one at the Canyon. We had only planned on one additional dive, so they gave us the second one for $15 instead of $20. We piled our stuff in the jeep and went off to the other Deep Blue Divers location to pick up the other divers. They added a trailer to the jeep to hold our gear, and the divers and divemasters rode in the jeep. We had two divemasters, and 6 divers total. The ride out to Canyon was a bit long on a dirt road along the beach. As we drove by the police check points, the driver and front seat passenger would hold their seatbelts in place (not hooking them up mind you) and then take the seatbelts off as we pass by. They say "Seatbelts aren't needed in Egypt". Yeah, right. The whole time one of the Egyptian divemasters was chatting away with one of the female divers. It was quite obvious he was trying to pick her up. She even had her boyfriend on the dive with us!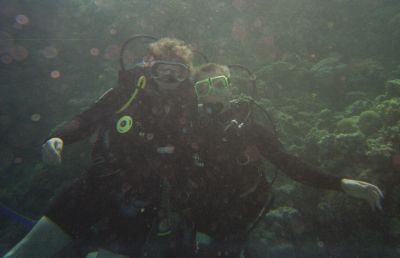 Your Intrepid Travellers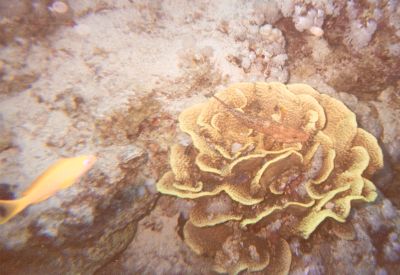 Fish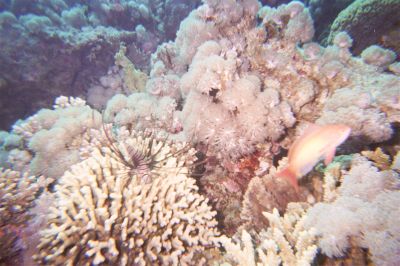 Coral Too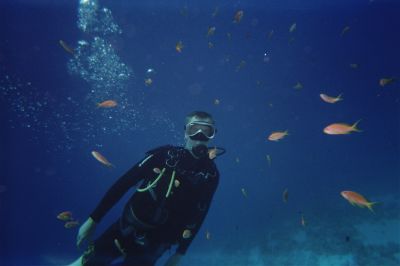 Kirk & Fish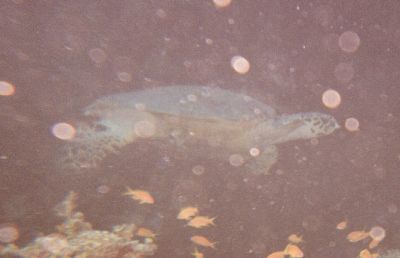 Turtle
As we were making our way back to Dahab, our jeep was stopped many times, waiting for camel convoys to go by or get out of the way. It was pretty funny! As we rounded a corner into Dahab, there was a jeep on the side of the road that had obviously just been rolled over. It turns out the divemasters knew the owner of that jeep. No one was in it, so they probably got out ok, but that shoots their theory of seatbelts and Egypt! At the hotel, we took showers and cleaned up. We had a great time diving!
We had dinner at King Chicken Bedouin Restaurant again. This time we had egyptian pizza. It was very good. They use a flaky pastry like crust here. After dinner, we used the internet for a bit, and then got ready for our trip to Mt. Sinai. They were going to pick us up at 11:00 PM.
At around 11:00 we went out and waited for our van to Mt. Sinai. The trip out there and back cost us 30LE each. They arrived a little later and we went around to the other hotels picking up other people. It was about a 2 hour drive out to St. Katherine's Monastery at the foot of Mt. Sinai. We got out and found that the driver would wait for us there, and we had to be back by 10:00 AM the next day and we could tour the monastery at 9:00 in the morning.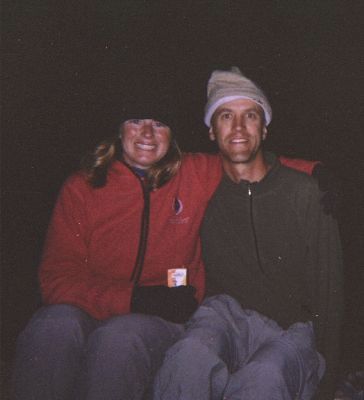 Waiting for the Sun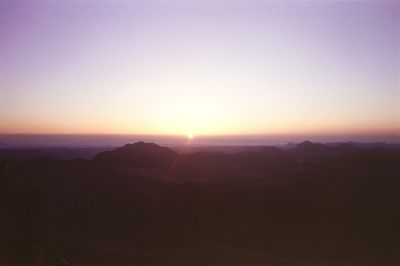 Sunrise 8/6/03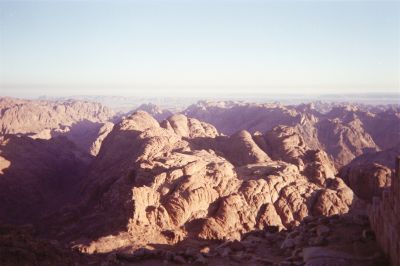 View from the Top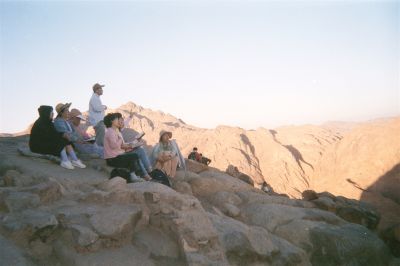 The Group of Asian Singers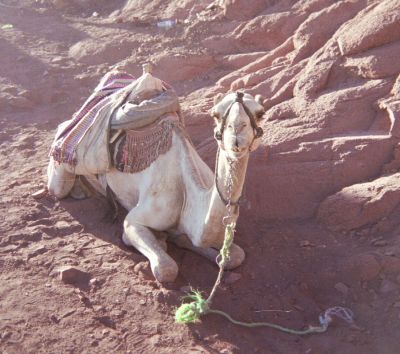 Wanna Ride?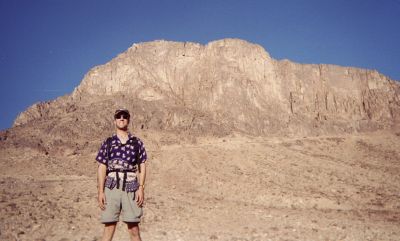 Kirk at Mt Sinai
The sunrise was pretty good, but not specatcular. The sky was just too clear. There weren't enough clouds and stuff for the sunlight to play off of. But it was great to see the surrounding area after walking up here in the dark. A short while after sunrise, people started going back down and we noticed a group of Asians on the other side of the peak had gathered and were singing Christian worship songs. I knew some of the tunes, but none of the words. I know they sang "How Great Thou Art" among others. Eventually, Donna and I headed down, too. We dropped off our mattresses and blanket with the guy we rented them from and continued on down the trail. The camel guys were still at it offering rides on the way down now. They were also selling agates, stones with fossils, and other polished stones on the way down.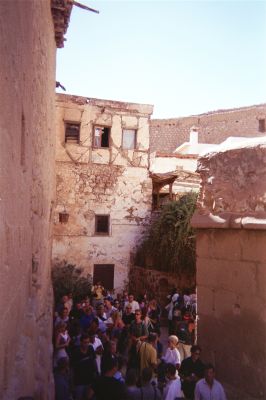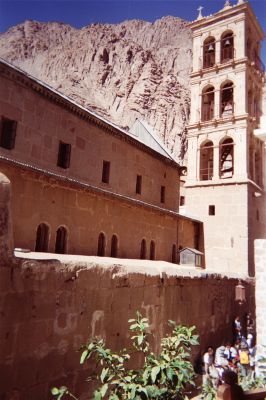 Inside St Katherine's Monastery
On the ride back we got to see the countryside leading out to Mt. Sinai. If this is what it was like in the Israelites time, boy did they have to trust God! There is nothing out here! Just rocks and sand! There is hardly any vegetation at all. If God hadn't provided the manna, they would have starved.
We got back to our hotel around 12:30 PM, and switched to an A/C room. It had just been too hot to sleep in the fan room. This one cost us 55LE but it was worth it! It had very good, brand new A/C! It is so much easier to sleep when the room is cool! We took a nap that afternoon, and then went to dinner at the King Chicken Bedouin Restaurant again, our favorite. It is located directly across the street from the Nessima Resort. We had the chicken pizza, NO TOMATOES! After dinner, we did an email check, and then Donna went back to work on the journal, while I continued working on a post. We went to bed around 10:00 PM.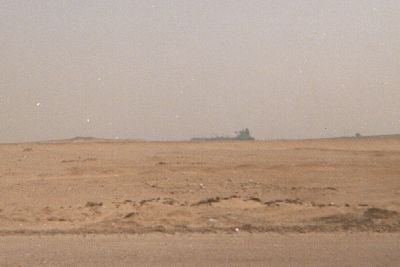 The Suez Canal
When we got to the Suez Canal, we all had to get off the bus, and take our bags out from underneath, too. Then a guard inspected the contents of our bags. We were going to go under the canal in a tunnel, so I guess they didn't want any bombs on board to destroy the tunnel and canal! I was last in line, and I opened up Donna's bag for him to inspect since it was the easiest to get into, and after inspecting it, he just turned and left. He didn't bother checking my bag. Mine is very stuffed and hard to get into.
During our bus ride we listened to more music on our CD player and another sermon from our church. We also played cards and games on our visors. We got in to Cairo around 5:15 PM. I was able to get us tickets on a Super Jet bus to Alexandria that was leaving at 6:15. We bought some cheese sandwiches and sodas and waited. The bus left around 6:20 PM. This time we didn't get the good seats either, but we figured out what they are. If you want seats with a nice table and no one in front of you, select 1 & 2, or 3 & 4, or 31 & 32. We started playing cards as usual, and this time the stewardess came by and forbid us from playing cards! What a bummer! We weren't gambling which is probably forbidden to muslims, but that was hard to explain. So we respected their request and played games on our visors instead. They had a really annoying noisy Egyptian movie on this bus. They always seem to play the television shows VERY loud on the buses (except the one English movie they showed).
We got into Alexandria around 10:30 PM. After some wandering and asking around we found the tram that goes along the coast here. It is North of the bus station on the other side of the train station and a street. We took the tram to the area we wanted to look for a hotel. Boy, was it crowded! Apparently, we had arrived at the peak of high season here in Alexandria. The streets were filled with people at this late hour! Our first choice, Union Hotel was full, so we ended up at Normandy a little ways away. We were tired and wanted to sleep so we got a room with no fan for only 25LE. We figured it would be okay, because there's a nice cool breeze coming off the ocean in Alexandria.
Before we went to bed, I went out and got us some cool drinks and bread and cheese for the next day. Unfortunately, we discovered that the minute we shut the door to our room, the breeze stopped and the room was stifling. There was a transom, but it had about 50 years worth of paint over it and there was no way we were going to be able to get it open. So, using a couple of wood screws and a blanket, we made a make shift door over the lower half of the doorway and slept with the door open, our clothes on and the bed under the window to catch the maximum airflow. It was tough to sleep, but it was the best we could manage at after midnight and we did get some sleep. We'd work something else out tomorrow.

Alexandria and Cairo, Good Bye Egypt!

We got up around 9:00 AM and had our breakfast of bread, cheese, and water right there in the hotel room. Then, we went out and found a room at the Crillion Hotel that was much better. It cost 73 LE, but included a shower in the room, a fan, an ocean view and breakfast. A bit expensive, but this was high season on the Mediterranean! We rested a bit this morning and eventually went out and had lunch at Mohammed Ahmed. We didn't do too well ordering. It seems it was a vegetarian place and we ordered foul (beans), bread and fried cheese (feta). Not the best lunch we have had in Egypt. After lunch, we did an email check and then put our film in to be developed.
After the museum, we found a place to buy some Fuji 400 film (our favorite) and Donna went back to work on the journal while I tried to catch up with our posts on the internet. At around 7:15 PM, we had dinner at the great chicken place across the street from the internet cafe. I don't know the name since it was all in Arabic! We ordered by pointing and gesturing and had a great dinner of chicken and rice and sodas! It was actually too much food, so we had them package up the leftovers to take home, but instead we planned to give them to a poor boy on the streets we had seen earlier. He slept in a stairwell nearby. We walked up and down and around the area that we had seen him before but couldn't find him. Eventually while waiting for him to come by I gave the leftovers to a one legged boy that came by begging.
This was when we met Hamed Ali and his wife Doa'a and their two girls Toa'a and Maya. They were sitting on the wall with us enjoying the night air and struck up a conversation with us. Hamed apparently has a travel agent type of business in Cairo (012 235 8073). They invited us over to Doa'a's parent's place, where they were staying, for tea and conversation. We were a bit wary (our Dutch friends had told us a horror story of something that had happened to them in Upper Egypt when they were there), but we accepted and went along with them. We had a great time chatting and with them and learning a little bit about Egyptian life. This had been the first time we were in an Egyptian home. We headed back around 10:30PM and tried to pick up our film and CDs. The CD's weren't ready yet, but we were able to pick up the pictures. We slept in our nice new room with the fan on and window open!
We got up around 8:30 AM and had our breakfast in the hotel. They seem to have a feta fetish here in Egypt. We get it all the time! Breakfast was feta cheese, tomatoes, cucumbers, pita bread, butter, jam, white cheese, and tea. No eggs! After breakfast, I checked on the CDs and they weren't ready yet. Oh well.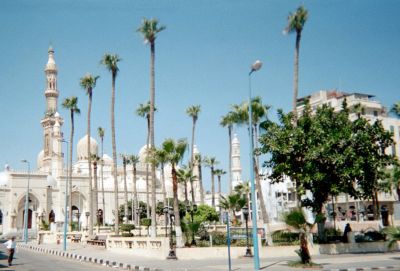 Busseri Mosque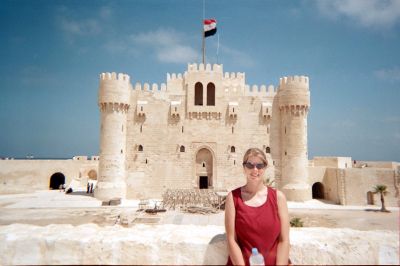 Fort Qaitbey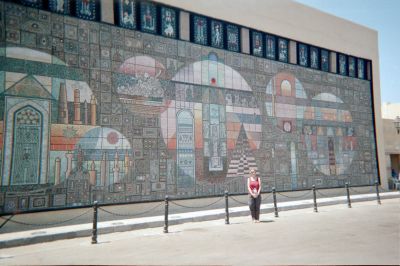 Mural near Fort Qaitbey
We started walking back along the inner street that the tram goes down and had lunch at another chicken place along the way. It was an interesting place since they were constructing a building across the street and we could watch the workmen. The proprieter of the restaurant didn't know English but he did know German, so Donna ordered our Egyptian lunch in German! After lunch, we went back to the corniche and walked back to the photo shop. The CDs were finally done! Yay!
Then, we went to the internet shop and did an email check. I got some bad news. My dad had been brought to the hospital for some tests. Apparently his Alzheimers is getting bad now and he can't always form the sentences he wants to, now. There is not much more that they can do for him. He is back home from the hospital now, but please keep him in your prayers. They think he is suffering from TIA, as well.
We bought a phone card and called my Dad. That was good. Then we headed back to the hotel to rest and on the way we gave our lunch leftovers to the street kid that we had planned to give the ones from the day before to. We rested in the hotel, and had some cool drinks. Later, we went out to buy some more calling cards so we could call home some more. The 20LE cards only last for 5 minutes!
We had dinner a pepperoni and mushroom pizza at Little Caesars for dinner. And then tried to call back my Dad and he had already been discharged from the hospital. So we called my sister and mom instead. Then, we went back to the hotel and I labeled our new pictures for a while and Donna journaled. I paid for our room and then we we packed and went to bed.
We were up at 5:45 and out the door at 6:15 AM. We caught a taxi to Mahat Masr Train station. I told him the Mahat Masr train station twice very clearly and instead he took us to the bus station near Sidi Gabor train station! I couldn't believe it! I told him he should have taken us to the correct train station. I paid him the 3LE that we had agreed on for the Mahat Masr station, despite the fact that he wanted more.
After a bit of a difficulty in figuring out which line to stand in to get our train ticket, we got a ticket for the 8:20 AM train to Cairo, 1st Class for 30LE each. The train was pretty nice, with plenty of legroom and nice cushy seats and good A/C. When we got to Cairo, we found that while we were gone, they had officially raised the subway price to 0.75 LE (75 piastres). So we got our tickets and made our way to Sadat station. We then walked to the Luna Hotel, which had been recommended to us by Gary, one of the Egyptology students from Toronto. We paid 70LE for an A/C room with shared bath and breakfast. We had to wait a bit for the room to be cleaned, but it was an nice big room with good A/C.
We had chicken shwarmas for lunch at the mall across the street and then took the bus from the Egyptian Museum out to Giza. We were going to the perfumery that Donna had been recommended to by our aussie friends, Kean and Linda. It was quite a walk from where the bus lets you off around to the perfumery which was by the entrance to the pyramids near the sphinx. It was nice though to go through an Egyptian neighborhood. We were definitely out of place and many people offered to direct us along the way.
After asking a few other perfumery owners, we were finally able to find the perfumery, it is called Lotus Flower, I think. The owner/salesman was pretty good. He gave us his demo, and we ended up buying 4 different scents 50ml each and he gave us the "special" price of 2LE/ml. This is the pure essence. No alcohol or oil. Donna also got a pretty bottle to put it in, too.
We walked back through the town, and then caught the bus back to Cairo (2LE). We did a little internet and then had dinner at the mall again. Donna went up to work on the journal and I worked on the internet posts before going to bed.
Today was our last day in Egypt! We got up and had breakfast in the hotel around 9, and then took the subway to Ataba station to check out the book mart mentioned in the Lonely Planet. We wanted to get a guidebook for Europe and sell back some books we had. The book mart is right near the exit of the Ataba station. It seemed pretty extensive, but nearly all the books were in Arabic. There were a few stalls that had English books, and only one with travel books, but unfortunately nothing for Europe. We did sell them our South Africa book, though. We only got 5 LE for it, but it was a copy, and we only paid $3 for it in Vietnam. We made our way back to the hotel via the subway again, and checked out of the hotel.
Then, we went to the internet shop for another email check till 1:00 PM. Our flight wasn't until 4:15, so we thought an hour was plenty of time to get to the airport. We were wrong. We found our bus to the airport just fine, #356 behind the Egyptian Museum for 2LE, but the ride out to the airport took forever! Traffic was horrendous. We finally did make it to the airport at around 2:50 PM.
At the check in counter, the lady noticed that we had changed the dates on our tickets. She thought we should pay a fee for that. We insisted we didn't, but she insisted on checking. She made us stand around waiting for a while, and then finally let us go without confirming that it was free. She probably just wanted more baksheesh! Then we changed our money into Euros and we were able to sell one of our unused phone cards back to the guy at the money exchange. He gave us US dollars for that, so we spent those on cool drinks before boarding our flight. We were on Austrian Airlines this time.
The flight took off on time and we were on our way to Vienna! Good bye Egypt!
If you are reading chronologically, click here.