Austria 2003 Travelogue
Entries:


Customs and passport control were a breeze here! We still didn't have a guidebook yet, but we had an idea from the web that there were several hostels near the Westbahnhoff train station, so we took the S7 train from the airport (3€) to Wien Mitte station, and then changed to the U3 to Westbahnhoff. We think we were supposed to buy another ticket to take the U3, but we couldn't figure out where they were. The underground system here is on the honor system. They don't force you to have a ticket to get in and out of the system. They have ticket monitors on the trains and if they find you without one they fine you. At the Westbahnhoff station, we looked up some hostels at the internet cafe. Boy, is internet expensive here! It was 5.8€/hour ($6.60)! (1€ = $1.14) We may not get our pictures up on the net for a while until we find MUCH cheaper internet.

We selected Strawberry Hostel, which was probably the closest one to the train station. We found our way there and they put us in a triple at the double price. Strawberry Hostel only exists during the summer months. The rest of the year it is a university dormitory. We went up to our room, and got settled in. The rooms all have bath here, but no A/C or Fans. Most of the year they don't need it, but we slept with the window open because it is quite warm in Europe now.

We had dinner around the corner at Inge and Gary's GastHaus. Donna had been craving Wienerschnitzel so we had that. It was good but huge portions! We ate half and saved the rest for breakfast.

After dinner, we went back to the room to sleep. Later in the night, we had someone try to come in our room. I woke up and told them to leave, then went down and found that the reception hadn't noted properly that our room was a double, and had tried to sell the other bed! They straightened that out.

We got up around 8:00 AM and had our leftover Wienerschnitzel for breakfast with some tea we had saved from South Africa. They have a pretty nice, though messy, kitchen in the hostel. Then, we washed our clothes while they were preparing to switch us to an actual double room. It was nice to have clothes washed and dried in a real machine! It was much better than banging them on a rock and hanging them in the sun to dry, which is what they did in Egypt and India. After switching to our new room, we went out into Vienna in search of a guidebook and to look at replacement cameras. My camera had died completely in Abu Simbel in Egypt, and we thought Donna's was dying because of several poor exposure pictures from the rolls from Kruger Park. We found that there are very few used book stores in Vienna, and none with travel books. So, we ended up buying a brand new Western Europe Lonely Planet. It was expensive, but we had to have it. All the camera stores had very limited selections of compact cameras. Everyone is going to digital now, so we couldn't find one that we were happy with. In the end, we decided to continue using Donna's camera as the last roll that went through it wasn't all that bad.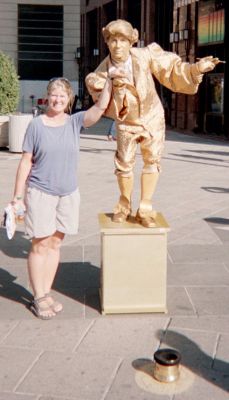 Donna & Mime
We had some pizza for lunch, and kept on walking down to the city center. We finally got to Shakespeare and Co. bookstore, which supposedly had used books, but it was limited to a small bin outside and a few stacks inside. There was not much selection. We will have to look more at hostels for books to trade.
On the way back, we had more pizza for dinner. This one was much better! Then, we did some internet and went back to our hostel to sleep.
We got up and made breakfast in the kitchen. I had french toast, and Donna had a hard boiled egg and bread and cheese. It was nice to make breakfast again.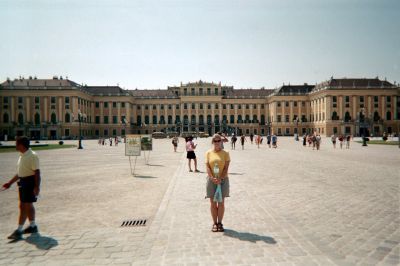 Schloss Schonbrunn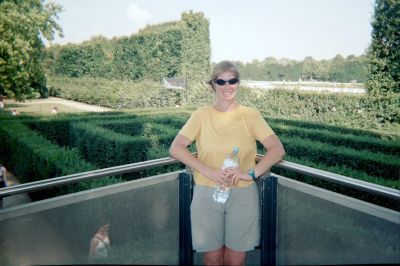 At the hedge maze
After the castle tour, we went into the gardens and to the hedge maze (2.6€). This was pretty fun. They have one maze, and another labrynth. It was not as tough as the one at Puzzling World in New Zealand, though!
We finished labeling our pictures from Egypt, and then picked the ones we will put up on the web. Later, we went out and looked for a place that should have free internet, but they were closed. It was the Energy Museum. We will have to remember that for when we get back into Vienna on our way out. We did some internet at the pay place instead, and Donna went on back to the hostel to work on her journal.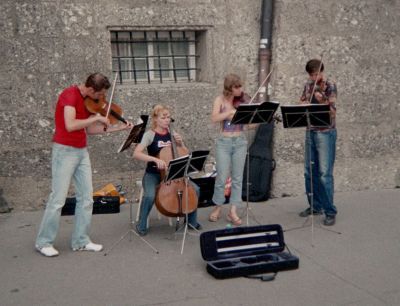 Buskers in Salzburg for the Music Festival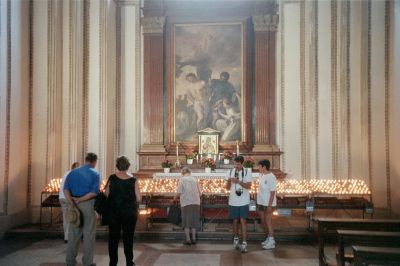 Inside the Salzburg Dom (Cathedral)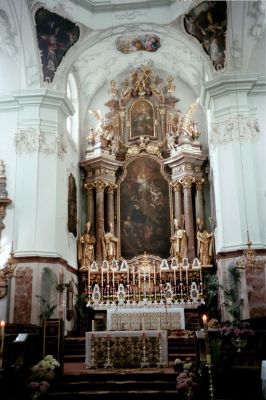 The altar in St Peter's Abbey Church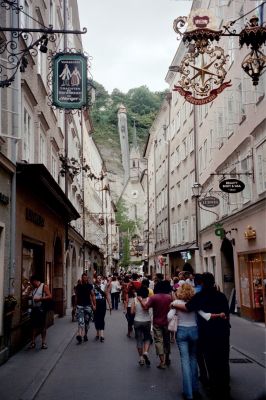 Getreide Gasse in Salzburg
We got up around 9, packed, and checked out of the hotel at 10:00 AM. Then we had breakfast, scrambled eggs for me and hardboiled for Donna. We went to the train station and did some internet to get our last post out. Once we were done, we barely made the 11:34 train. It started rolling out of the station as we were walking down the first car.
Later we had dinner at Wilder Mann. I had goulash with dumpling and Donna had Wienerschnitzel again with fries (the kid's size this time). On the way back to our pension, we got the schedule of trains to go to Innsbruck the next day. We rested for a bit in the room, made reservations for a hostel in Innsbruck for tomorrow and then went out to do a bit of internet.
Salzburg to Innsbruck, Austrian Alps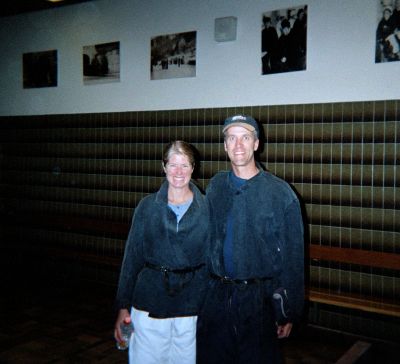 Ready for the salt mines!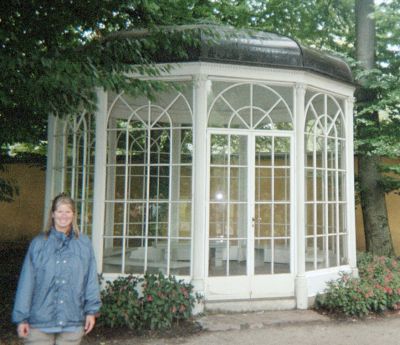 The gazebo from The Sound of Music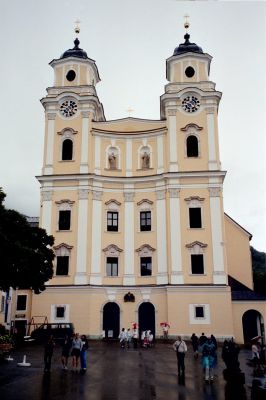 Mondsee Cathedral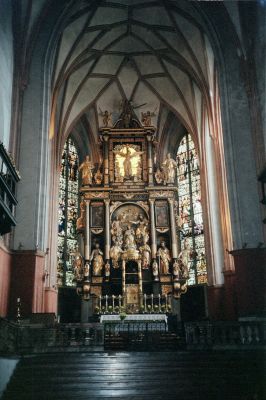 Mondsee Cathedral Altar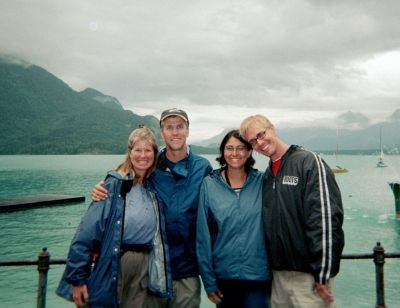 Donna, Kirk, Tanya, and Trace
(click for full size)
We got up around 7:00 AM, packed, and then went downstairs to have our complimentary breakfast. It was pretty good (breads, cheeses, liver pate, butter, jam, tea or coffee). I really like European coffee! Then we got our food from the refrigerator and made sandwiches for lunch and then brought our gear downstairs and checked out.
As we waited for the other members of the group, we had an ice cream and watched the river flow by. The next stop on the tour was to pick up the people that been on the Hitler's Eagles Nest Tour (which shares our tour bus). We got to see it from below, but we didn't go up there since that was another tour. Then, we went to the little town of Berchtesgaden, where the guide suggested we eat at a little cafe. We had brought along sandwiches, so we simply sat on some benches and ate our lunch with some other tourists while the rest went to the cafe. After lunch, they brought us back to Salzburg.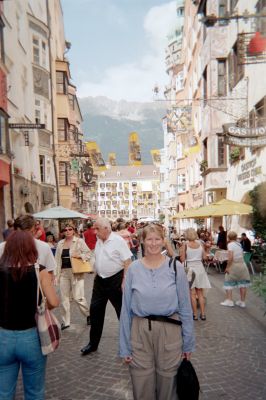 Welcome to Innsbruck!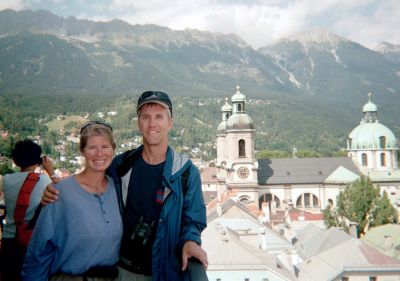 At the top of the tower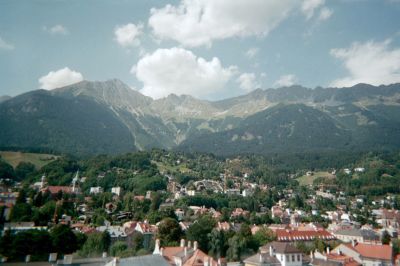 The Alps viewed from the Tower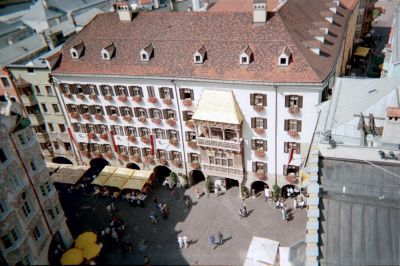 Goldenes Dachl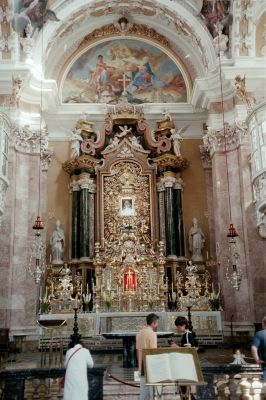 Altar of Dom zu St Jacob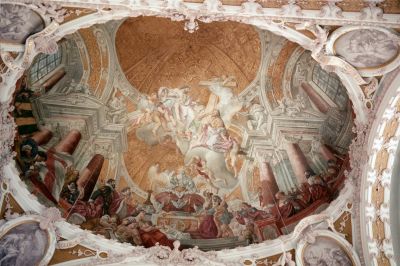 Ceiling of Dom zu St Jacob
At the hostel we searched for our missing guidebook and found that it was in our pack with us the whole day! I had forgotten that I had put it in a special bag with the pictures! Ooops! Oh well. We had sandwiches for dinner in our room, and Donna journalled while I caught up with the world on the TV via BBC World. We slept well in the nice cool room! It's much cooler in the Alps!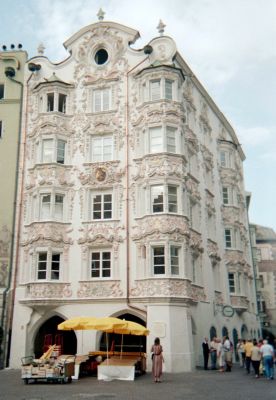 Helbinghaus
For lunch, we went back to the cheap pizza place for more pizza and then on to the internet shop to check our emails. After that, we found some tables and chairs behind a closed cafe and sat there to do more journalling and reading. Around 5:30, we headed out to find some dinner, but it turns out no one has dinner food available until 6:00 PM. I thought that was weird, but Donna said she had just forgotten about Europe's custom of eating late. So we had our dessert first and got some ice cream cones. As we were walking around, we saw a crazy guy frollicking in one of the fountains. He was making lots of loud noise, and then fake swimming in the 3 inch deep water and laying on top of the fountain spouts. He was pretty weird. Even the locals seemed taken aback! We walked on and it started to rain pretty hard. We decided to have dinner at Panini's. It is in the Lonely Planet. They have second floor seating that overlooks the square where the Gold Roof is. We split a Salad with Wienerschnitzel. Pretty good! We also played lots of cards. Our favorite game, Palace, of course!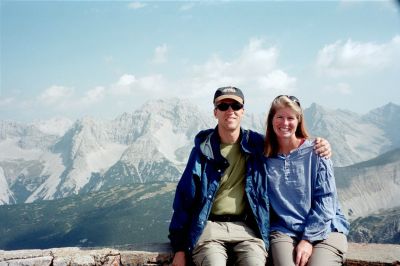 The Alps at the top of NordPark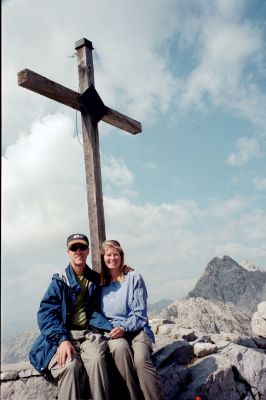 There is a cross there too!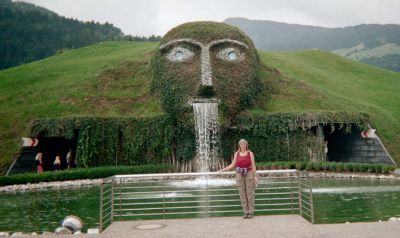 Swarovski Crystal World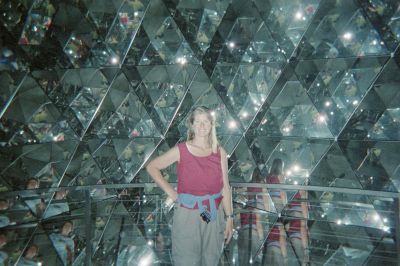 Inside a giant crystal
After dinner, we took the tram to the train station to find out the costs comparison between going to Münich or Graz next. Münich was much more expensive, so we decided to go to Graz after Innsbruck. Then, we took bus 4 back to the hostel from the train station. When we got there, we got some bad news, they may not have room for us for the next night! They would try, but they already had booked our room. When we got back to our room, we prayed about this, and then Donna played games, and I took notes on our day. Later, we called and made reservations in a hotel in Graz. The hostel was already booked out.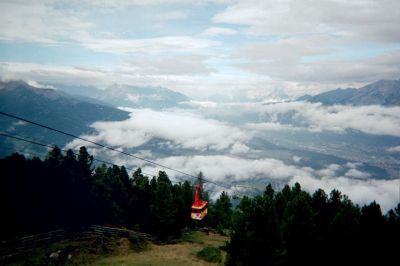 Patscherkofelbahn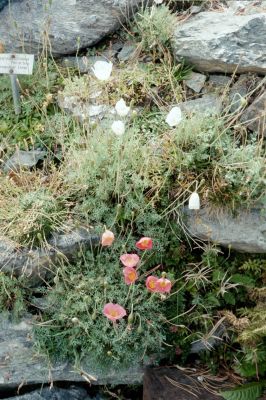 Alpengarten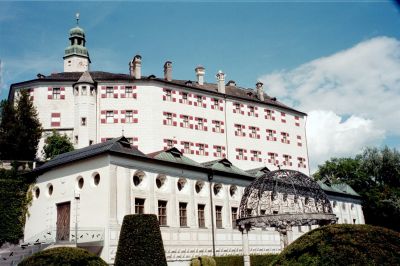 Schloss Ambras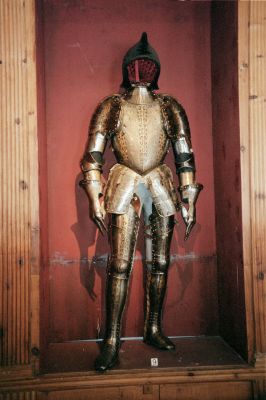 Suit of Armor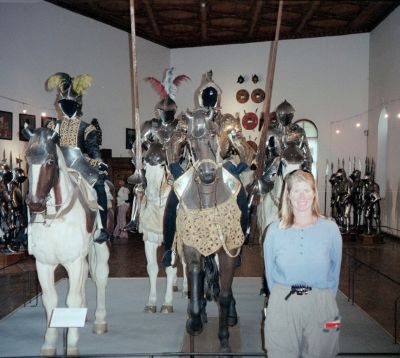 Armored Horses Too!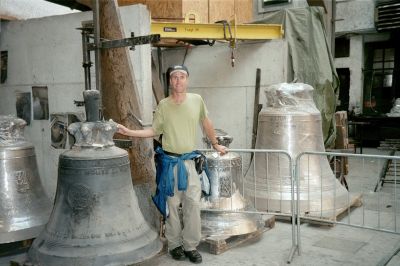 Kirk at the Glockenmuseum
There were lots of cows and sheep up here. The garden is fenced to make sure it doesn't get eaten! Actually, as we were walking to the garden, there were a bunch of cows in our path that we had to negotiate our way through. We have seen our fair share of cows, so this is not something we are concerned about. These cows, however, seemed to have a bit of attitude. As we walked by, they were looking at us and one even walked up to Donna and snuffled her hand. I took a photo. As we continued through the herd, Donna told me to look out. Another cow seemed determined to butt me! They were a little crazy!
The first section we went in to was the Armouries. They had lots of really cool suits of armor there. Regular adult size, kid size and even one for what must have been a giant!
Next, we went to the Chamber of Art and Curiosities. Lots of interesting odds and ends that look like they were gifts to the archduke and a few paintings. Including the paintings of the "Hirsute Man". This man and his children had hair that grew all over their bodies, including their faces.
The last building was the Upper Castle. When we went in, we got an audio guide. We had used these before at the castle in Vienna. We were anxious to start listening to the little stories, but at first we were disappointed, as we couldn't find any of the audio numbers on any displays. Later, we found that it was just for the special exhibition. On the lower floors, there were tons of portraits of various people in royalty. It was not too exciting.
After the castle tour, we went out and started to wait for the Sightseer Bus to take us down to another attraction. It took too long, so we walked back to Tram 6 and rode it down the hill and then caught Tram 1 to Prendi's Pizza Place. This is right at the Tram 1 stop that is closest to the train station. The pizza was good and cheap. We got a large pepperoni for 6.8€. We probably should have gotten the small.
After the museum, we got some more money from the ATM, and took tram 1 back to the hostel. We dropped off our stuff and then took the tram back to the internet place to work on our post and check email. We had a late dinner of ice cream since we had such a big late lunch, and then had a beautiful stroll back to our hostel along the river.
Next morning we were heading to Graz. More later in our next post from there!
Graz, Austria
Wednesday, August 20, 2003, Innsbruck to Graz, Austria:
We got up at 7:00 AM, ate our breakfast in the room, packed and checked out of the hostel. We took bus 4 to the train station where we bought our tickets to Graz for 67.3€ for both of us. We had just missed the 9:25AM train, so we had to wait until the 11:35AM train. We set up against the wall in the train station on the floor, and played some cards while we waited. They are doing lots of construction on this train station, so there are no seats or benches around. While we were playing cards and people-watching, Donna spotted a drunk guy who seemed to be harassing a little girl who couldn not have been more than 5. Her mom had left her with her sister outside the ticket sales room, and she seemed to be cowering away from the man. Donna got up walked over and promptly took the little girl straight to her mom. The drunk guy wandered off. The lady spoke German, but after Donna was able to communicate what was going on and she was very appreciative.
While we were waiting there, we took the time to buy some postcards, candy, and meat. With the meat, we could have lunch on the train. Our train to Graz left right on time. This time, we had a very nice non-smoking A/C chair car. I am impressed with the trains in Austria. They all seem quite new, and they are all electric-powered. They are not diesel-electric like in the states, but are powered by the overhead electric lines like a tram. It's pretty cool and keeps pollution and noise down! This journey was 6 hours long, and we travelled through the beautiful Austrian countryside. Donna did a lot of journalling on the ride, and I played games or read. We had lunch of cheese and meat sandwiches. We also took a break and listened to another sermon before we got into Graz. We want to catch up to our church by the time we get home. We arrived at 5:17PM in Graz.
We had a reservation at the Hotel Strasser (0316 71 39 77, hotel@clicking.at, Eggenberger Gürtel 11). We got a double, room 302, including breakfast, with a sink in the room, and a shared bath for 45€. The room was on the street side, and got a bit of noise, but we both have learned to be able to sleep with ear plugs in! They were able to store our cold goods in their refrigerator.
After we got settled in, we called the local tourist info place to see if Graz has anything like the Innsbrucker card. Unfortunately they don't, so instead, we went to the local tobacco shop at the train station and bought a week-long public transport pass for 7.9€ each and picked up a map of the public transport system. They really have public transport wired here! You can get anywhere on it! While we were at the train station, we checked the internet prices there, and then we took Tram 6 to the Hauptplatz. This is the center of the old town. From there, we walked on to find Sit n Surf Net Cafe (Hans Sachs Gasse 10/1, M-Su 8-Midnite, 7.2€ for 2 hours). They have somewhat locked down Windows 2000 systems, but I was able to do all I needed to put up a post and pictures and burn a CD. I worked on the next post for a while.
Then we walked back to the Hauptplatz and had dinner. I had a bratwurst and Coke, and Donna had a wienerschnitzel sandwich from one of the vendors in the square. Here, they are set up in portable trailers that they take away each night. We walked back along the straße (street) to the Landhaushof where we heard music earlier. They were playing a film of a concert! It was free and great! It is called Classics in the City. We saw the second through fifth movements of Beethoven's Fifth Symphony. We were getting tired, so we didn't stay for the second symphony. We did plan to come back on Friday though for Jesus Christ Superstar and Joseph and the Technicolor Dreamcoat. We took tram 7 back to our hotel and hit the sack.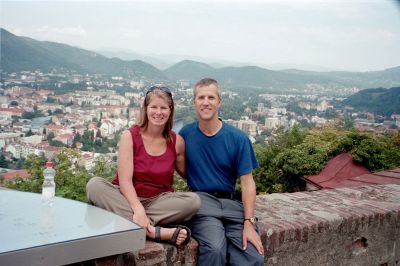 At the top of Graz Schlossberg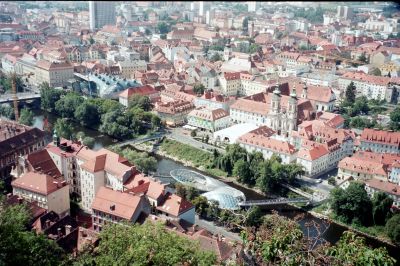 Can you find the artificial island and the Kunsthaus?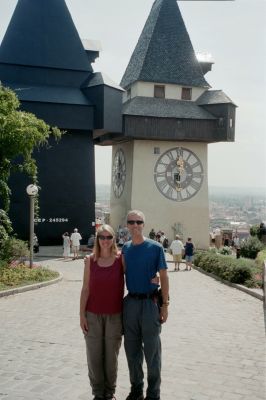 Donna, Kirk, the clock tower and its shadow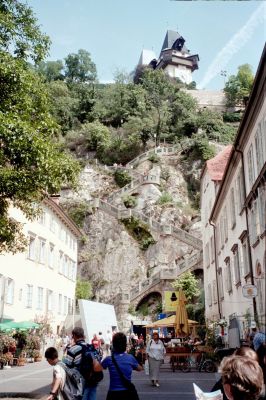 The steps up the hill to the clock tower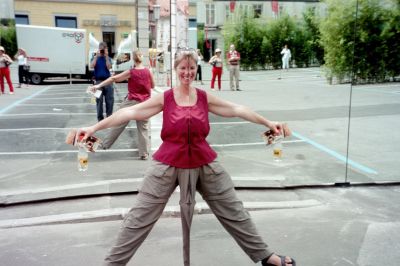 Having fun with a mirror wall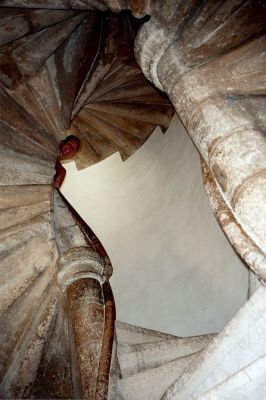 The double helix stair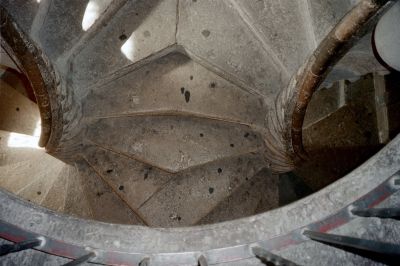 As viewed from the top looking down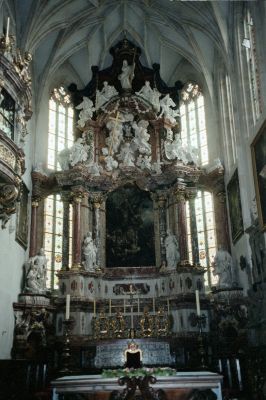 Inside the Graz Dom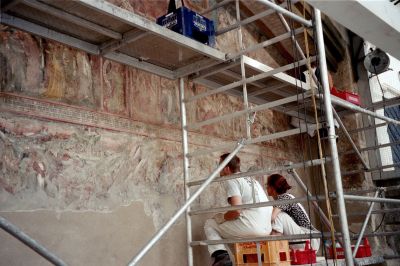 Restoring a painting on the dom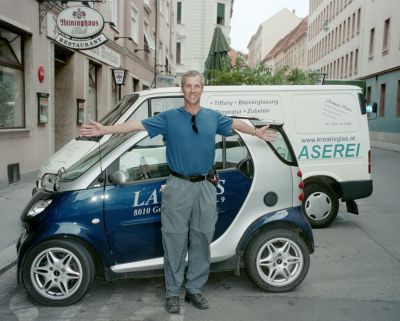 Kirk and one of the smart cars
Thursday, August 21, 2003, Graz, Austria:
We got up around 8:00, and had breakfast downstairs in the hotel. After breakfast, we took the tram to Hauptplatz, and then another tram to Schlossbergbahn. This funicular, included in our transport pass, took us up th 61% gradient to the top of the Schlossberg (Castle Hill). This is a hill that has ruins of old castles and buildings on the top. The view of Graz and the surrounding area was great! In medieval times, fortifications were built up here to guard the town. It was built up more in the 18th century, but by the time Napolean came into the picture, he ordered the dismantling onf the fortifications. Now there are a few remnants of the walls left, a bell tower, and the clock tower. We walked around the whole area. They have pictures of various buildings that you can see in the distance at various view points. It was fun to try and pick out the buildings. They have an area for concerts at the top, and as we walked by, we watched them set up for a Deep Purple concert.
We walked by the bell tower, but decided not to go in, and then we went down to the Garrison Museum Graz. This is a small museum on the Schlossberg, that holds lots of uniforms and paraphernelia from the various soldiers in Graz. They had three french cannons, and some good information on Austria's role in the two world wars.
From the museum, we got more good views of Gra and an especially good view of the new weird architecture that is being put up. One that looks like a "human heart with too many valves", according to Donna, is the Kunst Haus Graz. They are still building it. It has lots of lights on the outside under the glass skin that will flash in different sequences when it is finished (we saw it being tested). The other is an artificial island in the river Mur. Inside of the island is a coffee shop, of course!
From there, we walked to the Clock Tower with its Shadow. The clock tower itself is pretty famous. It has its hour and minute hands reversed. It is the "emblem" of the city. The tower was built in the 13th century. The reason for the switched hands is quite practical: when it was first built the clock only had the one long hand. This was so the people down in the town could tell the time more easily. A second, shorter hand for the minutes was only added at a later time. The shadow is a new construction built in 2003.
When we were done with the Schlossberg, we took the lift down through the hill. This lets you out inside a very nice and cool tunnel. We walked out the tunnel onto Schlossbergplatz. As we looked back to the hill, it was a very nice view with the winding stairs leading up the hill to the clock tower at the top.
From here, we walked to the Island in the Mur. This was a weird metal and glass and rope sculpture that you can walk across to the other side of the river. In the middle they have a coffee shop. The slide and rope net for the kids was closed. It was strange architecture. We walked on past the KunstHaus and back to Hauptplatz for lunch. I had a käsekrainer mit senf und semmel. This is a grilled sausage with cheese inside of it with mustard and a roll. Donna had a chicken cordon blue sandwich.
After lunch, we walked around the city some more and saw a beautiful wooden entrance to a bakery. Next, we went to a burg that was pointed out in the Lonely Planet. Across from the door marked Stiege III, is an interesting stairwell. It is a double-winding staircase, like a DNA helix. Pretty cool.
Then, we went across the street to the Dom Graz (Graz Cathedral), which was built in 1438 under the roman emperor Frederick III. Next door, we saw the mausoleum for Ferdinand II built in 1614. We couldn't go in to that since it was under restoration. As we were looking at it, we saw a painting on the outside of the Dom that was being painstakingly restored.
After that, we walked down to the Opernhaus Graz, (Opera House). We didn't go in, just looked at the building. Around that time, it started to rain on us. We didn't have our jackets, but it was just light rain. We walked on down to Jakomini Platz and over to the English Bookstore to do some browsing. We have books to trade, but no where to trade them, and no money to buy new books.
We just browsed.
After a quick stop at the info center to get some more brochures, we took the tram back to our hotel. There, we made reservations at the Strawberry Hostel again for our stay in Vienna. We have found that our 10€ phone card sure is lasting a long time! We have used it all over Austria in the last two weeks and it still says we have over 100 minutes when we call anywhere!
We went up to the room and got our stuff to work on the internet and then I took the tram back into town to work on the internet, while Donna journalled. She came to do some internet later. After she came to do the net, we went to dinner back in the Hauptplatz. I had a Käsekrainer and Donna had a wienerschnitzel sandwich. Then Donna went back to the hotel to work on her journal some more. I stayed and worked on the website until midnight when the place closed. I went out to wait for the tram, and watched all the automated cleaners cleaning the platz and streets. Boy, if they had these guys in India or Egypt, they would be really clean! It turns out that there were no trams coming, so I ended up walking back to the hotel. It wasn't too far, only took a half hour or so. On the way I got to see the fancy light show going on on the Kunst Haus. Pretty freaky!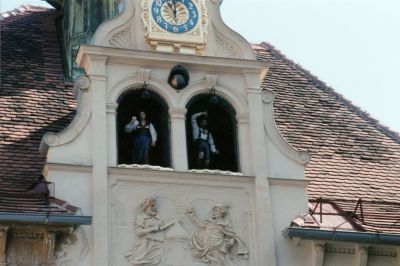 Glockenspiel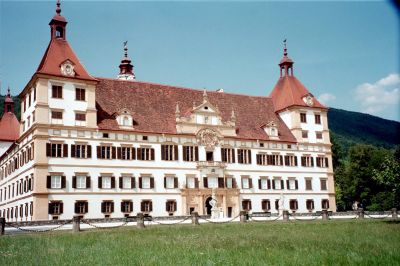 Schloss Eggenberg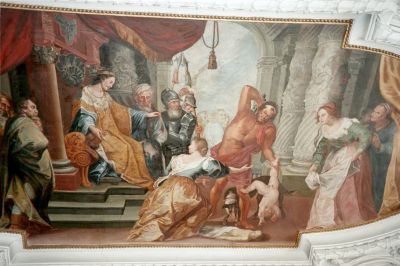 A ceiling painting depicting the wisdom of Solomon
Friday, August 22, 2003, Graz, Austria:
We got up around 8, had our breakfast downstairs and took the tram back into town. This day we went to watch the Glockenspiel at the Glockenspielplatz. Everyday on the stroke of 11, 3, and 6, two window shutters open up from the gable of the corner house to Abraham-a-Santa-Clara-Gasse and a couple of wood carved figures in traditional dress turn round to the sound of the glockenspiel. The huge musical clock was installed in 1903-1905 by the owner of the house at the time, Gottfried Simon Maurer. It was pretty cool!
Next, we took Tram 1 to Schloss Eggenberg where we paid 11.4€ for the both of us to get in to the stateroom tour. This palace was built in 1625 by Pietro de Pomis. Its owner, Prinse Hans Ulrich von Eggenberg (1568-1634) had carved out a glittering career in politics under Kaiser Ferdinand II. On his instructions, the Schloss was designed as an architectural illustration of the universe, formulated according to concepts of a cosmic harmony being taught at the time by philosphers like Johannes Kepler or Giordano Bruno. The guided tour was both in English and German. I was impressed at all the symmetry that was involved. There are 24 staterooms, representing the 24 hours in a day. 365 windows on the whole schloss for the days of the year. 52 windows in the staterooms for the weeks of the year. The 52 stateroom windows plus the 8 hall windows makes 60 windows for the minutes in an hour. There are 12 light (white) stateroom doors, and 12 dark stateroom doors representing day and night. Each stateroom had almost its entire ceiling covered with paintings from the 17th century. The walls had paintings from the 18th century generally and all the furniture was from the 18th century. It was very beautiful!
After that, we took the tram back to the hotel, and got the stuff to work on the website again, and we went back into town to the platz where we had lunch and then worked on the net and website. After a while, Donna went back to the hotel to work on her journal, and I came back later. I then went on a search for Central Backpackers. They were supposed to have a book exchange. Well I found them, but they were closed. It seems they either don't have their hostel open yet, or it has recently been closed. Oh well. I did find a post office to inquire about aerogrammes, but they apparently don't have them in Austria anymore. I did find a model airplane store that was fun to browse in. I will like to fly my planes again when I get home!
Later that afternoon, we took the tram back to the Hauptplatz, and listened to another one of our sermons. Then, we got some dinner and went to see some films in the Landshaushof. These were two films from the Classics In The City series they are having here. First, we saw Jesus Christ Superstar. This was a 1998 film of the musical. I thought it was good, but I wished it didn't stop when it did. It stops at Christ's death.
After that we got some ice cream, Zitrone of course! Then it was time for the next movie, Joseph and the Amazing Technicolor Dreamcoat. This one was funny and good. I had never seen it before either. Donny Osmond played Joseph. Pretty good.
After the movies we headed back and it was going to be an hour before the next tram, so we just walked back to our hotel.
Saturday, August 23, 2003, Graz to Vienna, Austria:
We got up at 8, packed, and headed down to check out. I then found I had run out of cash and had to dash off to the ATM to be able to pay. While I did this, Donna made us sandwiches from the coldcuts for breakfast. We then checked out and headed for the train station and ate on the run. We were hurrying because we wanted to make the 9:23 AM train to Vienna. The tickets cost us 42.4€ for the both of us. We made the train in time, and stayed in a non-A/C chair car. Unfortunately, they didn't have very big tables, so Donna couldn't work on her journal. Instead, we played cards and games and listened to music. We arrived in Vienna at the Südbahnhoff at 12:02 PM.
Well, we are back in Wien (that's Vienna to you English-speakers)! We arrived at Südbahnhof this time (the South Train Station). We decided to buy a 24-hour transit card for €5 each. Then, with a free map from the info office in the train station, we took tram 18 to Westbahnhof, which is near Strawberry Hostel. We headed back to the hostel (where we had stayed before) and checked in. We had tried to find a cheaper hostel with availability, but weren't able to (this one is €23/pp per night)! At least we knew where we were going and would have a room with a bathroom for two more nights before we got home!
Right before the movie, we went on an ice cream hunt. We wanted to have a little bit of ice cream before we went into the movie and we certainly didn't want to pay theatre prices for treats in the show. My absolute favorite flavor here is zitrone. And Kirk seems to like it, too. Unfortunately, it seemed half the shops we came to either didn't have it, or were sold out of it. Finally, we found one with it. And by the time we got back to the movie house, we were almost finished with the cones (we couldn't take them in with us), so it worked out okay.
Then, we went to sleep, with the plan of sleeping in. It's the first time in a while we haven't had a specific plan, a place to be, or breakfast times to have to meet.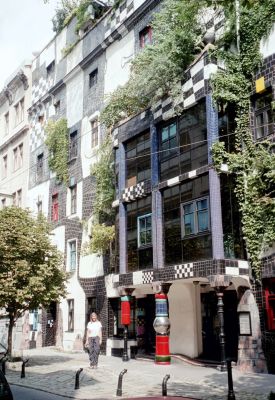 Kunsthaus Wien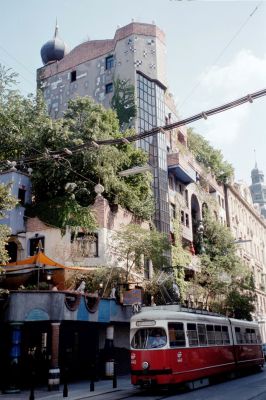 Hundertwasser Haus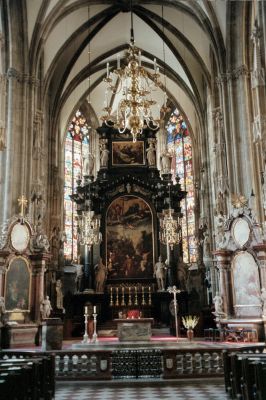 Inside St Stephan's Cathedral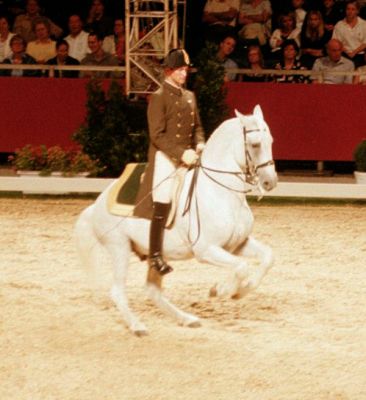 The Lipizzaners can dance!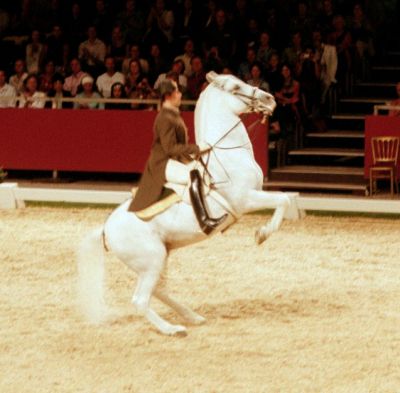 Amazing!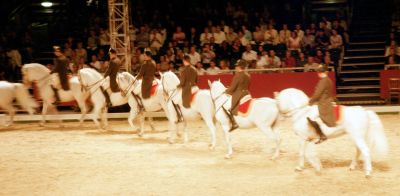 A great show!
Ack!! What IS that noise? At about 7AM, there was pounding and hammering and saw blades and who can count the other construction noises we heard! We are staying in a college dorm and they are apparently behind in the construction they are performing on the other half of the building, so they were working on Sunday morning...at 7!! Ugh. So much for sleeping in. Even so, we didn't actually get moving until after 10. By the time we managed to eat and get out of the building, it was after 11:30.
We hopped on Tram 58 to the Schloss Schönbrunn and we were there. We got there fairly early, actually. The doors opened at 7 and the show wasn't to start until 8. Our seats were reserved, but we were there by about 7:20 anyway. We found our seats. We had bought the second cheapest seats available - and they were still €55 each! Yikes! But it was an amazing show! We truly enjoyed the beauty of the horses and riders. The Lipizzaners literally dance, skip, pirouette, leap, etc. And it was always perfectly synchronized. If I had any complaint (other than the ticket price), it would be only that the MC would make about a five minute introduction in German to each sequence and then speak for about 15 seconds in English. We knew we were missing out on most of what he said, but had no idea what we had missed. Occasionally I'd catch something, but never enough to know for sure (and certainly not enough to translate for Kirk). It was quite frustrating. But the horses themselves were amazing.
We left quite happy with our experience. We took Tram 58 back to the hostel, and went to sleep.
So long, Austria!!
If you are reading chronologically, click here.